Thursday, June 4, 2015 UPDATE:
A series of layoffs Wednesday at KLAS-TV (Las Vegas) left a number of people without jobs, including veteran News Director RON COMINGS.
Ron's been the ND at this newly-acquired-by-Nexstar CBS affiliate for more than nine years. He's also run newsrooms in Sacramento and Honolulu.
He began his career as a reporter, working in Minneapolis and in Florida, where he reported a very famous story. Click here.
I'm in Philadelphia for the IRE Conference. I hope to see many of you here.
regards,
Rick Gevers
**** ***** ****
Monday, June 1, 2015 UPDATE:
Greetings:
Congratulations to WAVY-TV (Norfolk, VA) News Director JIM GILCHRIEST who's headed to Nashville to become ND for Meredith's WSMV-TV, the NBC affiliate there. Jim told me he'll start in Nashville later this month.
Jim's been the ND at WAVY, also an NBC affiliate, for the past four years. He also spent four years as an ND for KTVB-TV in Boise. Jim earlier had held a variety of roles at WCNC-TV in Charlotte, eventually rising to Assistant News Director. He'd also been an AND at WXII-TV in Winston-Salem, and worked for two stations in Rochester, NY. He began his career in radio news.
At WSMV, he replaces MATTHEW HILK who left in April after more than eight years as ND.
One other item: Former ND turned GM SKIP VALET is leaving his job as GM for Graham Media's WKMG-TV (CBS) in Orlando. He's been GM here for 6+ years.  Skip's a former ND for sister Graham Media (formerly Post-Newsweek) stations in Jacksonville and Houston, in addition to having been the ND at WKMG earlier in his career. Full disclosure: I hired Skip as a production assistant at WJXT-TV in Jacksonville in 1982.
His full career history is here.
More on both these stories in our full newsletter later this week. Our distribution may be delayed by my attendance at IRE in Philadelphia. I hope to see many of you there.
**** ***** ****
Greetings:
Just ONE new news director in this week's report, as a veteran newsman returns to his hometown and former station as ND. That brings our count of open ND jobs to 29.
ONE of those openings in featured in a rare display Help Wanted ad, along with an ad for a GM job in the Upper Midwest.
There are FOUR obituaries this week, TWO of former NDs, and TWO of close family members of current industry veterans.
And there are a few items in both Names in the News and GMs on the Move.
But first, take a moment to check out this paid ad from the Carole Kneeland Project.

The Kneeland Project Accepting Applications Now
You don't want to miss this opportunity. Apply today!
The Kneeland Project is accepting applications for their September 9-12 session in Austin, Texas. Applications are due Friday, June 19 and applications are available here.
Thanks to Kneeland's generous funders, this opportunity is nearly free for 18 selected news directors. The Kneeland Project pays for all tuition costs as well as hotel and several meals. Participants cover only their transportation and a few meals — Kneeland takes care of the rest.
In a recent survey of Kneeland Fellows, 100% reported they still regularly use lessons learned at Kneeland, believe that time spent at Kneeland improved their career, and said they have recommended Kneeland to a friend or colleague.
This fall's participants will be joined by some of the best and brightest leaders in the industry, but they won't provide didactic, one-way lectures. On the contrary. Kneeland is seeking applications from news directors with high-level expertise, insight, and experience to make this a truly unique opportunity. It's an intensive program unlike any other. It's practical. It's highly interactive. It produces long-lasting results.
Click here for more information and to apply. . Only 18 news directors will be selected for this program. Apply today!
New News Director Openings:
None that I know of.  If you know of any, please email me: rick@rickgevers.com

Newly Named News Directors:
WWL-TV, New Orleans, LA…Nawlins native KEITH ESPARROS returns home and to WWL as News Director at this Gannett station. (The newspaper story is here). Keith spent eleven years as an EP for this CBS affiliate before moving to California in 1991 for jobs in San Diego and Los Angeles. He returned to New Orleans for a six year stint as ND at WVUE-TV, before returning west as Assistant ND for KNBC-TV. He later became Senior Manager of the Investigative and Consumer Unit, a job he left last November. At WWL, he replaces BILL SIEGEL who left in January to become a Director of News Strategy for Scripps.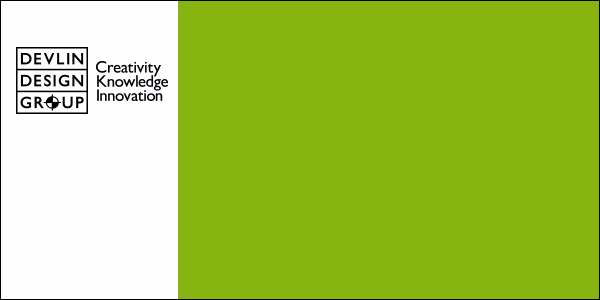 Paid Help Wanted Ads:

General Manager, WISC-TV, Madison, WI:
Morgan Murphy Media is seeking an experienced broadcasting professional for an exciting GM opportunity to lead its broadcast, digital, and print operations in Madison, Wisconsin. The GM will have full oversight of our highly respected and successful Television Wisconsin, Inc. operation which includes WISC-TV (CBS), TVW (MyNetworkTV), channel3000.com, and our monthly city/regional print publication, Madison Magazine. This is a unique opportunity to join a thriving, privately held broadcast group with state-of-the-art broadcast and digital facilities and an experienced, dedicated, talented staff.
Our ideal candidate will be able to demonstrate prior results in a broadcast leadership role, will have strong interpersonal skills, and experience directing department heads. We are recruiting someone with a track-record of success and a broad range of experience in all areas of station operations with a focus on sales growth and an emphasis on local programming.
We expect our GM to reflect, embrace, and promote our core values of family and community and to be a visible role model to the employees and to the communities we serve. We are looking for a steward of the company, who is engaging and energetic, and will be able to capitalize on the potential of our news, programming, and sales operations with a positive impact on our employees, our advertisers, and our community.
Send resume and salary requirements to:
Morgan Murphy Media
Attn.: HR – General Manager
7025 Raymond Road
Madison, WI 53719
Email hr@wisctv.com – Visit our website at www.channel3000.com
Equal Opportunity Employer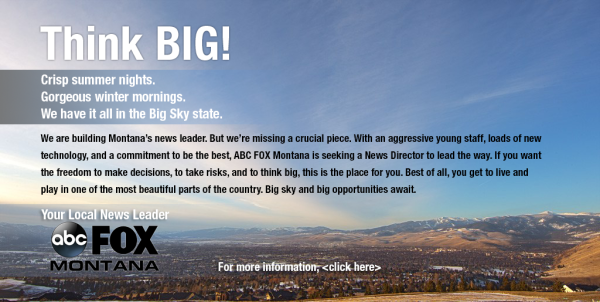 Other News Management Openings:
ASSISTANT NEWS DIRECTOR:
KHOU-TV, Houston, TX (listed 4/5/15)
KGTV, San Diego, CA (listed 4/12/15)
WTNH-TV, Hartford/New Haven, CT (listed 5/10/15)
WDJT-TV, Milwaukee, WI (listed 5/10/15)
KOAT-TV, Albuquerque, NM (listed 4/12/15)
KRCR-TV, Redding, CA (listed 4/19/15)
KECI/KCFW/KTVM, Bozeman, MT (listed 4/26/15)
EXECUTIVE NEWS PRODUCER:
WCAU-TV, Philadelphia, PA (relisted 5/24/15)
KNTV, San Jose/San Francisco, CA (AM EP, new listing this week)
WFXT-TV, Boston, MA (2 jobs, Inv/Spec. Proj. & newscast EP, revised 5/3/15)
KOVR-TV, Sacramento, CA (PM EP, relisted 5/17/15)
KSWB-TV, San Diego, CA (PM EP, listed 4/12/15)
KSHB-TV, Kansas City, MO (PM EP, listed 5/3/15)
KSTU-TV, Salt Lake City, UT (Dayside EP, listed 5/10/15)
WAVY-TV, Norfolk, VA (2 openings, AM & Dayside, listed 3/29/15)
WIAT-TV, Birmingham, AL (relisted 4/19/12)
WIVB-TV, Buffalo, NY (relisted 4/12/15)
WJAR-TV, Providence, RI (PM EP, listed 4/26/15)
WMTW-TV, Portland, ME (AM EP, relisted 5/24/15)
WCYB-TV, Tri-Cities, TN (relisted 5/24/15)
ASSIGNMENT MANAGER:
WGCL-TV, Atlanta, GA (relisted 4/26/15)
WPBF-TV, W. Palm Beach, FL (listed 5/10/15)
MANAGING EDITOR:
WMAQ-TV, Chicago, IL (listed 4/12/15)
NEWS OPERATIONS MANAGER:
WCAU-TV, Philadelphia, PA: (relisted 5/24/15)
Obituaries:
We told you Wednesday that MARSELIS 'DIV' PARSONS lost his battle with cancer at the age of 70. 'Div' was the longtime ND and anchor for WCAX-TV in Burlington, VT. The station remembered him here (and has greatly expanded the tribute…if you checked it Wednesday you might revisit it.) I received a dozen or so emails from readers who all referred to him as a gentleman, which he was. 'Div' is survived by his wife and daughter.
LARRY ALLAN (HEUGLI), a newsman and news director who worked at stations in Waterloo, IA, Las Vegas, and Tucson, among others, died May 24 at the age of 74. Larry was a 1983 winner of the JACK SHELLEY award given by the Iowa Broadcasters. More in this obituary.
Our sympathy to two longtime industry vets who suffered a very personal loss this week.
JOEL CRAWFORD, son of Frank Magid VP BOB CRAWFORD, died Monday from injuries suffered in an ATV accident in Missouri. He was a passenger on an ATV which overturned on May 22. Joel was 26, a teacher in Denver, and an organ donor. Click here for the full obituary. And click here to send a kind note to Bob.
And best wishes to old friend KEITH CONNORS on the loss of his mother, MARGARET CONNORS, who died in her sleep Tuesday at the age of 86. The obit is here. Keith is currently the ND at WTNH-TV in New Haven/Hartford, and has been an ND in Indianapolis, Houston, Charlotte, Norfolk, and Rochester, NY. He's also worked in Nashville and Toledo, where we worked together. In addition to Keith, his mom is survived by two other sons and two daughters. You can send condolences to Keith by clicking here.
Names in the News…and other things:
WILL DILLARD moves within Hearst to become the new Assistant News Director at the company's WJCL-TV in Savannah, GA. He's been the Assignment Manager at WPBF-TV in West Palm Beach, another Hearst station. Will's also worked in Miami.
SHELLEY TRIOL, who's worked as a news manager at two Indianapolis stations, has been named Communications Director for embattled Indiana Governor MIKE PENCE. More in this story. She's been working in a variety of PR positions for the last ten years.
General Manager News:
Another busy week for GM changes.
BOB McGANN, who's been the GM for KENS-TV in San Antonio for 18 years, has announced his retirement at the year of the year. He's also been a GM at WBBM-TV in Chicago and WCCO-TV in Minneapolis.
KTXL-TV (Sacramento) GM JERRY DEL CORE is out after five years running this Tribune owned FOX affiliate. In an email to the staff, he bluntly said his boss told me "she wanted to make a change".
GENE STEINBERG is the new GM for KMIR-TV in Palm Springs, CA. He previously ran KMIZ-TV in Columbia, MO. At KMIR, he replaces CRAIG MARRS, a former ND and Magid consultant.
Finally, Nexstar has named SANDRA ZOLDOWSKI as GM of its Grand Junction cluster which includes CBS Affiliate KREX-TV. She's been the GM of Nexstar's KSVI-KHMT-TV in Billings, MT.
Our Full List of Open ND Jobs:
Here is my list of stations with open ND jobs, as of Saturday, May 30, 2015.
If you know of any additions/deletions/updates, please email me at: rick@rickgevers.com
KWHY-TV 4975 W. Pico Blvd Los Angeles,CA 90019 *
KYW-TV 1555 Hamilton St. Philadelphia PA 19130
WLTV 9405 NW 41st St. Miami FL 33178 *
KCEC-TV 777 Grant St. #110 Denver CO 80203 *
WTVD-TV 411 Liberty St. Durham NC 27701
WSMV-TV 5700 Knob Rd. Nashville TN 37209
WBNS-TV 770 Twin Rivers Drive Columbus OH 43215
KUTV 299 S. Main St. #150 Salt Lake City UT 84111
KTNV-TV 3355 S. Valley View Blvd. Las Vegas NV 89102
KJRH-TV 3701 South Peoria Avenue Tulsa OK 74105
WFXR-TV 2618 Colonial Ave. S.W. Roanoke VA 24015
WTOL-TV 730 N. Summit St Toledo OH 43604
WACH-TV 1400 Pickens St. Columbia SC 29201
KTSM-TV 801 N. Oregon St. El Paso, TX 79902
WTOC-TV 11 News Place Savannah GA 31405
KRNV-TV 1790 Vassar St. Reno, NV 89502
WFFT-TV 3707 Hillegas Rd. Ft. Wayne IN 46807
WPTA/WISE-TV 3401 Butler Rd Ft. Wayne, IN 46808
WGXA-TV 599 Martin Luther King Blvd. Macon GA 31201
KION-TV 1550 Moffett St. Salinas, CA 93905
WRBL-TV 1350 13th Ave. Columbus GA 31901
KMIZ-TV 501 Business Loop 70 East Columbia MO 65201
KTVL-TV 1440 Rossanley Dr. Medford OR 97501
KTMF/KWYB-TV 2200 Stephens Ave. Missoula, MT 59801 (see ad above!)
WDHN-TV 5274 E. State Highway 52 East Dothan AL 36376
WHSV-TV 50 North Main St. Harrisonburg, VA 22802
KGNS-TV 120 W. Delmar Blvd. Laredo TX 78045
KMVT/KSVT-TV 1100 Blue Lakes Blvd. North Twin Falls, ID 83301
WBUP/WBKP-TV 1705 Ash Street Ishpeming MI 49849
* Spanish language station