Thursday, March 26, 2015 UPDATE:
Good news for two veteran newswomen today!
Moments ago, LINDSAY RADFORD was announced by GM BRAD REMINGTON as the next news director for Scripps' KMGH-TV in Denver, the ABC affiliate there. It's a return to Colorado for Lindsay, who has worked as a producer in both Denver and Colorado Springs and whose mother and other family members live in Colorado.
She's currently the news director for Hubbard's KSTP-TV in St. Paul/Minneapolis, MN. She been ND there since 2008, and also served as Assistant ND and EP in her 12 years at that ABC affiliate. Lindsay's also worked in Hartford and El Paso, TX, in addition to a short time at another Minneapolis station.
Click here to read the news release.
At KMGH, she replaces JEFF HARRIS who left last fall to become ND at another Scripps' station, WEWS-TV in Cleveland.
And congratulations to TANYA VEA, who has been promoted to General Manager for KSL-TV and KSL Newsradio in Salt Lake City. She's been station manager there for the last year or so when she was promoted from news director. Tanya's also a former ND at KUTV in Salt Lake City, a position she left for a PR job she held for two years before moving to KSL in 2010. Read the story the station posted on its website here.
We'll have more on a busy week in our full newsletter!
regards,
Rick Gevers
Tuesday, March 24, 2015 UPDATE:
Changes involving two veteran news directors in this UPDATE.
GENIE GARNER, who's been the news director for Weigel's WDJT-TV, the CBS affiliate in Milwaukee, confirmed to me this afternoon that she has left the station.  She's been the ND here since August, 2012, and previously worked as a news director in Louisville, Honolulu, and Terre Haute, IN.  Genie has also worked for a station in St. Louis.  More in this article.
And longtime WXII-TV (Winston-Salem, NC) news director BARRY KLAUS will leave the station later this week.  He's headed to New York City to work in a family business there.  Barry's been the ND here for more than eleven years and spent two years as the Assistant ND before being promoted.  He's also worked in Albuquerque, Hartford, Albany, NY, and Charleston, WV.  Here's his Linkedin page. WXII is owned by Hearst and is an NBC affiliate.
We'll have more on both these stories…and all the week's developments, in our full newsletter later this week.
regards,
Rick Gevers
**** ***** ****
Greetings:
THREE seems to be the featured number in this week's report.
THREE new ND openings.
THREE new news directors to tell you about, leaving 27 open ND jobs.
And THREE new advertisers, of which TWO are looking for small market ND jobs in different parts of the country. And we welcome back WeatherMetrics whose ad is just below. Visit them at NAB!
Just one item in Names in the News (send me your news at rick@rickgevers.com), two new GMs, both in smaller markets, and one obituary for a veteran general manager.
If your NCAA bracket is better than mine, read on. And since that would be everyone who filled one out…

New News Director Openings:
KTSM-TV, EL Paso, TX…LAUREN MACIAS-CERVANTES left at the end of the February rating period after 4+ years as news director. KTSM is an NBC affiliate and is now owned by Nexstar.
KECI-TV, Missoula, MT…CHRIS GROGAN is leaving this NBC affiliate (known as NBC Montana and owned by Bonten Media) to take an Assistant News Director position at WSYX/WTTE-TV in Columbus, OH. Chris was here almost three years, had previously been an ND in Grand Junction, CO, and worked in Great Falls, MT and Springfield, MO. You can learn more about the opportunity in the paid help wanted ad below.
WHSV-TV, Harrisonburg, VA…after seven years at the station, and 3 1/2 as news director, KAY NORRED has left this Gray Television owned ABC affiliate. She's also worked in Tampa, Mobile-Pensacola, Sarasota, and Tallahassee.
While it's not a new opening, I did want to call your attention to the paid help wanted ad below for the opportunity at WPTZ-TV in Plattsburgh, NY.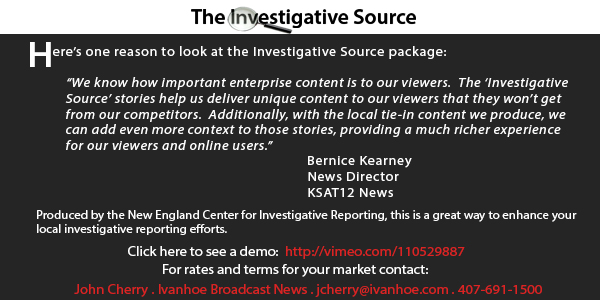 Newly Named News Directors:
WOOD-TV, Grand Rapids, MI…DAN BOERS has been promoted to News Director for this Media General owned NBC affiliate. He's a West Michigan native who's worked here for 18 years in a variety of roles. Dan first worked as a producer, then, for the last 12 years, as Assistant News Director. He's also worked in Lansing. At WOOD-TV, he replaces REBECCA SAPAKIE who stepped down as ND in January to take a job within Media General working with stations on digital initiatives. She was ND here for six years.
KHQ-TV, Spokane, WA…TRACI ZERAVICA returns to this Cowles owned station as news director. She produced here in the early 90's, was the EP from 2000-2007, and served as the Corporate ND for the Cowles stations in California (which have since been sold). Most recently she spent 2+ years as the Assistant News Director for KATU-TV in Portland. OR. At KHQ, she replaces JESSICA ROE who left the station earlier this month after just seven months as ND.
KRCG-TV, Jefferson City, MO…JULIE MORAVCHIK has been named news director for this CBS affiliate owned by Sinclair Broadcasting. She most recently was ND for WDAZ-TV in Grand Forks, was previously a news director in Duluth, and has also worked in Minneapolis. She replaces ROBBY MESSER who left in January after about 16 months as ND. He's returning to Phoenix and KTVK-TV (his first TV station) where he'll be a producer. Here's the story the station posted on its website about Julie's hiring.
Paid Help Wanted Ad:
News Director, KECI/KCFW/KTVM-TV, NBC Montana:
NBC Montana — KECI/KCFW/KTVM, the NBC stations in Missoula, Kalispell, and Butte-Bozeman, MT — is searching for an aggressive, experienced, hands-on leader to be News Director.
This person will provide leadership in the development and execution of our strategic news plan, closely tied to viewer research and zealous focus on our brand. Coaching and leading our team in compelling storytelling are key parts of the responsibility.
Position is based in Missoula, MT, home of the University of Montana, and some of the best and widest range of outdoor activities in America. This opportunity is unique and especially challenging because you will lead a dispersed staff across four newsrooms that produce over 25 hours of live news each week in two DMAs across spectacular Western Montana, a coverage area larger than New England.
The strongest candidates will be able to articulate the news plan, and hold team members accountable for consistent execution of that plan. Continuous recruiting and teaching new reporters working at their first full-time TV news jobs are crucial to success. We seek a track record of a newsroom leader who embraces coaching and training newsroom personnel and promotes a collaborative work environment in concert with our company's Culture of Excellence.
Learn more about this opportunity by clicking here.
Please apply if you are the one to lead our successful news operation grow to the next level.
Qualified candidates should contact Dick Reingold, VP & General Manager at rreingold@keci.com.
No phone calls please. NBC Montana is owned by Bonten Media Group. EEOC
Other News Management Openings:
ASSISTANT NEWS DIRECTOR:
WBZ-TV, Boston, MA (relisted this week)
WFTS-TV, Tampa, FL (relisted 3/7/15)
KSHB-TV, Kansas City, MO (relisted 3/7/15)
EXECUTIVE NEWS PRODUCER:
WCAU-TV, Philadelphia, PA (relisted this week)
KXAS-TV, Ft. Worth/Dallas, TX (listed 3/1/15)
WFAA-TV, Dallas, TX (relisted 2/22/15)
WFXT-TV, Boston, MA (relisted 3/14/15)
KPRC-TV, Houston, TX (relisted this week)
KNXV-TV, Phoenix, AZ (listed 2/7/15)
WTVJ-TV, Miami, FL, (listed 2/1/15)
KDVR-TV, Denver, CO (Morning EP, listed 1/26/15)
KOVR-TV, Sacramento, CA (PM EP, relisted 3/14/15)
KXTV, Sacramento, CA (2 openings, relisted 3/14/15)
WCNC-TV, Charlotte, NC (AM EP, listed 1/18/15)
WIAT-TV, Birmingham, AL (relisted 2/15/15)
WGHP-TV, Greensboro/High Point, NC (Morning EP, relisted 3/7/15)
WIVB-TV, Buffalo, NY (relisted 2/1/15)
WDTN-TV, Dayton, OH (Digital EP, listed 3/1/15)
WMTW-TV, Portland, ME (AM EP, relisted this week)
WCYB-TV, Tri-Cities, TN (relisted this week)
WTXL-TV, Tallahassee, FL (relisted 1/18/15)
ASSIGNMENT MANAGER:
WGCL-TV, Atlanta, GA (listed 2/22/15)
Central Florida News 13, Orlando, FL (relisted 1/18/15)
MANAGING EDITOR:
WFXT-TV, Boston, MA (relisted 3/14/15)
NEWS OPERATIONS MANAGER:
WCAU-TV, Philadelphia, PA: (relisted this week)
WJLA-TV, Washington, DC (listed 2/15/15)
Obituary:
LARRY HERBSTER died this week at the age of 71. He ran television stations in Oklahoma City, Buffalo, Wilkes-Barre, PA and Rochester, NY, and also worked for WUSA-TV in Washington, DC. More about his life and career in this detailed obituary.
Situations Wanted:
We offer a free situations wanted ad to news managers who are out of work and looking for a new opportunity. If you'd like to state your case to a well targeted audience, email me an item (max. 150 words). You may include a link to a website, an email address, and a photo. You must include your name. I'll run it for one week. I don't represent or endorse those listed, but merely trying to help.
Names in the News…and other things:
ANDRE BROOKS heads west to become the morning EP for KDVR-TV, Tribune's FOX affiliate in Denver. He's been the Assistant ND for WDTN-TV in Dayton, and has also worked in San Diego, Jacksonville, FL, and Washington, DC.
General Manager News:
MARCI DANIELS has been named GM for WETM-TV, Nexstar's NBC affiliate in Elmira, NY. She's spent most of her carer in the Flint/Saginaw market, most recently as sales manager for WEYI/WBSF-TV. She's also worked in West Palm Beach.
Another Nexstar station, another new GM. JUDSON "JUD" BECK will run WLAX/WEUX-TV in La Crosse/Eau Claire, WI. He's been working for Living Social, previously was the GSM for WFLD-TV in Chicago, and served as sales manager for both the CBS and FOX stations groups.
Our Full List of ND Openings:
Here is my list of stations with open ND jobs, as of Sunday, March 22, 2015.
If you know of any additions/deletions/updates, please email me at: rick@rickgevers.com
WPIX-TV 220 E. 42nd Street New York NY 10017
KABC-TV 500 Circle Seven Drive Glendale CA 91201
KWHY-TV 4975 W. Pico Blvd Los Angeles,CA 90019 *
WLTV 9405 NW 41st St. Miami FL 33178 *
KCEC-TV 777 Grant St. #110 Denver CO 80203 *
KMGH-TV 123 Speer Blvd. Denver CO 80203
Central Florida News 13, 20 N. Orange Ave. Suite 13 Orlando FL 32801
KSDK-TV 1000 Market St. St. Louis MO 63101
KATU-TV 2153 NE Sandy Boulevard Portland OR 97232
KENS-TV 5400 Fredericksburg Road San Antonio TX 78229
KUTV 299 S. Main St. #150 Salt Lake City UT 84111
WWL-TV 1024 North Rampart St. New Orleans 70116
WTEN-TV 341 Northern Blvd. Albany NY 12204
KJRH-TV 3701 South Peoria Avenue Tulsa OK 74105
WBIR-TV 1513 Hutchison Ave Knoxville TN 37917
WOWK-TV 555 Fifth Ave. Huntington WV 25701
WACH-TV 1400 Pickens St. Columbia SC 29201
KTSM-TV 801 N. Oregon, El Paso, TX 79902
WPTZ-TV 5 Television Drive Plattsburgh NY 12901 (see ad above!)
WFFT-TV 3707 Hillegas Rd. Ft. Wayne IN 46807
WDAZ-TV 2220 S. Washington Grand Forks, ND 52801
KMIZ-TV 501 Business Loop 70 East Columbia MO 65201
KTVL-TV 1440 Rossanley Dr. Medford OR 97501
KECI/KCFW/KTVM 340 W. Main Missoula MT 59802 (see ad above!)
WHSV-TV 50 North Main St. Harrisonburg, VA 22802
KMVT/KSVT-TV 1100 Blue Lakes Blvd. North Twin Falls, ID 83301
WBUP/WBKP-TV 1705 Ash Street Ishpeming MI 49849
* Spanish language station