Tuesday, April 21, 2015 UPDATE:
A veteran news director rejoins his former general manager in a surprising move just announced…and a name change for the part of the company now called Gannett.
ELBERT TUCKER, the news director for WBNS-TV in Columbus, OH, heads west on I-70 to become the next ND for WISH-TV here in Indianapolis. The move reunites Elbert with WISH General Manager LES VANN: they held the same jobs at WKRC-TV in Cincinnati.
Elbert leaves WBNS, the Dispatch owned CBS affiliate in Ohio's capital city, and will now compete against Dispatch's only other station, WTHR-TV, the NBC affiliate in Indiana's capital.
WBNS GM JOHN CARDENAS' note to the staff, and Elbert's note to his staff, are yours for the reading by clicking here.
He spent five years as ND at WBNS, and nine of his 18 years at WKRC as the ND there. He also had been the Assistant ND and EP for that ABC affiliate. Elbert's also worked in Birmingham and Chattanooga.
He'll start at WISH after the May rating period and replaces STEVE BRAY who will leave the station after 2 1/2 years as ND and 20 at the station. Steve led the staff through a news expansion following the loss of the station's CBS affiliation at the start of the year. WISH is now a CW affiliate.
Finally, when Gannett spins off its TV and digital business from the print side, it will have a new name. More here.
We'll have more on this…and all the week's news…in our full newsletter.
Rick Gevers
**** ***** ****
Greetings:
TWO new ND openings, and FOUR new news directors leave us with 27 stations looking for news directors. TWO of those openings are featured in one of our THREE paid help wanted ads.
TWO of the new NDs are in Knoxville. There are TWO stations (still) looking for NDs in Los Angeles. And TWO stations in Ft. Wayne are also looking for NDs.
Just thought that was interesting. You probably didn't.
Sadly, we also have TWO obituaries of legendary broadcasters who may not be well known to newer journalists but both had big impacts on our business. And we have several items in Names in the News, including management hires in Miami Phoenix, and Austin, TX, and an honor for a longtime newsman who's also had a big impact on TV news.
All that and more below.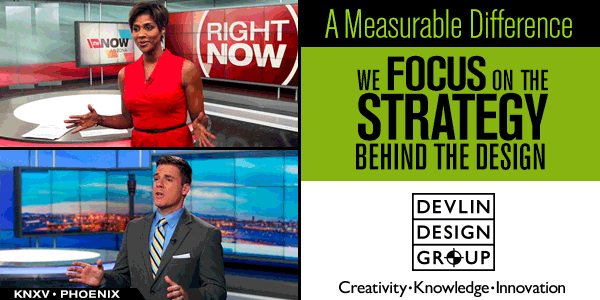 New News Director Openings:
KRNV-TV, Reno, NV…MATT McCONICO has left Sinclair's NBC affiliate in what the locals call the "Biggest Little City in the World." He's been the ND here for more than four years and had been the Assistant ND before his promotion. Matt's also worked in Ft. Myers (three stations), Green Bay and Eau Claire, WI.
KION-TV, Monterey/Salinas, CA…LESLIE MILLER is leaving this CBS affiliate to take a new job in Florida. She's been the ND here for just over a year. Leslie began her career as a reporter, working in Des Moines, Orlando, and Phoenix, and worked in management positions in Atlanta, Phoenix (two stations) Tampa (two stations), Houston and New Orleans. KION is owned by News Press & Gazette Broadcasting. You can learn more about this opportunity in the paid help wanted ad below.
Newly Named News Directors:
KENS-TV, San Antonio, TX…JACK ACOSTA moves within Gannett and across Texas to become news director of the company's CBS affiliate here. He's currently the Assistant ND of another Gannett/CBS station, KHOU-TV in Houston, where his co-workers read about his new job in this memo. Jack's worked here for ten years, first as a producer, then EP, before a promotion two years ago to Assistant News Director. He's also worked for another Houston station and in New York. At KENS, he replaces TRISTON SANDERS who left the station earlier this year (after two years as ND) to become a consultant for Magid.
WBIR-TV, Knoxville, TN…Gannett has also promoted Assistant News Director MARTHA JENNINGS to news director for this NBC affiliate. She's been the AND there since last November. Martha earlier worked as the Nightside EP for WFLA-TV in Tampa, and has also worked as a producer in Raleigh and Charleston, SC. At WBIR, she replaces CHRISTY MORENO who left a few months ago (after 2+ years here) to become ND for sister station KUSA-TV in Denver.
WVLT-TV, Knoxville, TN…TONY BERNHARDT has been named news director for this Gray TV owned CBS affiliate. Tony's currently the Assistant News Director for WTNH-TV in New Haven/Hartford, CT. He's also worked in Washington, DC, Tampa, Orlando, and Colorado Springs. At WVLT, he will replace LENA SADIWSKYJ who's been the news director here for the last four years.  Lena will leave the station after the May book.
WVLA/WGMB-TV, Baton Rouge, LA…GARY WORDLAW returns to a newsroom as the news director for this NBC/FOX duopoly operated by Nexstar. Gary's been an ND in Washington and Baltimore, and a general manager in Seattle, New Orleans, Syracuse, and Tallahassee. He's also worked in Chattanooga. In Baton Rouge, he replaces DAVID A'QUIN who's been ND here for more than eight years. David had been an anchor at the station before being promoted. He earlier had worked as a weather anchor in Lafayette, LA.
Paid Help Wanted Ads:

News Director, KION-TV, Salinas/Monterey, CA:
KION News Channel 5, located in beautiful Monterey County, California, is seeking an extraordinary leader to head a growing news team. We were acquired by News-Press & Gazette Company in December 2013, and are making huge capital investments to build a strong local news organization.
Our News Director will be a visionary leader who understands how to produce compelling and distinctive content on all multi-media platforms. Must have proven skillset to maximize content and customer loyalty on digital and social media platforms. Must demonstrate a passion for the product with strong oversight and consistent communication and feedback.
The successful candidate will be called upon to provide strategic direction for daily news coverage as well as working closely with the General Manager on long-range planning, special news coverage and station projects.
Applicants should be prepared to discuss:
Previous experience
Creative approaches to building and innovating news brand
Mobile and online strategies
Effective use of social media in a broadcast environment
Previous experience managing financial, technical and people resources
If you want to be a part of our success, please send your resume and cover letter, along with your news philosophy, and indicate your referral source to:
Kristy Santiago
KION-TV
1550 Moffett Street
Salinas, CA 93905
or email to kristy.santiago@npgco.com
KION-TV is an Equal Opportunity Employer. Position is closed when filled.

News Director, WPTA/WISE-TV, Ft. Wayne, IN:
HEADLINE: Experienced News Director wanted to lead a fantastic news team in beautiful Northeast Indiana.
Our next News Director will lead our stations' news operation, both on-air and on-line. If you are passionate, sharp and love to enrich viewer's lives, you're what we're looking for.
DUTIES AND RESPONSIBILITIES INCLUDE:
Ability to meet deadlines while handling multiple tasks.
Preparing and maintaining departmental budgets.
Developing news coverage strategies for 2 TV stations and an extensive arsenal of digital properties.
Minimum 5 years experience in TV news and a Bachelor's degree in Journalism or related field.
Working with other department heads to establish and reach goals.
Developing your staff through critiques, training and mentoring.
Exemplary oral and written communications skills.
Never considered Northeast Indiana? Well, you've been missing out! Low cost of living, affordable homes, beautiful lakes, great sports and accolades galore from some of the nation's leading publications. Centrally located from Chicago, Indianapolis, Detroit and Cincinnati, everyone loves Northeast Indiana as a contender in a land full of kings. You can make your mark here, and you will. Visit www.yourstorymadehere.com and you'll learn our story.
Please apply online at www.gbcjobs.com, or send your cover letter and resume with reference to:
WPTA / WISE,
Attn. Don Osika
General Manager.
3401 Butler Road
Fort Wayne IN 46808
or email todono@21alive.com
Please tell us where you saw this opportunity. EOE.

Assistant News Director, KGTV, San Diego, CA:
KGTV, San Diego's ABC affiliate, is looking for a dynamic Assistant News Director with a proven record of ratings success to help us dominate the San Diego news market.
If you have great news judgment, a strong understanding of changing digital demands, and more creative energy than you know what to do with – this is the job for you. The Assistant News Director will oversee daily content gathering, enterprising stories and creative execution of content across multiple platforms.
If you are ready for a new adventure, please visit www.scripps.com/careers and submit your information to requisition #10280.
Other News Management Openings:
ASSISTANT NEWS DIRECTOR:
WBZ-TV, Boston, MA (relisted 3/22/15)
KHOU-TV, Houston, TX (listed 4/5/15)
WFTS-TV, Tampa, FL (relisted 3/7/15)
KGTV, San Diego, CA (listed 4/12/15, see ad above!)
KSHB-TV, Kansas City, MO (relisted 3/7/15)
KOAT-TV, Albuquerque, NM (listed 4/12/15)
WJCL-TV, Savannah, GA (listed 3/29/15)
KRCR-TV, Redding, CA (new listing this week)
EXECUTIVE NEWS PRODUCER:
WCAU-TV, Philadelphia, PA (relisted 3/22/15)
KXAS-TV, Ft. Worth/Dallas, TX (listed 3/1/15)
WFAA-TV, Dallas, TX (relisted 2/22/15)
WFXT-TV, Boston, MA (relisted 3/14/15)
KPRC-TV, Houston, TX (relisted 3/22/15)
KOVR-TV, Sacramento, CA (PM EP, relisted 3/14/15)
KXTV, Sacramento, CA (2 openings, relisted 3/14/15)
KSWB-TV, San Diego, CA (PM EP, listed 4/12/15)
WTMJ-TV, Milwaukee, WI (Special Projects EP, listed 3/29/15)
WAVY-TV, Norfolk, VA (2 openings, AM & Dayside, listed 3/29/15)
WIAT-TV, Birmingham, AL (relisted this week)
WGHP-TV, Greensboro/High Point, NC (Morning EP, relisted 3/7/15)
WIVB-TV, Buffalo, NY (relisted 4/12/15)
WDTN-TV, Dayton, OH (Digital EP, listed 3/1/15)
WMTW-TV, Portland, ME (AM EP, relisted 3/22/15)
WCYB-TV, Tri-Cities, TN (relisted 3/22/15)
ASSIGNMENT MANAGER:
WGCL-TV, Atlanta, GA (listed 2/22/15)
Central Florida News 13, Orlando, FL (relisted 3/29/15)
MANAGING EDITOR:
WMAQ-TV, Chicago, IL (listed 4/12/15)
WFXT-TV, Boston, MA (relisted 3/14/15)
NEWS OPERATIONS MANAGER:
WCAU-TV, Philadelphia, PA: (relisted 3/22/15)
Obituaries:
BILL SLATTER died last Sunday (April 12th) in Washington, DC. He was 87. Many of you didn't know Bill, but he had two very different careers. First as an anchor and reporter in New Orleans, where he once interviewed LEE HARVEY OSWALD a few months before the JFK assassination. He later became a talent scout for NBC. In the pre-videotape (and, obviously, pre-internet world) he travelled the country meeting with NBC news directors to ask about good talent in their market. More in this story.
Legendary photographer DARREL BARTON died Wednesday after a brief illness. He was 73. Darrel was twice named the Photographer of the Year and taught hundreds of photographers at NPPA seminars. That group honored him with this obituary.
Situations Wanted:
We offer a free situations wanted ad to news managers who are out of work and looking for a new opportunity. If you'd like to state your case to a well targeted audience, email me an item (max. 150 words). You may include a link to a website, an email address, and a photo. You must include your name. I'll run it for one week. I don't represent or endorse those listed, but merely trying to help.
Names in the News…and other things:
WTVJ-TV in Miami, the NBC owned station there, has promoted Senior Producer DAVID HENDERSON to EP of the 5 o'clock news. ELIZABETH FLORES, who was the 11:00 EP, was also promoted to Senior EP supervising the 6:00 and 11:00 news.
TYSON MILANOVICH crosses the street in Phoenix to become the AM EP for Scripps' KNXV-TV. He had been working for KTVK-TV.
ANA MARIA LAMAS returns to Texas as the EP for KEYE-TV in Austin. She had been working as the Managing Editor for the Telemundo station in Los Angeles.
Finally, legendary newsman AL PRIMO was one of six broadcasters recognized Wednesday with a Ward L. Quaal Leadership Award. The honor is given by the Broadcasters Foundation of America and was presented at a Wednesday morning breakfast at the Encore Hotel in Las Vegas during the NAB conference. I was honored to be one of Al's guests at the event, and snapped the photo below. More details about the award…and the other honorees…in this news release.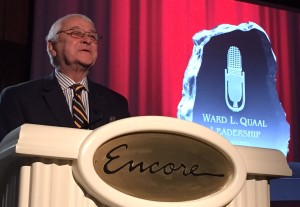 General Manager News:
Two news directors turned General Managers are leaving their jobs.
At KDVR/KWGN-TV in Denver, PETER MARONEY announced his retirement in this memo to the staff. He plans to stay in Denver and work on other projects. Peter's also been a GM in Portland, OR, and Richmond, VA, a news director in San Francisco, and also worked in Boston, Houston, and Minneapolis. More in this article from the Denver Post.
EMILY NEILSON will leave as GM of Las Vegas CBS affiliate KLAS-TV in a few months when her replacement is found. Emily's been here for 35 years, beginning as a part-time clerk in the traffic department, before moving into the news department as a secretary and eventually rising to ND before her promotion to GM. She told TVSpy that she's been thinking of leaving for two years but wanted to complete the transition to new owner Nexstar.
JOE DENK is the new GM at Nexstar's WATN-WLMT-WJKT-TV in Memphis. He'll over see the ABC and CW stations in Memphis and the FOX affiliate in Jackson, MS. Joe's been the GM at the company's WFRV-TV in Green Bay. He's also been a GM in Rockford, IL.
Our Full List of Open ND Jobs:
Here is my list of stations with open ND jobs, as of Sunday, April 19, 2015.
If you know of any additions/deletions/updates, please email me at: rick@rickgevers.com
WPIX-TV 220 E. 42nd Street New York NY 10017
KABC-TV 500 Circle Seven Drive Glendale CA 91201
KWHY-TV 4975 W. Pico Blvd Los Angeles,CA 90019 *
KSTP-TV 3415 University Ave. St. Paul MN 55114
WLTV 9405 NW 41st St. Miami FL 33178 *
KCEC-TV 777 Grant St. #110 Denver CO 80203 *
Central Florida News 13, 20 N. Orange Ave. Suite 13 Orlando FL 32801
WISH-TV 1950 N. Meridian St. Indianapolis IN 46202
WSMV-TV 5700 Knob Rd. Nashville TN 37209
KUTV 299 S. Main St. #150 Salt Lake City UT 84111
WDJT-TV 809 S. 60th St. Milwaukee WI 53214
KTNV-TV 3355 S. Valley View Blvd. Las Vegas NV 89102
WXII-TV 700 Coliseum Drive Winston-Salem NC 27106
WWL-TV 1024 North Rampart St. New Orleans LA 70116
WTEN-TV 341 Northern Blvd. Albany NY 12204
KJRH-TV 3701 South Peoria Avenue Tulsa OK 74105
WOWK-TV 555 Fifth Ave. Huntington WV 25701
WACH-TV 1400 Pickens St. Columbia SC 29201
KRNV-TV1790 Vassar St. Reno, NV 89502
WFFT-TV 3707 Hillegas Rd. Ft. Wayne IN 46807
WPTA/WISE-TV 3401 Butler Rd Ft. Wayne, IN 46808 (see ad above!)
KION-TV 1550 Moffett St. Salinas, CA 93905 (see ad above!)
KMIZ-TV 501 Business Loop 70 East Columbia MO 65201
KTVL-TV 1440 Rossanley Dr. Medford OR 97501
WHSV-TV 50 North Main St. Harrisonburg, VA 22802
KMVT/KSVT-TV 1100 Blue Lakes Blvd. North Twin Falls, ID 83301
WBUP/WBKP-TV 1705 Ash Street Ishpeming MI 49849
* Spanish language station