Wednesday, May 27, 2015 UPDATE:
I'm saddened to tell you of the passing of one of the true gentlemen of our business, MARSELIS 'DIV' PARSONS, who died this morning of cancer at the age of 70.  He is survived by his wife and daughter.
'Div' (and no one knows how he got the nickname) was the longtime news director and anchor for WCAX-TV in Burlington, VT, before retiring in 2009. Today, his former station remembers him here.
He was a fixture at RTDNA conventions and always fun to catch up with.
Div had shared the news of his cancer battle with me about a month ago, so naturally I was concerned when I received this 'out of office' email response to the most recent newsletter:
I sincerely appreciate your email and I am always happy to hear from you, however I am unable to respond to your messages.
Sincerely,
Marselis Parsons
A gentleman to the end. RIP.
regards,
Rick Gevers
**** ***** ****
Greetings:
I hope you had a great holiday.
Our holiday edition brings you news of TWO new News Directors, TWO new ND openings, and THREE paid ads, including an ad for a General Manager's position at a well regarded station in the Upper Midwest.
The ND changes leave our count of openings at 30. Two of those openings are featured in ads below, including a rare display ad.
Just TWO items in Names in the News, but SIX GM changes, four in the same company.
Spend a few minutes of your holiday weekend by learning more below!

New News Director Openings:
KTSM-TV, El Paso, TX…we told you in April 12th edition that REY CHAVEZ was returning to KTSM as ND. 30 years ago he was a director there. He's already left the station, though I don't know the particulars of his departure. Of course, it may have something to do with a GM change (more on that in our GM Notes section below.)
KTMF/KWYB-TV, Missoula, MT…this Cowles owned ABC/FOX is looking for a new news director to replace the late KAYLEE SCOLATTI. Please check out the station's display ad below for details about this opportunity.
Newly Named News Directors:
KSTP-TV, Minneapolis/St. Paul, MN…congratulations to ANNE WITTENBORG who's been promoted to News Director for this Hubbard-owned ABC affiliate. Click here for more. She first joined the station in 2000 as a producer, left for a job at a production company for three years, and then returned in 2008 as Executive Producer. Anne was later promoted to Managing Editor, then Assistant News Director in 2013. She earlier worked in Eau Claire and Madison. Anne's been the Acting ND since LINDSAY RADFORD left to become ND for KMGH-TV in Denver. Lindsay was ND here for seven years.
WOWK-TV, Huntington/Charleston, WV…apparently we're REALLY late in reporting that KEN WHITE is the new news director for this West Virginia Media owned CBS affiliate. He's been there since January (Ken: Why didn't you let me know?

). Ken spent 14 years as ND for WCCB-TV in Charlotte before leaving in 2013. He's been working in radio and public relations since then. Ken replaces ELLEN MILLER who left the station last fall after nine months as ND.
Paid Help Wanted Ads:

General Manager, WISC-TV, Madison, WI:
Morgan Murphy Media is seeking an experienced broadcasting professional for an exciting GM opportunity to lead its broadcast, digital, and print operations in Madison, Wisconsin. The GM will have full oversight of our highly respected and successful Television Wisconsin, Inc. operation which includes WISC-TV (CBS), TVW (MyNetworkTV), channel3000.com, and our monthly city/regional print publication, Madison Magazine. This is a unique opportunity to join a thriving, privately held broadcast group with state-of-the-art broadcast and digital facilities and an experienced, dedicated, talented staff.
Our ideal candidate will be able to demonstrate prior results in a broadcast leadership role, will have strong interpersonal skills, and experience directing department heads. We are recruiting someone with a track-record of success and a broad range of experience in all areas of station operations with a focus on sales growth and an emphasis on local programming.
We expect our GM to reflect, embrace, and promote our core values of family and community and to be a visible role model to the employees and to the communities we serve. We are looking for a steward of the company, who is engaging and energetic, and will be able to capitalize on the potential of our news, programming, and sales operations with a positive impact on our employees, our advertisers, and our community.
Send resume and salary requirements to:
Morgan Murphy Media
Attn.: HR – General Manager
7025 Raymond Road
Madison, WI 53719
Email hr@wisctv.com – Visit our website at www.channel3000.com
Equal Opportunity Employer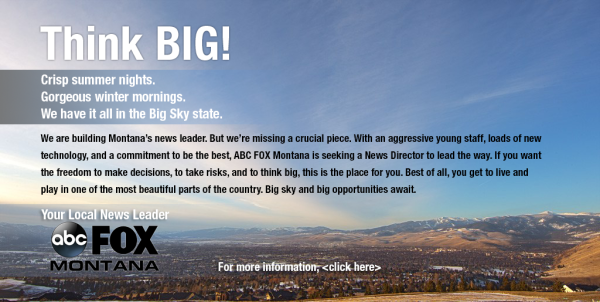 News Director, WTVD-TV, Raleigh/Durham, NC:
ABC11/WTVD, the ABC owned station in Raleigh-Durham, NC, is seeking a strategic, driven, collaborative and innovative News Director to lead a dynamic multi-platform newsroom. Candidate must have great journalistic skills, be nimble in identifying and moving on opportunities, and be a real team player both inside and outside of the station. Candidate must also be a skilled manager who can develop talent, lead a positive workplace, and inspire others to create unique, compelling and quality content. Other qualities include:
Demonstrated ability to turn research into actionable results, and to creatively evolve the news presentation, particularly as new technologies emerge.
A track record of developing breaking news and investigative strategies.
Experience in fiscal management, including the ability to reallocate resources as new technologies emerge.
An aptitude for regular feedback loops that foster daily emphasis on excellence in coverage and maintenance of the highest journalistic standards.
Responsibilities include defining the news strategy and brand vision, managing content across all platforms, and driving ratings and digital growth. Previous experience as a News Director or high level News Manager is required. Position reports to the President and General Manager. Candidates should include a cover letter with resume that addresses relevant skills/experience. Materials should be sent to Andrea Epps, Executive Assistant, ABC11/WTVD, 411 Liberty St., Durham, NC 27701.
Please ALSO apply for the position online, by logging on to https://disneycareers.com and search for the job title News Director, Req. ID# 272324BR, create a candidate profile and UPLOAD YOUR RESUME PROFILE.
Equal Opportunity Employer – Female/Minority/Veteran/Disability
Other News Management Openings:
ASSISTANT NEWS DIRECTOR:
WBZ-TV, Boston, MA (relisted 3/22/15)
KHOU-TV, Houston, TX (listed 4/5/15)
KGTV, San Diego, CA (listed 4/12/15)
WTNH-TV, Hartford/New Haven, CT (listed 5/10/15)
WDJT-TV, Milwaukee, WI (listed 5/10/15, see ad above!)
KOAT-TV, Albuquerque, NM (listed 4/12/15)
WJCL-TV, Savannah, GA (listed 3/29/15)
KRCR-TV, Redding, CA (listed 4/19/15)
KECI/KCFW/KTVM, Bozeman, MT (listed 4/26/15)
EXECUTIVE NEWS PRODUCER:
WCAU-TV, Philadelphia, PA (relisted this week)
WFXT-TV, Boston, MA (2 jobs, Inv/Spec. Proj. & newscast EP, revised 5/3/15)
KOVR-TV, Sacramento, CA (PM EP, relisted 5/17/15)
KSWB-TV, San Diego, CA (PM EP, listed 4/12/15)
KSHB-TV, Kansas City, MO (PM EP, listed 5/3/15)
KSTU-TV, Salt Lake City, UT (Dayside EP, listed 5/10/15)
WTMJ-TV, Milwaukee, WI (Special Projects EP, listed 3/29/15)
WAVY-TV, Norfolk, VA (2 openings, AM & Dayside, listed 3/29/15)
WIAT-TV, Birmingham, AL (relisted 4/19/12)
WIVB-TV, Buffalo, NY (relisted 4/12/15)
WJAR-TV, Providence, RI (PM EP, listed 4/26/15)
WMTW-TV, Portland, ME (AM EP, relisted this week)
WCYB-TV, Tri-Cities, TN (relisted this week)
ASSIGNMENT MANAGER:
WGCL-TV, Atlanta, GA (relisted 4/26/15)
Central Florida News 13, Orlando, FL (relisted 3/29/15)
WPBF-TV, W. Palm Beach, FL (listed 5/10/15)
MANAGING EDITOR:
WMAQ-TV, Chicago, IL (listed 4/12/15)
NEWS OPERATIONS MANAGER:
WCAU-TV, Philadelphia, PA: (relisted this week)
Names in the News…and other things:
Congratulations to old friend TOM BIER who's retiring from WISC-TV in Madison, WI, after 41 years of service. He's been the GM there since November, 2011, station manager before that, and was the ND for 23 years. Tom served one term as Chair of RTNDA. The station is advertising its search for his replacement above.
One note. Last week, in reporting MATT MILLER's move to Albany as ND for WTEN-TV, I told you that the man he was replacing, DAVE CILIBERTI, had moved to Columbus, OH, but I told you the wrong station. Dave's the new ND at WCMH-TV. Apologies.
General Manager News:
There were a lot of GM changes this week. Four of them were at Nexstar stations:
DAVID CANDELARIA is now the GM at KTSM-TV in El Paso, TX (as noted above).
After 15 years as director of sales, STEPHEN FRIEFELD is the new GM for WJET-TV in Erie, PA.
At KARD-TV in Monroe, LA, RANDY STONE has been promoted.
And another promotion finds WILLIAM EVANS taking over at WSYR-TV in Syracuse.
In Columbus, GA, CRISTINE COULDRIDGE is the new GM for WXTX-TV. The station is owned by American Spirit Media but operated by Raycom under a shared services agreement.
R.J. MERRITT replaces JAIME AITKEN as GM of KREM-TV in Spokane. He's a 15 year veteran of this Gannett owned station.
Our Full List of Open ND Jobs:
Here is my list of stations with open ND jobs, as of Sunday, May 24, 2015.
If you know of any additions/deletions/updates, please email me at: rick@rickgevers.com
KWHY-TV 4975 W. Pico Blvd Los Angeles,CA 90019 *
KYW-TV 1555 Hamilton St. Philadelphia PA 19130
WLTV 9405 NW 41st St. Miami FL 33178 *
KCEC-TV 777 Grant St. #110 Denver CO 80203 *
WTVD-TV 411 Liberty St. Durham NC 27701 (see ad above!)
WSMV-TV 5700 Knob Rd. Nashville TN 37209
WBNS-TV 770 Twin Rivers Drive Columbus OH 43215
KUTV 299 S. Main St. #150 Salt Lake City UT 84111
KTNV-TV 3355 S. Valley View Blvd. Las Vegas NV 89102
WWL-TV 1024 North Rampart St. New Orleans LA 70116
KJRH-TV 3701 South Peoria Avenue Tulsa OK 74105
WFXR-TV 2618 Colonial Ave. S.W. Roanoke VA 24015
WTOL-TV 730 N. Summit St Toledo OH 43604
WACH-TV 1400 Pickens St. Columbia SC 29201
KTSM-TV 801 N. Oregon St. El Paso, TX 79902
WTOC-TV 11 News Place Savannah GA 31405
KRNV-TV 1790 Vassar St. Reno, NV 89502
WFFT-TV 3707 Hillegas Rd. Ft. Wayne IN 46807
WPTA/WISE-TV 3401 Butler Rd Ft. Wayne, IN 46808
WGXA-TV 599 Martin Luther King Blvd. Macon GA 31201
KION-TV 1550 Moffett St. Salinas, CA 93905
WRBL-TV 1350 13th Ave. Columbus GA 31901
KMIZ-TV 501 Business Loop 70 East Columbia MO 65201
KTVL-TV 1440 Rossanley Dr. Medford OR 97501
KTMF/KWYB-TV 2200 Stephens Ave. Missoula, MT 59801 (See ad above!)
WDHN-TV 5274 E. State Highway 52 East Dothan AL 36376
WHSV-TV 50 North Main St. Harrisonburg, VA 22802
KGNS-TV 120 W. Delmar Blvd. Laredo TX 78045
KMVT/KSVT-TV 1100 Blue Lakes Blvd. North Twin Falls, ID 83301
WBUP/WBKP-TV 1705 Ash Street Ishpeming MI 49849
* Spanish language station