Monday, August 31, 2015 UPDATE:
Two open news directors in top 40 (okay, top 41) markets have been filled, both by the promotion of longtime employees to the top job.
In Orlando, ALLISON McGINLEY has been named ND for WKMG-TV, the  Graham Media owned CBS affiliate. She's been the interim ND since STEVE HYVONEN departed in July after seven years as ND, shortly after the arrival of new GM JEFF HOFFMAN.
Allison has worked at the station for 22 years, beginning as a producer and working her way up to EP of Special Projects. Her Linkedin page details that career path, and TV columnist HAL BOEDEKER of the Orlando Sentinel has more on her promotion.
And at KLAS-TV in Las Vegas, another longtime station employee moves up, as TERRI FOLEY has been promoted to news director for this newly-acquired by Nexstar CBS affiliate. She replaces RON COMINGS who left the station in June after nine years as ND. Terri first joined the station in 1986 as a newsroom coordinator, has held a variety of jobs, and has been the Managing Editor/Assistant ND for the last eight years.
More in this memo sent to the staff by newly installed General Manager LISA HOWFIELD.
Have a great week, and we'll see you later with our full report.
regards,
Rick Gevers
**** ***** ****
Greetings: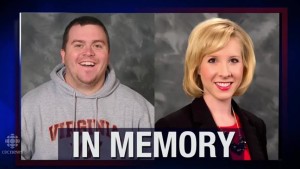 There is so little I can add to the volumes of coverage of this week's tragedy involving two journalists from WDBJ-TV in Roanoke, but we do have something you won't see anywhere else.
Before we get to that, I will repeat what I've heard from many of you, and that's the admiration and respect everyone has expressed for the performance of General Manager JEFFREY MARKS and his entire staff under the most difficult circumstances.
Full disclosure: Jeff and I have been friends for more than 25 years. I was an at large member of the RTNDA Board of Directors during Jeff's term as President.
Jeff wrote a remembrance late this afternoon, specifically for you, his fellow broadcasters who read this newsletter.
You can read it here.
Take a moment to check out the WDJB coverage on it's website: http://www.wdbj7.com.
The Roanoke Times also has extensive coverage at http://www.roanoke.com
Finally, a fund has been set up for the families of ADAM WARD and ALISON PARKER. You can learn more about it and contribute here.
On, now, to our normal business.
The news director hiring binge continues. For the second consecutive week, there were FOUR open positions filled (one in a top five market), with just ONE new opening. Those changes leave our always unofficial count of open jobs to 33.
There are lots of items in Names in the News, including a promotion for the daughter of a legendary news executive. And speaking of legendary, there are two obituaries for people who many would call legendary, as well.
FIVE help wanted ads are in this week's edition, if you're on the hunt for a new job.
And we welcome back advertiser Weather Metrics, whose ad is below. The company will be exhibiting at the EIJ/RTDNA/SPJ/NAHJ conference in Orlando next month. Please stop by and thank them for their support.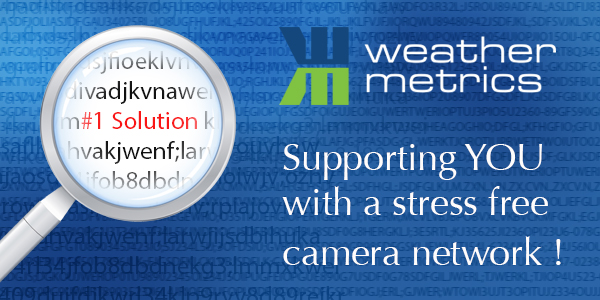 New News Director Openings:
KING-TV, Seattle, WA…we first told you on Monday that MARK GINTHER was leaving this Tegna owned NBC Affiliate to become ND for KXAS-TV in Dallas/Ft. Worth. Much more on that below.
Newly Named News Directors:
KXAS-TV, Dallas/Ft. Worth, TX…as noted above, MARK GINTHER returns to Texas to become VP/News for this NBC o-and-o. Here's the note sent to the staff. Mark's been the Executive News Director for Tegna's (formerly Gannett's, formerly Belo's) KING-TV in Seattle for almost eight years. He spent the previous two years in Dallas, as the Assistant ND for WFAA-TV. He's a former ND in Des Moines, assistant ND in Minneapolis, and spent several years early in his career working in radio in Minneapolis. He replaces SUSAN TULLY who was promoted to GM for another NBC o-and-o, WVIT-TV, in Hartford, after 14 years as ND here.
WSPA-TV, Spartanburg-Greenville-Ashville…we also told you on Monday that KIRK VARNER would be the next Vice President of News for this Media General owned CBS affiliate.  Here's the news release.  Kirk most recently was the ND for WKRC-TV in Cincinnati, leaving that Sinclair owned station in July after 4+ years. Kirk's worked as an ND in New Haven and Buffalo, in newsrooms in New York and Boston, ran newsrooms for ESPN and SportsChannel America, and was an executive for the Time Warner Cable news channels. He replaces KAREN KELLY who left the station in June after three years as ND and 17 years at the station.
WFIE-TV, Evansville, IN…JOE SCHLAERTH returns to a newsroom as he'll begin next month as the next ND for this Raycom Media owned NBC affiliate. GM JAY HIETT delivered the news to the troops in this memo. Joe spent the last 30 years in a variety of jobs at WIVB-TV in Buffalo, the last ten as news director, before leaving the then-owned-by-LIN Media-station last year. He'll replace SCOTT GALLOWAY who was promoted to Raycom's WTOC-TV in Savannah after four years as ND and 27 at the station.
KTVL-TV, Medford, OR…CHAD HYPES is the new news director here. He had been the Assistant ND for WOWK-TV in Charleston/Huntington, WV. Chad had previously worked as a photojournalist for another Charleston station, and earlier worked as a newscast director for a station in Oak Hill, WV. Chad replaces RICK HOWARD who retired in April after four years as ND for this Sinclair owned CBS affiliate.
Paid Help Wanted Ads:

Executive Producer, WJCL-TV, Savannah, GA:
WJCL-TV, Hearst Television's ABC affiliate in Savannah, GA/Hilton Head, SC is looking for an Executive Producer who can oversee fast-paced newscasts and bring a vision for success in winning weather, breaking news and the big story every day. The ideal candidate can handle Breaking News when it comes and – when it doesn't = can still oversee a compelling product that delivers interesting and relevant content to our viewers. Overseeing the product is only one facet of the job. You must also be a coach and a leader with the communications skills to make those you supervise better.
Job Responsibilities:
Oversee Newscasts
Working with and guiding Producers in story production
Communicating, coordinating and executing creative vision with team of anchors, reporters, meteorologists, photographers, editors, and production staff
Will produce and publish content to our online platforms
Required Experience:
4-5 years producing experience
Strong news judgment, ethics and knowledge of legal standards are a must. The ideal candidate is an aggressive strategic thinker who leads by example
Web publishing experience required
Qualifications Requirements:
4-5 years producing experience
Excellent writing, spelling, grammar and copy-editing skills
Ability to multi-task and coordinate several crews and responsibilities simultaneously
Produce and publish content to digital platforms
Creative presentation style, and ability to showcase all resources and elements
Unwavering journalistic integrity and ethical standards
Education:
College degree in broadcast journalism, broadcast news or related field
To Apply:
Qualified applicants must apply online with resume http://careers.hearsttelevision.com
No phone calls please.
EOE M/F/D/V

Assistant News Director/Content Manager, KTIV-TV, Sioux City, IA:
Are you an aggressive, seasoned producer with an unending passion for news, ready to be #2 in the newsroom?
KTIV, the #1 Station in Sioux City seeks a career-minded journalist with strong leadership skills to join our winning team as Assistant News Director / Content Manager. You will drive News4's editorial process, constantly guiding our multi-media journalists and producers to develop news content on all platforms; managing a continuous flow of information to website, mobile devices, social networking sites and local news broadcasts.
We are looking for a proactive person who shines at showcasing our content, whether it's a special project or daily breaking news. You must have excellent writing skills and news judgement in producing our top newscast. You will also work closely with the News Director and Internet Director to ensure comprehensive coverage on all platforms.
This is a senior newsroom position, perfect for the aspiring news director. The successful candidate will have a four-year degree, preferably in broadcast news/journalism or related field and significant producing, writing and newsgathering experience in a commercial newsroom.
KTIV is an Emmy award winning team that works hard and is committed to excellence.
Send resume, news philosophy, cover letter and references to: dday@ktiv.com or via postal mail to:
Deana Day
News Director
KTIV-TV
3315 Floyd Blvd.
Sioux City IA 51108
EOE

Morning Executive Producer, KOIN-TV, Portland, OR:
KOIN 6 a Media General Television Station in Portland, Oregon has an opportunity for a morning Executive News Producer.
JOB SUMMARY: The executive producer supervises news content across all media platforms.
Principal Duties & Responsibilities:
* Responsible for overseeing writing, production, and timing of broadcast.
* Define strategic direction for content coverage to meet business and financial objectives.
* Manage news room, contribute to the editorial process and make solid decisions in breaking news situations.
* Execute strategies that engage and grow audiences across all media devices.
* Responsible for successful financing and marketing of projects.
Specialized Knowledge/Skills/Abilities:
* Must be able to interact well with video journalists, anchors, videographers, news managers, production and engineering staff.
* Detail oriented.
* Excellent verbal, written, and analytical skills.
* Strong news judgment, journalistic integrity and understanding of viewer needs and expectations.
* Financial management.
Education/Experience:
Bachelor's Degree in Communications, TV/film or the equivalent. At least five (5) years experience in television or radio broadcast/production.
Training/Equipment:
Utilize state-of-the-art television technology.
Work Environment/Mental/Physical Requirements:
High stress environment with deadline pressures. Some travel may be required on an occasional basis.
NOTE: This job description contains the basic requirements for the position and is NOT intended to be a complete list of responsibilities; other duties may be assigned.
To apply:
Please submit resume, work samples and references to KOINHR@Koin.com or to:
KOIN 6 HR, 222 SW Columbia, Suite 102, Portland, OR 97201.
NO PHONE CALLS – EOE/MINORITIES/FEMALES/VETERANS/DISABLED

Executive Producer, KWCH-TV, Wichita, KS:
Are you a talented NOW producer who excels at winning breaking news and weather across multiple platforms?
Are you a smaller market executive producer looking for the next step?
If so – KWCH12 in Wichita, Kansas, is looking for you.
Sunflower Broadcasting is looking for its next nightside Executive Producer to help continue our tradition of excellence by overseeing the #1-rated Eyewitness News at 10, Eyewitness News at 9 on KSCW, and content on KWCH.com.
We have all the resources you will need to win: Live trucks, Dejeros, GoPros, satellite truck, and a talented team of journalists who will work with you every day to succeed. We won a national Edward R. Murrow Award, two regional Murrows, and an Emmy this year.
The successful candidate should be great at working with a team of reporters, anchors and producers to showcase and "produce-up" content, finding new ways to engage viewers across multiple platforms, and using urgent and impactful language in your storytelling.
Wichita is a growing community, with a good amount of breaking news, and a ton of breaking weather (especially during spring storm season). And the cost of living here will allow you to save a few dollars. Not to mention, this is a great station run by a great company who really cares about its employees.
At least four years of producing experience required.
Interested candidates please click here and search Requisition Number SUN2377 to learn more about the position and apply.

Executive Producer, KKTV, Colorado Springs, CO:
TITLE: Executive Producer
REPORTS TO: News Director, Assistant News Director
DEPARTMENT: News
GENERAL PURPOSE:
Lead team of producers in creating dynamic, engaging newscasts representing philosophy, standards established by News Director.
DUTIES/RESPONSIBILITIES:
Responsible for overseeing editorial tone, content, style of each newscast; working closely with newscast producers, directors to create strong visual presentation. Strong writer; ability to edit all news copy. Work closely with anchors, reporters to develop content of newscast; make sure all copy is accurate, fair, well-written, follows style guidelines established by news director. Must contribute daily content to KKTV.COM; other associated digital products. Will be asked to assist producers of all newscasts as needed; must be able to fill in as the producer on any 11 News broadcasts.
KNOWLEDGE, SKILL, ABILITY:
Position requires proven ability to produce newscasts; high level of production values. Strong writing background with ability to write quickly and accurately. Extreme attention to detail; solid news judgment. Required to know all newsgathering; libel laws. Strong leader with ability to guide large group of people under extreme deadline pressure.
EDUCATION, EXPERIENCE:
Applicable college degree required. Two years producing experience preferred but experience required. Newsroom leadership experience preferred.
MATERIAL, EQUIPMENT USED:
Newsroom computer system; broadcast edit equipment; both standard and computer based edit stations.
.
Contact:
Email jobs@kktv.com subject line Executive Producer Search or mail to:
Executive Producer Search
520 East Colorado Avenue
Colorado Springs, CO 80903
KKTV IS EQUAL OPPORTUNITY EMPLOYER. Offers contingent upon satisfactory completion of pre-employment drug test. KKTV E-Verify participant.
Other News Management Openings:
ASSISTANT NEWS DIRECTOR:
WGCL-TV, Atlanta, GA (relisted 8/14/15)
KSTU-TV, Salt Lake City, UT (relisted 8/14/15)
WLBT-TV, Jackson, MS (listed 8/8/15)
WCYB-TV, Tri-Cities, TN (relisted 8/8/15)
WKBN-TV, Youngstown, OH (listed 7/19/15)
KION-TV, Salinas/Monterey, CA (listed 8/2/15)
KRCR-TV, Redding, CA (relisted 8/8/15)
KTIV-TV, Sioux City, IA (listed 8/22/15, see ad above!)
EXECUTIVE NEWS PRODUCER:
KPIX-TV, San Francisco, CA (listed 8/14/15)
WFXT-TV, Boston, MA (Special Projects EP, listing revised this week)
KOVR-TV, Sacramento, CA (PM EP, relisted 7/19/15)
KXTV, Sacramento, CA (listed 8/14/15)
KOIN-TV, Portland, OR (Morning EP, listed 8/22/15, see ad above!)
KSTU-TV, Salt Lake City, UT (Dayside EP, relisted 8/14/15)
WDJT-TV, Milwaukee, WI (listed 7/11/15)
WIAT-TV, Birmingham, AL (relisted 6/28/15)
WJAR-TV, Providence, RI (relisted 7/11/15)
KFSN-TV, Fresno, CA (AM EP, listed 6/28/15)
KWCH-TV, Wichita, KS (listed 8/8/15, see ad above!)
WTVG-TV, Toledo, OH (listed 8/18/15)
WMTW-TV, Portland, ME (AM EP, relisted 8/2/15)
KOAA-TV, Colorado Springs, CO (AM EP, relisted 8/22/15)
KKTV, Colorado Springs, CO (listed 8/22/15, see ad above!)
WJCL-TV, Savannah, GA (relisted this week, see ad above!)
WTVM-TV, Columbus, GA (listed 7/5/15)
MANAGING EDITOR:
KPIX-TV, San Francisco, CA (listed 8/14/15)
ASSIGNMENT MANAGER:
WGCL-TV, Atlanta, GA (relisted 8/22/15)
WPBF-TV, W. Palm Beach, FL (relisted 7/11/15)
NEWS OPERATIONS MANAGER:
KPRC-TV, Houston, TX (relisted 8/14/15)
Obituaries:
Legendary WWL-TV (New Orleans) General Manager MICHAEL EARLY died this week at the age of 99. He retired from the station in 1998 at the age of 82. This obituary explains why EVERYONE at the station always…and only…called him Mr. Early.
He wasn't a news director or a general manager, but he appeared on dozens of local newscasts, as well as the Today Show and NBC Nightly News. DR. JAMES 'RED' DUKE was a pioneering physician in Texas who died this week at the age of 86. As a fourth year surgery resident, he was in Parkland Hospital on November 22, 1963, and treated then Texas Governor JOHN CONNALLY, who was shot along with President JOHN KENNEDY. The New York Times examines his remarkable career and includes a link to some of his TV work.
Situations Wanted:
We offer a free situations wanted ad to news managers who are looking for a new opportunity. If you'd like to state your case to a well targeted audience, email me an item (max. 150 words). You may include a link to a website, an email address, and a photo. You must include your name. I'll run it for one week. I don't represent or endorse those listed, but merely trying to help.
Names in the News…and other things:
A second generation news manager has been named Assistant News Director for WCBS-TV in New York. NICOLE TINDIGLIA had been the Assignment Manager for this CBS o-and-o, and has worked her way up from desk assistant. Her father was RON TINDIGLIA, a legendary news executive who died of lung cancer in 1997 at the age of 51.
This New York Times obituary outlines his career.
A newsroom manager promotion at WPIX-TV in New York. CHUCK CARTER has been named Senior Executive Producer overseeing the morning newscast. He's been the station's managing editor. Details on his new job, and his background, are here.
PETER WILSON returns to a newsroom and stays in Boston as he joins WFXT-TV as Executive Producer. He spent about 20 years at Boston's WBZ-TV in a variety of roles before leaving the station earlier this summer.
Also returning to a newsroom is DAVE GRENDZYNSKI who stays in Cleveland as he becomes the Morning EP for WOIO-TV, the Raycom Media owned CBS affiliate. He's spent the last 7+ years as Senior Content Producer for the Cleveland Clinic. He's also worked for another Cleveland station, as well as in Columbus, OH, and Augusta, GA.
A reunion in New Haven, CT, where DUANE BECKER joins WTNH-TV there as the Executive Producer. The move reunites him with WTNH ND KEITH CONNORS. Duane was a producer at WTHR-TV in Indianapolis when Keith was the ND there. Duane most recently has been the EP for WCSH-TV in Portland, ME.
KFSN-TV in Fresno, the ABC o-and-o there, has promoted producer SHELBY MAXWELL to Executive Producer.
LORRI ALLEN, who left KYTX-TV in Tyler, TX, after almost two years as ND earlier this year, has joined the Univeristy of Texas at Tyler. Details here.
Former KWES-TV (Midland, TX) News Director and Chief Meteorologist TOM TEFERTILLER has sued the station, claiming he was fired due to his age and health conditions. He'd been at the station for more than 20 years when he was promoted to news director earlier this year. He left the station four months later. The full story is here.
General Manager News:
FOX has named KIERAN CLARKE General Manager of its relatively new Charlotte duopoly, WJYZ/WMYT-TV. He's a former GM in Portland, OR, and has been working for Meredith as Executive Vice President. The Charlotte Observer has more.
Our Full List of Open ND Jobs:
Here is my list of stations with open ND jobs, as of Friday, August 28, 2015.
If you know of any additions/deletions/updates, please email me at: rick@rickgevers.com
KWHY-TV 4975 W. Pico Blvd Los Angeles,CA 90019 *
KYW-TV 1555 Hamilton St. Philadelphia PA 19130
WTSP-TV 11450 Gandy Boulevard St. Petersburg FL 33702
KING-TV, 333 Dexter Avenue N. Seattle WA 98109
Northwest Cable News, 333 Dexter Avenue N. Seattle, WA 98109
KCEC-TV 777 Grant St. #110 Denver CO 80203 *
WKMG-TV 4466 N. John Young Parkway Orlando, FL 32804
WXIX-TV 635 W. Seventh St. Cincinnati OH 45203
WPMT-TV 2005 South Queen Street York PA 17403
KLAS-TV 3228 Channel 8 Drive Las Vegas 89109
KOAT-TV 3801 Carlisle Boulevard NE Albuquerque NM 87107
WKBW-TV 7 Broadcast Plaza Buffalo NY 14202
WCHS-TV 1301 Piedmont Rd. Charleston, WV 25301
KOLD-TV 7831 N Business Park Dr. Tucson AZ 85743
KVEO-TV 394 North Expressway Brownsville TX 78521
WBRZ-TV 1650 Highland Rd. Baton Rouge LA 70802
WCYB-TV 101 Lee St. Bristol WV 24201
WHBF-TV 231 18th St. Rock Island IL 61201
WCTV 1801 Halstead Blvd. Tallahassee FL 32309
WFFT-TV 3707 Hillegas Rd. Ft. Wayne IN 46807
WGXA-TV 599 Martin Luther King Blvd. Macon GA 31201
KIMA/KEPR-TV 2801 Terrace Heights Dr. Yakima,WA 98901
WRBL-TV 1350 13th Ave. Columbus GA 31901
WVNS-TV 141 Old Cline Road Ghent WV 25843
KTMF/KWYB-TV 2200 Stephens Ave. Missoula, MT 59801
KULR-TV 2045 Overland Ave. Billings, MT 59108
WDHN-TV 5274 E. State Highway 52 East Dothan AL 36376
WBBJ-TV 346 Muse Street, Jackson, TN 38301
WHSV-TV 50 North Main St. Harrisonburg, VA 22802
KGNS-TV 120 W. Delmar Blvd. Laredo TX 78045
KMVT/KSVT-TV 1100 Blue Lakes Blvd. North Twin Falls, ID 83301
KTVH-TV 100 W. Lyndale Ave. Suite A Helena MT 59601
WBUP/WBKP-TV 1705 Ash Street Ishpeming MI 49849
* Spanish language station