Greetings:
I hope your holiday was terrfiic.
I'm guessing the FIVE people who recently took new ND jobs and a good holiday. Those changes…along with the ONE newly opened ND position, leaves our list of openings at 34.
We have SIX paid help wanted ads…one for an ND job in Buffalo, and another for a job in a top 50 Western market. And there are ads for FOUR EP positions in a variety of markets.
You'll note that the deadline to enter a reporting contest has been extended, as well.
Lots of news in Names in the News, including the retirement (after 55 years!) of a former Los Angeles and San Francisco ND, some management moves, and news about TWO former news directors.
Enjoy!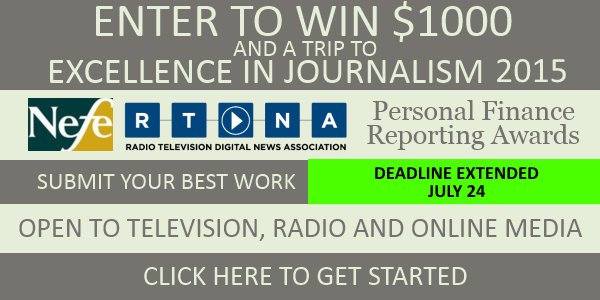 New News Director Openings:
WBBJ-TV, Jackson, TN…SHANDA SUNDSTROM will leave this Bahakel owned ABC affiliate at the end of July. She's been the ND there for just over two years. She had been an EP for KFSM-TV in Ft. Smith, and has previously worked in Sioux Falls, SD, El Paso, TX, and Miami.
Newly Named News Directors:
WZDC-TV, Washington, DC…MARIA ROZMAN began as the new news director for this Telemundo affiliate in Washington, DC.  Maria took a brief detour from news and spent five months as Director of Hispanic Media for the Hispanic Access Foundation. She'd been working for CNN en Espanol before the brief hiatus. She's also a former news director, EP and anchor for KDEN-TV in Denver.
WBNS-TV, Columbus, OH…we told you earlier that KELLY FRANK will be the next Director of News and Digital Content for this Dispatch Broadcasting owned CBS affiliate. She's been the Senior Managing Editor, Broadcast, Digital, & Social at WGCL-TV in Atlanta since last December. Kelly previously spent four years at CNN, and has also worked in Washington, Phoenix, Milwaukee, and at WCMH-TV in Columbus, where she began her career as a producer. Kelly's a former all-state athlete in Ohio, as detailed in this memo to the staff from GM JOHN CARDENAS. At WBNS, she replaces ELBERT TUCKER who left the station (after five years) in May to become ND for WISH-TV in Indianapolis.
KSTU-TV, Salt Lake City, UT…Assistant ND MARC STERNFIELD will become the news director for the Tribune-owned FOX affiliate, following the departure of longtime ND RENAI BODLEY. She's been the ND here for 15+ years (and 19 at the station). Here's the note from the GM to the staff. Careful readers may remember our report three weeks ago that Marc was headed to KHOU-TV as the Assistant ND. He tells me that changed when Renai decided to step down. Marc has also worked in Denver (three stations, one twice), in Lexington and Boston.
KJRH-TV, Tulsa, OK…MICHAEL McCARDEL leaves KTVT-TV in Dallas for the ND job at this Scripps' owned NBC affiliate. Michael's been the Assistant ND at KTVT for the past three years, and worked for that CBS o-and-o for almost seven years. He's worked for another Dallas station and one in Houston, as well as in Tulsa. At KJRH-TV, he replaces SUSAN D'ASTOLI who left the station in February. She's now the ND at Central Florida News 13.
KPAX-TV, Missoula MT…veteran broadcaster JERRY GIESLER is the next ND for this Cordillera Communications CBS affiliate. He most recently spent a few months as ND for WACH-TV, the Sinclair/FOX affiliate in Columbia, SC. Before that, Jerry worked nine years in Ft. Wayne as the GM of a Granite-owned duopoly. He's been a GM in a number of markets, including San Francisco, worked in the online world for a while, spent seven years as a consultant for Magid, and also worked in Phoenix as an Assistant ND. MIKE POWERS had been the ND here since 2011. He also anchored for the station.
Paid Help Wanted Ads:

News Director, WKBW-TV, Buffalo, NY:
WKBW, an E.W. Scripps owned ABC affiliate in Buffalo, NY seeks an experienced news leader to run its newsroom. The News Director is responsible for developing and implementing measurable strategies for audience growth while effectively managing news content delivered on multiple platforms.
We are seeking candidates with demonstrated qualities such as:
Creating & implementing strategic plans for audience growth and newsroom operations
Communicating a compelling and inspired vision consistent with company strategy
Analyzing and responding to trends affecting the industry and DMA
Building and maintaining key relationships to foster a positive news image within the community
Working closely with other members of station management team to develop and attain departmental and station goals
Ability to adapt current resources to emerging technology
Proven and effective leadership skills; fosters open dialogue, empowers others
It's a great time to join WKBW with the significant investment made in the station and its people. You will have the opportunity to make a big impact in this competitive news market.
Buffalo is on the move, with a new economy rapidly taking shape due to evolving investments in advanced manufacturing, life science and high techindustries. Also with an affordable cost of living and excellent schools, the city is ideal for people looking to move.
If you are ready for a new adventure, please visit www.scripps.com/careers and submit your information to requisition #10567.
WKBW and E.W. Scripps are equal employment opportunity employers.

Morning Executive Producer, WHTM-TV, Harrisburg, PA:
WHTM-TV/abc27, the leading multi-platform news operation in Pennsylvania's beautiful state capital is growing its morning team!
Are you a great producer looking to move into a senior leadership role? This could be the opportunity for you!
We are hiring a Morning Executive Producer to lead our a.m. news efforts. This person will assist in producing 2.5 hours of morning news and will be a key leader on our management team.
Abc27 News Daybreak is the fastest growing morning news in the DMA, up significantly in 2014. Our new EP will be crucial in continuing this success, insuring proper execution of our mission and strategy on all platforms in the morning. Our EP will also help guarantee excellent showcasing is being achieved.
Applicants should be skilled in web and social media content and understand the importance of strength in all of these areas. You must be a strong, decisive leader with excellent news judgment and an aggressive appetite for breaking news.
This is a full-time position that offers a full benefit plan.
Harrisburg offers a great location, close to the great outdoors of Pennsylvania and just a short drive to Philadelphia, New York City, Baltimore and Washington D.C. When you're not playing, visiting the great museums in Philadelphia or kayaking the breathtaking Susquehanna River, you'll be working in a great newsroom!
Send resume, cover letter, and a DVD or link of your most recent newscast to: humanresources@abc27.com
or via mail to:
Human Resources
WHTM-TV abc27
P.O. Box 5860
3235 Hoffman Street
Harrisburg PA 17110


Morning Executive Producer, KOAA-TV, Colorado Springs, CO:
KOAA News5, the Colorado Broadcasters Association Station of the Year and the number one NBC affiliate in beautiful Colorado Springs-Pueblo, is searching for an Executive Producer to push the envelope on our award-winning two-and-a-half-hour newscast.
We are looking for a true leader who can manage a morning team of 10+ employees. We set the pace in the market on multiple platforms including web, mobile and social media. We staff for multiple morning lives shots, in a fast paced, informative newscast that is always what's new, now, and next.
The ideal candidate will be a great mentor for producers, and a team player with seasoned journalists. You will coordinate with marketing, collaborate with other news managers and bring creative solutions to the table. You must be able to make smart decisions and execute last minute changes without supervision.
We are an investigative station in a market with a lot of breaking news, including critical weather conditions during morning drive.
At least two years line producing experience required, but strong leadership qualities are even more important. Familiarity with NBC NewsChannel, ENPS, World Now and Ross Overdrive is helpful.
If you land this job you will get to work in one of the most beautiful places on earth, in a happy newsroom, with competitive pay. We invest in our employees with training opportunities like Poynter and IRE, great benefits and a lot of fun team building (we're having a Fit Bit challenge for a cruise right now!) We love what we do and where we work – come see why.
Rush your resume & link to your work to EPJob@KOAA.com, SUBJECT LINE: Executive Producer
NO phone calls please.

Executive Producer, WTVM-TV, Columbus, Georgia:
WTVM News Leader 9, Raycom's legacy station in Columbus, Georgia is seeking a full-time Executive News Producer with exceptional showcasing skills. The successful candidate will lead producers in developing compelling content for newscasts, web and mobile that delivers on our promise of Coverage You Can Count On.
Raycom gives us all the latest news gathering tools: multiple live trucks, a satellite truck, LiveU backpacks, the leading news and weather apps and a well-staffed newsroom with a "digital first" urgency.
The successful candidate will possess superior writing and organizational skills and have a passion for news.
Columbus, Georgia offers great outdoor activities, like our world class white water rafting course on the Chattahoochee River; zip lines, a 25 mile Riverwalk from Columbus to Fort Benning and a friendly southern lifestyle. We're located just an hour and a half southwest of Atlanta and just a three hour drive from Florida beaches.
To be considered for this outstanding career opportunity, please apply on line at www.raycommedia.com/careers with links to your work.
No phone calls please. EOE/M/F/D/V.
Blind Box News Director Ad, Top 50 market:
News Director in a beautiful Western Top 50 market.
Seeking a News Director to lead an experienced and success driven team.
We are a dominant station, nationally recognized, award-winning, and part of a major broadcasting group. We are seeking a dynamic visionary leader that is be able to foster a culture of enterprise reporting and produce compelling and distinctive content on all platforms. Must demonstrate a passion for the product with strong oversight and consistent communication and feedback.
We are searching for a strong leader who has experience demonstrating qualities such as:
Working with other department heads to establish and reach goals
Developing your staff through critiques, training and mentoring
Researching new trends and technological advances in news gathering and distribution
Developing and adhering to budgets
Exemplary oral and written communications skills
Quality drives our success and we are eager to have a proven leader join us and lead us on this quest. We are looking for long term players who love the quality of the West and it's healthy lifestyles.
Minimum of 7 years' experience in news management and proven track record in enterprising content and ratings success.
Please include your news philosophy along with your resume and cover letter when applying via email to: news6222015@gmail.com

News Operations Manager, KRPC-TV, Houston, TX:
KPRC TV Channel 2, the Graham Media Group owned – NBC affiliate in Houston, Texas is looking for an individual who thrives in a fast-paced environment with daily deadlines and changing priorities. The News Operations Manager is responsible for ensuring the superior quality of KPRC2 News video, audio and digital presentation. This individual is the technology guru of the newsroom, constantly correcting, evaluating and implementing digital newsgathering solutions.
Responsibilities:
-Provide strategic, logistical planning, and insight to upcoming events, special programs and/or elements to be included in news coverage.
-Lead, develop, and coordinate electronic and digital news gathering operations: video gathering, editing, remote broadcasts, microwave, SNG trucks and field shop maintenance.
-Provide technical guidance, training, and leadership for editorial and newsgathering personnel, including photographers, editors and others as assigned.
-Ensure necessary equipment is in place and in working order to support assigned employees.
-Oversee staffing and supervisory duties, including hiring, performance management, scheduling, and evaluation of photographers and editors.
-Mentor and develop news employees' technology skills, especially in the use of digital and wireless tools.
-Work with News Director and Engineering Department to plan and manage the TV News operating and capital budgets. -Plan, supervise, and track operational expenditures.
-Budget, plan, and manage large remote broadcasts including breaking news and special events.
-Responsible for maintaining station disaster recovery procedures for News team.
To apply please send resume via email: rlavelle@kprc.com or mail to:
Rhonda LaVelle
News Director
KPRC-TV
8181 Southwest Freeway
Houston TX 77074
Other News Management Openings:
ASSISTANT NEWS DIRECTOR:
WGCL-TV, Atlanta, GA (listed 6/14/15)
KMGH-TV, Denver, CO (listed 6/7/15)
WTNH-TV, Hartford/New Haven, CT (listed 5/10/15)
KSTU-TV, Salt Lake City, UT (relisted this week)
WDJT-TV, Milwaukee, WI (listed 5/10/15)
KOAT-TV, Albuquerque, NM (relisted 6/14/15)
WCYB-TV, Tri-Cities, TN (listed 6/7/15)
KRCR-TV, Redding, CA (relisted 6/21/15)
EXECUTIVE NEWS PRODUCER:
WCAU-TV, Philadelphia, PA (relisted 5/24/15)
KNTV, San Jose/San Francisco, CA (AM EP, listed 5/30/15)
WFXT-TV, Boston, MA (2 jobs, Inv/Spec. Proj. & newscast EP, revised 5/3/15)
KDVR/KWGN-TV, Denver, CO (listed 6/21/15)
KOVR-TV, Sacramento, CA (PM EP, relisted 5/17/15)
KGTV, San Diego, CA (Dayside EP, new listing this week)
KSWB-TV, San Diego, CA (PM EP, relisted 6/14/15)
KSHB-TV, Kansas City, MO (PM EP, listed 5/3/15)
KSTU-TV, Salt Lake City, UT (Dayside EP, relisted 6/14/15)
WIAT-TV, Birmingham, AL (relisted 6/28/15)
WHTM-TV, Harrisburg, PA (new listing this week, see ad above!)
KFSN-TV, Fresno, CA (AM EP, listed 6/28/15)
WMTW-TV, Portland, ME (AM EP, relisted 5/24/15)
KOAA-TV, Colorado Springs, CO (AM EP, new listing this week, see ad above!)
WVLA/WGMB-TV, Baton Rouge, LA (listed 6/14/15)
WTVM-TV, Columbus, GA (new listing this week, see ad above!)
ASSIGNMENT MANAGER:
WGCL-TV, Atlanta, GA (relisted 6/14/15)
WPBF-TV, W. Palm Beach, FL (listed 5/10/15)
NEWS OPERATIONS MANAGER:
KPRC-TV, Houston, TX (listed 6/28/15, see ad above!)
WCAU-TV, Philadelphia, PA: (relisted 5/24/15)
Situations Wanted:
We offer a free situations wanted ad to news managers who are looking for a new opportunity. If you'd like to state your case to a well targeted audience, email me an item (max. 150 words). You may include a link to a website, an email address, and a photo. You must include your name. I'll run it for one week. I don't represent or endorse those listed, but merely trying to help.
Names in the News…and other things:
BOB PAPPER has put together an interesting look at the makeup of today's news director, age, tenure, gender, etc. You can check it out here.
After 55 years working in our business, WARREN CEREGHINO retired June 30th from KTTV in Los Angeles, where he's been working for the last 14 years. Warren is 78. He's been a major market ND in Los Angeles (KTLA-TV) and San Francisco/Oakland (KTVU-TV), and has worked in Phoenix, Sacramento, and for NBC News in Burbank. Warren was interviewed on KTTV's 5:00 PM newscast, which you can see here: You can wish him well via an email to: WarreNews@aol.com
KGTV in San Diego has promoted DORIS LEWIS to Assistant News Director. She's been an EP there, and the search is now on for her replacement in that role.
MICHELLE CHISM moves east to become Assistant ND for WBAL-TV in Baltimore. She's been the Assistant ND for KVUE-TV in Austin, and has also worked in Little Rock and Kansas City.
ADAM CHODAK joins Rochester's WROC-TV as Managing Editor and Anchor. He had been anchoring for WHAM-TV there.
Former Tampa and Greensboro ND DARREN RICHARDS has been promoted to Chief Operating Office for PR firm Tucker/Hall. Darren joined the company in 2009 after leaving WTSP-TV in Tampa. He's also worked in newsrooms in Ft. Myers, Jacksonville, FL, Phoenix, and Denver. More on his promotion here. Old friends can wish Darren well by emailing him at: drichards@tuckerhall.com
Old friend and college classmate GARY WHITAKER has been elected President of the City and Regional Magazine Association. The honor came 14 years to the day that Gary and wife JOAN began publishing 417 Magazine which serves Southwest Missouri. Gary's a former ND in St. Louis (two stations) and Albany, NY, and a GM in Springfield, MO. He began his career on-air. You can re-connect with him via email: gary@417mag.com
General Manager News:
Longtime FOX o-and-o GM KAREN ADAMS is moving to a new job as VP of Corporate Initiatives for the FOX o-and-o's. She's been the GM at the Charlotte o-and-o, WJZY/WMYT-TV and spent 16 years running the company's WGHP-TV in Greensboro, NC, staying on four years after FOX sold the station in 2008.
Our Full List of Open ND Jobs:
Here is my list of stations with open ND jobs, as of Sunday, July 7, 2015.
If you know of any additions/deletions/updates, please email me at: rick@rickgevers.com
KCBS-TV 4200 Radford Ave. Los Angeles CA 91604
KWHY-TV 4975 W. Pico Blvd Los Angeles,CA 90019 *
KYW-TV 1555 Hamilton St. Philadelphia PA 19130
KXAS-TV 4805 Amon Carter Blvd. Fort Worth TX 76155
KCEC-TV 777 Grant St. #110 Denver CO 80203 *
WTVD-TV 411 Liberty St. Durham NC 27701
WKRC-TV 1906 Highland Ave. Cincinnati OH 45219
WSPA-TV 250 International Drive Spartanburg SC 29303
KTNV-TV 3355 S. Valley View Blvd. Las Vegas NV 89102
KLAS-TV 3228 Channel 8 Drive Las Vegas 89109
WAVY-TV 300 Wavy St. Portsmouth VA 23705
WVTM 1732 Valley View Dr. Birmingham AL 35202
WKBW-TV 7 Broadcast Plaza Buffalo NY 14202 (see ad above!)
WTOL-TV 730 N. Summit St Toledo OH 43604
WACH-TV 1400 Pickens St. Columbia SC 29201
WFIE-TV 1115 Mount Auburn Rd. Evansville IN 47720
WCTV 1801 Halstead Blvd. Tallahassee FL 32309
KRNV-TV 1790 Vassar St. Reno, NV 89502
KYTX-TV 2211 ESE Loop 323 Tyler TX 75701
WFFT-TV 3707 Hillegas Rd. Ft. Wayne IN 46807
WPTA/WISE-TV 3401 Butler Rd Ft. Wayne, IN 46808
WGXA-TV 599 Martin Luther King Blvd. Macon GA 31201
KION-TV 1550 Moffett St. Salinas, CA 93905
WRBL-TV 1350 13th Ave. Columbus GA 31901
KTVL-TV 1440 Rossanley Dr. Medford OR 97501
KWES-TV P.O. Box 60150 Midland, TX 79711
KTMF/KWYB-TV 2200 Stephens Ave. Missoula, MT 59801
WDHN-TV 5274 E. State Highway 52 East Dothan AL 36376
WBBJ-TV 346 Muse Street, Jackson TN 38301
WHSV-TV 50 North Main St. Harrisonburg, VA 22802
KGNS-TV 120 W. Delmar Blvd. Laredo TX 78045
KMVT/KSVT-TV 1100 Blue Lakes Blvd. North Twin Falls, ID 83301
KTVH-TV 100 W. Lyndale Ave. Suite A Helena MT 59601
WBUP/WBKP-TV 1705 Ash Street Ishpeming MI 49849
* Spanish language station