Tuesday, October 23, 2012 UPDATE:
Greetings:
A surprise from Kansas City this morning, where longtime WDAF-TV News Director BRYAN McGRUDER has left the station. Bryan's been the ND for this LocalTV owned FOX affiliate for almost ten years. He previously had been the ND for (at the time) sister FOX o-and-o WHBQ-TV in Memphis for two years, and worked one year as an ND in Savannah, GA.  Bryan spent the first 15 years of his career as an anchor/reporter, producer, and EP in several markets, including Huntsville, Jackson and Meridian, MS.
More on this story in our full report later this week.
**** ***** ****
Greetings:
Lots of activity in this week's report.
There are THREE new ND openings and SEVEN new ND's to tell you about (including one in a top ten market just announced today). Another of those openings was created by the promotion of an ND to a GM job at a sister-station.
That brings our list of stations looking for a new ND to 26.
We have an ad for one of the open ND jobs below…an opportunity in the Pacific Northwest.
In Names in the News, two news manager items and a number of GM changes.
All that and more below: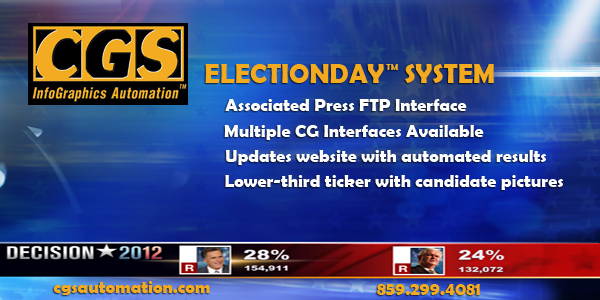 New News Director Openings:
WPXI-TV, Pittsburgh, PA…earlier today MIKE GOLDRICK announced his departure from this Cox-owned NBC affiliate to become ND for WRC-TV, the NBC o-and-o in Washington. More on that below. Mike was ND here for almost three years.
WVEC-TV, Norfolk, VA…longtime ND RICH LEBENSON has left this Belo-owned ABC affiliate. He's been the ND there since 2005 and has previously been an ND for Belo's KREM-TV in Spokane and at KMTV in Omaha. He's also been an EP in San Francisco and Orlando, an Assistant ND in Cincinnati, and also worked in Sacramento. His departure came on the same day Belo named a new GM for WVEC (more on that in Names in the News).
WPRI-TV, Providence, RI…congratulations to long-time ND JOE ABOUZEID who's being promoted to General Manager for sister LIN Media properties WDTN/WBDT-TV in Dayton, OH. Joe's been ND for this CBS/FOX duopoly since 2005: he first joined the station in 2002 as Managing Editor and was promoted to Assistant ND in 2004. He began his career at WHDH-TV in Boston as an intern and moved up the ranks there before going to Providence.
Newly Named News Directors:
WRC-TV, Washington, DC…as mentioned above, this NBC o-and-o today named MIKE GOLDRICK as its next news director. Mike's been ND for WPXI-TV in Pittsburgh for the past three years and served as ND for WHEC-TV in Rochester, NY, for three years. His career has also taken him to Seattle, Detroit, Houston, Tampa, Charlotte, and West Palm Beach. At WRC, he replaces CAMILLE EDWARDS who left last summer to become ND for WABC-TV in New York.
WSPA-TV, Spartanburg, SC…KAREN KELLY has been promoted to news director for this Media General owned CBS affiliate. She's been the Managing Editor here since 2002, first joined the station in 1998 as a producer and was upped to Executive Producer that same year.  She's also worked in Springfield, MO, and for another station in Spartanburg.  Karen will replace DAN CATES who left the station a few months ago when he was promoted to General Manager of Media General's WJHL-TV in the Tri-Cities, TN.
WYFF-TV, Greenville, SC…BRUCE BARKLEY returns to South Carolina as ND for this Hearst owned NBC affiliate. He comes from another Hearst station, WAPT-TV, in Jackson, MS, where he's been the ND since 2000. Bruce previously served as ND for WOLO-TV in Columbia, SC. He's also worked in Knoxville and the Tri-Cities, TN, and in Greenville, NC. At WYFF, he'll replace JUSTIN ANTONIOTTI who left the station last week to become ND for Hearst's WTAE-TV in Pitsburgh.
WTLV/WJXX-TV, Jacksonville, FL…veteran news director KATHY WILLIAMS has been named ND for this Gannett-owned duopoly. (We actually told you that in July but later learned she was 'interim'. Now it's official.) Kathy's been an ND in Houston and Cleveland (two stations). She's also worked in Chicago, Washington, Birmingham, and Lubbock as well as Houston earlier in her career. Kathy replaces MIKE GARBER who left the station in May to become ND for WPTV in West Palm Beach, FL.
WAPT-TV, Jackson, MS…BEN HART has been promoted to ND for this Hearst owned ABC affiliate, replacing BRUCE BARKLEY who's headed to WYFF-TV in Greenville, NC. (It's part of a series of ND changes at Hearst stations.) Ben's been the Assistant ND here since 2010, and has worked for two other Hearst stations in Sacramento and New Orleans. He previously worked for WAPT after beginning his career as a director in Columbus, MS.
WCTV-TV, Tallahassee, FL…one Sanders replaces another as STAN SANDERS has been named ND for this Gray Television owned CBS affiliate. Stan's been the ND for WDBD-TV in Jackson, MS, but that FOX affiliate has dropped its news department after the station was sold. WLBT-TV in Jackson will produce a newscast for WDBD. Stan earlier spent ten years as an ND in Columbus, OH. Before going to WDBD, he ran the Student Media Center at Southern Mississippi. At WCTV, he replaces TRISTON SANDERS who left last month to become Ass't. ND for WWL-TV in New Orleans. She was ND just over two years here.
WETM-TV, Elmira, NY…SCOTT LEVY is the new ND here. He has been working for News 12 Bronx/Brooklyn. Scott's also worked in Dallas, Memphis, Oklahoma City, and Tulsa (twice). He replaces SCOTT NICHOLS who left in August to become ND for WCTI-TV in Greenville/New Bern, NC.
Help Wanted Ad:

News Director, KBOI-TV, Boise, ID:
KBOI-TV, the CBS affiliate in Boise, Idaho seeks a newsroom leader to serve as News Director. The ideal candidate is a strong motivator, communicates well, and also has a record of achieving results.
Duties include; developing and implementing daily and long-term news coverage strategies and standards; hiring and training news staff; supervising special event coverage and production of special projects; supervising implementation of new technology; executing social media strategies.
The News Director works closely with station management and the production and promotions departments to develop a shared vision for KBOI News. Knowledge of television production technology, and legal and ethical issues related to journalism is essential.
To apply, click here:
Fisher Communications is an Equal Opportunity Employer
Other News Management Openings:
ASSISTANT NEWS DIRECTOR:
KING-TV, Seattle, WA (relisted 9/14/12)
WFTS-TV, Tampa, FL (listed 9/22/12)
KUSI-TV, San Diego, CA (listed 9/14/12)
KVUE-TV, Austin, TX (listed 9/1/12)
WLNE-TV, Providence, RI (listed 9/14/12)
WCTI-TV, Greenville/New Bern, NC (relisted 9/14/12)
KEZI-TV, Eugene, OR (listed 9/22/12)
KRCR-TV, Redding, CA (listed 8/5/12)
EXECUTIVE NEWS PRODUCER:
The Weather Channel, Atlanta, GA (listed 9/22/12)
KTTV/KCOP-TV, Los Angeles, CA (PM EP, listed 9/14/12)
KDFW-TV, Dallas, TX (Morning EP, relisted 9/14/12)
KTVT-TV, Dallas, TX (EP of Special Projects/Investigations, listed 9/14/12)
KHOU-TV, Houston, TX (listed 10/5/12)
WTVT-TV, Tampa, FL (AM EP, listed 10/5/12)
WKMG-TV, Orlando, FL (relisted 9/1/12)
KATU-TV, Portland, OR (Senior EP, listed 10/5/12)
KPTV/KPDX-TV, Portland, OR (Nightside EP, relisted 9/30/12)
WRAL-TV, Raleigh, NC (AM EP, listed 9/1/12)
WMAR-TV, Baltimore, MD (AM EP, listed 9/22/12)
KUSI-TV, San Diego, CA (relisted 9/14/12)
WXMI-TV, Grand Rapids, MI (TV Content Mgr., new listing this week)
KWTV, Oklahoma City, OK (PM EP, listed 9/30/12)
WAVY-TV, Norfolk, VA (AM & PM EPs, relisted this week)
WJXT-TV, Jacksonville, FL (Evening EP, relisted 9/9/12)
WINK-TV, Ft. Myers, FL (PM EP, listing revised 9/14/12)
WHEC-TV, Rochester, NY (listed 9/1/12)
WCYB-TV, Bristol, TN (relisted 9/14/12)
KOLO-TV, Reno, NV (Morning EP, relisted this week)
MANAGING EDITOR:
KNBC-TV, Los Angeles, CA (listed 9/14/12)
KTVT-TV, Dallas, TX (listed 9/14/12)
KCRA-TV, Sacramento, CA (listed 9/1/12)
Situations Wanted:
We have no takers for this feature this week. Our Situations Wanted listings are free. If you'd like to state your case to a well targeted audience, email me an item (max. 100 words). You may include a link to a website, an email address, and a photo. You must include your name. I'll run it for one week. I don't represent or endorse those listed, but merely trying to help. 
Names in the News:
KNTV, the NBC o-and-o in San Jose/San Francisco, has hired SARA BUENO as director of integrated media. She'll oversee the website and mobile apps and social media platforms. Sara has been working for KGO-TV in San Francisco as senior web producer.
JOHN BEARD has been promoted to Assistant ND at Madison, WI's, WKOW-TV. He's the weekend anchor for this ABC affiliate, and will move into management full time once his on-air replacement is hired.
A number of GM moves this week:
MARK LUND has been named GM of CBS's WBZ/WSBK-TV replacing ED PIETTE who is retiring. Lund is the son of former CBS President PETER LUND.
BRAD RAMSEY is the new GM for Belo's WVEC-TV in Norfolk. He has been the GM for a cluster of stations in Charlottesville, VA. He replaces TOD SMITH who was promoted to GM of Belo's WWL-TV in New Orleans.
LIN Media has promoted JAY HOWELL to VP-Regional Television. He'll be replaced as GM of WPRI/WNAC-TV in Providence by PATRICK WHOLEY who's the sales manager for the duopoly.
Finally, KEYC-TV (Mankato, MN) GM DENNIS WAHLSTROM will retire next year after what will be 38 years at the station, 25 as General Manager.
Our Full List of News Director Openings:
Here is my list of stations with open ND jobs, as of Friday, October 19, 2012.
If you know of any additions/deletions/updates, please email me at: rick@rickgevers.com
WPIX-TV 220 E. 42nd Street New York NY 10017
WTXF-TV 330 Market St. Philadelphia PA 19106
KNXV-TV 515 N. 44th St. Phoenix AZ 85008
KTVK-TV 5555 N. 7th Avenue Phoenix AX 85013
WWSB-TV 1477 10th St. Sarasota, FL 34236
WKYC-TV 1333 Lakeside Ave. Cleveland OH 44114
WPXI-TV 4145 Evergreen Road Pittsburgh PA 15214
WISH-TV 1950 N. Meridian St. Indianapolis IN 46202
KSHB-TV 4720 Oak Street Kansas City MO 64112
WLWT-TV 5555 N. 7th Avenue Cincinnati OH 45210
KSNV-TV 1500 Foremaster Lane Las Vegas NV 89101
WVEC-TV 613 Woodis Ave. Norfolk, VA 23510
WPRI/WNAC-TV 25 Catamore Bvld. E. Providence, RI 02914
KTHV-TV 720 Izard St. Little Rock 72201
KOTV 302 S. Frankfort St. Tulsa OK 74120
KSNW-TV 833 N. Main Wichita, KS 67203
KOLR/KOZL 2650 E. Division Springfield MO 65803
WMTV 615 Forward Dr. Madison WI 53711
WNCT-TV 3221 S. Evans St. Greenville NC 27834
KHGI-TV 13 S. Highway 44 Kearney NE 66848
KBOI-TV 140 N. 16th St. Boise ID 83702 (see ad above!)
WVNS-TV 141 Old Cline Rd. Ghent WV 25843
KSWT-TV 1301 Third Ave Yuma AZ 85364
KKCO-TV 2325 Interstate Ave. Grand Junction CO 81505
KFBB-TV P.O. Box 1139 Great Falls, MT 59403
KGWN-TV 2923 E. Lincolnway Cheyenne WY 82001