April 27, 2010 UPDATE: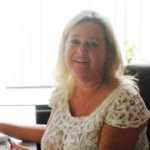 Dawn Mitchell
Funeral services will be held this Saturday (May 1, 2010) for WMDT-TV (Salisbury, MD) News Director DAWN MITCHELL, who died Saturday after a stroke.  She was 42 years old.
Dawn worked at WMDT for 22 years, and was ND for much of that time at this ABC affiliate.  She had a role in launching hundreds of careers.
Dawn is survived by her husband, Freddie, and two daughters.
The station paid tribute in this story, while the local newspaper obituary is here.  Both stories contain funeral details and memorial information.
Our sympathy to Dawn's family, co-workers, and friends.
**** ***** ****
Greetings:
Just  ONE new ND opening to tell you about this week, with  NO new NDs to report.  However, we are removing one opening from the list, which we'll explain below.
That leaves our count of open ND positions at  17.
There are several new news management openings in our list.  And we have several interesting items in Names in the News, including the arrest of a former ND on federal fraud charges.
We also have details about the impending retirement of a longtime educator who's taught at both Missouri and Kansas.
All that and more after this week's changes:
NEW NEWS DIRECTORS NAMED:
None that I know of.  As always, we welcome your emails about changes/deletions/additions, etc.
NEW NEWS DIRECTOR OPENINGS:
KIAH-TV, Houston, TX…we told you earlier this week that KYANN LEWIS is leaving this Tribune-owned CW affiliate to become VP of Lifestyle Content for Fisher Broadcasting.  KyAnn has been ND here since August, 2008, and previously served as ND for WHNS-TV in Greenville, SC.  Her husband, J.L. WATKINS is also joining Fisher as Director of Digital Content.  KyAnn and J.L. met when both worked at KPTV in Portland, OR, when TROY McGUIRE was the ND there, and this move means they'll be working with Troy again.  We told you last week that Troy has been named VP of Digital Content for Fisher.
Please note that we've also removed WFFF-TV in Burlington, VT, from the list of stations with open news director positions.  GM VIC VETTERS told me that he has divided those responsibilities among two existing managers already on the staff at this Smith Media owned FOX affiliate.
**** ***** ****
OTHER NEWS MGMT. OPENINGS:
ASSISTANT NEWS DIRECTOR:
KYW-TV, Philadelphia, PA (listed 3/19/10)
KSHB-TV, Kansas City, MO (listed 2/26/09)
WLWT-TV, Cincinnati, OH (relisted 3/12/10)
WHAS-TV, Louisville, KY (listed 3/27/10)
WDSU-TV, New Orelans, LA (new listing this week)
EXECUTIVE NEWS PRODUCER:
The Weather Channel, Atlanta, GA (listed 4/9/10)
News 12 The Bronx/Brooklyn, NY (listed 1/8/10)
News 12 New Jersey (AM EP, listed 3/12/10)
KCBS/KCAL, Los Angeles, CA (PM EP, listed 3/27/10)
KTVT-TV, Ft. Worth/Dallas, TX (Special Projects EP, listing revised 4/18/10)
KXTV,    Sacramento, CA (PM EP, listing revised 1/29/10)
KPTV, Portland, OR (two openings, one is EP/Special Proj., listing revised 1/29/10)
KSHB-TV, Kansas City, MO (listed 2/26/10)
WTMJ-TV, Milwaukee, WI (AM EP, new listing this week)
WSPA-TV, Spartanburg, SC (listed 3/27/10)
WOAI-TV, San Antonio, TX (listed 2/5/10)
KOB-TV, Albuquerque, NC (AM EP, listed 3/27/10)
WGHP-TV, Greensboro/High Point, NC (PM EP, listed 2/19/10)
WVLT-TV, Knoxville, TN (listed 3/5/10)
KGBT-TV, Harlingen, TX (listed 3/19/10)
WCTI-TV, New Bern, NC (listed 3/5/10)
WBTW-TV, Myrtle Beach, SC (listed 4/2/10)
WLNS-TV, Lansing, MI (new listing this week)
MANAGING EDITOR:
KCBS/KCAL, Los Angeles, CA (PM EP, listed 3/27/10)
MANAGER OF CONTENT PRESENTATION:
WCMH-TV, Columbus, OH (listed 3/05/10)
NEWS OPERATION MANAGER:
KCBS/KCAL, Los Angeles, CA (listed 3/27/10)
**** ***** ****
NAMES in the NEWS:
JEFF ALAN, who's been a news director in Houston, St. Louis, Portland, OR, Memphis, and several other markets, was arrested yesterday (Thursday, April 22, 2010) on federal charges of fraud and making false statements.  The charges involve accusations that Alan has used false social security numbers.  Lots more details (and links to an earlier investigation) in this article from The Oregonian.
GREG SHEPARD is moving west to become Managing Editor for KCRA-TV, the Hearst station in Sacramento.  Greg's currently the Assistant ND for Hearst's WDSU-TV in New Orleans.  Greg rejoins ANZIO WILLIAMS, the ND at KCRA.  They worked together in New Orleans when Anzio was ND there, as well as in Charlotte at WCNC-TV, when Anzio was the Assistant ND there.
Soon-to-be-former Honolulu news director CHRIS ARCHER will join SMITHGEIGER as a consultant, based in Los Angeles.  Chris is leaving KGMB/KHNL in Hawaii after the May book.  He was ND there for four years, and previously worked for KRON-TV in San Francisco.  Chris' wife recently took a job in marketing for KABC-TV in Los Angeles.
There are two new management hires at KTVX-TV in Salt Lake City.  SHAWANA PERRY has been named Assistant ND for this Newport Television owned ABC affiliate. She's currently an EP at WFSB-TV in Hartford and has also worked in Providence and Springfield, MA.  And MATT GEPHARDT has been named Brand Manager for the news product there.  Matt's been working at KUTV in Salt Lake City since 1998, most recently as EP of Special Projects, where he's worked with his father, longtime KUTV consumer reporter BILL GEPHARDT.
Finally, congratulations and best wishes to an old friend, former ND and longtime educator DICK NELSON who is retiring at the end of May.  Dick's been working for Kansas University for the past 14 years, overseeing KUJH-TV.  Earlier in his career, Dick was both ND and anchor for KOMU-TV, the NBC affiliate owned by the University of Missouri.  He's also been an ND in Wichita, Asheville, NC, and Cedar Rapids, IA, and also worked as an Assistant ND in Kansas City and as a reporter in Oklahoma City.  Dick plans to move to Indonesia where he worked for a year in the mid-90's.  It's safe to say that Dick has worked with hundreds, if not thousands, of journalists over the years.  If you're one of them, wish him well via email at: dnelson@ku.edu
**** ***** ****
Here's our list of all the stations currently looking for an ND, as of Friday, April 23, 2010.
If you know of any changes, additions, corrections, or deletions, please let me know via email:  rick@rickgevers.com
News 12 Bronx/Brooklyn 930 Soundview Ave. Bronx NY 10473
KVEA-TV, 3000 W. Alameda Ave.             Los Angeles, CA 91523 ***
KIAH-TV, 7700 Westpark Dr.             Houston, TX 77063
WXYZ-TV   20777 W. 10 Mile Road           Southfield MI 48037
KUVS-TV   1710 Arden Way                         Sacramento CA 95815 ***
KDKA-TV,  One Gateway Center,               Pittsburgh, PA 15222
WZTV-TV   631 Mainstream Drive             Nashville TN 37228
WAVY-TV, 300 Wavy St.                              Portsmouth VA 23705
WFMY-TV 1615 Phillips Avenue                Greensboro NC 27405
WTEN-TV   341 Northern Blvd.                   Albany, NY 12204
WOWK-TV 555 Fifth Ave.                            Huntington WV 25701
KGMB/KHNL-TV 420 Waiakamilo Rd. # 205  Honolulu HI 96817
WNWO-TV   300 S. Byrne Rd.                    Toledo OH 43615
WJHL-TV 338 E. Main St.                           Johnson City TN 37601
WMGT-TV   PO Box 4328                           Macon GA 31208
KTVE/KARD-TV 200 Pavilion Rd.           West Monroe LA 71292
KGNS-TV   120 W. Delmar Blvd.                Laredo TX 78045
*** (Spanish language)