Greetings:
A slow week for news director movement, with just ONE newly named news director and, for the second consecutive week, NO new ND openings. As always, we remind you to let us know of any ND changes via email: rick@rickgevers.com
There are now 25 open ND jobs on our list.
We have ONE paid help wanted ad, and welcome back WeatherMetrics whose ad appears just below.
We have THREE obituaries…for a network executive, a long-ago Kansas General Manager, and the father of a longtime ND and news manager. (If you have a relative who has or had dementia, check out the wonderful essay this news manager wrote about his dad.) That's below.
We have a taker on our free 'Situations Wanted' feature. Learn more about him.
And there's lots of items in our "Names in the News and Other Things", including a look at local print coverage of this week's surprising affiliation change here in Indianapolis. We have two new news managers in Chicago to tell you about, and some GM changes, including the retirement of a photographer-turned-ND-turned-Group VP/News-turned GM.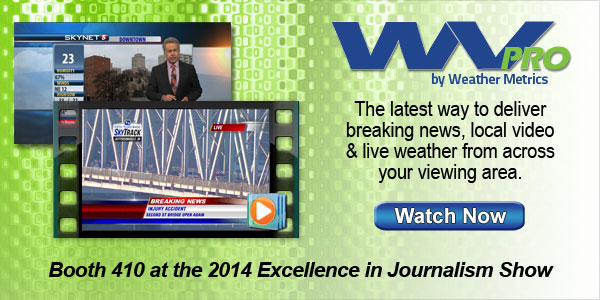 New News Director Openings:
I'm not aware of any this week.  If you know of any, please let me know via email: rick@rickgevers.com

Newly Named News Director:
WOI-TV, Des Moines, IA…APRIL SAMP returns to a newsroom as the next ND for the Nexstar owned ABC affiliate. She's been working out of TV for the last three years, since leaving WAVY-TV in Norfolk, where she was the ND for just over a year. She's also been an ND in Cedar Rapids and Davenport, IA, an EP in Oklahoma City, and a producer in Kansas City. At WOI, she replaces SCOTT FREDERICK who left the station in January after ten years as ND.
Paid Help Wanted Ads:

News Editor, KPBS, San Diego, CA:
KPBS San Diego seeks News Editor for radio/TV/web who ensures we prioritize accountability-driven coverage, with a mix of thought-provoking stories as well as fresh explainers. Works with beat reporters including science, arts, environment and the investigations desk. Mentors reporters to tell stylish stories, to the highest audio, video and web standards.
The News Editor ensures we prioritize accountability-driven coverage, and include a mix of thought-provoking stories as well as fresh explainers that teach the audience something new. KPBS is committed to providing quality local in-depth news and news analysis on all of its platforms – TV, Radio, Web and Mobile. The mission of the news division is to provide balanced, accurate reports about the people and issues of import affecting San Diego & Imperial Counties and its citizens.
The News Editor works under the supervision of the Director of News & Editorial Strategy to manage the day-to-day coverage of news and to edit/review daily news on radio, TV and online. The Editor coordinates show needs with the Senior News Producer.
KPBS News serves a countywide audience with news, information, cultural, and entertainment programming. KPBS is the public media station for San Diego with a mission to be the premier source of local news and information for the San Diego region.
San Diego generates diverse news stories, and excellent quality of life.
Salary range: $50 – $70,000, plus additional 10% for retirement; excellent benefits.
All candidates must apply via this link. Specify Job # 2014-1270. Job closes 8/22/2014.
EEO/AA/Title IX Employer
Other News Management Openings:
ASSISTANT NEWS DIRECTOR:
KPRC-TV, Houston, TX (listed 7/27/14)
KPHO-TV, Phoenix, AZ (relisted 6/15/14)
WBIR-TV, Knoxville, TN (listed 8/3/14)
KRNV/KRXI, Reno, NV (listed 7/20/14)
KRCR/KCVU-TV, Redding, CA (listed 7/6/14)
WCJB-TV, Gainesville, FL (relisted 7/13/14)
EXECUTIVE NEWS PRODUCER:
WFLD-TV, Chicago, IL (AM EP, relisted 8/3/14)
KTVU-TV, San Francisco/Oakland, CA (Digital EP, listed 6/22/14)
KPHO-TV, Phoenix, AZ (AM EP, relisted 6/15/14)
KATU-TV, Portland, OR (AM EP, listed 7/13/14)
WTNH-TV, Hartford/New Haven, CT (AM EP, listed 7/6/14)
KMBC-TV, Kansas City, MO (PM EP, listed 7/20/14)
KSHB-TV, Kansas City, MO (relisted 6/15/14)
WDAF-TV, Kansas City, MO (PM EP, listed 6/22/14)
WTMJ-TV, Milwaukee, WI (2 positions, EP & Spec. Projects, listed 7/13/14)
KOKH-TV, Oklahoma City, OK (PM EP, listed 8/3/14)
WGHP-TV, Greensboro/High Point, NC (Dayside EP, listed 6/22/14)
WJAR-TV, Providence, RI (relisted 6/15/14)
WDTN-TV, Dayton, OH (Nightside EP, relisted 8/3/14)
KOLD-TV, Tucson, AZ (Nightside EP, listed 7/20/14)
WHEC-TV, Rochester, NY (PM EP, listed 7/13/14)
WCYB-TV, Tri-Cities, TN (listed 7/27/14)
KTVA-TV, Anchorage, AK (relisted 7/13/14)
KTTC-TV, Rochester, MN (relisted 5/30/14)
KTXS-TV, Abilene, TX (listed 7/6/14)
ASSIGNMENT MANAGER:
WHEC-TV, Rochester, NY (listed 7/13/14)
MANAGING EDITOR:
KIRO-TV, Seattle, WA (listed 8/3/14)
WCPO-TV, Cincinnati, OH (relisted this week)
WINK-TV, Ft. Myers, FL (listed 7/20/14)
NEWS OPERATIONS MANAGER:
WAVE-TV, Louisville, KY (relisted 7/20/14)
Obituaries:
DOTTY LYNCH, a CBS News veteran, died this week at the age of 69. She had been battling melanoma. She spent 20 years as the Political Editor for CBS News. Politico has more in this article.
DALE LARSEN, a long-ago General Manager for KTVH-TV (now KWCH-TV) in Wichita, died in late July at the age of 91. He retired in 1982, and you can learn about his life and career by reading this obituary:
IRVING EFFRON, father of WPIX-TV News Director and longtime newsman MARK EFFRON died at the age of 92. He's survived by his wife of 67 years, and two sons, Mark and ERIC. He was a WW II vet who worked as a salesman until a late career change as a broker. Please take a moment to read this very moving essay Mark wrote in The New York Times last year on his dad's relationship with his grandson during his battle with dementia.
If you want to send Mark a note of sympathy, his email address is: markeffron@gmail.com
Situations Wanted:
We offer a free situations wanted ad to news managers who are looking for a new opportunity. If you'd like to state your case to a well targeted audience, email me an item (max. 150 words). You may include a link to a website, an email address, and a photo. You must include your name. I'll run it for one week. I don't represent or endorse those listed, but merely trying to help.
This week, meet ANDREW GILLFILLAN:
If you are looking for a passionate news executive to energize your newsroom, look no more.
My name is Andrew Gillfillan, the assistant news director at WXMI-TV in Grand Rapids, MI. (DMA 39). With more than a decade of experience in both medium and major market television stations, I have transformed stale working newsrooms into vibrant brainstorming and investigative centers built on a foundation of watchdog journalism and weather dominance.
I decided not to renew my contract at the end of November so that I can, once again, move out of the West Michigan for my next big challenge as a ND, AND or EP. Please click here for more information.
Names in the News…and other things:
I'm sure by now most of you know of the blockbuster affiliation news here in Indianapolis this week. CBS is moving its affiliate from longtime (58 year) partner WISH-TV to WTTV, currently the CW affiliate. It's owned by Tribune, which also owns WXIN-TV, the FOX affiliate. As of this writing, LIN Media, owner of WISH, has still not announced its plans for the station. Click here for local coverage from The Indianapolis Business Journal and The Indianapolis Star.
Two management moves in Chicago:
WGN-TV promoted SANDY PUDAR to Assistant ND. She's been the morning EP for this Tribune-owned station, and replaces JENNIFER LYONS who vacated that job when she was named ND after GREG CAPUTO's retirement earlier this summer. And JESSE HAMILTON moves north to WLS-TV in Chicago as the new morning EP for this ABC o-and-o. He's been the EP for prime time for the Weather Channel since November 2010. He's also worked in Phoenix and Oklahoma City.
Congratulations to CHERIE GRZECH who's been bumped up senior director of the Washington bureau and politics for FOX News. She's been director of news and politics for FOX. She's a former ND in Lansing, MI, and has also worked in Portland, OR and Raleigh, NC.
KELLEY DICKENS returns to WBND-TV in South Bend as the Assistant ND. She was the 11:00 producer there when this ABC affiliate launched news in 2011. She later left for a producer job in Norfolk. She's also worked in Flint and Detroit.
GENERAL MANAGER NEWS:
ASHLEY GOLD MESSINA has been named GM of Media General's KRON-TV in San Francisco. She's been the GM for WDCW-TV in Washington, DC.
And there are apparently about to be two GM openings in Columbus, OH. I am told, though I have not seen it reported anywhere, that DAN MELLON, GM of Sinclair's WSYX/WTTE-TV is headed to Washington to be GM of Sinclair's newly acquired WJLA-TV.
And old friend and longtime newsman-turned-general manager DAN BRADLEY has announced his retirement at the end of the year. Dan's been GM of Media General's WCMH-TV in Columbus, OH, since 2009. His background is in news, including eight years as VP/News for Media General and 21 years at WFLA-TV in Tampa where he began as a photojournalist and worked his way up to ND. He also worked in Dayton and Toledo as a photographer, but cleaned up well for the corporate office!
Our Full List of ND Openings:
If you know of any additions/deletions/updates, please email me at: rick@rickgevers.com
Here is my list of stations with open ND jobs, as of Sunday, August 17, 2014.
KWHY-TV 1201 West 5th St., # T-900 Los Angeles CA 90017 *
New England Cable News, 160 Wells Avenue Newton, MA 02459
WFDC-TV 101 Constitution Ave. NW Washington DC 20001 *
WGCL-TV 425 14th St NW, Atlanta, GA 30318
KTRK-TV 3310 Bissonet St. Houston TX 77005
KCEC-TV 777 Grant St. #110 Denver CO 80203 *
WEWS-TV 3001 Euclid Ave. Cleveland OH 44115
WCNC-TV 1001 Wood Ridge Center Dr. Charlotte NC 28217
KEYE-TV 10700 Metric Blvd. Austin TX 78758
WPTV 1100 Banyan Blvd. West Palm Beach FL 33401
WBMA/WCFT/WJSU-TV 800 Concourse Parkway, # 200, Birmingham, AL 35244
WTLV/WJXX-TV, 1070 E. Adams St. Jacksonville, FL 32202
WIVB-TV 2077 Elmwood Ave. Buffalo NY 14207
WSLS-TV P.O. Box 10 Roanoke VA 24022
WKOW-TV 5727 Tokay Boulevard Madison WI 53719
KVEO-TV 394 N. Expressway Brownsville TX 78521
WBTW-TV 101 McDonald Court Myrtle Beach, SC 29588
KVRR-TV 4015 9th Ave S Fargo ND 58103
KLFY-TV 1808 Eraste Landry Rd. Lafayette LA 70506
WWAY-TV 615 N. Front St. Wilmington NC 28401
KTAB/KRBC-TV 4510 S. 14th St. Abiliene, TX 79605
KLDO/KXOF-TV 226 Bob Bullock Loop Laredo TX 78040
WKTV 5936 Smith Hill Road Utica NY 13502
WBUP/WBKP-TV 1705 Ash Street Ishpeming MI 49849
KAVU-TV 3808 N. Navarro Victoria, TX 77901
* Spanish language station