Greetings:
Breaking news. (Hey, your stations say it ten times an hour…why can't I say it once a year?)
As this is being distributed, stations in Texas are covering the impact of the record rainfall from Harvey. Here's an interesting recap published tonight by Poynter's AL TOMPKINS.
On to our regular content.
There are THREE newly named news directors this week with just TWO new openings, both in top 20 markets.
So…our list of open ND jobs drops to 26.
Lots of other news this week. There's a profile of a high profile Philadelphia news director. There's a TV station General Manager who's considering a run for Governor of his state. Some management changes at E.W. Scripps…and a veteran news manager is on the move.
We welcome WeatherMetrics back as an advertiser. Be sure to click on their ad just below. And there's ONE paid help wanted ad for a morning executive producer position.
All that and more below.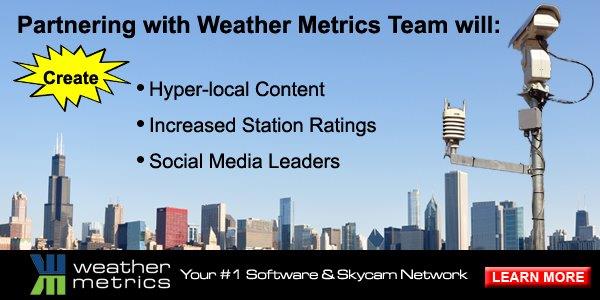 New News Director Openings:
WUVG-TV, Atlanta, GA…GIANNCARLO CIFUENTES has been named a regional news director for Univision. He's been ND here since 2011.
WCCO-TV, Minneapolis, MN…we first told you on Friday that MIKE CAPUTA had left this CBS o-and-o after 6+ years as news director. Mike first joined WCCO in 2002, was named Assistant News Director in 2007, and served as the interim news director for several months before being promoted to ND in January, 2011. His departure means there are now TWO ND openings at CBS owned stations: the search continues at KYW-TV in Philadelphia for MARGARET CRONAN who left that station in July.
Newly Named News Directors: 
KTSF-TV, San Francisco, CA…ANNE NG has been promoted to news director for this Asian language station, replacing GEOFF ROTH. (updated 8/28/17) She's worked here since 1994 and had been the Assistant ND since January.  We told you last week that Geoff was leaving for an ND job at KREX-TV in Grand Junction, CO, after about a year as ND. We learned more about that brief tenure in this note from GM MARK ANTONITIS to his staff: (MoJo is what the station calls Mobile Journalists.)
I hired Geoff to guide our transition to MoJo and to help train his replacement. When he agreed to come here Geoff knew the job was temporary and with very specific goals, all of which he has well achieved. I want to thank Geoff for all his great work and wish him all the best at KREX. I know he'll do a fantastic job for them. That's what he did here.
An update, as well, on KREX and the man Geoff is replacing. We told you that Geoff was replacing JORMA DURAN. We did not know at the time that Jorma is off to Lansing to anchor at sister Nexstar station WLNS-TV.
WGRZ-TV, Buffalo, NY…ATHAN KOMPOS is the new news director for this Tegna owned NBC affiliate. He's been at the station for almost 14 years, beginning as a producer in 2003. He was promoted to Executive Producer in 2009 and has been the interim ND since June when KATE GLOVER left after just seven months as ND.
KTVA-TV, Anchorage, AL…we're a bit tardy in reporting another promotion, that of JANIS (DEMAREST) HARPER to news director for this Denali Media Holdings owned CBS affiliate. She's been the Assistant ND for more than four years and has worked in a number of other markets, as outlined here. Janis replaces BERT RUDMAN who left in April and is now ND for KVAL/KMTR-TV in Eugene, OR.
Paid Help Wanted Ad: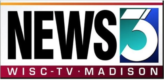 Morning Executive Producer, WISC-TV, Madison, WI:
Lead a team of motivated journalists devoted to serving a television and digital audience each morning. Work for a family-owned company committed to quality journalism. Live in a community constantly voted as one of the best in the country. We have a lot of offer the right candidate at WISC-TV.
Our team is focused on delivering a current, urgent and relevant newscast and serving our market-leading digital audience. As a morning executive producer you'll lead our coverage by developing engaging content to set our news day off right. You'll have the resources to lead and an expectation to win. We are looking for someone that not only can connect with a television audience but inspire and innovate in a digital space.
Attention to detail is critical. Experience managing teams and projects is helpful but we're willing to look at experienced producers ready to take the next career step.
Click here to learn more and to apply.
Other News Management Openings:
ASSISTANT NEWS DIRECTOR:
WICS-TV, Springfield, IL (relisted 8/6/17)
KEZI-TV, Eugene, OR (relisted 7/2/17)
KPLC-TV, Lake Charles, LA (relisted 7/23/17)
EXECUTIVE PRODUCER:
KGO-TV, San Francisco, CA (listed 7/9/17)
KRIV-TV, Houston, TX (Senior AM Producer, relisted 6/25/17)
WGCL-TV, Atlanta, GA (AM & PM EPs, listed 8/6/17)
WOIO-TV, Cleveland, OH (AM EP, listed 7/2/17)
WTVD-TV, Raleigh/Durham, NC: (Raleigh newsroom mgr., listed 7/23/17)
WMAR-TV, Baltimore, MD (relisted 8/13/17)
WTVF-TV, Nashville, TN (listed 8/13/17)
WBNS-TV, Columbus, OH (AM & PM jobs, listing revised 8/6/17)
WPTV, West Palm Beach, FL (AM EP, relisted 8/13/17)
WIVB-TV, Buffalo, NY (relisted 8/13/17)
WDTN-TV, Dayton, OH (listed 7/2/17)
KWCH-TV, Wichita, KS (AM EP, relisted 7/2/17)
WSLS-TV, Roanoke, VA (relisted 8/13/17)
WISC-TV, Madison, WI (AM EP, listed 8/20/17, see ad above!)
WKOW-TV, Madison, WI (Senior EP, relisted 7/9/17)
WBRZ-TV, Baton Rouge, LA (relisted 7/9/17)
KTTC-TV, Rochester, MN (listed 7/23/17)
Obituaries:
Funeral services were held yesterday for WITN-TV (Greenville-Washington, NC) News Director STEPHANIE SHOOP who died August 22nd at the age of 46. This obituary continues more details about her life, family, and a suggested place for memorial donations.
I've had several inquiries from readers about funeral and memorial arrangements for Sinclair Group News Director CHRIS MANSON, whose passing we reported in this space last week. So far, despite several attempts, I've not received any information. If you know of the details please send me an email to rick@rickgevers.com and I'll post the information here.
Names in the News:
Veteran newsman TED WINNER joins WPIX-TV in New York City as Senior EP of the station's morning news. Much more about Ted in this news release.
The Philadelphia Tribune profiles WCAU-TV News Director ANZIO WILLIAMS in this story.
Some management changes at the top of the E.W. Scripps company, made by newly installed President and CEO ADAM SYMSON.
General Manager News & Notes:
SEAN BANKS is the new GM of Nexstar's WOWK-TV in Charleston-Huntington, WV. It's a return to WOWK for Sean, who once was sales manager there. He most recently has been the GM for a group of auto dealerships.
RICK BLANGIARDI, general manager of Honolulu's KHNL/KGMB-TV, says he's 'open to the possibility' of running for Governor of Hawaii. That tidbit is near the end of this interview with Blangiardi and his news director, SCOTT HUMBER.
Our Full List of Open ND Jobs:
Here's our list of open ND jobs as of Sunday, August 27, 2017:
It's unofficial, there may be others that are open, and some of these may have been filled. If you know of any in either category, please let me know: rick@rickgevers.com
WNJU-TV 2200 Fletcher Ave, Fort Lee, NJ 07024 ***
News 12 Bronx/Brooklyn 1 Media Crossways, Woodbury, NY 11791
Verizon Fios 1 News 800 Westchester Avenue Rye Brook, NY 10573
KYW-TV 1555 Hamilton Street Philadelphia, PA 19130
WUSA-TV 4100 Wisconsin Ave NW Washington DC 20016
WUVG-TV 3350 Peachtree Road #1250, Atlanta, GA 30326
WCCO-TV 90 S 11th St., Minneapolis, MN 55403
WLTV 9405 NW 41st Street Miami, FL 33178-2301 ***
KDVR/KWGN-TV 100 East Speer Blvd. Denver, CO 80203
KGTV 4600 Air Way San Diego, CA 92102
WGAL-TV 1300 Columbia Avenue. Lancaster, PA 17603
WZZM-TV 645 Three Mile Grand Rapids, MI 49544
WRIC-TV 301 Arboretum Pl, Richmond, VA 23236
WZDX-TV 1309 N. Memorial Pkwy Huntsville, AL 35801
KOAA-TV 2200 7th Ave. Pueblo, CO 81003
WJTV 1820 Tv Rd, Jackson, MS 39204
WHBF-TV 231 18th Street Rock Island, IL 61201
WFXG-TV P.O. Box 204540 Augusta, GA 30917
KLFY-TV 1808 Eraste Landry Rd, Lafayette, LA 70506
WSAW-TV, 1114 Grand Ave, Wausau, WI 54403
KNOE-TV 1400 Oliver Rd, Monroe, LA 71201
WIFR-TV 2523 N Meridian Rd, Rockford, IL 61101
KMID-TV 1550 West I-20 Odessa, TX 79763
WCJB-TV 6220 NW 43rd St, Gainesville, FL 32653
KTMF-TV 2200 Stephens Avenue, Missoula, MT 59801
KRTV P.O. Box 2989, Great Falls, Montana, 59403
***: Spanish language station