Greetings:
As always, it was nice to see some of you at this week's Unity Conference in Las Vegas. (More on that at the end of this section of the newsletter.)
It's been a busy week. There are FOUR new ND openings, and THREE new NDs to report.
By my count, that leaves 35 ND openings.
That revised count of openings includes WTLV/WJXX-TV in Jacksonville, FL. We reported to you a few weeks ago that KATHY WILLIAMS had been named ND there. I've since learned that she's the interim ND for that Gannett-owned duopoly, so we've relisted that as an open position in our conplete list below.
We have THREE paid ads this week, a new one for an Assistant ND job in Portland, OR, and repeats of a blind box ND ad and another for an EP in Orlando.
Names in the News features the retirement of a longtime GM, a decision in an age-discrimination suit against a New York City station, and details on a former ND who's headed to academia. And our Situations Wanted segment features a former ND who's anxious to return to a newsroom.
Finally, this week's Unity Conference saw a dramatic decrease in attendance, compared to the 2008 gathering in Chicago. More on the numbers and the reasons behind them in this article from the New York Times.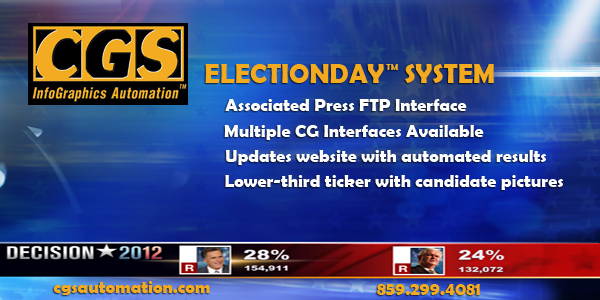 New News Director Openings:
WRC-TV, Washington, DC…CAMILLE EDWARDS has left this NBC o-and-o to become ND at WABC-TV in New York. More on that below.
WISN-TV, Milwaukee, WI…LORI WALDON stays within Hearst as she is being promoted to ND for KCRA-TV in Sacramento. More on that below, too.
WNCT-TV, Greenville, NC…MARTY VAN HOUSEN, who's been the ND for this Media General CBS affiliate since October, 2009, has been named Assistant ND for WGCL-TV in Atlanta. Marty's been an ND in St. Louis and Jacksonville, FL, and previously worked at KABC-TV in Los Angeles.
WETM-TV, Elmira, NY…SCOTT NICHOLS is leaving this Newport TV owned NBC affiliate. He's been named ND for WCTI-TV in Greenville/New Bern, NC. And you can find more on that below, as well.
Newly Named News Directors:
WABC-TV, New York, NY…in one of two moves we reported on Monday, CAMILLE EDWARDS has been named ND here. She's been the ND for NBC's WRC-TV in Washington for the last four years, and was ND for NBC's WMAQ-TV in Chicago. Camille is no stranger to ABC…she was the Assistant ND at WPVI-TV in Philadelphia when current WABC GM DAVE DAVIS was the GM. And she also worked as an EP for WLS-TV in Chicago, and in Baltimore and Toledo. Camille replaces KENNY PLOTNIK who left the station in June after 10 years as ND and 25 with ABC.
KCRA-TV, Sacramento, CA…LORI WALDON returns to Sacramento as ND for this Hearst owned NBC affiliate. As noted above Lori is already works for Hearst as the ND for WISN-TV in Milwaukee, a job she's held for almost six years. Before Milwaukee she worked in Sacramento as the Assistant ND for KOVR/KMAX-TV. Lori also worked at KPIX-TV in nearby San Francisco for 13 years. She's also worked in Charlotte, Mobile, and Peoria. Her predecessor at KCRA, ANZIO WILLIAMS, left the station in June after five years as ND. He's now ND for WCAU-TV in Philadelphia.
WCTI-TV, Greenville/New Bern, NC…as mentioned above, SCOTT NICHOLS is joining this Bonten Media owned ABC affiliate as its next ND. Scott is currently ND for WEMT-TV in Elmira, NY. He's also worked in Binghamton, NY. He replaces SHANE MORELAND who left the station last month to take a GM job in Virginia.

Help Wanted Ads:

Assistant News Director, KATU-TV, Portland, OR:
KATU-TV, the ABC affiliate in Portland, Oregon seeks an Assistant News Director. We are looking for an experienced newsroom leader to oversee the day-to-day news operation and integrate our brand and strategic plans into each newscast we produce.
The ideal candidate has a strong background in local television news production and a vision for how to incorporate emerging social media into our daily coverage. The Assistant News Director will help create a unified standard for the editorial content, presentation and creative execution of KATU newscasts.
Duties include, but are not limited to: working with reporters and photographers to engage our viewers in quality storytelling; providing showcasing feedback to producers and writers; assisting in executing coverage plans for Breaking Weather Alerts and special news events; and assisting the News Director in recruiting, interviewing and training new employees.
Send your material to News Director Tiffani Lupenski via email: tlupenski@katu.com or to:
Tiffani Lupenski
News Director
KATU-TV
2153 NE Sandy Boulevard
Portland OR 97232
Blind Box News Director Ad, Eastern Small Market:
Growing company seeks dynamic news director to oversee Eastern U.S. small market operation. If you are an assistant news director or executive producer ready to step up and lead, this is your opportunity.
Please provide specific examples of creative approaches to executing a strategy for success.
The successful candidate must be a dynamic manager who understands and stresses content relevance to viewers. This position requires exceptional skill in managing and helping staff members grow professionally.
Please send printed and video materials to: tvnews1000@gmail.com

Executive Producer, WKMG-TV, Orlando, FL:
WKMG in Orlando is searching for its next great leader!
We are currently seeking an innovative Executive Producer to oversee the planning and execution of Local 6 Newscasts. Applicants must be able to drive content on television, on the web, and on social media outlets. 6 Years of news producing experience is required.
Prior management experience is preferable.
Please send resumes to News Director Steve Hyvonen at shyvonen@wkmg.com
**** ***** ****
Other News Management Openings:
ASSISTANT NEWS DIRECTOR:
KING-TV, Seattle, WA (listed 7/13/12)
KATU-TV, Portland, OR (new listing this week, see ad above!)
KENS-TV, San Antonio, TX (listed 7/13/12)
WMC-TV, Memphis, TN (relisted 6/10/12)
WBRZ-TV, Baton Rouge, LA (listed 7/13/12)
WCTI-TV, Greenville/New Bern, NC (relisted 6/1/12)
KVLY/KXJB-TV, Fargo, ND (relisted 7/7/12)
KRCR-TV, Redding, CA (new listing this week)
EXECUTIVE NEWS PRODUCER:
KDFW-TV, Dallas, TX (Morning EP, relisted 7/7/12)
KPRC-TV, Houston, TX (Nightisde EP, relisted 6/29/12)
KMSP-TV, Minneapolis/St. Paul. MN (AM EP, listed 7/28/12)
WKMG-TV, Orlando, FL (listed 7/28/12, see ad above!)
KPTV/KPDX-TV, Portland, OR (Nightside EP, listed 7/28/12)
WTAE-TV, Pittsburgh, PA (Dayside EP, relisted 6/29/12)
KGTV, San Diego, CA (Morning EP, listed 6/10/12)
KGTV, San Diego, CA (Special Projects EP, listed 7/13/12)
KUSI-TV, San Diego, CA (listed 7/7/12)
WTMJ-TV, Milwaukee, WI (relisted 7/13/12)
KENS-TV, San Antonio, TX (listed 7/13/12)
KRQE-TV, Albuquerque, NM (listed 7/20/12)
WJXT-TV, Jacksonville, FL (Evening EP, listed 6/29/12)
KFSN-TV, Fresno, CA (listed 6/24/12)
WINK-TV, Ft. Myers, FL (relisted 7/7/12)
WTVG-TV, Toledo, OH (listed 7/13/12)
WHAM-TV, Rochester, NY (Dayside EP, listing revised 7/28/12)
WROC-TV, Rochester, NY (listed 6/1/12)
KFVS-TV, Cape Girardeau, MO (listed 6/29/12)
WCYB-TV, Bristol, TN (relisted 6/24/12)
Situations Wanted:
Our Situations Wanted listings are free. If you'd like to state your case to a pretty well targeted audience, email me an item (max 100 words). You may include one link to a website, and an email address, and an optional photo. You must include your name. I'll run it for one week. I don't represent or endorse those listed, but merely trying to help.
MICHAEL O'NEIL:
Middle-aged white male looking for work as a News Director, Assistant News Director, Executive Producer or Producer. (Sounds like a personal ad that would get rejected by my soul-mate.)
Emmy Award winning News Director now serving tables. While my tips are great, my passion lies in local television news. Grab your attention a little more?
Award winning broadcast journalist with a 25 year history of ratings growth, building winning teams, passionate about great storytelling, maintaining budgets along with expertise in writing, social media and web content. I'll stick with that one.
Those don't grab you? Check out my mug, who wouldn't hire him (darn, once again sounding like a personal ad, but that is my real picture)?
Contact me, Michael O'Neil, at mocapdad@gmail.com, because 100 words don't do me justice.
(Full disclosure: Michael worked for me in Grand Rapids.)
Names in the News:
A federal jury in New York City ruled against former WPIX-TV News Director KAREN SCOTT in her age discrimination suit against the station. She sought $4.5 million in damages.
Longtime General Manager JIM CLAYTON announced his retirement this week, effectdive at the end of 2012. He's been GM for KOMO-TV in Seattle since July, 2006. He earlier was a GM for WNYW/WWOR-TV in New York, WJBK-TV in Detroit, and WLWT-TV in Cincinnati.
Speaking of KOMO-TV, Assistant News Director STEVE KRAYCIK is leaving that ABC affiliate to become Director of Student Television & Online Services and Senior Lecturer at Penn State University.  Steve's a Pennsylvania native and tells me he's delighted to be returning home.  He's been at KOMO for two years, was ND for KCPQ-TV in Seattle for four years before that, and spent six years as ND for KTXL-TV in Sacramento, CA.
Our Full List of News Director Openings:
Here is my list of stations with open ND jobs, as of Sunday, August 5, 2012.
If you know of any additions/deletions/updates, please email me at: rick@rickgevers.com
WTXF-TV             330 Market St. Philadelphia PA 19106
KDAF-TV              8001 Carpenter Freeway Dallas TX 75247
WRC-TV              4001 Nebraska Ave. NW Washington DC 20016
WFTS-TV              4045 N. Himes Ave. Tampa FL 33607
KNXV-TV              515 N. 44th St. Phoenix AZ 85008
WKYC-TV              1333 Lakeside Ave. Cleveland OH 44114
WFTV                    490 E. South St. Orlando FL 32801
XETV                      8253 Ronson Rd. San Diego CA 92111
WDJT-TV             809 S. 60th St. Milwaukee WI 53214
WISN-TV           759 N. 19th St. Milwaukee WI 53233
WPBF-TV             3970 RCA Blvd., #7007 Palm Beach Gardens FL 33410
KSNV-TV             1500 Foremaster Lane Las Vegas NV 89101
WPMT-TV           2005 S. Queen Street York PA 17403
KEYE-TV              10700 Metric Blvd. Austin TX 78758
WTLV/WJXX 1070 E. Adams St. Jacksonville FL 32202 (relisted this week)
WKBW-TV           7 Broadcast Plaza Buffalo NY 14202
KJRH-TV             3701 South Peoria Ave. Tulsa OK 74105
KOTV                    302 S. Frankfort St. Tulsa OK 74120
KSNW-TV           833 N. Main Wichita, KS 67203
KWCH-TV          2815 East 37th Street North Wichita KS 67219
WFRV-TV           1181 E. Mason St. Green Bay WI 54301
KRBK-TV            (apply to corporate) Springfield, MO
WEHT/WTVW  800 Marywood Dr. Henderson KY 42420
KHBS/KHOG-TV 2809 Ajax Ave. #200 Rogers AR 72758
KHGI-TV            13 S. Highway 44 Kearney NE 66848
KBOI-TV            140 N. 16th St. Boise ID 83702
KNOE-TV           1400 Oliver Rd. Monroe, LA 71211
WVNS-TV          141 Old Cline Rd. Ghent WV 25843
WJHG-TV          8195 Front Beach Rd. Panama City Beach FL 32407
WETM-TV      101 E. Water St. Elmira NY 14901
KKCO-TV           2325 Interstate Ave. Grand Junction CO 81505
KJCT-TV            8 Foresight Dr. Grand Junction CO 81505
KGNS-TV           120 W. Delmar Blvd. Laredo TX 78045
KGWN-TV         2923 E. Lincolnway Cheyenne WY 82001