Wednesday, December 7, 2011 UPDATE:
One time news director and former RTNDA chairman MIKE CAVENDER has been named Executive Director of both RTDNA and RTNDF.  He's a former ND in Washington, Atlanta, Tampa, and Nashville, and has been working in public relations for the past few years, though still very active in the organization.
Mike's thoughts on his new role, and the future of the organization, are here.
More on this, and all the week's news, in our regular weekly newsletter later this week.
**** ***** ****
Greetings:
We have a busy report this week. TWO new NDs were named (one in a very large market and one in a very small market) and TWO new ND openings.
That brings our total of open ND positions to 25.
We have paid help wanted ads for TWO of those 25 openings, one of which would allow you to be an ND on top of the world. And we have another ad for an Assistant ND's job in a city that is written about by more musicians than any other. This is also the last week to take advantage of a free trial offer from another advertiser.
In Names in the News, a new job for a former East Coast ND, and successful open heart surgery for a veteran news director, among other items. And we have obituaries for a long time Illinois ND and for the father of a former Philadelphia news director.
All that and more after this week's changes.
New News Director Openings:
WITI-TV, Milwaukee, WI…saying he wanted to avoid another Wisconsin winter, JIM LEMON has announced his resignation from this FOX affiliate. He's been ND for this LocalTV owned station since 2005, and earlier had been an ND in Sacramento, Honolulu, and Topeka, KS. His last day at WITI will be December 16th.
WLNE-TV, Providence, RI…this Citadel Broadcasting owned ABC affiliate is looking for a new ND. IRENE MAHONEY-PAIGE has left the station after just four months as news director. Her replacement will be the fourth ND in just over a year. You can learn more about this opportunity in the paid ad below.
Newly Named News Directors:
WPVI-TV, Philadelphia, PA…TOM DAVIS has been promoted to ND for this ABC o-and-o. He's been the Assistant ND there for the past nine years, and earlier worked in Washington, DC, Cleveland, and Youngstown. Tom replaces longtime ND CARLA CARPENTER. She was named Senior VP of Digital Media for the ABC owned stations.
WTAP-TV, Parkersburg, WV…JOHN FORTNEY is returning to the station where he began his career, this time as news director and anchor. He most recently has been the primary anchor for sister-Gray Television owned KOLN/KGIN-TV in Lincoln, NE. He's also worked in Columbus, OH. At WTAP, he replaces BRUCE LAYMAN who left this NBC affiliate in September after more than nine years as news director.
**** ***** ****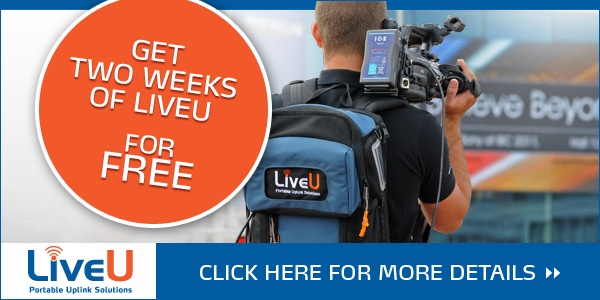 Help Wanted Ads: 

News Director, WLNE-TV, Providence, RI:
This position is a great opportunity for a highly motivated, competitive, energetic person with solid news and personnel judgment. Prior News Director experience is required.
We are in the process of fully converting the Newsroom to full HD. Experience with a Newsroom HD transition would be helpful.
Our successful candidate will be the type of leader who is a highly focused, get it done well, motivator. Someone who knows how to produce top quality newscasts filled with well written, compelling and impactful story telling.
A firm grasp of News promotion is critically important- as is a history of Web based news and social media management.
If this describes you then we should talk!
Please send – resume news philosophy, salary history, DVD and/or Web link to:
Allen Sandubrae
VP – News
Citadel Communications Company
3903 Westown Parkway
West Des Moines IA 50266
Email: ASandubrae@myabc5.com
Phone: 515.457.9645 ext. 129
Please note: phone calls will be accepted only after initial email/mail is received.
Women and minorities are encouraged to apply. EOE
**** ***** ****
News Director, KTUU-TV, Anchorage, AK: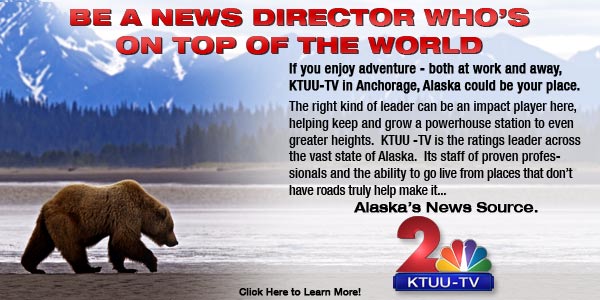 **** ***** ****

Assistant News Director, WREG-TV, Memphis, TN:
WREG has an immediate opening for Assistant News Director. We're searching for a superlative journalist to lead a team of champions in Memphis — one of the sauciest cities in America. If you are good enough to win this job, you will manage the day-to-day operations in an aggressive newsroom in a market that can only be described as news heaven. We are looking for a straightforward person who leads by example, and is not afraid to show team members what it takes to succeed. We are looking for someone who is part coach, part counselor, part ramrod.
You do not have to like Barbeque or The Blues, but a good sense of humor is a must. Find out why song writers sing about Memphis more than any other city in the world. Don't believe me? Read this article!:
Core Job Functions Include:
Supervises, at the direction of the News Director, all producers, reporters, photographers, field producers and other personnel assigned.
Sets the tone of our content and is responsible for the visual elements and accuracy of all products on all platforms.
Puts the schizzle into Breaking News.
Excels at strategic and tactical leadership.
Coaches and motivates reporters in effective and imaginative storytelling.
Previous management experience in television news is a must.
Recruits and evaluates on-air talent
Interested parties should submit resume and references to:
Bruce Moore
News Director
WREG-TV
803 Channel 3 Drive
Memphis, TN 38103
or to bruce.moore@wreg.com
No calls.
Other News Management Openings:
ASSISTANT NEWS DIRECTOR:
WFLD-TV, Chicago, IL (relisted 9/10/11)
WOIO/WUAB-TV, Cleveland, OH (listed 10/14/11)
KSDK-TV, St. Louis, MO (relisted 9/17/11)
WISH-TV, Indianapolis, IN (listed 10/28/11)
WRTV, Indianapolis, IN (relisted 10/28/11)
WAVY-TV, Norfolk, VA (listed 10/7/11)
WREG-TV, Memphis, TN (relisted 11/25/11, see ad above!)
WTEN-TV, Albany, NY (listed 11/25/11)
KTUL-TV, Tulsa, OK (listed 10/14/11)
WRDW-TV, Augusta, GA (listed 11/25/11)
KTVM-TV, Bozeman, MT (listed 9/17/11)
EXECUTIVE NEWS PRODUCER:
KYW-TV, Philadelphia, PA (new listing this week)
KXAS-TV, Dallas/Ft. Worth, TX (AM EP, listed 11/11/11)
The Weather Channel, Atlanta, GA (listed 9/23/11)
KPRC-TV, Houston, TX (AM EP, listed 10/7/11)
KUNS-TV, Seattle, WA (listed 11/25/11) **
KTVI/KPLR-TV, St. Louis, MO (listed 9/10/11)
KPTV, Portland, OR (AM EP, listed 9/10/11)
KOIN-TV, Portland, OR (listed 9/17/11)
WTAE-TV, Pittsburgh, PA (Dayside EP, relisted 11/25/11)
WRAL-TV, Raleigh, NC (relisted 11/11/11)
WSMV-TV, Nashville, TN (AM EP, listed 10/28/11)
WCPO-TV, Cincinnati, OH (PM EP, listing revised 8/12/11)
WPEC-TV, W. Palm Beach, FL (listed 10/7/11)
WPMT-TV, Harrisburg, PA (AM EP, listing revised 10/14/11)
WHBQ-TV, Memphis, TN (relisted 9/23/11)
WINK-TV, Fort Myers, FL (Dayside EP, listed 10/28/11)
Obituaries:
We're late in reporting the death November 19th of longtime WICS-TV (Springfield, IL) News Director DON HICKMAN, who died of natural causes at the age of 74. Don also anchored at WICS which remembered him in this story. Earlier in his career he'd worked in Minneapolis and Memphis, where he covered the assassination of Dr. Martin Luther King and provided reports to NBC News. He began a magazine in Springfield after leaving WICS-TV. He's survived by his wife, Betty, and two sons.
And our sympathy to former WTXF-TV (Philadelphia) News Director JOHN MUSSONI on the death of his father, FRANK, who died last week at the age of 87. Frank Mussoni was a chemical engineer, but John told me his father did two things to help launch his son's career. He bought him a transistor radio when John was 10, and a reel to reel tape recorder when he was 15. That resonated with me since John and I worked together at the campus radio station at the University of Missouri.  Your note of sympathy would reach John at: mussonidel@comcast.net
Names in the News:
Congratulations to one time Washington, DC (WTTG-TV) and Baltimore (WBAL-TV) news director KATHERINE GREEN. She's been named Senior Vice President for CNN's HLN network. She first joined CNN in 2008 as Senior VP of Programming for CNN International. Katherine worked as a reporter in Jacksonville and later became a producer in Miami and New York, and an EP in Tampa.
ALINA FALCON joins Telemundo as Senior Executive Vice President of News and Alternative Programming. She had been President of News at Univision until a year ago worked in Spanish language news for three decades.
MATT KUMMER returns to Green Bay as the new Assistant News Director for WBAY-TV. Matt earlier worked as a reporter for WGBA-TV and an EP for WLUK-TV in Green Bay.  He's also worked as an EP for WCCO-TV in Minneapolis and WISH-TV in Indianapolis, as a producer in Detroit, and as a reporter/anchor in Eau Claire, WI, Peoria, IL, and Saginaw, MI.
Congratulations to old friend KEITH CONNORS, ND for WTHR-TV here in Indianapolis, who's recovering from successful open heart surgery last Tuesday. Keith was diagnosed with a failing heart valve during a routine physical earlier this year. He wanted me to encourage everyone to get an annual checkup.  It can save your life.  Keith is recovering at a Houston hospital and expects to be released early next week. He's a former ND in Houston, Charlotte, Norfolk, and Rochester, NY. Keith plans to return to work after the first of the year, but he's already checking email at kconnors@wthr.com.
The Full List:
To the best of my knowledge, here is the list of stations with open news director jobs, as of December 2, 2011.
If you know of any additions/deletions/changes/updates, please email me at: rick@rickgevers.com
NY 1 News                                             75 Ninth Ave. New York NY 10011
KDFW-TV                                             400 N. Griffin St. Dallas TX 75202
New England Cable News                160 Wells Ave. Newton MA 02459
WFDC-TV                                            101 Constitution Ave. NW Washington DC 20001  **
Central Florida News 13                  20 N. Orange #13, Orlando, FL 32801
KGW-TV                                                1501 SW Jefferson St. Portland OR 97201
WITI-TV                                             9001 N. Green Bay Road Milwaukee WI 53209
WLNE-TV                                          10 Orms St. Providence RI 02904
WACH-TV                                            1400 Pickens St. Columbia SC 29201
WSYR-TV                                             5904 Bridge St. Syracuse NY 13057
WICS/WICD-TV                                2680 E. Cook St. Springfield IL 62703
KHGI-TV                                              13 S. Highway 44 Kearney NE 66848
KCOY/KKFX-TV                              1211 W. McCoy Santa Maria CA 93455
KVII-TV                                                One Broadcast Center Amarillo TX 79101
WJFW-TV                                           3217 County Road G Rhinelander WI 54501
KRCG-TV                                            Highway 54 North Holts Summit MO 65043
KAUZ-TV                                             PO Box 25 Wichita Falls TX 76309
WFXL-TV                                             1211 N. Slappey Blvd. Albany GA 31707
KTUU-TV                                             701 E. Tudor Rd. #220 Anchorage AK 99503
WTOV-TV                                           9 Red Donley Plaza Steubenville OH 43952
KSWT-TV                                             1301 Third Ave. Yuma AZ 85364
KGNS-TV                                             120 W. Delmar Blvd. Laredo TX 78045
KKCO-TV                                             2325 Interstate Ave. Grand Junction CO 81505
KGWN-TV                                           2923 E. Lincolnway Cheyenne WY 82001
KSAX-TV                                          PO Box 189 Alexandria, MN 56308
** Spanish language station