December 29, 2017 UPDATE:
We always take special pleasure in reporting news people moving to the general manager's chair. Today we get to do that, and, for the first time in memory, this person has never been a news director but certainly has lots of news experience.
LANA DURBIN-SCOTT will be the next GM for Scripps' WRTV in Indianapolis, the ABC affiliate there. She's currently senior director of news strategy and operations for Scripps, overseeing news strategy for the company's local news brands.
She has spent her entire career with the company, which details her background in this news release.
Lana replaces veteran GM LARRY BLACKERBY who left the station this fall after seven years there.
For a between the holidays week, it's been pretty busy! We'll cover all the news in our full newsletter sometime over the weekend.
regards,
gevers
**** ***** ****
December 28, 2017 UPDATE:
Greetings:
News today from Milwaukee, where a veteran news director has resigned her job after 3 1/2 years.
Here's the memo JANET HUNDLEY sent to her staff this afternoon at WTMJ-TV, the Scripps owned NBC affiliate there.
Janet told me today that she was proud of her team at WTMJ.
Before joining the station, Janet spent 26 years at a variety of ABC owned stations. She spent 12 1/2 years as the Assistant ND at WLS-TV in Chicago, was the ND (and earlier the Assistant ND) for WTVG-TV in Toledo (which ABC owned at the time) for 5 1/2 years, and worked for WTVD-TV in Raleigh-Durham for almost eight years, as a photojournalist, producer, and operations manager.
She also worked at WRAL-TV in Raleigh as a photojournalist-reporter and began her career at WECT-TV in Wilmington, NC, as a reporter and one woman bureau reporter.
Travel may delay our weekly newsletter, but we hope to have something for you later this week.
Until then, hope your holidays are terrific and your new year is happy!
regards,
gevers
**** ***** ****
Greetings:
My best wishes for a happy holiday season to you and your families.
For a week leading into a major holiday…there's a lot going on. We have THREE new ND openings, and ONE newly named news director. Those changes bump our list of openings to 20. TWO of those openings are featured among our THREE paid help wanted ads.
There was a similar flurry of general manager changes, too, including a former ND who ascends to the big chair. We have a few items in Names in the News, including stories about TWO former NDs, And there are TWO obituaries, including one of a past RTDNA President.
We'll try and publish next week but it's possible there will be little news due to the holiday week.
Until then…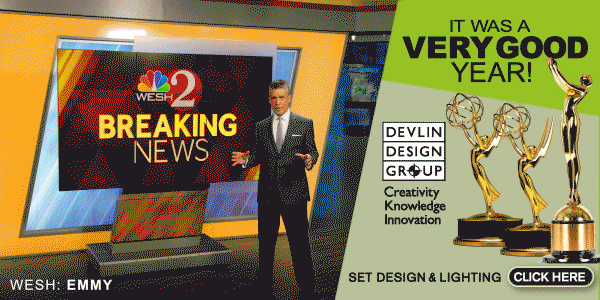 Newly Named News Director: 
WCSC-TV, Charleston, SC…JENNIFER DALE returns to Raycom as she'll be the new ND for this CBS affiliate. She's currently the ND for Nexstar's WJHL-TV in Johnson City, TN (more on that below) where she was hired by GM DAN CATES, who's now the GM at WCSC. They also worked together at WKRG-TV in Mobile when Dan was the ND there. She's also worked in Columbus, GA, and Myrtle Beach. More from Raycom VP/News STEVEN ACKERMANN in this email to other NDs. Jennifer replaces MELISSA VARNER who left in October after almost two years as ND and 14 years at the station.
New News Director Openings: 
WOWK-TV, Charleston/Huntington, WV…DENNIS LORTZ has left this Nexstar owned CBS affiliate after just nine months as news director. He'd been the Assistant ND before being promoted, is a former news director and anchor in Nebraska, and has worked in Rapid City, Dallas and Washington, in addition to a number of syndicated programs. Learn more about this opportunity in the paid help wanted ad just below.
WJHL-TV, Johnson City, TN…as noted above, JENNIFER DALE is leaving this Nexstar owned CBS affiliate. She'd been ND here for more than five years. If you want that job, start by checking out the paid help wanted ad below.
WDHN-TV, Dothan, AL…after 2 1/2 years as ND, STEPHEN CREWS has left this Nexstar owned ABC affiliate. Stephen had worked there for five years before being promoted, and spent many years before that working for some weekly newspapers in the region.
Paid Help Wanted Ads:

News Director, WOWK-TV, Charleston/Huntington, WV:
The News Director leads and supervises all aspects of news, including broadcast and digital, weather and sports programming.
Essential Duties & Responsibilities:
* Manages all aspects of the News Department (other than Production.)
* Plans and manages staffing, training, and performance evaluations for the News Department.
* Makes decisions regarding hiring, evaluation, promotion and termination of employees.
* Develops news coverage strategy for the station and its website.
* Critiques newscasts on a daily basis to correct errors, improve coverage and provide mentoring feedback to news staff.
* Assigns projects to staff and verifies that deadlines are being met.
* Ensures achievement of viewer rating goals.
* Determines programming and evaluation of equipment needs to produce quality programming.
* Responds to coverage questions.
* Works with other senior station leaders to establish and reach station goals.
* Performs other duties as assigned.
You must apply online to be considered for this position.
Please click here to access all career opportunities for WOWK-TV and Nexstar Media Group, Inc.
WOWK-TV is an equal opportunity employer.

News Director, WJHL-TV, Johnson City, TN:
WJHL CBS and ABC TriCities in Johnson City, TN (Market 99) is seeking an experienced News Director who is an innovative and dynamic leader, possessing excellent news judgment, strong digital news initiative, and a passion to be the best, and work with a nationally IRE recognized Investigative team.
The market has a strong local economy made up of Johnson City, Kingsport and Bristol, with strong healthcare, education, agriculture, manufacturing and tourism balancing each other and each playing a significant role.
Quality of life in Northeast TN is fantastic, with great 4 season weather, lots of outdoor activity, Bristol Motor Speedway, ETSU Academics and Athletics, and not to mention a 45-minute drive to Asheville North Carolina. Our mountain views are breathtaking, and our access to Asheville, Nashville, Knoxville, even ATLANTA can all be done on less than a single tank of gas.
To learn more about this opportunity and apply, just click here!

Executive Producer, WTVG-TV, Toledo, OH:
13abc in Toledo, Ohio has an excellent opportunity for an Executive Producer.
If you believe that excellent journalism requires creativity, relevance and public service, you could be working with Toledo's most honored and experienced news team.
You will be expected to oversee a talented team that produces content for a variety of platforms including television, internet, social networking sites and mobile. You will be responsible for presenting enterprise creative story ideas daily and provide feedback/coaching aimed at helping producers grow professionally and the organization achieve even greater success.
You must be a dynamic writer, well organized and solution-oriented. A positive attitude and a competitive nature are required. 13abc consistently produces live specials and "on location" newscasts that are distinctive.
Responsibilities include, but are not limited, to:
* Identifying the day's most important stories and working closely with producers, reporters and photographers to provide comprehensive coverage of major stories
* Oversee special projects and help coordinate big event coverage and live remote newscasts
* Research and generate story ideas
* Work with staff to generate fresh stories, unique angles and creative storytelling
* Contribute to a collaborative environment that values discussion
* Be part of strategic planning to achieve organizational goals
* Meet daily deadlines in a fast-paced environment
Toledo, Ohio is rapidly moving forward with an excellent quality of life and low cost of living.
This is a full time position offering competitive salaries with a competitive benefit package that includes medical/dental/vision plans as well as a 401k plan.
This position requires availability to work weekends and holidays as needed/assigned.
Click here to learn more and to apply!
Other News Management Openings:
ASSISTANT NEWS DIRECTOR:
WAAY-TV, Huntsville, AL (listed 11/12/17)
KWWL-TV, Waterloo, IA (listed 11/26/17)
KVRR-TV, Fargo, ND (listed 10/29/17)
EXECUTIVE PRODUCER:
WJLA-TV, Washington, DC (AM EP, listed 11/5/17)
KRIV-TV, Houston, TX (Evening EP, relisted 11/26/17)
KOMO-TV, Seattle, WA (2 openings, AM & PM, listing revised 12/16/17)
WTVF-TV, Nashville, TN (AM EP, listing revised 10/22/17)
KGTV, San Diego, CA (Dayside EP, relisted 12/3/17)
WBNS-TV, Columbus, OH (Dayside EP, listing revised 11/26/17)
WPTV, West Palm Beach, FL (PM EP, listing modified 12/10/17)
WIVB-TV, Buffalo, NY (Nightside EP, listing revised 10/29/17)
WJXT-TV, Jacksonville, FL (Nightside EP, listed 11/19/17)
WRGB-TV, Albany/Schenectady, NY (listed 11/12/17)
WDTN-TV, Dayton, OH (relisted 11/5/17)
KWCH-TV, Wichita, KS (AM EP, relisted 11/26/17)
WTVG-TV, Toledo, OH (new listing this week, see ad above!)
WAAY-TV, Huntsville, AL (listed 11/12/17)
WISC-TV, Madison, WI (AM EP, relisted 11/12/17)
MANAGING EDITOR:
KDVR/KWGN-TV, Denver, CO (relisted 12/3/17)
ASSIGNMENT MANAGER:
WTVF-TV, Nashville, TN (listed 10/22/17)
Obituaries:
LOU ADLER, a longtime NYC radio news director and one-time President of what was then RTNDA, died Friday morning after a long illness. He was 88. He also anchored morning drive for WCBS-AM, worked at 1010 WINS and ABC Radio and taught at Quinnipiac University. WCBS profiled Lou here in a well produced radio story.
Our sympathy to the folks at WSMV-TV in Nashville on the loss of former co-worker CARLOS JOHNSON who died Tuesday after a battle with cancer. He was 52. Carlos started at the station while still in college and went on to work there for 18 years. He left the station in 2007 but continued to work in other media jobs in Nashville.
Names in the News (and other items):
One of Raycom's Regional News Directors, VICKI ZIMMERMAN (LaFLUER) is retiring. She's a former news director at WAFB-TV in Baton Rouge and earlier worked at KPLC-TV (NBC/Lake Charles, LA) which paid tribute to her in this story.
ELLIE MIRMAZAHERI stays within Hearst as she moves from KCRA-TV in Sacramento to KCCI -TV in Des Moines, IA. Ellie was a morning newscast producer in Sacramento and will be an EP in Des Moines. She's also worked in Eugene, OR.
We have a few stories involving former news directors.
CHRISTINE RISER is a former ND at WJHL-TV in Johnson City, TN, who then became a GM with Media General's Interactive Division. She later moved into marketing and PR jobs, including one at Bristol Motor Speedway. The Bristol newspaper featured her in an interview segment describing her first job.
WALTER JOHN CHILSEN, the first news director of WSAU-TV (now WSAW-TV) in Wausau, WI, is being honored as he is stepping down from the Board of the Town of Weston after 17 years of service. Did I mention he's 94? He also spent more than 20 years as a state senator, and was injured in a plane crash during World War II, as you'll learn here.
General Manager News and Notes:
There's a number of GM moves to share with you.
Sinclair has made General Manager moves at two of its North Carolina stations.
JENNIFER HATCHER HARDIN is the new GM for Gray's WVLT-TV in Knoxville.
One time news director BRIDGET BREEN has been promoted to GM for Quincy Media's KTIV-TV in Sioux City, IA. She joined the station in 1994 and has done about every job in the building as you'll learn here.
Our Full List of Open ND Jobs:
Here's our list of open ND jobs as of Saturday, December 23, 2017:
It's unofficial, there may be others that are open, and some of these may have been filled. If you know of any in either category, please let me know: rick@rickgevers.com
Verizon Fios 1 News 800 Westchester Avenue, Rye Brook, NY 10573
KCBS/KCAL-TV 4200 Radford Ave. Studio City, CA 91604
WUSA-TV 4100 Wisconsin Ave NW Washington DC 20016
WUVG-TV 3350 Peachtree Road #1250, Atlanta, GA 30326 **
KOMO-TV 140 4th Ave N Seattle, WA 98109
WTSP-TV 11450 Gandy Blvd, St. Petersburg, FL 33702
KUVS-TV 1710 Arden Way, Sacramento CA 95815 **
Spectrum News 2505 Atlantic Ave. #102, Raleigh, NC 27604
WJAX/WFOX 11700 Central Pkwy, Jacksonville, FL 32224
KOB-TV 4 Broadcast Plaza SW Albuquerque, NM 87104
WMC-TV 1960 Union Ave, Memphis, TN 38104
WOWK-TV 350 Quarrier Street Charleston, WV 25301 (see ad above!)
WSYR/WTVH 1030 James St.Syracuse, NY 13203
WJHL-TV 338 E. Main Street Johnson City, TN 37601 (see ad above!)
KADN/KLAF-TV 1500 Eraste Landry Rd Lafayette, LA 70506
WTVM/WXTX-TV 1909 Wynnton Rd. Columbus, GA 31906
KECI-TV 340 W. Main St., Missoula, MT 59802
WDHN-TV PO Box 6237, Dothan, AL 36302
KFBB-TV P.O. Box 1139. Great Falls MT 59403
KRTV P.O. Box 2989, Great Falls, MT, 59403
**: Spanish language station