December 13, 2014 UDPATE:
Legendary anchorman BILL BONDS died this afternoon at his Detroit home of an apparent heart attack. He was 82.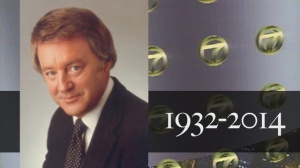 Bill spent most of his career at WXYZ-TV (then owned by ABC) in Detroit, but twice was exported to other ABC o-and-o's in Los Angeles and New York. But he always returned to his hometown.
The station led its 11:00 newscast tonight with this obituary and spent the first 45 minutes of Saturday's 11:00 news on the story.
He had many memorable moments at the anchor desk. Bonds once challenged Mayor COLEMAN YOUNG to a fist fight, and he later admitted on-air that he was an alcoholic. He also was featured in this series of promos touting the city as well as the station.
There's much more on the station's website. And there are lengthy stories in the Detroit Free-Press and the Detroit News.
We'll be back with our full weekly newsletter sometime early Sunday evening.
**** ***** ****
Greetings:
The first full week after the Thanksgiving Holiday proves to be a VERY busy one, with lots of activity.
There are THREE new news directors. There are FOUR new news director openings, leaving 26 open ND jobs, according to my list. TWO of those openings are among the FOUR paid help wanted ads in our report.
We have THREE obituaries, a number of news managers on the move, and more General Manager moves than I think we've ever had.
One of our sponsors, Devlin Design Group, unveils a new ad with details about one of their newest installations. And another sponsor, WeatherMetrics, has a new COO.
All that and more in a very full report.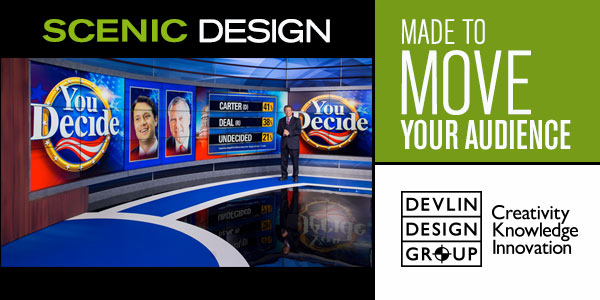 New News Director Openings:
WHBQ-TV, Memphis, TN…we told you earlier this week that veteran ND KEN JOBE left this newly-acquired-by-Cox Media FOX affiliate. The longtime GM at the station, JOHN KOSKI, left the same day. Ken's been a news director at WKBK-TV in Detroit, WLWT-TV in Cincinnati, and for WMC-TV in Memphis. He's also worked in New York and Nashville, as well as an EP for another Cincinnati station.
KFSM-TV, Ft. Smith, AR…after six years as News Director for this Tribune owned CBS affiliate, RICK BAGLEY is leaving to become the Nightside Executive Producer for KTRK-TV, the ABC o-and-o in Houston. It's a return to KTRK and to Texas for Rick, who once worked as a producer there. He's also been a News Director in El Paso (where he began his career as a producer in an earlier stint), and worked as a producer in San Antonio.
KCBD-TV, Lubbock, TX…after 20 years working for this NBC affiliate, BENJI SNEAD is leaving for a position with a local bank. He's held a variety of jobs during his tenure before being promoted to News Director in October, 2002. Benji will stay at the station for another month or two while the search is on for his replacement. KCBD is owned by Raycom Media.
WUTR/WPNY/WFXV, Utica, NY…DON DUDLEY will leave this Nexstar owned operation at the end of the year, so the search is on for a News Director and Anchor to replace him Don's been there for a little over a year. Learn more about this opportunity in the paid ad below.
Speaking of paid ads, WLBT-TV is advertising its news director opening which we first told you about a few weeks ago. That ad is below, as well.
Newly Named News Directors:
KSNV-TV, Las Vegas, NV…MARK NEERMAN returns to Las Vegas and to a newsroom when he begins Monday as the next ND for this newly-acquired by Sinclair NBC affiliate. Mark most recently was the ND at WHAS-TV in Louisville, a job he left 15 months ago to start a marketing consulting company. He's a former ND at KVVU-TV, the FOX affiliate in Las Vegas. He's also been an ND in Richmond, and has worked in San Francisco, Portland, OR, Miami, and Columbia, MO. Mark replaces CRAIG HUME who left the station late last month after 18 months as ND.
WTLV/WJXX-TV, Jacksonville, FL…MEAGAN HARRIS stays within Gannett as she moves from WFAA-TV in Dallas to become ND for this NBC/ABC duopoly. She's been an EP at WFAA for the past eight years. She earlier worked in San Antonio and Sherman, TX. In Jacksonville, she replaces KATHY WILLIAMS who resigned in June after two years.
WRGB-TV, Albany/Schenectady, NY…STEVE RICHARDS returns to the ND chair as he's been named ND for this Sinclair owned CBS affiliate. Steve most recently was ND for WHEC-TV in Rochester, NY, before leaving in August, 2013. He worked there for 27 years, first as a vacation relief photographer, eventually moving to Managing Editor and Assistant ND before being promoted to ND in December, 2009. At WRGB, he replaces LISA JACKSON who left the station in October after almost seven years as ND and (coincidentally) 27 years at WRGB.
Paid Help Wanted Ads:

News Director, WLBT-TV, Jackson, MS:
WLBT, the news leader in Jackson, Mississippi, has an immediate opening for a News Director to lead this award winning news department.
Jackson is the capitol and largest city in Mississippi. Jackson is known for its hospitality and the most welcoming people in the South. If you love great weather, outdoor activities, food, music and a diverse cultural experience then you will love living in Jackson.
WLBT has market leading anchors/reporters, a strong digital presence and the market's only news helicopter.
News Director is responsible for producing 47 hours of news each week on the NBC and FOX stations.
We are looking for a visionary who has experience as a manager in local television news.
Applicants must have an eye on the future of broadcast and digital news.
We are looking for job applicants with a background in long-range strategic planning, competitive team development and budget management.
Strong communication and organizational skills are a must.
EDUCATION and/or EXPERIENCE:
Bachelor's degree from four-year College or University in Mass Communications or Journalism. Minimum 5 years management experience preferred.
Applications for employment are now submitted electronically. If you are interested in applying, please visit this website.
EOE – M/F/D/V

News Director/Anchor, WUTR/WPNY/WFXV, Utica, NY:
WUTR, WPNY and WFXV in Utica, NY seeks a News Director/Anchor who is aggressive, forward thinking and a creative journalist. We produce news product on three different channels and have the market's only high definition news operation.
The successful candidate must have an understanding of what "local" news is and how to engage our viewers with relevant content. He/she will anchor, producer, hire, mentor and lead a team of skilled professionals. Solid news judgment, great communication skills and exceptional storytelling techniques are a must. 5-10 years of experience as a primary news anchor preferred. Knowledge of eMedia, social media and mobile website journalism is required.
The Utica market is an extraordinary place to live and work, offering diversity and a uniquely affordable living experience. It is home to a vibrant business sector, impressive colleges and universities, unparalleled hospitals, world-renowned museums and an AHL Hockey team. The market comprises an area rich in history and scenic beauty. Nestled at the base of the foothills of the Adirondack Preserve, the market is the geographical center of New York State and a short 4 hour drive to New York City, Boston, and the Canadian border.
Please send a web link, resume, cover letter and news philosophy to: sventura@wutr.tv
or via mail to:
Stephen J. Ventura
Vice President and General Manager
WUTR/WFXV/WPNY
5956 Smith Hill Road
Utica NY 13502

Managing Editor, WFXT-TV, Boston, MA:
It's a new era and exciting time at WFXT, the Fox affiliate in Boston, which currently produces 52 ½ hours of news each week. Cox Media Group recently acquired this previously Fox-owned station and is adding staff to the newsroom.
To help the lead the newsroom, WFXT seeks a Managing Editor who will oversee the daily news operation and preparation of daily newscasts. This position, which is 2nd in command in the newsroom, will help make sure the best stories of the day are covered and are presented in the most engaging ways possible.
The successful candidate will always be thinking about and understanding news coverage on all platforms. This position works with reporters every day, overseeing their newsgathering efforts and being a final set of eyes on their copy. The Managing Editor works with all other positions in the newsroom to ensure coverage is accurate and competitive while also meeting research-based goals on all platforms.
Please apply directly via this website: and search for Job ID# 1411319.

Assistant News Director, WHTM-TV, Harrisburg, PA:
WHTM-TV/abc27 in Harrisburg, PA has an immediate opening for an Assistant News Director. We are the leading multi-platform news operation in Pennsylvania's state capital and we need an experienced leader that understands the importance of content superiority on all platforms.
Our next Assistant News Director will have big shoes to fill. This person is the cornerstone in executing our editorial strategy and must be committed to applying our standards to TV, web, mobile and social media.
The AND works closely with the entire news staff, guiding reporters in the development of their stories, assisting producers in showcasing content and providing feedback often to the entire team. We are aggressive in the pursuit of enterprise content and breaking news. Our Assistant News Director must be able to maintain our excellence in these very critical areas.
If you have producing experience you will stand out as an applicant. Our AND needs to be able to fill in line-producing newscasts in a pinch or helping out on the assignment desk occasionally.
Learn more about this opportunity by clicking here.
SEND RESUME, EDITORIAL PHILOSOPHY AND COVER LETTER VIA EMAIL TO:
or mail to:
Human Resources
Harrisburg Television, Inc.
abc27 WHTM-TV
P.O. Box 5860
3235 Hoffman Street
Harrisburg, PA 17110
fx: 717-745-3997
*** NO PHONE CALLS PLEASE***
WHTM-TV/abc27 is an Equal Opportunity Employer. EEO/M/F
Other News Management Openings:
ASSISTANT NEWS DIRECTOR:
WBZ-TV, Boston, MA (listed 11/9/14)
WHTM-TV, Harrisburg, PA (listed 11/30/14, see ad above!)
KSLA-TV, Shreveport, LA (listed 9/29/14)
EXECUTIVE NEWS PRODUCER:
WCAU-TV, Philadelphia, PA (relisted 11/1/14)
WUSA-TV, Washington, DC (TWO openings, listed 11/21/14)
WTSP-TV, Tampa/St. Petersburg, FL (Dayside EP, listed 11/1/14)
KOVR-TV, Sacramento, CA (PM EP, relisted 11/9/14)
KXTV, Sacramento, CA (PM EP, relisted 11/1/14)
KTXL-TV, Sacramento, CA (PM EP, listed 10/19/14)
WTNH-TV, Hartford/New Haven, CT (Digital EP, listed 10/26/14)
WTMJ-TV, Milwaukee, WI, (AM EP, PM EP & Spec. Projects, relisted 10/11/14)
WSPA-TV, Greenville/Spartanburg, SC (AM EP, listed 10/11/14)
WIAT-TV, Birmingham, AL (listed 11/1/14)
WGHP-TV, Greensboro/High Point, NC (Dayside EP, relisted 10/26/14)
WSMV-TV, Nashville, TN (Morning EP, listing revised 11/30/14)
WHTM-TV, Harrisburg, PA (listed 11/16/14)
WMTW-TV, Portland, ME (AM EP, listed 10/19/14)
WLBT-TV, Jackson, MS (Nightside EP, listed 10/11/14)
WCYB-TV, Tri-Cities, TN (relisted 10/11/14)
WCTI-TV, Greenville/New Bern, NC (listed 8/31/14)
WTXL-TV, Tallahassee, FL (listed 11/16/14)
ASSIGNMENT MANAGER:
Central Florida News 13, Orlando, FL (relisted 11/16/14)
MANAGING EDITOR:
WFXT-TV, Boston, MA (listed 11/1/14, see ad above!)
WGCL-TV, Atlanta, GA (listed 11/16/14)
KIRO-TV, Seattle, WA (relisted 10/11/14)
WCPO-TV, Cincinnati, OH (relisted 10/26/14)
NEWS OPERATIONS MANAGER:
WCAU-TV, Philadelphia, PA: (relisted 11/1/14)
Obituaries:
DOUG GEALY, a group manager for several Sinclair markets, died this week at the age of 54. The company news release on his passing is here, and the obituary (with memorial information and next of kin) can be found by clicking here. Doug began his career in Ohio, served as a GM in Peoria and Columbus, OH, before becoming Executive VP of Benedek Broadcasting and a founder and CEO of ACME Communications. He joined Sinclair about a year ago.
JACKIE PILLERS, who worked for three Nashville TV stations during her career, died this week at the age of 53 of a neurological disease. She was working for WTVF-TV as a special projects producer, but worked for more than 20 years at WSMV-TV and also worked for WKRN-TV. This obituary describes a woman with an infectious and unforgettable laugh.
Our sympathy to LES VANN, a one-time ND turned General Manager on the loss of his father, BILL VANN. Mr. Vann died last month at the age of 89 in Springfield, IL. He's survived by Les and five other children, including a son who is the Bishop of Orange County.  More in this obituary. Les is currently GM of WISH-TV here in Indianapolis, but earlier served as a news director in Illinois. He's since been a GM for stations in Illinois, Syracuse, Cincinnati, and Savannah, GA.
Situations Wanted:
We offer a free situations wanted ad to news managers who are out of work and looking for a new opportunity. If you'd like to state your case to a well targeted audience, email me an item (max. 150 words). You may include a link to a website, an email address, and a photo. You must include your name. I'll run it for one week. I don't represent or endorse those listed, but merely trying to help.
Names in the News…and other things:
With less than a month to go before a major affiliation switch here in Indianapolis, the local newspaper takes a look at the future for WISH-TV, which is losing its CBS affiliation after 58 years.
SCOTT WARREN, who most recently worked at The Weather Channel as EP of the SAM CHAMPION morning program, has joined WFLD-TV in Chicago as Nightside Executive Producer.
KTRK-TV has named two Assistant News Directors and a new EP, according to MIKE McGUFF's blog, which you can read here. Longtime Managing Editor CHRIS HANSON is now Assistant News Director of Digital, while REHAN ASLAM joins the station (from WFLD-TV in Chicago) as Assistant News Director for Broadcast. And, as we mentioned above, RICK BAGLEY is the new Nightside EP, coming from KFSM-TV in Ft. Smith, AR.
ROXANNE GARCIA-BELL will leave her job as NBC News' Atlanta bureau chief this week after a 20 year career with the company. More here from Media Moves.
MARK FARRELL moves a few hours south from Jacksonville to Orlando, where he's been named EP for WFTV, the ABC affiliate in Orlando. He'd beeb working for WTLV-TV in Jacksonville.
JESSICA NEIDHARD has been promoted to Nightside EP for WDTN-TV in Dayton. She's been the 11:00 PM producer there.
Our good friend (and two-time RTNDA/RTDNA President) BOB PRIDDY finished his 40 year career at Missourinet this week and was profiled in this article in the Columbia Missourian.
Devlin Design Group (a longtime supporter of this newsletter) launched a new set project for WBRZ-TV in Baton Rouge, LA. Learn more about that here.
LISA FREIDEL joins WeatherMetrics as Chief Operating Officer. She joins the company from AT&T.
General Manager News:
Lots of GM changes this week.
WNBC-TV (New York) General Manager MICHAEL JACK will retire next June. He's also run two other NBC owned stations, WRC-TV in Washington and WCMH-TV in Columbus, OH (before NBC sold the station to Media General.)
Speaking of WCMH, KEN FREEDMAN will be the next GM for that Media General-owned NBC affiliate in Columbus, OH. He currently holds the same job for KWQC-TV, the company's NBC affiliate in the Quad Cities of Illinois and Iowa.
PAUL BRIGGS, who's been the General Sales Manager for Cox Media's WSOC-TV in Charlotte, has been tabbed to become GM for the company's new station in Memphis, WHBQ-TV.
Another promotion from GSM to GM as RON ROMINES moves up at WTEN-TV in Albany, NY. That's a Media General owned ABC affiliate.
Yet another Media General station, WBAY-TV in Green Bay, has promoted STEVE LAVIN to be GM for this ABC affiliate. He's the Station Manager/General Sales Manager there, and replaces DON CARMICHAEL, who's retiring. Don was the GM there for 21 years and previously worked in sales for WJXT-TV in Jacksonville, FL, where we worked together briefly.
Finally, EDWIN GROVES will be the next GM for Sinclair's KBSI-TV in Cape Girardeau, MO.
Our Full List of ND Openings:
If you know of any additions/deletions/updates, please email me at: rick@rickgevers.com
Here is my list of stations with open ND jobs, as of Saturday, December 6, 2014.
WPIX-TV 220 E. 42nd Street New York NY 10017
KWHY-TV 4975 W. Pico Blvd Los Angeles,CA 90019 *
WFTS-TV 4045 N. Himes Ave. Tampa FL 33607
KOMO-TV 140 Fourth Ave. North Seattle WA 98109
KCEC-TV 777 Grant St. #110 Denver CO 80203 *
KMGH-TV 123 Speer Blvd. Denver CO 80203
KSDK-TV 1000 Market St. St. Louis MO 63101
WJZY/WMYT-TV 3501 Performance Rd. Charlotte NC 28214
KGTV 4600 Air Way San Diego CA 92101
WCMH-TV 3165 Olentangy River Rd. Columbus OH 43202
WHBQ-TV 485 South Highland Memphis TN 38111
WBIR-TV 1513 Hutchison Ave Knoxville TN 37917
WEAR-TV 4990 Mobile Highway Pensacola FL 32506
WOWK-TV 555 Fifth Ave. Huntington WV 25701
WSYR-TV 5904 Bridge St. East Syracuse, NY 13057
WLBT-TV 715 South Jefferson St. Jackson MS 39201 (see ad above!)
KFSM-TV 318 North 13th Street Fort Smith AR 72901
WBTW-TV 101 McDonald Court Myrtle Beach, SC 29588
WTAJ-TV 5000 6th Ave. Altoona, PA 16603
WDAZ-TV 2220 S. Washington Grand Forks, ND 52801
KCBD-TV 485 South Highland Lubbock TX 79404
KTIV-TV 3135 Floyd Blvd. Sioux City IA 51108
WVVA-TV 3052 Big Laurel Highway, Bluefield WV 24701
WCJB-TV 6220 NW 43rd Street Gainesville FL 32653
WUTR/WPNY/WFXV 5956 Smith Hill Road Utica NY 13502 (see ad above!)
WBUP/WBKP-TV 1705 Ash Street Ishpeming MI 49849
* Spanish language station