Thursday, December 15, 2011 UPDATE:
Greetings:
ROBIN WHITMEYER has been named VP/ND for KDFW-TV in Dallas. Robin, of course, is the longtime ND for WSOC-TV in Charlotte before leaving the station last February.  Robin spent 30 years at that Cox-owned ABC affiliate, eight as ND.
At KDFW-TV, she replaces MARIA BARRS who left the station in August to become GM at KXTV in Sacramento, CA.  Maria worked at KDFW for 17 years, 13 as ND.  KDFW, of course, is the FOX o-and-o there.
More on this story when we update the full newsletter tomorrow.
**** ***** ****
Greetings:
Lots and lots of news this week. We have just a handful of ND changes: TWO new NDs were named and there are TWO new ND openings, bring our list of open ND positions to 26.
I'm sorry to report the demise of another newsroom. KTRV-TV in Boise closed its news operation this week, a few months after losing the FOX affiliation. It now operates as an independent station. KTRV is a subsidiary of Block Communications.
We have several help wanted ads this week, including two new one for Assistant NDs in Texas: one in a top five market, and one smaller one. And we're re-running the only help wanted ad we've ever had that features a bear! There's also ads for an ND in New England, and an Assistant ND in Memphis.
We have a large number of items in Names in the News, too many to headline here, but stories cover new jobs for a number of well-known news directors, both current and former, among other items.
And we have an obituary for a former Georgia ND who also anchored for stations in Florida and Alabama.
All that and more after this week's changes.
New News Director Openings:
KYMA-TV, Yuma, AZ…the ND search is on at this Intermountain West Communications (formerly Sunbelt) owned NBC affiliate. JENNIFER MUSA was just promoted to that position in August. Her replacement will be the ninth ND here in just over ten years.
WYIN-TV, Merrilville, IN… this PBS station located in Northwest Indiana has an ND opening listed. My records show RYAN PRIEST was promoted to ND more than two years ago.
Newly Named News Directors:
WSYR-TV, Syracuse, NY…ROB CARTWRIGHT will be the new news director here. He's currently the Assistant ND for KDAF-TV in Dallas (see below for an ad seeking his replacement there). Rob's also worked for WFAA-TV in Dallas and b in Washington, DC. He replaces JIM TORTORA who left his Newport-owned ABC affiliate earlier this summer after ten years as ND. Jim's now ND for WGGB-TV in Springfield, MA.
KMEG/KPTH-TV, Sioux City, IA…AARON WEISS will join this Pappas owned CBS/FOX duopoly as news director in early January. Aaron is currently the news integration manager for KGW-TV in Portland, OR. He's also worked in Tucson as a producer, and worked for Microsoft before that. He replaces JEFF RAKER who left the station after more than six years as news director.
Help Wanted Ads: 
Assistant News Director, KDAF-TV, Dallas, TX:
Our non-traditional newsroom seeks a non-traditional manager to help us evolve our non-traditional news product in the nation's 5th Market.
KDAF-TV, the Tribune, CW station in Dallas-Fort Worth, has an immediate opening for a Deputy Content Czar, aka Assistant News Director. The person hired will help us break old school TV rules as we pursue our non-traditional news audience while still maintaining Big J values.
We are looking for someone who leads by example and is equally comfortable producing for the web as they are producing for air. Primary duties include direct oversight of newscasts, work with producers and reporters to create compelling content, and work with our Content Czar to set the tone and direction for the newsroom.
If you have television news management experience, a strong Klout score, and social media skills that equal your journalism skills, send your resume and news philosophy to openings@the33news.com or snail mail to:
Content Czar
KDAF-TV
8001 John Carpenter Freeway
Dallas, TX 75247
EOE
**** ***** ****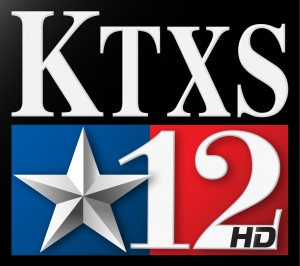 Assistant News Director, KTXS-TV, Abilene, TX:
KTXS Television is searching for an Assistant News Director. The ideal candidate would have 3 or more years of experience in television news. Some supervisor experience a plus.
The Assistant News Director will work closely with the ND, and play a major editorial role in the day to day operation. We're looking for an aggressive journalist who can take charge of a highly motivated newsroom.
KTXS is a station that puts news first, we have the area's only satellite truck, the market's only live Doppler radar, and we're the only station that broadcasts our news in High Definition.
If you'd like to be a part of this team, email your resume to: levesque@ktxs.com
or via mail to:
Assistant News Director Search
KTXS-TV
4420 N. Clack
Abilene, TX 79601
**** **** ****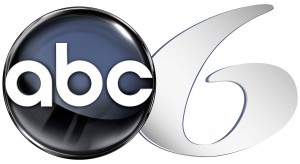 News Director, WLNE-TV, Providence, RI:
This position is a great opportunity for a highly motivated, competitive, energetic person with solid news and personnel judgment. Prior News Director experience is required.
We are in the process of fully converting the Newsroom to full HD. Experience with a Newsroom HD transition would be helpful.
Our successful candidate will be the type of leader who is a highly focused, get it done well, motivator. Someone who knows how to produce top quality newscasts filled with well written, compelling and impactful story telling.
A firm grasp of News promotion is critically important- as is a history of Web based news and social media management.
If this describes you then we should talk!
Please send – resume news philosophy, salary history, DVD and/or Web link to:
Allen Sandubrae
VP – News
Citadel Communications Company
3903 Westown Parkway
West Des Moines IA 50266
Email: ASandubrae@myabc5.com
Phone: 515.457.9645 ext. 129
Please note: phone calls will be accepted only after initial email/mail is received.
Women and minorities are encouraged to apply. EOE
**** ***** ****
News Director, KTUU-TV, Anchorage, AK: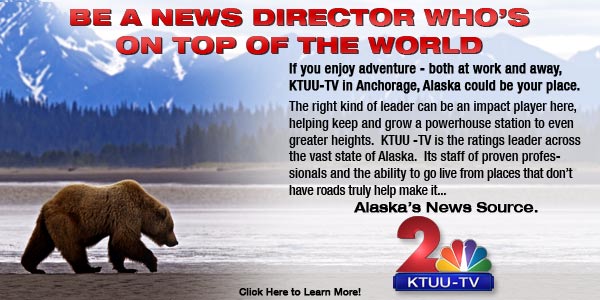 **** ***** ****

Assistant News Director, WREG-TV, Memphis, TN:
WREG has an immediate opening for Assistant News Director. We're searching for a superlative journalist to lead a team of champions in Memphis — one of the sauciest cities in America. If you are good enough to win this job, you will manage the day-to-day operations in an aggressive newsroom in a market that can only be described as news heaven. We are looking for a straightforward person who leads by example, and is not afraid to show team members what it takes to succeed. We are looking for someone who is part coach, part counselor, part ramrod.
You do not have to like Barbeque or The Blues, but a good sense of humor is a must. Find out why song writers sing about Memphis more than any other city in the world. Don't believe me? Read this article!:
Core Job Functions Include:
Supervises, at the direction of the News Director, all producers, reporters, photographers, field producers and other personnel assigned.
Sets the tone of our content and is responsible for the visual elements and accuracy of all products on all platforms.
Puts the schizzle into Breaking News.
Excels at strategic and tactical leadership.
Coaches and motivates reporters in effective and imaginative storytelling.
Previous management experience in television news is a must.
Recruits and evaluates on-air talent
Interested parties should submit resume and references to:
Bruce Moore
News Director
WREG-TV
803 Channel 3 Drive
Memphis, TN 38103
or to bruce.moore@wreg.com
No calls.
Other News Management Openings:
ASSISTANT NEWS DIRECTOR:
WFLD-TV, Chicago, IL (relisted 9/10/11)
KDAF-TV, Dallas/Ft. Worth, TX (new listing this week, see ad above!)
WOIO/WUAB-TV, Cleveland, OH (listed 10/14/11)
KSDK-TV, St. Louis, MO (relisted 9/17/11)
WISH-TV, Indianapolis, IN (listed 10/28/11)
WRTV, Indianapolis, IN (relisted 10/28/11)
WAVY-TV, Norfolk, VA (listed 10/7/11)
WREG-TV, Memphis, TN (relisted 11/25/11, see ad above!)
WTEN-TV, Albany, NY (listed 11/25/11)
WRDW-TV, Augusta, GA (listed 11/25/11)
KTXS-TV, Abilene, TX (new listing this week, see ad above!)
KTVM-TV, Bozeman, MT (listed 9/17/11)
EXECUTIVE NEWS PRODUCER:
KYW-TV, Philadelphia, PA (listed 12/2/11)
KXAS-TV, Dallas/Ft. Worth, TX (AM EP, listed 11/11/11)
The Weather Channel, Atlanta, GA (listed 9/23/11)
KPRC-TV, Houston, TX (AM EP, listed 10/7/11)
KUNS-TV, Seattle, WA (listed 11/25/11) **
KTVI/KPLR-TV, St. Louis, MO (listed 9/10/11)
KPTV, Portland, OR (AM EP, listed 9/10/11)
KOIN-TV, Portland, OR (listed 9/17/11)
WTAE-TV, Pittsburgh, PA (Dayside EP, relisted 11/25/11)
WRAL-TV, Raleigh, NC (relisted 11/11/11)
WSMV-TV, Nashville, TN (AM EP, listed 10/28/11)
WCPO-TV, Cincinnati, OH (PM EP, listing revised 8/12/11)
WPEC-TV, W. Palm Beach, FL (listed 10/7/11)
WPMT-TV, Harrisburg, PA (AM EP, listing revised 10/14/11)
WHBQ-TV, Memphis, TN (relisted 9/23/11)
WINK-TV, Fort Myers, FL (Dayside EP, relisted this week)
WBAY-TV, Green Bay, WI (new listing this week)
WLNS-TV, Lansing, MI (relisted this week)
Obituary:
JOHN WILLIAMS, who served as an ND for WFXL-TV in Albany, GA until 2005, died in late November. He was 64 and had suffered from bladder cancer and heart complications. John also anchored in Panama City, FL, and Dothan, AL, where he worked twice for WTVY-TV. He left the news business a few years ago, ran unsuccessfully for the Alabama House of Representatives, and worked for AFLAC. He's survived by his wife, twin daughters, and a son.
Names in the News:
One time Washington, Atlanta, Tampa, and Nashville ND MIKE CAVENDER has been named Executive Director of both RTDNA and RTNDF. Mike's a former chair of RTNDA who's remained very actrive in both groups. He's been working in public relations in Atlanta for the past few years, and will continue to live there. Mike's thoughts on his new role, and the future of the organization, are here.
Another past RTNDA leader, PAUL DAVIS, is returning to a newsroom, at least part time. He's now the Saturday morning anchor for WILL-AM/FM, the University of Illinois' NPR affiliate. Paul anchored and served as ND for many years at WCIA-TV in Champaign, IL, and went on to be an ND for WGN-TV in Chicago and WLVI-TV in Boston.  After leaving FACS in California, Paul moved back to Illinois this summer.
Congratulations to long time news director BILL LORD who's been promoted to VP/GM for WJLA-TV in Washington. Bill's been station manager for WJLA most recently, and earlier served as VP/News for this Albritton-owned ABC affiliate and its cable news operation, NewsChannel 8. Bill's a former ND in Seattle, Los Angeles, and Nashville, and earlier in his career was a correspondent for NBC News.
HOLLIS GRIZZARD has joined AR&D as a Senior Station Strategist/ Consultant. We told you a few weeks ago that Hollis was leaving his job as ND for KTSM/KDBC-TV in El Paso after two years there. Hollis is also a former ND in Lubbock and Corpus Christi, a reporter at several stations in Texas, and he spent six years as a consultant for Magid and also ran his own consulting company.
KTVX-TV in Salt Lake City has promoted CHRIS AVERY to executive producer. He's been the 4:00 PM producer, and has worked at this ABC affiliate for nine years.
Congratulations to KCTV (Kansas City) News Director BLAISE LABBE who was honored by the Urban League there with the organization's "Difference Maker" award. He was honored for bringing diversity to the station's newsroom. And Blaise was in pretty good company: the other two honorees were a founder of tax preparer H&R Block and the CEO of Sprint.
Finally, apologies to MATT KUMMER. In reporting his new job as Assistant News Director in Green Bay in our last edition, I had him moving to the wrong station. He's joined WBAY-TV, the ABC affiliate there.
The Full List:
To the best of my knowledge, here is the list of stations with open news director jobs, as of December 9, 2011.
If you know of any additions/deletions/changes/updates, please email me at: rick@rickgevers.com
NY 1 News                                             75 Ninth Ave. New York NY 10011
KDFW-TV                                             400 N. Griffin St. Dallas TX 75202
New England Cable News                160 Wells Ave. Newton MA 02459
WFDC-TV                                            101 Constitution Ave. NW Washington DC 20001  **
Central Florida News 13                  20 N. Orange #13, Orlando, FL 32801
KGW-TV                                                1501 SW Jefferson St. Portland OR 97201
WITI-TV                                             9001 N. Green Bay Road Milwaukee WI 53209
WLNE-TV                                            10 Orms St. Providence RI 02904 (see ad above!)
WACH-TV                                            1400 Pickens St. Columbia SC 29201
WICS/WICD-TV                                2680 E. Cook St. Springfield IL 62703
KHGI-TV                                              13 S. Highway 44 Kearney NE 66848
KCOY/KKFX-TV                              1211 W. McCoy Santa Maria CA 93455
KVII-TV                                                One Broadcast Center Amarillo TX 79101
WJFW-TV                                           3217 County Road G Rhinelander WI 54501
KRCG-TV                                            Highway 54 North Holts Summit MO 65043
KAUZ-TV                                             PO Box 25 Wichita Falls TX 76309
WFXL-TV                                             1211 N. Slappey Blvd. Albany GA 31707
KTUU-TV                                             701 E. Tudor Rd. #220 Anchorage AK 99503 (see ad above!)
WTOV-TV                                           9 Red Donley Plaza Steubenville OH 43952
KSWT-TV                                             1301 Third Ave. Yuma AZ 85364
KYMA-TV                                         1385 S. Pacific Ave. Yuma AZ 85365
KGNS-TV                                             120 W. Delmar Blvd. Laredo TX 78045
KKCO-TV                                             2325 Interstate Ave. Grand Junction CO 81505
KGWN-TV                                           2923 E. Lincolnway Cheyenne WY 82001
KSAX-TV                                             PO Box 189 Alexandria, MN 56308
WYIN-TV                                         8625 Indiana Place Merrilville IN 46410
** Spanish language station