Greetings:
It's a relatively slow week, with just ONE new ND to share with you, and, to my knowledge,  NO new openings.
That brings our count of open ND jobs to just  14, which is as low as I can remember it in more than 14 years of tracking this information.
One of those jobs (in Hawaii, if you're tired of the winter weather) is advertised below, as well as an opening for an EP position in Texas.
We do have an item or two in Names in the News, including our tardy report on the departure from CBS News of a longtime employee who worked closely with CBS affiliates.  We also have details about the death of a veteran Washington state newsman, and memorial information for Frank Magid, whose passing we reported last week.
All that, and more, after this week's change:
NEW NEWS DIRECTOR OPENINGS:
None that I know of!
NEW NEWS DIRECTORS NAMED:
KMIR-TV, Palm Desert, CA…KATE GLOVER will be the next ND for this Journal Broadcasting owned NBC affiliate.  She's a former Assignment Editor at WESH-TV in Orlando, and replaces JON FISCHER who left the station in November after just more than a year as ND here.
**** ***** ****
HELP WANTED ADS:

NEWS/CONTENT DIRECTOR, KGMB/KHNL-TV, HONOLULU, HI
We have a unique professional challenge and great career opportunity to align with forward thinking broadcasters.  You will be responsible for directing a competitive and quality newsroom, providing news content for a statewide (island state) audience for three television stations and online platforms, while living in beautiful Hawaii. You will lead Hawaii's largest television newsroom while providing 40+ hours of news per week for KGMB (CBS Affiliate), KHNL (NBC Affiliate) and KFVE (Independent, broadcast home of University of Hawaii sports).
Key responsibilities:
• Guide daily and long-range editorial decision-making.
• Ensure high quality standards of journalism and production consistent with goals of the stations.
• Ability and experience in developing and executing news strategy; create and coordinate special news programs which enhance the image of being the market leader; strong production skills a must.
• Fiscal Management:  Ability to prepare and implement an operations plan/budget consistent with overall company and station goals.
• Coach, mentor and provide constructive feedback/evaluation to newsroom personnel, provide ongoing critiques for newscasts on a daily basis.
• Online:  Innovate and manage content and workflow to effectively and efficiently utilize the station website and mobile platform as the leading source of new media news and information in the market.
• Ensure adherence to accepted standards of journalism and compliance to laws regarding libel/slander.
Education / Experience / Personal Skills required:
• Bachelor's Degree required
• Proven track record of success as a News Director or in a senior news management position (minimum 10 years preferred)
• Excellent people skills; strong verbal and written communications skills.
• Demonstrated ability to lead; experience in a multi-cultural setting, preferred.
• Strategic thinker, competitive and passionate for the business of local television news
Forward Cover Letter and Resume to:
Rick Blangiardi
General Manager
KGMB/KHNL-TV
Hawaii Now
420 Waiakamilo Rd. Suite 205
Honolulu HI 96817
or email to: rblangiardi@hawaiinewsnow.com
**** ***** ****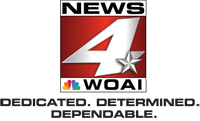 EXECUTIVE PRODUCER, WOAI-TV, SAN ANTONIO, TX
JOB DESCRIPTION: Duties and responsibilities include hands-on, take charge leader to oversee the daily execution of WOAI TV newscasts. Duties include but not limited to journalistic, presentation and format quality control of newscasts.
The Executive Producer will be responsible for carrying out the news philosophy, and the goals and objectives of the news department as it relates to on-air presentation.  The Executive Producer must have solid journalistic credentials, outstanding writing and production skills, be a superb visual storyteller, and have dynamic creativity and excellent people skills.
Must be able to lead and motivate staff members in a positive way.  The Executive Producer will also be instrumental in the development of future news product.
QUALIFICATIONS: Previous experience as an Executive Producer or News Director is required.  College degree is preferred.
CONTACT:
Tom Bell, News Director
WOAI TV
P.O. Box 2641
San Antonio TX  78299
Or via email:  tombell@woaitv.com
**** ***** ****
OTHER NEWS MGMT. OPENINGS:
ASSISTANT NEWS DIRECTOR:
KHOU-TV, Houston, TX (listed 12/12/09)
WLWT-TV, Cincinnati, OH (relisted 1/15/09)
KTVX-TV, Salt Lake City, UT (new listing this week)
KOCO-TV, Oklahoma City, OK (listed 1/8/10)
EXECUTIVE NEWS PRODUCER:
News 12 The Bronx/Brooklyn, NY (listed 1/8/10)
KTVT-TV, Ft. Worth/Dallas, TX (2 jobs, Special Projects & AM EP, listing revised 1/8/10)
KING-TV, Seattle, WA (AM EP, relisted 12/18/09)
KOVR-TV, Sacramento, CA (listed 1/15/09)
KXTV,    Sacramento, CA (PM EP, listing revised 1/29/10)
KPTV, Portland, OR (two openings, one is EP/Special Proj., listing revised 1/29/10)
KTVX-TV, Salt Lake City, UT (AM EP, listed 12/26/09)
WDAF-TV, Kansas City, MO (W/E Supervising Producer, listed 1/8/10)
WOAI-TV, San Antonio, TX (listed 2/5/10, see ad above!)
WPEC-TV, West Palm Beach, FL (relisted 12/12/09)
WPBF-TV, West Palm Beach, FL (Digital EP, listed 12/18/09)
KOAT-TV, Albuquerque, NM (relisted 1/15/10)
WBRZ-TV, Baton Rouge, LA (PM EP, listed 1/22/09)

MULTI MEDIA CONTENT DIRECTOR:
The Weather  Channel, Atlanta, GA (listed 12/12/09)
ASSIGNMENT MANAGER:
The Weather  Channel, Atlanta, GA (listed 12/18/09)
**** ***** ****
OBITUARY and MEMORIAL INFORMATION:
Funeral services were held Saturday, February 13, 2010, for longtime KIRO-TV (Seattle) Assignment Editor BRYAN THIELKE who died earlier this week after a bout with pancreatic cancer.  He was 58.  Bryan had also worked in Salt Lake City and Denver.  His colleagues paid tribute to him in a video produced and shown to him before he died.
Family of the late Frank N. Magid has designated a charity for anyone wishing to contribute in his memory.  It's Direct Relief International, based in Santa Barbara, CA.  A private, family funeral service was held last Tuesday in Santa Barbara, where Frank died of cancer last week at the age of 78.
**** ***** ****
NAMES in the NEWS:
Three television and two radio news directors have been elected to two year terms on the Board of Directors of RTDNA.  TV news directors are PEGGY PHILIP of KSHB-TV in Kansas City, ANDREW VREES from WCVB-TV in Boston, and KEVIN BENZ, the longtime news director of News 8 Austin. Radio NDs elected were KATHY WALKER of KOA-AM in Denver, and RANDY BELL from Jackson, MS.
RAMON ESCOBAR returns to Telemundo as Executive Vice President of the Spanish language broadcaster's network news program.  He's a former ND at NBC's WTVJ-TV in Miami and also worked at MSNBC.
And color us among the many very sorry to see JOE DUKE leave CBS News after 12 years.  During that time he primarily worked with Newspath and the CBS affiliates.  Joe's one of the good guys in the business, who began as a news photographer and later served as ND for WWL-TV in New Orleans and KHOU-TV in Houston.  If you want to wish Joe well on his next adventure (or on his golf game!), your email finds him at: joeduke4@gmail.com
**** ***** ****
Here's a complete list of all stations that I believe have an ND opening, as of Friday, February 12, 2010.
And if you know of updates, corrections, or additions to this list, please let me know via email: rick@rickgevers.com
WGBO-TV  541 N. Fairbanks Ct., #110 Chicago IL 60611
KTVT-TV,  5233 Bridge St.                        Ft. Worth TX 76103
WXYZ-TV   20777 W. 10 Mile Road           Southfield MI 48037
KUVS-TV   1710 Arden Way                         Sacramento CA 95815 ***
WZTV-TV   631 Mainstream Drive            Nashville TN 37228
WAVE-TV 725 S. Floyd St.         Louisville KY 40203
WTEN-TV   341 Northern Blvd.              Albany, NY 12204
KGMB-TV 420 Waiakamilo Rd. # 205  Honolulu HI 96817 (see ad above)
WNWO-TV   300 S. Byrne Rd.                Toledo OH 43615
KMTV, 10714 Mockingbird Dr. Omaha NE 68127
WJHL-TV 338 E. Main St. Johnson City TN 37601
WFFF-TV   298 Mountain View Dr.           Colchester VT 05446
WMGT-TV   PO Box 4328                     Macon GA 31208
KGNS-TV   120 W. Delmar Blvd.             Laredo TX 78045
*** (Spanish language)