Thursday, February 16, 2017 UPDATE:
A longtime FOX o-and-o news director has left her job, after 16 years running three different FOX owned news departments.
DANA McDANIEL (HAHN) has resigned as news director for KTVU-TV, the FOX owned station in Oakland/San Francisco. This story from a Bay Area blogger suggests a family health issue is the reason.
Dana's been the ND here since October, 2014, shortly after FOX acquired the station. She'd been the ND for the company's Washington station, WTTG-TV, and earlier spent almost 12 years as ND for WJBK-TV in Detroit. More from her Linkedin page.
We'll have more on this and all the latest news in our full newsletter, this weekend, including details of the pending retirement of a longtime Midwest news director.
regards,
Rick Gevers
Monday, February 13, 2017 UPDATE:
A longtime news director turned General Manager returns to the GM chair after some time away from television.
BYRON GRANDY has been named GM for Nexstar's WNCN-TV in Raleigh, the CBS affiliate there. We told you in our last report that DOUG HAMILTON had left the station.
Here's the news release from the company.
Byron most recently was GM for KMGH-TV in Denver, a job he left in October, 2014 after more than six years. He'd spent the seven years before that as the ND for that ABC affiliate. He's also been a news director in San CHtonio and Augusta, GA, and spent just under a year as a consultant for Broadcast Image.
Also, one update from our latest newsletter. We told you that Sinclair is looking for a replacement for KENT HARRELL at WICS-TV in Springfield, IL. That's correct, but Kent will remain at the station through the late spring and promises to let me know his next move.
More later!
regards,
gevers
**** ***** ****
Greetings:
FOUR newly opened news director jobs (and NO jobs filled this week) brings our list of open jobs to 27. ONE of those open positions is among the FOUR paid help wanted ads this week.
Speaking of paid ads, please note the one just below from RTDNA which has extended the deadline for entries to the annual Edward R. Murrow Awards contents.
Also this week, we have several GMs on the move, a new Assistant ND in a top five market, a former ND has penned a new book, and a look at the demise of Tegna's Northwest Cable news.
That's all below.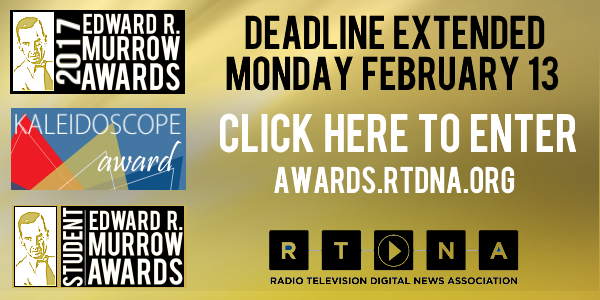 New News Director Openings:
KDEN-TV, Denver, CO…there's an opening for news director at this Telemundo affiliate to replace PEDRO CALDERON MITCHEL who'd been the ND here since November, 2013.
WICS-TV, Springfield, IL…KENT HARRELL will be leaving this Sinclair owned ABC affiliate late this spring.  He's been the news director here for more than two years, and has also been an ND in Green Bay and Rockford, IL.
KVAL/KMTR-TV, Eugene, OR…KVAL is a CBS affiliate owned by Sinclair, which operates KMTR. My records show LARRY JOHNSON had been the news director here for the past three years.
KTEN-TV, Denison, TX…this Lockwood Broadcast Group NBC affiliate is searching for a new news director. TOM CRESPO has been both news director for the past five years and anchor: he will remain at the station. You can learn more about this opportunity by checking out the paid ad below.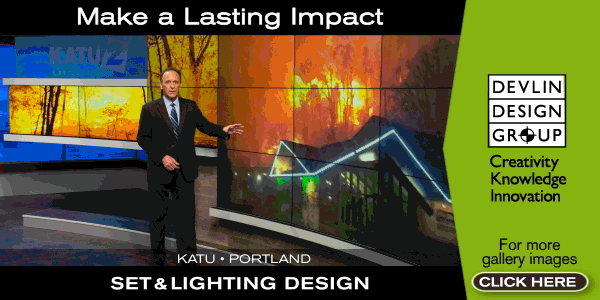 Newly Named News Directors:
No newly named news directors to my knowledge.  Please email me if you are aware of one that we've not reported:  rick@rickgevers.com
Paid Help Wanted Ads:

News Director, KTEN-TV, Denison, TX:
KTEN-TV is seeking a highly motivated news director to lead our talented staff.
The ideal candidate will possess excellent news judgment, motivational skills and the ability to find and develop talent. Must be able to execute strategically across broadcast and digital platforms. If you are an innovative leader with a passion for local news we want to hear from you.
Send resume to:
Dave Tillery
General Manager
KTEN-TV
10 Highpoint Circle
Denison, TX 75020
or email me at dtillery@kten.com
KTEN is an equal opportunity employer. Pre-employment drug screen required.

National Director, News Recruitment, E.W. Scripps Co.:
The E.W. Scripps Company is seeking to hire a National Director, News Recruitment. This position is responsible for leading our recruiting efforts to attract top management candidates to our newsrooms. The successful candidate will build high-trust partnerships with management and employees at the corporate level and at every Scripps television station as well as a key player with broadcast leadership.
The E.W. Scripps Company serves audiences and businesses through a growing portfolio of television, radio and digital media brands. Scripps is one of the nation's largest independent TV station owners, with 33 television stations in 24 markets and a reach of nearly one in five U.S. households. It also owns 34 radio stations in eight markets. Scripps also runs an expanding collection of local and national digital journalism and information businesses, including multi-platform satire and humor brand Cracked, podcast industry leader Midroll Media and over-the-top video news service Newsy. Scripps also produces television shows including "THE LIST" and "The Now," runs an award-winning investigative reporting newsroom in Washington, D.C., and serves as the long-time steward of the nation's largest, most successful and longest-running educational program, the Scripps National Spelling Bee. Founded in 1878, Scripps has held for decades to the motto, "Give light and the people will find their own way."
If interested, apply by clicking here.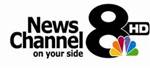 Assistant News Director, WFLA-TV, Tampa, FL:
WFLA-TV, News Channel 8 in beautiful Tampa is seeking an Assistant News Director to manage day-to-day news coverage. We want someone who places a high value on original reporting and investigative journalism in an aggressive On Your Side brand. We want someone who pays attention to detail and is willing to hold our journalists to high standards. The Assistant News Director must possess high ethical standards and strong news judgment.
Job Skills:
This person must be an experienced news manager of at least 5 years. This position requires someone with superior news judgment, strong organizational skills, and the ability to effectively supervise staff on a daily basis, with the end-product being content that clearly and effectively illustrates our On Your Side brand. You will have a positive attitude to elevate and inspire others to continue on strong and aggressive coverage and brand development.
Minimum Education:
5 yrs. of experience. The superior candidate will have news director experience, possibly in a smaller market than Tampa. If not, this candidate will have had at least Executive Producer, Assistant News Director or other news management experience at a strong station in another market. And you must be able to work long or odd hours depending on news coverage importance.
Qualified applicants can apply online at www.nexstar.tv
EOE M/F/D/V ~ Background check and drug screen required.

Executive Producer, WGHP-TV, Greenboro/High Point, NC:
Can you help craft a "nowcast" instead of a newscast? The FOX8 Morning News is looking for the next rock star Executive Producer. You'll be in charge of a monster morning show from 4:30am until 9am. You'll have all the tools; producers, writers, reporters, photojournalists and web wizards to succeed, but can you make it special? You have to have the vision to use all of our story telling tools to put on an informative and entertaining news product. So if you want to join a top-notch staff of journalists, you want to use all the latest toys, and you have a good sense of humor, what are you waiting for? Apply.
Responsibilities:
Overall responsibility for newscasts, including oversight on story selection, content, and production
Step in and write, edit and produce as needed
Provide regular feedback on newscast with staff, both as a team and individually
Qualifications:
Bachelor's degree
3 years previous news producing experience
Excellent verbal and written communication skills
Ability to work flexible schedule – nights, weekends, holidays
Qualified candidates should apply online at www.tribunemediacareers.com.
No phone calls please. EOE.
Other News Management Openings:
ASSISTANT NEWS DIRECTOR:
WMAQ-TV, Chicago, IL (relisted 1/8/17)
WFAA-TV, Dallas, TX (listed 1/22/17)
WFLA-TV, Tampa, FL (listed 2/5/17, see ad above!)
WXYZ-TV, Detroit, MI (relisted 2/5/17)
KJRH-TV, Tulsa, OK (relisted 2/5/17)
KEZI-TV, Eugene, OR (relisted 12/24/16)
KTUU-TV, Anchorage, AK (listed 12/18/16)
EXECUTIVE PRODUCER:
WFAA-TV, Dallas, TX (AM EP, listed 12/24/16)
WGCL-TV, Atlanta, GA (AM & PM EPs, listing revised 1/22/17)
KMOV-TV, St. Louis, MO (relisted 12/24/16)
KPTV, Portland, OR (relisted 1/22/17)
WRTV, Indianapolis, IN (Dayside EP, relisted 2/5/17)
WBNS-TV, Columbus, OH (Dayside EP, listing revised 1/22/17)
WPTV, West Palm Beach, FL (AM EP, listing modified 2/5/17)
KLAS-TV, Las Vegas, NV (AM EP, relisted 1/8/17)
WFMY-TV, Greensboro, NC (PM EP, relisted 2/5/17, see ad above!)
WJAX/WFOX-TV, Jacksonville, FL (PM EP, listed 12/11/16)
KOAT-TV, Albuquerque, NM (PM EP, relisted 1/22/17)
WREG-TV, Memphis, TN (relisted 1/22/17)
KJRH-TV, Tulsa, OK (AM EP, relisted 2/5/17)
WFTX-TV, Ft. Myers, FL (AM EP, relisted 2/5/17)
WOI-TV, Des Moines, IA (relisted 12/24/16)
KGUN-TV, Tucson, AZ (AM EP, new listing this week)
WCBD-TV, Charleston, SC (listed 1/8/17)
WCTI-TV, New Bern, NC (relisted 1/22/17)
WTXL-TV, Tallahassee, FL (relisted 2/5/17)
Names in the News:
JOHN STONE leaves the bright lights of New York to become the new Assistant News Director for KXAS-TV, the NBC o-and-o in Dallas/Ft. Worth. He's been the AND for WABC-TV in New York, where he's worked for the last 13 years. More in this memo to the KXAS staff from VP/News MARK GINTHER.
Also getting an Assistant ND jobs is RENEE NYGREN who's been promoted at Fargo's KVLY-TV. She had been a producer there.
We told you a few weeks ago that Tegna's Northwest Cable News was shutting down. Here's an article from Seattle Weekly that looks at the reasons why.
Long ago news director (Chattanooga and Huntsville) and currently reinvention specialist (his term) TERRY HEATON writes to share that he's written a new book. Here's his note:
I have a new book coming out in April. Advanced orders can be made through my publisher, OR Books. It's a timely book, because it tells the story of how we at The 700 Club moved Christians into the Republican Party and in so doing pushed the party to the right. Here's the link:
General Manager News and Notes:
After five years as GM and 25 at the station, DOUG HAMILTON has left WNCN-TV in Raleigh, newly acquired by Nexstar.
LARRY COTTRILL moves within Nexstar to become General Manager of WRIC-TV in Richmond. He'd been running the company's station in Clarksburg, WV, and replaces VIKI REGAN in Richmond.
LEON CLARK has been upped from interim GM to permanent GM for Scripps' KGUN-TV in Tucson.
Our Full List of Open ND Jobs:
Here is my list of stations with open ND jobs, as of Sunday, February 12, 2017:
If you know of any additions/deletions/updates, please email me at: rick@rickgevers.com
WUSA-TV 4100 Wisconsin Ave NW Washington DC 20016
KDEN-TV 2851 S. Parker Road Suite 1130 Aurora, CO 80014
WNCN-TV 1205 Front St. Raleigh, N.C., 27609
KOIN-TV 222 SW Columbia St. Portland OR 97201
WSMV-TV 5700 Knob Rd, Nashville, TN 37209
KUTV 299 South Main Street, Suite 150. Salt Lake City, UT 84111
WJAR-TV 23 Kenney Dr, Cranston, RI 02920
WIVB-TV, 2077 Elmwood Ave. Buffalo, NY 14207
KOTV 303 N. Boston Ave Tulsa, OK 74103
KSNW-TV 833 N Main St. Wichita, KS 67203
WOWK-TV 555 5th Ave, Huntington, WV 25701
KOLD-TV 7831 N Business Park Dr, Tucson, AZ 85743
WICS-TV 2680 East Cook St. Springfield, IL 62703
WCBD-TV 210 W Coleman Blvd, Mt Pleasant, SC 29464
WCTI-TV 225 Glenburnie Drive New Bern, NC 28560
WNCT-TV 3221 Evans St, Greenville, NC 27834
KYTX-TV 2211 ESE Loop 323. Tyler, TX 75701
WMBD-TV 3131 N University St. Peoria, IL 61604
KVAL/KMTR-TV 4575 Blanton Rd, Eugene, OR 97405
KADN/KLAF-TV 1500 Eraste Landry Rd Lafayette, LA 70506
KVII-TV 1 Broadcast Center, Amarillo, TX 79101
KX Network 1811 N 15th Street Bismarck, ND 58501
KARD/KTVE-TV 200 Pavilion Road W. Monroe, LA 71292
KBJR-TV 246 South Lake Ave. Duluth MN 55802
WGFL-TV 1703 NW 80th Blvd. Gainesville, FL 32606
KTEN-TV 10 Highpoint Circle Denison, TX 75020 (see ad above)
WTOK-TV 815 23rd Ave. Meridian MS 39301