Wednesday, February 11, 2015 UPDATE:
Big news this afternoon from the second largest market, where KABC-TV (Los Angeles) News Director CHERYL FAIR has been promoted to General Manager for this ABC o-and-o.
Cheryl's been the ND here for more than 20 years: her first day on the job was memorable: It was the day of the O.J. SIMPSON car chase.
She replaces longtime KABC-TV General Manager ARNIE KLIENER who retired at the end of January after almost 20 years running the station.
Congratulations to Cheryl, who's also worked in Philadelphia and Pittsburgh.
We'll have more on this…and all the latest news…in our full report later this week.
**** ***** ****
Greetings:
FIVE, THREE, 28.
Not a quarterback calling a play, but FIVE newly named news directors, THREE open ND jobs, and a total of 28 stations looking for a new news director. Those are the key numbers in this week's report, in which I will try hard not to conflate anything.
Another key number: THREE. That's the number of paid help wanted ads this week, including the first-in-a-while blind box ad for a news director opening.
Unfortunately, we also have THREE obituaries, for a long-ago CBS news executive, for a San Francisco newsman, as well as an obituary for the wife of a SmithGeiger research VP.
In Names in the News, a promotion for a Raycom newsman, and two new managers in Washington, DC.
All this…and more…below!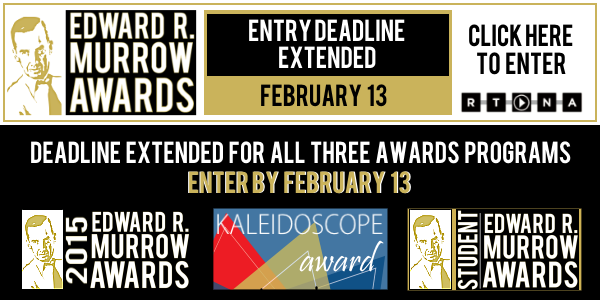 New News Director Openings:
WTEN/WXXA-TV, Albany, NY…after almost four years as ND here, DAVE CILIBERTI is transferring within Media General to run the news department at WCMH-TV in Columbus, OH. WTEN is an ABC affiliate, WXXA the Fox station. More on his move below.
KJRH-TV, Tulsa, OK…SUSAN D'ASTOLI has left this Scripps/NBC affiliate after almost 2 1/2 years as ND. She previously worked for Scripps' stations in Tampa and Phoenix, and spent almost 12 years working for WSB-TV in Atlanta.
WJCL/WTGS-TV, Savannah, GA…JULIE EISENMANN is leaving this-newly-acquired by-Hearst ABC/FOX duopoly to become the Assistant News Director for WXIA-TV, Gannett's NBC station, in Atlanta. Julie's been the ND here since June, 2011, previously worked as an ND in Erie, PA, where she also had reported and anchored, and earlier worked on the assignment desk at WPXI-TV in Pittsburgh.
Newly Named News Directors:
WTNH-TV, New Haven/Hartford, CT…we told you Friday that old friend KEITH CONNORS had been named ND for this Media General owned ABC affiliate, succeeding AL CARL (more on Al below). Keith most recently was the ND for WTHR-TV in Indianapolis before leaving about two years ago. He's been working on a digital project since then. He's a former ND in Houston, Charlotte, Norfolk, and Rochester, NY, and also worked in Nashville and Toledo, where I hired him at WTOL-TV.
WCMH-TV, Columbus, OH…DAVE CILIBERTI leaves one Media General station (WTEN/WXXA-TV in Albany, NY) to become ND for another, this one an NBC affiliate. Dave spent almost four years in Albany, and 17 years at WFTS-TV in Tampa in a variety of roles. He also worked for two New York City stations, and as a photographer in Washington, DC, and Houston. At WCMH, he replaces MICHAEL FABAC who left late last year after 2+ years to become Director of News and Marketing for News-Press & Gazette Broadcasting.
KSNT-TV, Topeka, KS…we told you above that AL CARL is the next news director for this Media General owned NBC affiliate. He's been the ND for another M-G station, WTNH-TV in New Haven/Hartford, CT. Al requested the transfer for family reasons. He's been ND at WTNH for about 18 months and worked at the station for almost three years, first as Managing Editor (our report Friday incorrectly said he'd been there about two years). Al's been an ND in Omaha, for two stations in Huntsville, and in Savannah, and worked for two stations in Kansas City as well as in Saginaw and Albany, NY.
WMBF-TV, Myrtle Beach, SC…congratulations to ASHLEY TALLEY who gets her first ND job for this Raycom/NBC station. Ashley's been the Assistant ND for WCTI-TV in New Bern, NC, and has worked in Charlotte and Wilmington. Here's the story the station posted on its website. I predict Ashley won't complain about her predecessor to the GM, since GM SARAH MILES spent four years as the ND before being promoted to GM in December.
WEVV-TV, Evansville, IN…longtime Evansville newsman WARREN KORFF has been chosen to re-start news for this CBS affiliate. He's been working as the Assignment Manager for WEHT/WTVW-TV for the past eight years and has worked in Evansville for 30 years. WEVV dropped news in 2001 under different ownership, but the new owner, Bayou City Broadcast, plan to launch news by the fall.
Paid Help Wanted Ads:
News Director, Blind Box Ad:
We are seeking a News Director for a Metropolitan area.
This local media company is experiencing an exciting time in its newsroom and has an opening for a dynamic, creative and experienced News Director.
The News Director will define a clear mission, purpose and vision for our three hyperlocal channels. The ideal candidate will be adept at leading the areas of news content, budget, production analysis management and newsroom culture.
Key responsibilities include recruit, develop and retain talent, create overall journalistic strategy and policy for daily news broadcasts, manage staff effectively in a deadline-oriented environment while interacting in a positive, proactive and productive manner. Key competencies include a PASSION for News and a proven track record in producing winning newscast while leading a team of talent that will develop into successful professional.
Please send your resume, cover letter and compensation history to tvjobs640@gmail.com

Morning Executive Producer, KNXV-TV, Phoenix, AZ:
KNXV/ABC15 in Phoenix is seeking a creative and dynamic Executive Producer to lead our morning news strategy. The right candidate is a proven leader who understands how to present fresh and urgent content and has an unyielding will to win every story.
As the Executive Producer, you will manage content and showcasing across multiple platforms. All candidates must have experience as a morning show producer and at least three years in a leadership role. Candidates must also have digital expertise and a cross-platform mindset.
If you are passionately curious, have a track-record of great news judgment and want to supervise a great team in one of the most liveable cities in America we want to hear from you.
To apply for this position, please visit us here at the External Career Center and search for requisition #10007.
KNXV ABC 15 IS AN EQUAL OPPORTUNITY EMPLOYER.


Executive Producer, WIVB-TV, Buffalo, NY:
News 4 is seeking a top Executive Producer who loves to live news! A qualified applicant will be an experienced Executive Producer or Special Projects Producer or the best producer in your shop, who is a great writer and wants to help lead a team of the some of the strongest news people in the business.
You must be able to explain and then sustain our news vision. Some additional job requirements include; knowledge of graphics-use to enhance the value to our audience, know how to showcase a newscast and the ability to lead and enhance the performance of producers, reporters and anchors.
The ideal candidate will understand, use and be able to teach the value of social media and digital content. Great judgment and ethics along with the ability to maintain a flexible work schedule will contribute to your success in this position.
Education/Experience: a Bachelor's Degree in Communications, TV/film or the equivalent and at least 5 years experience in television or radio broadcast/production.
If you know how to bring value to viewers, love investigative journalism, understand the importance of weather and can work well under pressure, this may be the job for you!
WIVB/WNLO is a LIN Media station. We are an Equal Employment Opportunity employer, and offer competitive salaries and wages, and a standard benefit package that includes a 401K plan and medical and dental plans.
To apply online – http://www.linmedia.com/contact-us/careers/
EOE/MINORITIES/FEMALES/VETERANS/DISABLED
Other News Management Openings:
ASSISTANT NEWS DIRECTOR:
WBZ-TV, Boston, MA (relisted 1/11/15)
WFTS-TV, Tampa, FL (listed 12/27/14)
KSHB-TV, Kansas City, MO (listed 12/27/14)
WHTM-TV, Harrisburg, PA (relisted 1/11/15)
EXECUTIVE NEWS PRODUCER:
WCAU-TV, Philadelphia, PA (relisted 1/11/15)
WFAA-TV, Dallas, TX (listed 12/21/14)
WFXT-TV, Boston, MA (relisted 1/11/15)
WJLA-TV, Washington, DC (2 positions, Dayside & Weekend, listed 1/18/15)
WUSA-TV, Washington, DC (TWO openings, listed 11/21/14)
KPRC-TV, Houston, TX (listed 1/3/15)
KNXV-TV, Phoenix, AZ (new listing this week, see ad above!)
WTVJ-TV, Miami, FL, (listed 2/1/15)
KDVR-TV, Denver, CO (Morning EP, listed 1/26/15)
KOVR-TV, Sacramento, CA (PM EP, relisted 1/11/15)
KTXL-TV, Sacramento, CA (PM EP, relisted 1/11/15)
KXTV, Sacramento, CA (PM EP, relisted 1/11/15)
WCNC-TV, Charlotte, NC (AM EP, listed 1/18/15)
WSMV-TV, Nashville, TN (Morning EP, relisted 2/1/15)
WTMJ-TV, Milwaukee, WI, (AM EP, PM EP & Spec. Projects, relisted 1/11/15)
WGHP-TV, Greensboro/High Point, NC (Morning EP, listing revised 1/3/15)
WIVB-TV, Buffalo, NY (relisted 2/1/15, see ad above!)
WMTW-TV, Portland, ME (AM EP, relisted 1/11/15)
WCYB-TV, Tri-Cities, TN (relisted 1/11/15)
WTXL-TV, Tallahassee, FL (relisted 1/18/15)
ASSIGNMENT MANAGER:
Central Florida News 13, Orlando, FL (relisted 1/18/15)
WBNS-TV, Columbus, OH (listed 12/27/14)
MANAGING EDITOR:
WFXT-TV, Boston, MA (relisted 1/11/15)
NEWS OPERATIONS MANAGER:
WCAU-TV, Philadelphia, PA: (relisted 1/11/15)
Obituaries:
Our sympathy to the folks at KRON-TV in San Francisco on the death of their Digital Manager, BRIAN SHIELDS. Brian died at his home this week at the age of 53.  Here's the obituary the station posted.
SANDY SOCOLOW, once described as WALTER CRONKITE's right hand man, died Saturday, February 1, of complications after a long illness. He was 86. During his career at CBS, he was a VP, head of the Washington bureau, and EP of the CBS Evening News. This obituary offers a detailed look at his career.
CRISTEN CERVELLINI-CALFO, wife of SmithGeiger's VP/Research Strategies TONY CALFO, lost her long battle with cancer Wednesday. She was 42.  During her illness, she wrote a children's book called "When Mommy Loses Her Hair" to help parents explain cancer to children. This 2011 profile and this obituary tell us about a special woman. Your kind email would reach Tony at: tony@smithgeiger.com
Situations Wanted:
We offer a free situations wanted ad to news managers who are out of work and looking for a new opportunity. If you'd like to state your case to a well targeted audience, email me an item (max. 150 words). You may include a link to a website, an email address, and a photo. You must include your name. I'll run it for one week. I don't represent or endorse those listed, but merely trying to help.
Names in the News…and other things:
Congratulations to longtime newsman STEVE ACKERMANN who was officially named VP of News for Raycom Broadcasting on Friday. He's actually had the responsibilities for a few weeks but the title was finally made official. Steve joined the company ten years ago as ND of its Cincinnati station (WXIX-TV). He was the startup (and only) news director for Belo's Texas Cable News and spent many years working for CBS. Steve began his career in his native Louisiana.
WUSA-TV in Washington has two new news managers. JAMES HALLMAN joins this Gannett owned CBS affiliate has the morning EP. He had been working for WTXF-TV in Philadelphia. And JOAN VASILIADIS has been promoted to Manager of Digital Strategy.
General Manager News:
Nexstar has named DENISE McMANUS General Manager of its new acquired KASW-TV, the CW affiliate in Phoenix. She'd been working as VP of Sales for the Telemundo station in Phoenix.
Our Full List of ND Openings:
If you know of any additions/deletions/updates, please email me at: rick@rickgevers.com
Here is my list of stations with open ND jobs, as of Saturday, February 7, 2015.
WPIX-TV 220 E. 42nd Street New York NY 10017
KWHY-TV 4975 W. Pico Blvd Los Angeles,CA 90019 *
KNXV-TV 515 N. 44th St. Phoenix AZ 85008
KCEC-TV 777 Grant St. #110 Denver CO 80203 *
KMGH-TV 123 Speer Blvd. Denver CO 80203
WOIO/WUAB-TV 1717 E. 12th St. Cleveland OH 44114
KSDK-TV 1000 Market St. St. Louis MO 63101
KATU-TV 2153 NE Sandy Boulevard Portland OR 97232
KENS-TV 5400 Fredericksburg Road San Antonio TX 78229
KUTV 299 S. Main St. #150 Salt Lake City UT 84111
WOOD-TV 120 College SE Grand Rapids MI 49503
WWL-TV 1024 North Rampart St. New Orleans 70116
WGHP-TV 2005 Francis St. High Point NC 27263
WTEN-TV 341 Northern Blvd. Albany NY 12204
KJRH-TV 3701 South Peoria Avenue Tulsa OK 74105
WBIR-TV 1513 Hutchison Ave Knoxville TN 37917
WOWK-TV 555 Fifth Ave. Huntington WV 25701
WACH-TV 1400 Pickens St. Columbia SC 29201
WSYR-TV 5904 Bridge St. East Syracuse, NY 13057
KGBT-TV 9201 West Expressway 83 Harlingen, TX 78552
WJCL/WGTS 1375 Chatham Parkway Third Floor Savannah, GA 31405
WFFT-TV 3707 Hillegas Rd. Ft. Wayne IN 46807
WDAZ-TV 2220 S. Washington Grand Forks, ND 52801
KFDM-TV 2955 Interstate 10 East Beaumont TX 77702
KCBD-TV 485 South Highland Lubbock TX 79404
KWES-TV 11320 West County Road 127, Midland TX 79711
KMVT/KSVT-TV 1100 Blue Lakes Blvd. North Twin Falls, ID 83301
WBUP/WBKP-TV 1705 Ash Street Ishpeming MI 49849
* Spanish language station