January 7, 2011 UPDATE:
KEITH CONNORS is the new ND for WTHR-TV, the NBC affiliate here in Indianapolis.
He spent the last 5+ years as Executive ND for Belo's KHOU-TV in Houston, and earlier served as ND at Belo stations in Charlotte and Norfolk.  Keith's first ND job was in Rochester, NY, and he also worked in Nashville and Toledo, where (full disclosure) he worked with me when I was ND for WTOL-TV.
At WTHR, he replaces CAROLYN WILLIAMS who (at her request) returned to her old job as Assistant ND for WTHR.
We'll have all this week's changes (and there are a few) in our full newsletter, which is delayed (most likely to Sunday) by both out of town company AND the AFC Wild Card game between the Colts and the NY Jets.
**** ***** ****
Greetings:
I hope you had a safe and enjoyable holiday period.  It appears to have been a slow time for ND movement.
We've not updated in two weeks…in part because there haven't been any ND changes.  I expect that to change early this week with at least one of the larger market ND jobs to be filled and an opening to be announced at a small market East Coast station.
Our count of open ND jobs remains at 22.
In this week's issue, we do have two new help wanted ads…an Assistant News Director's job at a strong FOX affiliate, and an EP position at a medium market Virginia powerhouse.  And there are other new opportunities in our Other News Management Openings section.
In Names in the News, among other items, details about the arrest of a North Carolina ND, and two obituaries:  one a long-ago California ND, and the other the husband of a former New Orleans and Greenville, SC, ND.
We'll publish an UPDATE with any big changes during the week, and return with what I expect will be a more robust edition next time.
Here's to a great 2011 for all.
**** ***** ****
Help Wanted Ads:

Assistant News Director, WBRC-TV, Birmingham, AL
Are you seeking a challenge? Do you know how to win?
WBRC, the No. 1 Fox affiliate in the nation, seeks an assistant news director to help lead a large staff and nearly 50 hours of news per week.
Here's what we need: The successful candidate must be a master of content, havingat least three years of experience as a small market news director or three years as a major market assistant news director or executive producer; must have proven motivation, delegation and people management skills; must be able to create compelling stories and promotion for TV, web and mobile; must be a great writer; must be an outstanding communicator; must be an excellent strategic planner.
The assistant ND will evaluate and critique employees and use research to build new strategies. A background in producing and/or reporting is a plus. Knowledge of ENPS and server-based workflow is a plus.
Successful candidate must have a valid driver license; must be able to work nights, weekends, holidays, extra hours, etc.
Send resumes and cover letters to:
News Director
PO Box 6
Birmingham AL 35201
or via email to: jfinch@wbrc.com
No phone calls. EOE-M/F/D/V
**** ***** ****

Executive Producer, WDBJ-TV, Roanoke, VA
Come work for the dominant television station in Virginia.  WDBJ in Roanoke, Virginia is looking for an executive producer. Successful candidate must be willing to collaborate with a group of successful journalists and provide an energetic vision for the future of local news and the web.
Must have the ethical and production skills to make newscasts interesting, visual and relevant to viewers.  Expect to help manage daily content, coach producers and reporters, as well as line produce when necessary.  The ideal candidate must juggle the daily news flow as well as work on special projects.  Experience in multiple markets a plus.
Send cover letter, resume and non-returnable DVD or VHS tape to:
News Director
ATTN:  Executive Producer Position
WDBJ
2807 Hershberger Road
Roanoke, VA  24017
or email: amorris@wdbj7.com
**** ***** ****
Other News Management Openings:
Assistant News Director:
WGCL-TV, Atlanta, GA (relisted 11/28/10)
WEWS-TV, Cleveland, OH (listed 12/10/10)
KMGH-TV, Denver, CO (listed 12/10/10)
WXIN-TV, Indianapolis, IN (new listing this week)
WVIT-TV, Hartford, CT (listed 10/3/10)
KMBC-TV, Kansas City, MO (relisted 12/10/10)
WBMA-TV, Birmingham, AL (listed 10/22/10)
WBRC-TV, Birmingham, AL (relisted this week, see ad above)
WNEM-TV, Saginaw, MI (listed 10/29/10)
KREM-TV, Spokane, WA (relisted this week)
KHBS/KHOG, Ft. Smith/Fayetteville, AR (listed 12/10/10)
WCTI-TV, New Bern, NC (listed 10/22/10)
Executive News Producer:
WRNN-TV, Rye Brook, NY (listed 10/22/10)
KRON-TV, San Francisco, CA (AM EP, listed 10/22/10)
KIRO-TV, Seattle, WA (PM EP, listed 12/18/10)
WMAR-TV, Baltimore, MD (Nightside EP, listed 10/15/10)
WXIN-TV, Indianapolis, IN (PM EP, new listing this week)
KSHB-TV, Kansas City, MO (relisted 12/10/10)
WCPO-TV, Cincinnati, OH (Morning EP, listed 12/18/10)
WXIX-TV, Cincinnati, OH (PM EP, listed 11/5/10)
WSYX/WTTE-TV, Columbus, OH (listed 10/29/10)
WBRC-TV, Birmingham, AL (listed 11/14/10)
KGPE-TV, Fresno, CA (listed 12/3/10)
KOKI-TV, Tulsa, OK (AM EP, relisted 12/3/10)
WDBJ-TV, Roanoke, VA (new listing this week, see ad above)
KSLA-TV, Shreveport, LA (Morning EP, relisted 12/3/10)
KRNV-TV, Reno, NV (listed 12/10/10)
Special Projects Producer:
WTMJ-TV, Milwaukee, WI (listed 11/28/10)
KTVX-TV, Salt Lake City, UT (listed 10/10/10)
Managing Editor:
KTVU-TV, Oakland/San Francisco, CA (listed 12/10/10)
WJAR-TV, Providence, RI (listed 11/21/10)
Assignment Manager:
KHBS/KHOG, Ft. Smith/Fayetteville, AR (listed 12/10/10)
Digital Media Manager:
KCRA-TV, Sacramento, CA (relisted 12/10/10)
Senior Manager News Operations:
Source Media Group, Cedar Rapids, IA (listed 9/10/10)
**** ***** ****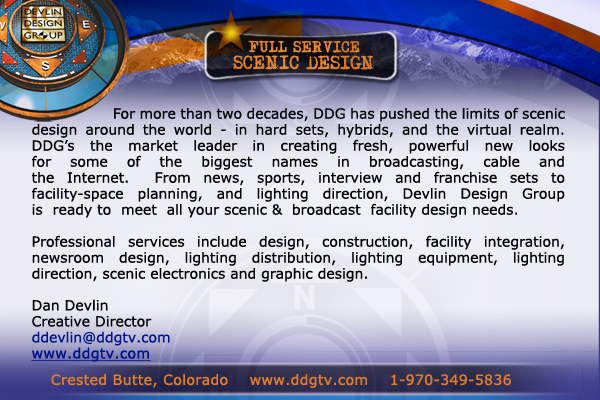 **** ***** ****
Names in the News:
Authorities in Charlotte, NC, filed larceny charges against WCCB-TV (FOX) News Director KEN WHITE in late December following an incident at a local grocery store.  More details in this December 23 article from The Charlotte Observer.
SAMANTHA JULIEN returns to her native Chicago and Tribune's WGN-TV as the 5:00 producer there.  She's been with Tribune her entire career, including her current job as the Nightside EP for the company's Indianapolis FOX affiliate, WXIN-TV.
We have two obituaries to report.
MISSIE HOBSON, who once served as ND for KCOY-TV in Santa Maria, CA, died December 26th after a 16th month long battle with breast cancer.  She worked at several California TV stations (including as a reporter for KCBS-TV) and worked for 23 years at Pacific Gas & Electric.  Her life and career are profiled here.
Our sympathy to MARY McCARTHY, one-time Rockford, IL, Greenville, SC and New Orleans ND, on the death of her husband, RAY KING. He died December 14 at the age of 76.  Mr. King was a long time resident of New Orleans who retired to Greenville, SC, in 1999, where Mary works as the Communications Manager of the Greenville County Museum of Art.  More details here.
**** ***** ****
The Full List:

To the best of my knowledge, here is the list of stations with open news director jobs, as of Saturday, January 1, 2011.
If you know of any additions/deletions/changes/updates, please email me at: rick@rickgevers.com
KMEX-TV 5999 Center Dr.                                  Los Angeles CA 90045
KHOU-TV   1945 Allen Parkway                       Houston TX 77019
KTVW-TV 6006 South 30th St.                          Phoenix AZ 85040
WCCO-TV    90 S. 11th St.                                   Minneapolis MN 55403
KOIN-TV   222 SW Columbia St.                      Portland OR 97201
WTHR-TV   1000 N. Meridian St.                    Indianapolis IN 46204
WTNH/WCTX-TV 8 Elm St.                              New Haven CT 06510
News 8 Austin 1708 Colorado St.                      Austin TX 78701
WJXT-TV    4 Broadcast Place                            Jacksonville FL 32247
WWL-TV     1024 N. Rampart St.                       New Orleans LA 70116
WTEN-TV    341 Northern Blvd.                         Albany NY 12204
KMSB-TV     1855 N. 6th Ave.                             Tucson AZ 85705
KVOA-TV 209 W. Elm St.                                    Tucson AZ 85705
WNWO-TV   300 S. Byrne Rd.                           Toledo OH 43615
KVEO-TV    349 N. Expressway                         Brownsville TX 78521
WJAC-TV   49 Old Hickory Lane                      Johnstown PA 15905
KVAL-TV   4575 Blanton Road                          Eugene OR 97405
WMGT-TV PO Box 4328                                      Macon GA 31208
KTKA-TV   2121 SW Chelsea Dr.                       Topeka KS 66614
KTEN-TV   10 High Point Circle                        Denison TX 75020
KGNS-TV   120 W. Delmar Blvd.                       Laredo TX 78045
KFBB-TV   3012 Highwoods Blvd.                    Great Falls MT 59403