Monday, January 12, 2015 UPDATE #2:
Two veteran news directors are on the move.
First, PAT COSTELLO is returning to Seattle.
He's just been named News Director for KOMO-TV, Sinclair's ABC affiliate there. He's spent the last two years as ND for Scripps' KNXV-TV in Phoenix. But Pat told me the lure of family is taking him back to Seattle: he has four children and two grandchildren there.
Here's the memo KNXV General Manager ANITA HELT sent to the staff.
Before Phoenix, Pat spent more than a dozen years at KING-TV in Seattle, the first seven years as News Director and later as Station Manager. He moved to KNXV in January, 2013. He's also been a news director in Chicago and Salt Lake City, an assistant news director in Baltimore, and began his career as a photojournalist in Indianapolis and Columbia, MO.
Pat replaces HOLLY GAUNTT at KOMO. She left after the November book to become News Director for KDVR/KWGN-TV in her hometown of Denver.
And PATTI McGETTIGAN is headed to WHBQ-TV in Memphis as ND. That's the recently-acquired-by-Cox FOX affiliate there.
Patti's been working as an EP for WCMH-TV in Columbus, OH, but previously spent three years as ND for WISH-TV in Indianapolis and more than eight years as ND for WOOD-TV in Grand Rapids. She's also worked in Pittsburgh.
Click here to read the news release announcing her hire.
At WHBQ, she replaces KEN JOBE who left the station a few months ago after Cox took over the station.
We're off to a busy year, it appears. Stay tuned!
Monday, January 12, 2015 UPDATE:
I'm always pleased to report the promotion of a long time news director to General Manager, and that's the case this morning.
Congratulations to MICHELLE BUTT, longtime news director for Hearst's WBAL-TV in Baltimore, who's been named General Manager of the company's WXII-TV in Winston-Salem, North Carolina. It's a return to the station for Michelle, who spent three years as ND for WXII before moving to WBAL in 2003.
She first joined Hearst as the Assistant ND for WTAE-TV in Pittsburgh in 1998.  She's also worked in Raleigh and for two stations in Norfolk.
At WXII, she's replacing HANK PRICE who is moving to newly acquired Hearst station WVTM-TV in Birmingham.
Here's the email sent to WBAL staffers this morning. Michelle's bio page on the station website is here, and the Hearst news release is just a click away here!
**** ***** ****
Greetings:
It's been a VERY busy week, with a total of SEVEN new news director openings and TWO newly named NDs.
All the changes increase our list of open news director jobs to a higher-than-it's-been-in-a-while 32 openings.
We welcome a new advertiser this week: Masstech for News. It allows you to automatically archive, access, share and use content directly from within popular newsroom system interfaces, with the unique Video-Follows-Text ability enabling all story elements – including text, metadata and media – to be transferred together seamlessly with a single drag-and-drop action. Click on their ad below for more information.
We also have TWO paid help wanted ads.
In Names in the News, a jump from a Dallas TV newsroom to editor for the Cleveland Plain Dealer, and a big addition to the family of a Boston news director. We also have an article which takes a bit of a inside look at the operation of the new CBS affiliate here in Indianapolis. And we have the largest number I can ever recall of General Manager moves, several of them involving former news directors.
All that…and more…as you read on.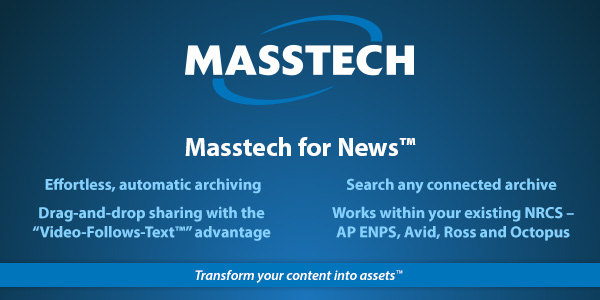 New News Director Openings:
WOIO/WUAB-TV, Cleveland, OH…in one of several moves we reported to you earlier this week, longtime News Director DAN SALAMONE left this Raycom-owned duopoly on Friday after nine years. The Cleveland Plain Dealer ran this article. In his note to his staff (which you can read here) Dan says the decision came after a lot of reflection over the last month. (I suspect he'll spend the next week reflecting on the upcoming game between his beloved New England Patriots and the Indianapolis Colts). Dan's been a news director in Detroit, Portland, OR, Albuquerque and Providence.
KATU-TV, Portland, OR…another story we shared with you earlier this week was TIFFANI LUPENSKI's departure from this Sinclair owned ABC affiliate to become ND for KGTV in San Diego. She's been ND here for 2+ years, first joining the station in 2010. More on her move below.
KENS-TV, San Antonio, TX…we also told you about TRISTON SANDERS departure from this Gannett owned CBS affiliate after two years as ND. She's moving to New York, where she will work as a consultant for Frank N. Magid Associates. Tristan has also been a news director in Tallahassee, worked as an anchor or reporter in Ft. Myers and Sarasota, and as a producer in Miami and Tampa.
KUTV, Salt Lake City, UT…JENNIFER DAHL is being promoted within Sinclair to become a Group News Director. She'll work with Sinclair's West Coast stations. Here's the memo announcing her move, sent from Sinclair's Vice President of News, SCOTT LIVINGTSON, to the company's news directors. Jennifer has spent ND here for the past four years, preceded by two years as Director of News and Marketing for Tribune, six years as Assistant News Director for KUTV, and five years as Special Projects Executive Producer for KTVK-TV in Phoenix.
WWL-TV, New Orleans, LA…another story we reported earlier this week to you in an UPDATE was the departure of BILL SIEGEL from the Gannett-owned CBS station. He's off to Scripps as one of their Directors of News Strategies. That move re-connects him with Scripps VP/News SEAN McLAUGHLIN: they worked together at KMOV-TV in St. Louis when Sean was the ND there and Bill was an EP. Here's the news release announcing his hire. Bill was ND here for more than three years, and has also worked in Milwaukee, San Antonio, and Palm Springs, CA.
KSNT/KTKA-TV, Topeka, KS…we're a little late in reporting NATE HILL's departure from this Media General owned NBC/ABC duopoly at the end of 2014. He's making a career change to work as a financial advisor in Topeka. He joined the station in 1994 as a sports intern, and was named news director here six years ago. Nate was also an anchor for the station. You can click here to see the story the station posted online after Nate's last broadcast.
KFDM-TV, Beaumont, TX…after 34 years at the station (in two tours of duty), 28 of them as news director, DAVID LOWELL left this Sinclair owned CBS affiliate on Friday. He's also worked as a photographer in Oklahoma City and in Columbia, MO. More in his Linkedin page. David told me he's exploring options both in and out of television. Fun fact: one of David's three daughters is a producer in Dallas.
Two other notes. We told you earlier this week that TIM GERAGHTY had left Central Florida News 13, where his title was Senior Director of News. MIKE GAUTREAU, who has the same title for Bright House Network's sister operation in Tampa, Bay News 9, will now oversee both operations. More in this story from the Orlando Sentinel. Tim's a former news director in Miami, Sacramento, and Grand Rapids, MI. He's also worked in Kansas City, Kalamazoo, and Columbia, MO.
And in another item involving the same Florida markets, JORGE FRIGULS has left Entravision, where he oversaw the news departments for the company's Tampa and Orlando stations.
Newly Hired News Directors:
KGTV, San Diego, CA…as mentioned above, and reported to you first earlier this week, TIFFANI LUPENSKI will become ND for this Scripps' owned ABC affiliate in March. She's spent the last two years as ND for KATU-TV in Portland, OR, where she first joined that ABC affiliate in 2010. She's also been an EP in Seattle and Denver, and has worked in Birmingham, Lake Charles, LA, as well as for CNN and for radio stations in both Atlanta and San Antonio. At KGTV, Tiffani replaces JOEL DAVIS who's been promoted to Station Manager here.
KTIV-TV, Sioux City, IA…DEANA DAY is the next ND for this Quincy owned NBC affiliate. She's currently an anchor for WTOK-TV in Meridian, MS and anchored in Fayetteville, AR. She's also worked as ND and anchor for another Meridian station, and spent seven years working in marketing and development for a variety of organizations. At KTIV, she replaces BRIDGET BREEN who has been ND and Station Manager here. She'll now concentrate strictly on her Station Manager responsibilities.
Finally, apologies to News Director KIMBERLY WYATT whose name I bungled last week in reporting her move from KGBT-TV in Harlingen, TX, to WEAR-TV in Pensacola, FL.
Paid Help Wanted Ads:

Assistant News Director, WHTM-TV, Harrisburg PA:
WHTM-TV/abc27 in Harrisburg, PA has an immediate opening for an Assistant News Director. We are the leading multi-platform news operation in Pennsylvania's state capital and we need an experienced leader that understands the importance of content superiority on all platforms.
Harrisburg offers a great location, close to the great outdoors of Pennsylvania and just a short drive to Philadelphia, New York City, Baltimore and Washington D.C.
Our next Assistant News Director will have big shoes to fill. This person is the cornerstone in executing our editorial strategy and must be committed to applying our standards to TV, web, mobile and social media.
The AND works closely with the entire news staff, guiding reporters in the development of their stories, assisting producers in showcasing content and providing feedback often to the entire team. We are aggressive in the pursuit of enterprise content and breaking news. Our Assistant News Director must be able to maintain our excellence in these very critical areas.
If you have producing experience you will stand out as an applicant. Our AND needs to be able to fill in line-producing newscasts in a pinch or helping out on the assignment desk occasionally.
Learn more about this opportunity by clicking here.
SEND RESUME, EDITORIAL PHILOSOPHY AND COVER LETTER TO:
or to:
Human Resources
Harrisburg Television, Inc.
abc27 WHTM-TV
P.O. Box 5860
3235 Hoffman Street
Harrisburg, PA 17110
fx: 717-745-3997
*** NO PHONE CALLS PLEASE***
WHTM-TV/abc27 is an Equal Opportunity Employer. EEO/M/F

Executive Producer, KPRC-TV, Houston, TX:
KPRC-TV Local 2, the Graham Media Group owned NBC station in Houston, Texas, is looking for an Executive Producer who is aggressive, competitive, and wants to win every newscast.
Responsibilities:
Houston is a growing city and we need an Executive Producer who can help develop stories that are compelling to our very diverse audience. We need someone who can showcase stories, has good story ideas, knows how to leverage web and social media to help drive ratings, and gets the importance of engaging storytelling, stand-ups and live shots. Our Executive Producers need to react to breaking news and weather quickly and be willing to scrap stories the team has been working on all day to get it covered. You will also help manage anchors, producers, reporters, photographers and editors. In addition, you will be involved in daily planning and sweeps projects.
Qualifications:
Extensive knowledge of television news.
Excellent interpersonal and communication skills required
Able to lead a team and achieve objectives
Must have the ability to work in a fast paced environment calmly and manage deadline pressures.
3-5 years experience as an Executive Producer in a television news operation required.
Must be a strong writer and copy editor.
You will also be on the weekend on-call manager rotation.
College degree in journalism or broadcasting preferred
Comments:
Any offer of employment is conditional upon the successful completion of a pre-employment alcohol and drug screening, investigative background check, employment/education verifications and reference checks. You must hold a valid driver's license and be insurable under Texas Law.
To apply, please send resume to:
Rhonda LaVelle
News Director
KPRC-TV, Local 2
8181 Southwest Freeway
Houston, Texas 77074
rlavelle@kprc.com
No Phone Calls Please – EOE/DRUG-FREE
Other News Management Openings:
ASSISTANT NEWS DIRECTOR:
WBZ-TV, Boston, MA (relisted this week)
WFTS-TV, Tampa, FL (listed 12/27/14)
KSHB-TV, Kansas City, MO (listed 12/27/14)
WHTM-TV, Harrisburg, PA (relisted this week, see ad above!)
EXECUTIVE NEWS PRODUCER:
WCAU-TV, Philadelphia, PA (relisted this week)
WFAA-TV, Dallas, TX (listed 12/21/14)
WFXT-TV, Boston, MA (relisted this week)
WUSA-TV, Washington, DC (TWO openings, listed 11/21/14)
KPRC-TV, Houston, TX (listed 1/3/15, see ad above!)
KOVR-TV, Sacramento, CA (PM EP, relisted this week)
KTXL-TV, Sacramento, CA (PM EP, relisted this week)
KXTV, Sacramento, CA (PM EP, relisted this week)
WSMV-TV, Nashville, TN (Morning EP, listing revised 11/30/14)
WTMJ-TV, Milwaukee, WI, (AM EP, PM EP & Spec. Projects, relisted this week)
WGHP-TV, Greensboro/High Point, NC (Morning EP, listing revised 1/3/15)
WIVB-TV, Buffalo, NY (listed 12/14/14)
WMTW-TV, Portland, ME (AM EP, relisted this week)
WCYB-TV, Tri-Cities, TN (relisted this week)
WTXL-TV, Tallahassee, FL (listed 11/16/14)
ASSIGNMENT MANAGER:
Central Florida News 13, Orlando, FL (relisted 11/16/14)
WBNS-TV, Columbus, OH (listed 12/27/14)
MANAGING EDITOR:
WFXT-TV, Boston, MA (relisted this week)
NEWS OPERATIONS MANAGER:
WCAU-TV, Philadelphia, PA: (relisted this week)
Situations Wanted:
We offer a free situations wanted ad to news managers who are out of work and looking for a new opportunity. If you'd like to state your case to a well targeted audience, email me an item (max. 150 words). You may include a link to a website, an email address, and a photo. You must include your name. I'll run it for one week. I don't represent or endorse those listed, but merely trying to help.
Names in the News…and other things:
The Indianapolis Star offer this 'peak-behind-the-curtain' at the new CBS affiliate in Indianapolis, WTTV, and its sister station, FOX affiliate WXIN-TV. One note…the story is more than ten days old (I forgot to include it last week.)
GEORGE RODRIGUE. who's been the Assistant ND for WFAA-TV in Dallas for the past three months, is on his way to Cleveland as the Editor for the Cleveland Plain Dealer. George's background includes both print and broadcast work. This post from Jim Romenesko details his background and the move..
Congratulations to WFXT-TV News Director LEE ROSENTHAL and his wife JOANNA (a one-time reporter) on the December 29th birth of identical twins..who were almost born on different days! SASHA FRANCES was born at 11:52 PM, while JOCELYN CLAIRE almost had a different birthday, arriving at 11:59 PM. Sasha weighed 5′ 6″, with Jocelyn weighing 5′ 8″. Mom Joanna and the girls are home now, where they join daughter and sister SHEA who will turn two in March. A note of congratulations will reach Lee at: lee.rosenthal@coxinc.com
General Manager News:
Lots of activity this week, much of it at Raycom stations.
Former New Orleans and Phoenix News Director SANDY BRELAND leaves her job as GM of WVUE-TV in New Orleans to become a Group Vice President for Raycom.
TIM INGRAM, who's currently GM of Raycom's KFVS/WQWQ-TV in Cape Girardeau, MO, will replace her in New Orleans.
DAVE THOMASON replaces Ingram in Cape Girardeau. He'd been the sales manager there.
COLLIN GASTON moves within Alabama to become GM at Raycom's WBRC-TV in Birmingham. He'd been the GM at the company's WSFA-TV in Montgomery.
ERIC DUNCAN replaces Gaston in Montgomery. He's been the General Sales Manager at KCBD-TV in Lubbock, TX.
One time Tulsa News Director and most recently GM of KBAK-TV in Bakersfield, STEVE WEINSTEIN, gets promoted to GM for sister-Scripps station WEWS-TV in Cleveland. Read more about it here.
MIKE CUKYNE is the new GM for Meredith's KCTV/KSMO-TV in Kansas City. It's a return to KCTV for Mike, who once oversaw digital sales there.  He'll keep his responsibilities as Senior Vice President of Digital Media for Meredith's Local Media Group. He replaces DARRIN McDONALD who left the station on Friday. More in the official news release.
CATHY PIRCSUK is retiring as GM of WWNY/WNYF-TV in Watertown, NY. She joined the station in 1979 as a reporter, worked her way up to News Director, then Station Manager, before becoming GM in 1996. The station posted this story on its website.
Our Full List of ND Openings:
If you know of any additions/deletions/updates, please email me at: rick@rickgevers.com
Here is my list of stations with open ND jobs, as of Sunday, January 11, 2015.
WPIX-TV 220 E. 42nd Street New York NY 10017
KWHY-TV 4975 W. Pico Blvd Los Angeles,CA 90019 *
KOMO-TV 140 Fourth Ave. North Seattle WA 98109
KCEC-TV 777 Grant St. #110 Denver CO 80203 *
KMGH-TV 123 Speer Blvd. Denver CO 80203
WOIO/WUAB-TV 1717 E. 12th St. Cleveland OH 44114
KSDK-TV 1000 Market St. St. Louis MO 63101
KATU-TV 2153 NE Sandy Boulevard Portland OR 97232
WCMH-TV 3165 Olentangy River Rd. Columbus OH 43202
KENS-TV 5400 Fredericksburg Road San Antonio TX 78229
KUTV 299 S. Main St. #150 Salt Lake City UT 84111
WHBQ-TV 485 South Highland Memphis TN 38111
WWL-TV 1024 North Rampart St. New Orleans 70116
WGHP-TV 2005 Francis St. High Point NC 27263
WBIR-TV 1513 Hutchison Ave Knoxville TN 37917
WOWK-TV 555 Fifth Ave. Huntington WV 25701
WACH-TV 1400 Pickens St. Columbia SC 29201
WSYR-TV 5904 Bridge St. East Syracuse, NY 13057
KGBT-TV 9201 West Expressway 83 Harlingen, TX 78552
KFSM-TV 485 South Highland Ft. Smith AR 72901
WMBF-TV 918 Frontage Road East, Myrtle Beach, SC 29577
WTAJ-TV 5000 6th Ave. Altoona, PA 16603
WFFT-TV 3707 Hillegas Rd. Ft. Wayne IN 46807
WDAZ-TV 2220 S. Washington Grand Forks, ND 52801
KSNT-TV 6835 NW Highway 24 Topeka KS 66618
KFDM-TV 2955 Interstate 10 East Beaumont TX77702
KCBD-TV 485 South Highland Lubbock TX 79404
WALB-TV 1709 Stuart Ave. Albany, GA 31707
WVVA-TV 3052 Big Laurel Highway, Bluefield WV 24701
WUTR/WPNY/WFXV 5956 Smith Hill Road Utica NY 13502
KAIT-TV 472 CR 766 Jonesboro AR 72401
WBUP/WBKP-TV 1705 Ash Street Ishpeming MI 49849
* Spanish language station