Greetings:
I hope your New Year's Eve celebration was safe and pleasant, and best wishes to everyone for a great 2010.
We do have a few things to report, despite an otherwise slow holiday week.
A veteran newsman takes on a new challenge in the ONE new ND we have to share with you, and for the third consecutive week, there are, to the best of my knowledge,  NO new ND openings.  By my count, the list of open ND jobs remains at 25.
There are several items in Names in the News, two involving veteran broadcasters.
And we welcome the Devlin Design Group as a new advertiser.  Over the next year, you'll see occasional ads in the newsletter from this premier set design company, as well as a banner ad on the newsletter's home on our website.  I hired Dan to build a set for me when I was an ND in Grand Rapids, and I appreciate his support of this newsletter.
See Dan's ad and all the week's news after this week's change:
NEW NEWS DIRECTOR NAMED:
KTSM/KDBC-TV, El Paso, TX…HOLLIS GRIZZARD has been named Station Manager and ND of these combined stations.  Hollis has spent the last three years as ND for KZTV in Corpus Christi, TX.  (His duties there will be assumed by SANDRA RICHARDS, ND of KRIS-TV, which now operates both stations.)  Hollis is a veteran newsman who's worked as an anchor, reporter, investigative reporter, and news director in many Texas markets, and also spent six years as a consultant for Magid.  In El Paso, he replaces KIM BRIDGER who is moving to Corpus Christi to begin work on a graduate degree.  Kim was ND here for more than 2 years.
**** ***** ****
NEW NEWS DIRECTOR OPENINGS:
None, to my knowledge, which remains a nice thing during the holidays.
**** ***** ****
OTHER NEWS MGMT. OPENINGS:
ASSISTANT NEWS DIRECTOR:
KHOU-TV, Houston, TX (listed 12/12/09)
WLWT-TV, Cincinnati, OH (listed 11/14/09)
EXECUTIVE NEWS PRODUCER:
KTVU-TV, Oakland/San Francisco, CA (Dayside EP, listed 12/4/09)
KTVT-TV, Ft. Worth/Dallas, TX (AM EP, listed 11/29/09)
KNXV-TV, Phoenix, AZ (Special Projects, listed 9/18/09)
KING-TV, Seattle, WA (AM EP, relisted 12/18/09)
WXYZ-TV, Detroit, MI (listed 9/4/09)
WOFL-TV, Orlando, FL (listed 8/28/09)
KXTV,    Sacramento, CA (AM EP, relisted 9/25/09)
KTVX-TV, Salt Lake City, UT (AM EP, listed 12/26/09)
KMBC-TV, Kansas City, MO (AM EP, listed 8/28/09)
WPEC-TV, West Palm Beach, FL (relisted 12/12/09)
WPBF-TV, West Palm Beach, FL (Digital EP, listed 12/18/09)
WZZM-TV, Grand Rapids, MI (listed 8/7/09)
KOCO-TV, Oklahoma City, OK (AM EP, listed 11/14/09)
KOAT-TV, Albuquerque, NM (listed 10/2/09)
WFTX-TV, Ft. Myers, FL listed 8/28/09)
WLTX-TV, Columbia, SC (relisted 9/18/09)
WPTA/WISE, Ft. Wayne, IN (relisted 12/18/09)
DIRECTOR OF CONTENT:
KPTV/KPDX-TV, Portland, OR (listed 11/21/09)
MULTI MEDIA CONTENT DIRECTOR:
The Weather  Channel, Atlanta, GA (listed 12/12/09)
ASSIGNMENT MANAGER:
The Weather  Channel, Atlanta, GA (listed 12/18/09)
**** ***** ****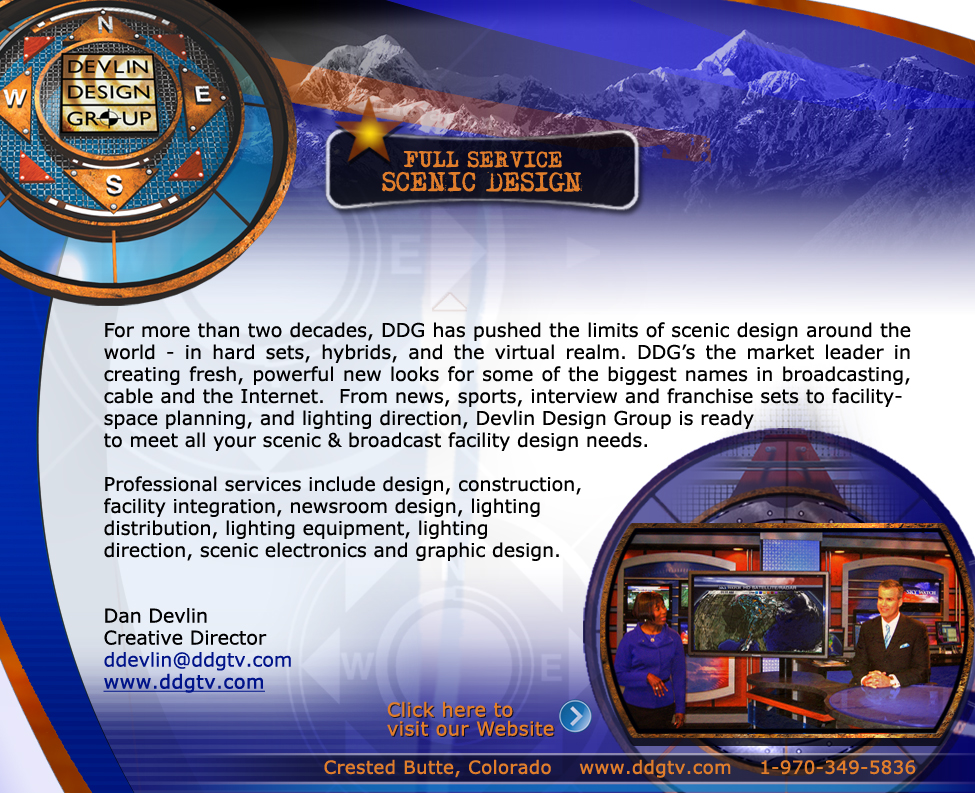 **** ***** ****
NAMES IN THE NEWS:
WRAL-TV in Raleigh has filled its Director of Stations Operations opening (advertised in these pages a few weeks back) by hiring JIM ROTHSCHILD, currently the Director of Operations for KMOV-TV in St. Louis.  Rothschild has been at that Belo-owned CBS affiliate for more than 28 years…the last 21 as Director of Operations.  During his time there, the station has won a Peabody, 11 Emmys, and the NAB Service to American Partnership Award.  The move reunites him with WRAL GM STEVE HAMMEL: they worked together when Steve was ND at KMOV.  At WRAL, he essentially replaces one-time WRAL News Director  JOHN HARRIS, who held the title of Director of Programming when he retired at the end of 2009.
JOHN MUSSONI has been named Managing Editor for WHYY-TV, the PBS station in Wilmington, DE/Philadelphia, PA.  He's been the interim ME there for the past few months.  John's the former ND for WTFX-TV, the FOX o-and-o in Philadelphia, the ND and Senior EP for Comcast's former news operation there.  He's also worked at WFSB-TV in Hartford, WCAU-TV in Philadelphia, WEEI news radio in Boston, and, many years ago, at KCCS Radio in Columbia, MO, when I was the ND there!  A note of congratulations would find John at: mussonidel@comcast.net
JOLENE REILLY has been named Assistant News Director for WAFB-TV, the Raycom owned CBS affiliate in Baton Rouge, LA.  She's been the interim ND and Executive Producer for WWAY-TV in Wilmington, NC.  She's also worked as a producer in Washington, DC and Portland, ME.  She replaces ROBB HAYS who was promoted to News Director there late last year.
Former WCMH-TV (Columbus, OH) News Director STAN SANDERS has joined the University of Southern Mississippi as Director of the Student Media Center.  Stan spent 20 years at WCMH, including ten years as ND, before leaving the station last January.
**** ***** ****
Here's a complete list of all stations that I believe have an ND opening, as of Saturday, January 2, 2010.
And if you know of updates, corrections, or additions to this list, please let me know via email: rick@rickgevers.com
KNBC-TV   3000 W. Alameda Ave.            Burbank CA 91523
NewsChannel 8  1100 Wilson Blvd.          Arlington VA 22209
WXYZ-TV   20777 W. 10 Mile Road           Southfield MI 48037
KUVS-TV   1710 Arden Way                         Sacramento CA 95815 ***
WZTV-TV   631 Mainstream Drive            Nashville TN 37228
KCTV,     4500 Shawnee Mission Parkway,   Fairway, KS 66205
KTVX-TV   2175 W. 1700 South              Salt Lake City UT 84104
WPTV,     1100 Banyan Blvd.,              W. Palm Beach, FL 33401
KOB-TV    4 Broadcast Plaza SW            Albuquerque NM 87104
KSEE-TV   5035 E. McKinley Ave.           Fresno CA 93727
WTEN-TV   341 Northern Blvd.              Albany, NY 12204
WFTX-TV   621 SW Pine Island Rd.          Cape Coral FL 33991
WNWO-TV   300 S. Byrne Rd.                Toledo OH 43615
KHQ-TV    1201 W. Sprague Ave.            Spokane, WA 99201
WHAM-TV   4225 W. Henrietta               Rochester NY 14623
WFFF-TV   298 Mountain View Dr.           Colchester VT 05446
KRNV-TV   1790 Vassar St.                 Reno NV 89502
WPBN/WTOM-TV 8518 M 72 West               Traverse City MI 49684
KHBS/KHOG-TV 2809 Ajax Avenue, # 200      Rogers AR 72758
WMGT-TV   PO Box 4328                     Macon GA 31208
WWAY-TV   615 N. Front St.                Wilmington NC 28401
KMIR-TV   72920 Parkview Drive            Palm Desert, CA 92260
WVVA-TV   Rte. 460 Bypass                 Bluefield WV 24701
KIDK-TV   1255 E.17th St.                 Idaho Falls, ID 83404
KGNS-TV   120 W. Delmar Blvd.             Laredo TX 78045
*** (Spanish language)