Greetings:
Welcome to the latest edition of your free weekly newsletter covering news director and news manager moves.
We have THREE new news directors to tell you about, while there are  TWO new openings.
By my admittedly unofficial and inexact count, there are  21 stations with open news director positions.
One of those stations is running a paid ad this week with more details about its opening.  (If you love horse racing, you'd love this job!).  And we also have a paid ad for a faculty position at the University of Missouri School of Journalism.
I received a lot of feedback from an UPDATE last week on the changes ahead for the RTDNA convention.  Chairman STACEY WOELFEL responded and the situation is better than I may have believed, at least if you like a RTDNA convention that's held in different cities each year.  Read his response below.
Also this week, we have one new EP listing to share with you, an obituary for a veteran news director who died this week, along with a few moves among news managers.  And happy birthday wishes to one former ND who held his large market ND job for 35 years!
All that and more after this week's changes:
NEW NEWS DIRECTORS NAMED:
KHQ-TV, Spokane, WA…NEAL BOLING has been named Executive News Director of Content and Promotion, and JANA GRAY has been promoted to News Director for this Cowles-owned NBC affiliate.  Neal has been the ND for WJHL-TV in Johnson City, TN, and previously worked as an EP in Tampa.  Jana has been an EP at KHQ.  Neal and Jana replace JONATHAN MITCHELL who left the station in December to become ND for NBC's KNTV in San Francisco/San Jose, CA.
KHBS/KHOG, Ft. Smith/Fayetteville, AR…has named DAWN DUGLE as the next ND for this Hearst-owned ABC station.  Dawn's currently the Assistant ND for Hearst's WAPT-TV in Jackson, MS.  She's also worked in Austin, TX, and Tampa…and worked for one year in Kwajalein-the Republic of Marshal Islands, creating and producing a weekly news magazine for the island community.  At KHBS/KHOG, she replaces MIKE COURINGTON who left the station last fall after more than six years as ND.
WVVA-TV, Bluefield, WV…MARK RIGSBY will be the next ND for this Quincy Newspapers-owned NBC affiliate.  Mark's been the Assistant ND for KGAN-TV in Cedar Rapids, IA.  He's also worked in Charleston/Huntington, WV, Clarksburg, WV, and Wilmington, NC.  At WVVA, he replaces GREG CARTER who remains with the station as an anchor and Content Manager.  Greg had been the ND/Anchor for almost six years.
NEW NEWS DIRECTOR OPENINGS:
KGMB-TV, Honolulu, HI…CHRIS ARCHER is leaving this Raycom-owned CBS affiliate to follow his wife, CANDACE HIRLEMAN to California, where she's been named News Promotion Manager for KABC-TV in Los Angeles.  Chris has been ND here since May, 2006.  He plans to stay at the station until May to help recruit and train his successor.
WJHL-TV, Johnson City, TN…as reported above, NEAL BOLING is headed to Spokane as Executive News Director of Content and Promotion for KHQ-TV.  He's been ND for this Media General owned CBS affiliate for just over two years.
**** ***** ****
HELP WANTED ADS:
NEWS CONTENT MANAGER, WAVE-TV, LOUISVILLE, KY
WAVE 3 TV in Louisville, Kentucky, a Raycom Media NBC affiliate, seeks an aggressive, competitive candidate to lead our news department.

The Nielsen overnights arguably make Louisville one of the country's most competitive markets.  On any night any station can win.  So we want a commanding leader to empower our staff to be their very best and never settle for less.

Candidate must be capable of cultivating talent throughout the station to contribute the most compelling content to our news product on-air, on-line and on mobile.  They must have a creative vision with proven leadership skills that will dominate local coverage, enhance our brand of Getting Results and separate our station from the pack. This includes taking ownership of breaking news, inspiring in-depth investigative reporting and showcasing the market's best meteorologists.

3-5 years News management experience preferred.

Send resume along with DVD of current newscast to:
Personnel
WAVE-TV
725 South Floyd Street
Louisville KY 40203
**** ***** ****
FACULTY OPENING, UNIVERSITY OF MISSOURI SCHOOL OF JOURNALISM
The Missouri School of Journalism seeks a journalist with extensive newsroom experience and a talent for teaching at the university level.
The ideal candidate will have at least five years of television newsroom experience. Some newsroom management experience is preferred.  Duties include a minimum of 30 hours per week in the KOMU-TV (NBC-affiliate) newsroom supervising the work of student reporters, anchors, newscast producers and videographers.  Duties also include classroom teaching and service to the journalism school and the university.
Screening of applicants will begin immediately and continue until the position is filled. Hiring is expected to be completed in the spring of 2010 with a start date as soon as possible. Applications must include an academic CV or professional resume, video of recent television stories or television newscasts produced by the candidate, the names of three references in the field of television journalism, and a cover letter explaining the candidate's interest in teaching and in students. This cover letter must also include an analysis of the television news profession's transition from solely broadcast to broadcast and digital/internet news platforms.
Applications may be sent electronically (preferred) to: hardte@missouri.edu
or by mail to:
Elizabeth Hardt
Staff Assistant to the Dean
Missouri School of Journalism
120 Neff Hall
Columbia MO 65211
If sending the application electronically, please send as a Word or PDF attachment with candidate's last name as title. Please reference position number 100005.
The University of Missouri is committed to cultural diversity and it is expected that the successful candidate will share this commitment. MU is an Equal Employment Opportunity/ADA institution and encourages applications from women and minority candidates.

**** ***** ****
OTHER NEWS MGMT. OPENINGS:
ASSISTANT NEWS DIRECTOR:
KHOU-TV, Houston, TX (listed 12/12/09)
WLWT-TV, Cincinnati, OH (relisted 1/15/09)
KOCO-TV, Oklahoma City, OK (listed 1/8/10)
EXECUTIVE NEWS PRODUCER:
News 12 The Bronx/Brooklyn, NY (listed 1/8/10)
KTVT-TV, Ft. Worth/Dallas, TX (2 jobs, Special Projects & AM EP, listing revised 1/8/10)
KING-TV, Seattle, WA (AM EP, relisted 12/18/09)
KOVR-TV, Sacramento, CA (listed 1/15/09)
KXTV,    Sacramento, CA (AM EP, relisted 9/25/09)
KTVX-TV, Salt Lake City, UT (AM EP, listed 12/26/09)
WDAF-TV, Kansas City, MO (W/E Supervising Producer, listed 1/8/10)
WPEC-TV, West Palm Beach, FL (relisted 12/12/09)
WPBF-TV, West Palm Beach, FL (Digital EP, listed 12/18/09)
KOAT-TV, Albuquerque, NM (relisted 1/15/10)
WBRZ-TV, Baton Rouge, LA (PM EP, new listing this week)
WPTA/WISE, Ft. Wayne, IN (relisted 12/18/09)
DIRECTOR OF CONTENT:
KPTV/KPDX-TV, Portland, OR (listed 11/21/09)
MULTI MEDIA CONTENT DIRECTOR:
The Weather  Channel, Atlanta, GA (listed 12/12/09)
ASSIGNMENT MANAGER:
The Weather  Channel, Atlanta, GA (listed 12/18/09)
**** ***** ****
OBITUARY:
Funeral services will be held tomorrow (Saturday, January 23, 2010) in Boise, ID, for longtime news director BRINK CHIPMAN who died earlier this week after a bout with colon cancer.  Brink was 66, and had been an ND in Salt Lake City, Tucson, and Boise.  One of his former stations, KSL-TV in Salt Lake City aired this obituary.  The Salt Lake Tribune reported on his passing here.  Brink is survived by his wife and two sons.
**** ***** ****
RTDNA Convention update:
RTDNA Chairman STACEY WOELFEL offers this view on our report last week on the organization's convention plans.  We told you in an UPDATE last week that 2010 was the last year of RTDNA's concurrent conference with NAB, and plans in 2011 are to hold a joint conference with SPJ.  Stacey clarifies the situation:
I caught that hint of sadness in your newsletter over the ending of the full RTDNA convention in Las Vegas.  I'm writing to cheer you up.  The truth is we're not cutting back programming at the annual convention, we're actually adding Las Vegas as an extra site–a "bonus" convention day, if you will.
The 2010 convention has been scheduled for some time to be our last with NAB in Las Vegas, an arrangement originally set up following 9/11 and our missed 2001 convention.  Starting in 2011, our annual convention is going back on the road as it used to do, traveling to different cities. I know you've reported on our planning to share sites in 2011 with SPJ and have a joint convention to bring a bigger, more converged group of journalists together.
It might not have been clear to you that this would actually be our new annual convention.  We're still working on details with SPJ so I don't have a location or dates to release yet.  But I do know we are planning on keeping the length and programming robust and at a volume which people have come to expect.  In fact, with the SPJ programming thrown in, the convention should be even bigger than it has been for some time.
Knowing that we had this plan in the works, our executive directors and I wanted to keep some presence in Las Vegas for those news people who still plan to attend NAB to go gear shopping or whatever.  We've been trying to bring more one and two-day seminars to various parts of the country lately, recognizing that many people can't get the time or the funding to attend the full convention like they used to.  So we started working with the NAB folks last year to set up an "RTDNA Day" at their convention to serve that mission.  We're really not cutting back anywhere.  We're actually adding Las Vegas an an extra site beyond the annual convention.
I hope those quick notes help explain where we're headed with our convention and outreach mission–and keep you from getting too melancholy over convention days gone by.  I honestly think, come 2011, RTDNA members young and old will really have something to be excited about.
Stacey Woelfel
Chairman
Radio Television Digital News Association
staceywoelfel@komu.com
**** ***** ****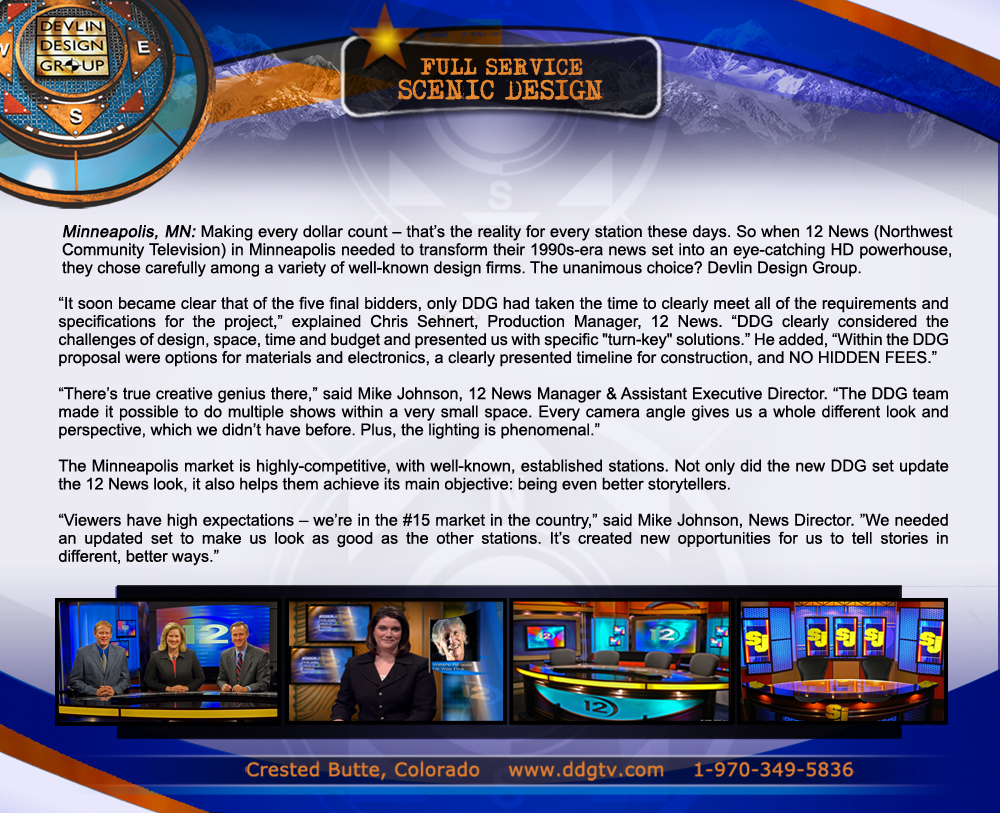 **** ***** ****
NAMES in the NEWS:
WBIR-TV (Knoxville, TN) News Director BILL SHORY stood his ground recently at a news conference where University of Tennessee football coach LANE KIFFIN was going to explain his early departure.  Shory objected to Kiffin's plan to do part of the news conference off-camera.  Video of the situation can be found in this commentary from RTDNA Chairman STACEY WOELFEL.
AMY WENTWORTH returns to California as Dayside EP for KTVU-TV in Oakland/San Francisco, CA.  Amy's been working in Buffalo for family reasons, but earlier in her career worked at several California stations, including KCRA-TV in Sacramento when KTVU ND ED CHAPUIS was the ND there.  She's also worked in Tampa, Milwaukee, and Las Vegas.
Congratulations to MATT CAMPBELL who's been promoted to Executive Producer at WZZM-TV, the Gannett-owned ABC affiliate in Grand Rapids, MI.  Matt has been a producer here.
Finally, birthday wishes to longtime
WISH-TV
(Indianapolis) News Director
LEE GILES
, who turned 73 today (Friday, January 22nd).  Lee's only wish today was probably for warmer weather so he could get back out on the golf course.  Your birthday wish would wind through cyberspace and land in his mailbox if you send it to:  leegiles8@gmail.com
**** ***** ****
Here's a complete list of all stations that I believe have an ND opening, as of Friday, January 22, 2010.
And if you know of updates, corrections, or additions to this list, please let me know via email: rick@rickgevers.com
KNBC-TV   3000 W. Alameda Ave.            Burbank CA 91523
WGBO-TV  541 N. Fairbanks Ct., #110 Chicago IL 60611
KTVT-TV   5233 Bridge St.                 Fort Worth TX 76103
WXYZ-TV   20777 W. 10 Mile Road           Southfield MI 48037
KUVS-TV   1710 Arden Way                         Sacramento CA 95815 ***
WZTV-TV   631 Mainstream Drive            Nashville TN 37228
KTVX-TV   2175 W. 1700 South              Salt Lake City UT 84104
WPTV,     1100 Banyan Blvd.,              W. Palm Beach, FL 33401
KOB-TV    4 Broadcast Plaza SW            Albuquerque NM 87104
WAVE-TV 725 S. Floyd St.                      Louisville KY 40203 (see ad above)
WTEN-TV   341 Northern Blvd.              Albany, NY 12204
WFTX-TV   621 SW Pine Island Rd.          Cape Coral FL 33991
KGMB-TV 1534 Kapiolani Blvd Honolulu HI 96814
WNWO-TV   300 S. Byrne Rd.                Toledo OH 43615
WHAM-TV   4225 W. Henrietta               Rochester NY 14623
WJHL-TV 338 E. Main St. Johnson City TN 37601
WFFF-TV   298 Mountain View Dr.           Colchester VT 05446
WMGT-TV   PO Box 4328                     Macon GA 31208
KQDS-TV, 2001 London Rd. Duluth MN 55812
KMIR-TV   72920 Parkview Drive            Palm Desert, CA 92260
KGNS-TV   120 W. Delmar Blvd.             Laredo TX 78045
*** (Spanish language)