Tuesday, January 27, 2015 UPDATE:
There's a new news director in a top 30 market to tell you about in this UPDATE.
Longtime WBAL-TV employee TIM TUNISON has been promoted to ND at that Hearst owned NBC affiliate. Tim…a Maryland native…has worked there for 17 years and has been the Assistant ND since 2005. Here's a link to the item the station posted on its website.
Tim replaces MICHELLE BUTT. As you know from our earlier reports, Michelle was promoted to GM for Hearst's WXII-TV in Winston-Salem, NC. She was ND there for more than eleven years.
We'll have news on more ND changes in our full report later this week.
Monday, January 26, 2015 UPDATE:
RTDNA just announced an extension of the deadline for Edward R. Murrow Award entries.  Click on the link in the ad below for more details.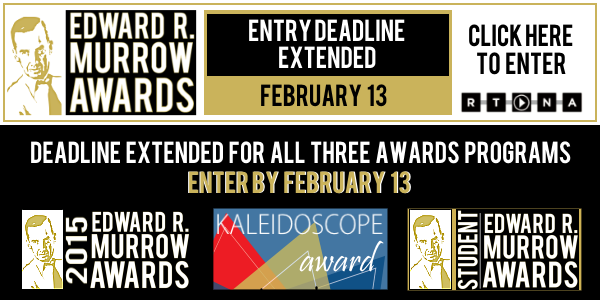 ***** ***** *****
Greetings:
It's been a slow week…with just ONE new ND opening and ONE newly named news director.
Our count of open ND jobs remains at 32.
ONE of those open ND jobs is included in THREE paid help wanted ads this week, as well as a new ad for a morning EP opening in Denver.
And we have three times in Names in the News, an obituary for a long-ago ND and anchor for stations in West Virginia and Ohio, and one GM change.
.

New News Director Openings:
KWES-TV, Midland, TX…we're a little late in reporting DAVID MARINO's departure to become Senior Producer for the Time Warner Cable news operation in Austin, TX. He's also worked in Tucson and San Antonio in addition to an earlier stint at KWES. That's a NBC affiliate owned by Drewry Communications.
Newly Hired News Directors:
WVVA-TV, Bluefield, WV…congratulations to STEVE KORIOTH who's been promoted to News Director for this Quincy owned NBC affiliate. He's been the interim news director here for the past few months and succeeds ELIZABETH SHAFFER who passed away in November after a short battle with cancer. Steve most recently was the ND for WBTW-TV in Myrtle Beach, SC. He's also been an ND in Columbus, GA, and Denison, TX, and also worked in Madison, WI, Huntsville, AL, Tucson, Dallas and Chicago.
Paid Help Wanted Ads: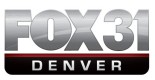 Morning Executive Producer, KDVR-TV, Denver, CO:
KDVR/FOX 31 in Denver is looking for a dynamic, aggressive and creative Executive Producer to oversee our four hour morning show. We want someone who understands and likes morning TV. Candidate must be able to change the show on a dime as new video and stories come in. Ours is an ever evolving newscast and can't be stagnate. Candidate must also have creative segment ideas for the last two hour block. We need a positive, motivating leader who has managed people in the past and likes to be inclusive. Candidate must be collaborative and willing to roll up their sleeves and pitch in when needed.
Candidate will be responsible for story selection, reporter assignments and production of the newscasts. The EP will directly manage the producers, reporters and anchors. Must have strong writing and copy editing skills. Must also be an idea person who helps brainstorm assignments, segments and coverage plans. Candidate will work directly with others to pre-plan coverage. Must have very strong social media skills and the ability to brainstorm and engage with content on all platforms.
Candidate must have experience as a morning show producer and at least three years as an Executive Producer.
Please apply by clicking here.
EOE M/F/D/V
News Director, WOIO/WUAB-TV, Cleveland, OH:
WOIO/WUAB, Raycom Media's Cleveland CBS/MyNet duopoly, is looking for a dynamic, creative News Director to continue the growth track of our stations' newscasts. The ideal candidate will be equally adept at leading the areas of content, presentation, budget management and newsroom culture. A long range outlook combined with a realistic approach to the current business dynamics of the broadcasting industry are a must. LeBron and the RNC both picked Cleveland as the place to be; here's your chance to rock the Cleveland news scene.
EDUCATION/SKILLS REQUIRED:
Bachelor's Degree in Journalism, Mass Communication or a related field.
Ten years professional experience; significant previous News Director or similar experience preferred.
Demonstrated ability to lead an experienced staff emphasizing creativity and aggressive journalism.
Experience in a metered market; LPM market experience preferred.
Demonstrated ability to win in multiple dayparts with specific expertise building/revitalizing morning product is key
Track record of success supporting digital products and using social media.
Demonstrated ability to lead and participate in strategic and tactical planning for the department and the station as a whole.
Working knowledge of all aspects of media law.
Top 20 market management experience a plus
Senior level experience working with a union represented staff and collective bargaining agreements.
Apply online and attach your coverletter and resume by clicking here.
No phone calls please. EOE-M/F/D/V

Morning Executive Producer & Producer, WCNC-TV, Charlotte, NC:
WCNC-TV the Charlotte, NC NBC affiliate is a part of Gannett, the largest local media company in the country. WCNC-TV is experiencing an exciting time in its newsroom and has an opening for a dynamic, creative Morning Executive Producer of Newscasts and an experienced, energetic Newscast Producer.
The Morning EP is a great teacher for young producers, someone who has production ideas that can be implemented daily and a desire to beat the other guys! We need a leader, manager, coach and most of all a problem solver as our Morning EP.
If you want the challenge of producing meaningful content in new ways – if you like the idea of being encouraged to be creative and look past the obvious, the Newscast Producer could be a great career move for you!
Interested applicants please via the links above or at www.gannett.com/jobs!
Other News Management Openings:
ASSISTANT NEWS DIRECTOR:
WBZ-TV, Boston, MA (relisted 1/11/15)
WFTS-TV, Tampa, FL (listed 12/27/14)
KSHB-TV, Kansas City, MO (listed 12/27/14)
WHTM-TV, Harrisburg, PA (relisted 1/11/15)
EXECUTIVE NEWS PRODUCER:
WCAU-TV, Philadelphia, PA (relisted 1/11/15)
WFAA-TV, Dallas, TX (listed 12/21/14)
WFXT-TV, Boston, MA (relisted 1/11/15)
WJLA-TV, Washington, DC (2 positions, Dayside & Weekend, listed 1/18/15)
WUSA-TV, Washington, DC (TWO openings, listed 11/21/14)
KPRC-TV, Houston, TX (listed 1/3/15)
KDVR-TV, Denver, CO (Morning EP, new listing this week, see ad above!)
KOVR-TV, Sacramento, CA (PM EP, relisted 1/11/15)
KTXL-TV, Sacramento, CA (PM EP, relisted 1/11/15)
KXTV, Sacramento, CA (PM EP, relisted 1/11/15)
WCNC-TV, Charlotte, NC (AM EP, listed 1/18/15, see ad above!)
WSMV-TV, Nashville, TN (Morning EP, listing revised 11/30/14)
WTMJ-TV, Milwaukee, WI, (AM EP, PM EP & Spec. Projects, relisted 1/11/15)
WGHP-TV, Greensboro/High Point, NC (Morning EP, listing revised 1/3/15)
WIVB-TV, Buffalo, NY (listed 12/14/14)
WMTW-TV, Portland, ME (AM EP, relisted 1/11/15)
WCYB-TV, Tri-Cities, TN (relisted 1/11/15)
WTXL-TV, Tallahassee, FL (relisted 1/18/15)
ASSIGNMENT MANAGER:
Central Florida News 13, Orlando, FL (relisted 1/18/15)
WBNS-TV, Columbus, OH (listed 12/27/14)
MANAGING EDITOR:
WFXT-TV, Boston, MA (relisted 1/11/15)
NEWS OPERATIONS MANAGER:
WCAU-TV, Philadelphia, PA: (relisted 1/11/15)
Obituary:
Funeral services for one-time WSAZ-TV (Huntington, WV) and WTVN-TV (now WSYX-TV Columbus, OH) News Director NICK BASSO will be held next Saturday in Worthington, OH. Nick died Wednesday, January 21, at the age of 91. Nick was the first anchor for WSAZ when it began newscasts in 1951. He later worked in politics and for the Ohio Department of Transportation. More details in this obituary.
Situations Wanted:
We offer a free situations wanted ad to news managers who are out of work and looking for a new opportunity. If you'd like to state your case to a well targeted audience, email me an item (max. 150 words). You may include a link to a website, an email address, and a photo. You must include your name. I'll run it for one week. I don't represent or endorse those listed, but merely trying to help.
Names in the News…and other things:
AARON WISCHE has been upped to Senior Executive Producer, News Strategy, for KPRC-TV in Houston. He had been the EP of Special Projects there.  A Houston native, Adam tells me he's happy to be staying in his hometown. He's also worked in Phoenix, Dallas, Washington, Tampa, Cleveland, and Tampa.
JOE COSCIA joins NewsmaxTV as Executive Producer, TV Operations. Joe's a former ND in West Palm Beach, Pittsburgh, Providence, and Albany, NY, and also worked on the assignment desk for three NY city o-and-o's.
ED WILSON, a three time California news director has been named deputy assistant director of public affairs at the California Department of Water Resources. He's worked for another state agency since 2000, when he left his last ND job in Sacramento. Ed's also been an ND in Fresno and Santa Maria and has worked in Cincinnati. More in the second item in this news release.
General Manager News:
GEORGE KAYES has been promoted to GM of Sinclair's WSET-TV in Lynchburg, VA. He has been the Sales Manager there since 2006 and has also worked in Louisville, Richmond, and Huntington, WV.
Our Full List of ND Openings:
If you know of any additions/deletions/updates, please email me at: rick@rickgevers.com
Here is my list of stations with open ND jobs, as of Sunday, January 25, 2015.
WPIX-TV 220 E. 42nd Street New York NY 10017
KWHY-TV 4975 W. Pico Blvd Los Angeles,CA 90019 *
KNXV-TV 515 N. 44th St. Phoenix AZ 85008
KCEC-TV 777 Grant St. #110 Denver CO 80203 *
KMGH-TV 123 Speer Blvd. Denver CO 80203
WOIO/WUAB-TV 1717 E. 12th St. Cleveland OH 44114 (See ad above!)
KSDK-TV 1000 Market St. St. Louis MO 63101
KATU-TV 2153 NE Sandy Boulevard Portland OR 97232
WBAL-TV 3800 Hooper Ave. Baltimore MD 21211
WCMH-TV 3165 Olentangy River Rd. Columbus OH 43202
KENS-TV 5400 Fredericksburg Road San Antonio TX 78229
KUTV 299 S. Main St. #150 Salt Lake City UT 84111
WOOD-TV 120 College SE Grand Rapids MI 49503
WWL-TV 1024 North Rampart St. New Orleans 70116
WGHP-TV 2005 Francis St. High Point NC 27263
WBIR-TV 1513 Hutchison Ave Knoxville TN 37917
WOWK-TV 555 Fifth Ave. Huntington WV 25701
WACH-TV 1400 Pickens St. Columbia SC 29201
WSYR-TV 5904 Bridge St. East Syracuse, NY 13057
KGBT-TV 9201 West Expressway 83 Harlingen, TX 78552
KFSM-TV 485 South Highland Ft. Smith AR 72901
WMBF-TV 918 Frontage Road East, Myrtle Beach, SC 29577
WFFT-TV 3707 Hillegas Rd. Ft. Wayne IN 46807
WDAZ-TV 2220 S. Washington Grand Forks, ND 52801
KSNT-TV 6835 NW Highway 24 Topeka KS 66618
KFDM-TV 2955 Interstate 10 East Beaumont TX 77702
KCBD-TV 485 South Highland Lubbock TX 79404
KWES-TV 11320 West County Road 127, Midland TX 79711
WALB-TV 1709 Stuart Ave. Albany, GA 31707
KAIT-TV 472 CR 766 Jonesboro AR 72401
KMVT/KSVT-TV 1100 Blue Lakes Blvd. North Twin Falls, ID 83301
WBUP/WBKP-TV 1705 Ash Street Ishpeming MI 49849
* Spanish language station