Greetings:
Congratulations are in order for THREE new news directors named this week. Two of them are veteran NDs, while one is a first-time ND. And there is ONE new opening.
Those changes leave our count of open ND jobs at 25.
We have paid ads for TWO of those ND openings, as well as a new ad for an EP opening at a powerhouse Indianapolis TV station. And we're repeating last week's ad for an Assistant ND at a strong Tennessee station.
There are some updates to our list of Other News Management Openings, and three items in Names in the News.
We also have obituaries for a former Honolulu ND and the father of a longtime broadcast educator.
And…I've been eating Crowe all week after botching what I thought was a clever line in last week's newsletter. In reporting BILL CUMMINGS move to Yuma, I stole Bill's line that he was taking the '3:10 to Yuma' and called that film a bad Kevin Costner movie. Thanks to those of you who pointed out that it was a Russell Crowe film. (I was thinking of 3,000 Miles to Graceland…which really is bad!)
New News Director Opening:
KSNW-TV, Wichita, KS…JASON KRAVARIK is leaving one New Vision TV station for another. He's been named Assistant ND for the company's station in Portland, OR, KOIN-TV. Jason has worked at KSNW for ten years and was promoted to News Director three years ago. He began there as a reporter. Jason's also worked in Amarillo, TX, and as an associate producer in Chicago.
Newly Named News Directors:
WITI-TV, Milwaukee, WI…JOHN LaPORTE takes over his second Milwaukee newsroom as he's been promoted here. John's been the News Content Manager for this LocalTV owned FOX affiliate since September, 2010. From November 2003-January 2005 he was ND at WTMJ-TV in Milwaukee. John's also been an ND in Palm Springs, CA and Eau Claire, WI, and has worked in Houston, Albany, NY, Green Bay, Hartford, and Omaha. He replaces JIM LEMON who resigned in December to avoid another Wisconsin winter.
KOLO-TV, Reno, NV…congratulations to JENNIFER HARDY returns to Reno for her first ND job at this ABC affiliate. Jennifer also stays within Nevada: she's been the Assistant ND for KVVU-TV in Las Vegas since 2009, and worked there since 2006. Jennifer's also worked in Spokane, Memphis, Tulsa, Tucson, and an earlier job in Las Vegas. She began her career at KRNV-TV in Reno. At KOLO, she replaces DAVE BEECH who left late last year after three years as ND. Jennifer becomes the seventh ND in ten years for the Gray TV owned station.
KRCG-TV, Jefferson City, MO…veteran news director JOHN SHELBY will be the next ND for this Barrington Broadcasting owned CBS affiliate. John's been an ND in Buffalo, New York; Green Bay, Wisconsin; Cedar Rapids, Sioux Falls, Lansing, and Pasco, WA. He's also worked in Chicago, St. Louis, and Columbus, OH. At KRCG, he replaces LADD EGAN who left in November to return to his native Utah and a job at KUTV. John is the fourth ND in five years here.

Help Wanted Ads:

Executive Producer, WTHR-TV, Indianapolis, IN:
The top-rated NBC affiliate in Indianapolis is searching for a Dayside Executive Producer.  WTHR won the 2011 Murrow Award for Overall Excellence. This is your chance to join one of the best newsrooms in the country and work for a private company that values journalism and journalists.
This EP is responsible for overseeing our noon, 5, 530 and 6pm newscasts. We're looking for an experienced "show doctor" who can teach and preach excellent writing and outstanding production values. This requires senior news management experience and abilities. A minimum of six years experience in local television news as a producer in larger markets and/or as an EP in news departments with a strong news image is required.  College degree highly preferred.
Qualified applicants may apply online www.dispatchbroadcast.com.  All qualified applicants are encouraged to apply.  WTHR/WALV are equal opportunity employers.
**** ***** ****

News Director, WCAV-TV, Charlottesville, VA:
The Charlottesville Newsplex (home of CBS19, ABC16, WAHU FOX27, and newsplex.com) in award-winning Charlottesville, VA is looking for the leader who can take our news team and content to the next level. The successful candidate will have working knowledge of every facet of newsroom operations; must be able to recruit, train, motivate, and teach by example; and will benefit from the momentum of our ongoing ratings growth across the board.
Our news team is talented, eager, and on the rise, having won the 2011 VAB award for Most Outstanding Newscast in Virginia (all market sizes). Candidates who wish to continue anchoring are encouraged to apply, but anchoring is not a requirement; previous management experience is preferred, but also not required.
Gray Television is an Equal Opportunity Employer and a Drug-Free Workplace. Excellent driving record is a MUST. If you think you have what it takes, rush your cover letter and resume to General Manager Brad Ramsey via email: brad.ramsey@newsplex.com  or mail it to:
Brad Ramsey
General Manager
Charlottesville Newsplex
999 2nd Street SE
Charlottesville, VA 22902
No phone calls please.
**** ***** ****



Assistant News Director, WMC-TV, Memphis, TN:
Rare opportunity at NBC powerhouse: WMC-TV in Memphis, Tennessee seeks dynamic journalist to lead team as Assistant News Director.
Work with competitive professionals to refine stories, showcase newscasts and oversee the best breaking news team in the Mid-South.
Be ready to run, not walk, to the desk when the big story breaks.
The successful candidate will function as chief deputy to the News Director with supervisory responsibility for all news broadcasts. The Assistant News Director will work closely with fellow managers and producers to implement the Action News 5 focus and philosophy. This person will assist with employee schedules, oversee budgetary aspects of operation, on-going evaluation of personnel and broadcast standards. Ability to function under deadline pressure is a must. Ability to nurture the creativity of the team and the capacity to offer constructive criticism will win us over.
Email resume to: tphillips@wmctv.com or mail to:
Tammy Phillips
News Director
WMC-TV
1960 Union Ave.
Memphis TN 38104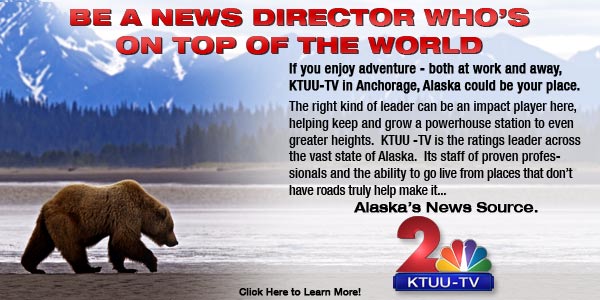 **** ****** ****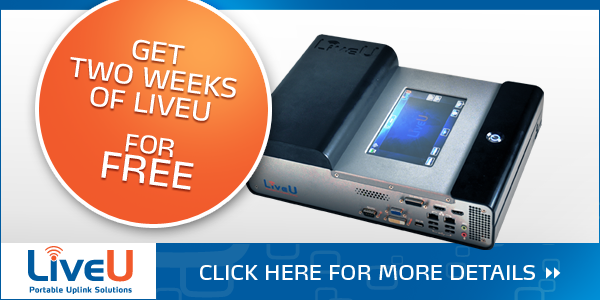 Other News Management Openings:
ASSISTANT NEWS DIRECTOR:
KDAF-TV, Dallas-Ft Worth, TX, (listed 12/9/11)
WTSP-TV, Tampa-St. Petersburg, FL (listed 1/6/12)
WOIO/WUAB-TV, Cleveland, OH (relisted 1/20/12)
KSDK-TV, St. Louis, MO (relisted 12/16/11)
WMC-TV, Memphis, TN (listed 1/13/12) See ad above!
WREG-TV, Memphis, TN (relisted 11/25/11)
WTEN-TV, Albany, NY (listed 11/25/11)
WDTN-TV, Dayton, OH (new listing this week)
WRDW-TV, Augusta, GA (listed 11/25/11)
KTXS-TV, Abilene, TX (listed 12/9/11)
KTVM-TV, Bozeman, MT (listed 12/16/11)
EXECUTIVE NEWS PRODUCER:
KYW-TV, Philadelphia, PA (relisted 1/20/12)
KDFW-TV, Dallas, TX (Morning EP, listed 1/20/12)
The Weather Channel, Atlanta, GA (relisted 12/16/11)
KPRC-TV, Houston, TX (listing revised 1/20/12)
KUNS-TV, Seattle, WA (listed 11/25/11) **
KTVI/KPLR-TV, St. Louis, MO (relisted 12/16/11)
KPTV, Portland, OR (AM EP, relisted 12/16/11)
WTAE-TV, Pittsburgh, PA (Dayside EP, relisted 11/25/11)
WRAL-TV, Raleigh, NC (relisted 11/11/11)
WTHR-TV, Indianapolis, IN (Dayside EP, new listing this week) See ad above!
WSMV-TV, Nashville, TN (AM EP, listed 10/28/11)
WPMT-TV, Harrisburg, PA (AM EP, listing revised 10/14/11)
WHBQ-TV, Memphis, TN (relisted 12/31/11)
WJXT-TV, Jacksonville, FL (AM EP, listed 1/13/12)
WINK-TV, Fort Myers, FL (Dayside EP, relisted 12/9/11)
WHIO-TV, Dayton, OH (new listing this week)
WBAY-TV, Green Bay, WI (listed 12/9/11)
WLNS-TV, Lansing, MI (listed 12/9/11)
MANAGING EDITOR:
The Weather Channel, Atlanta, GA (ME of Video, listed 12/23/11)
**** ***** ****
Obituaries:
One time Honolulu News Director JACK KELLNER died in Sonoma, CA, earlier this week at the age of 75. He suffered from lung cancer. Jack had a wide and varied career in Honolulu, including working as a popular DJ who helped introduce a generation of teenagers to rock and roll. He later worked for KHON-TV, first on the assignment desk and later as news director. Jack is survived by his wife, a son, and a daughter.
DEANE UTSLER, father of longtime broadcast educator MAX UTSLER, died January 18th at the age of 90. He suffered a heart attack en route to a routine doctor's appointment. Deane landed on Omaha Beach three days after D-Day and spent much of his life in central Illinois before relocating to Kansas City in 1998. His wife of 68 years, BETTY UTSLER, died in 2010.  Many of you know Max, who teaches at the University of Kansas and taught for many years at Missouri. He's also worked at TV stations in Phoenix, St. Louis, Kansas City, Peoria, and Columbia, MO. Full disclosure: Max was best man in my wedding and has been a close friend for many years. Your note of sympathy can be sent to: utsler@ku.edu
Names in the News:
There's a reunion in Chicago to tell you about, where CHRIS MYERS is joining Fox o-and-o WFLD-TV as assistant news director. That reunites him with newly named ND PHYLLIS SCHWARTZ: they worked together at both WLS-TV and WMAQ-TV in Chicago. Chris has worked in a variety of jobs in California since leaving Chicago in 2002.
TERRI COPE WALTON returns to the newsroom as the Assistant News Director for WRTV, the ABC affiliate here in Indianapolis. She's been the station's public affairs director for the past seven years, and was the morning news producer for seven years before that. She also worked in both TV and radio in Dayton, where she also spent one year as a language arts teacher.
And congratulations to KSTP-TV (Minneapolis) News Director LINDSAY RADFORD and her husband JASON on the birth of their son NOAH ANDREW FOSTER. We're a little tardy in reporting this good news…Jason joined a brother and sister in November. Lindsay tells me he was born with Down Syndrome but he is healthy and happy, and added he loves to smile and his giggles are contagious. You can bring a smile to Lindsay with a kind email: lradford@kstp.com
**** ***** ****
The Full List:
To the best of my knowledge, here is the list of stations with open news director jobs, as of Friday, January 27, 2012.
If you know of any additions/deletions/changes/updates, please email me at: rick@rickgevers.com
NY 1 News                                             75 Ninth Ave. New York NY 10011
WFAA-TV                                           606 Young St. Dallas TX 75202
KGO-TV                                             900 Front Street San Francisco, CA 94111
New England Cable News                160 Wells Ave. Newton MA 02459
Central Florida News 13                20 N. Orange #13, Orlando, FL 32801 (see ad above!)
WCPO-TV                                          1730 Gilbert Ave. Cincinnati OH 45202
WBRE-TV                                          62 S. Franklin Wilkes-Barre, PA 18701
KSNW-TV                                       833 N. Main Wichita, KS 67203
KMTV                                                  10714 Mockingbird Dr. Omaha NE 68127
WACH-TV                                            1400 Pickens St. Columbia SC 29201
KHGI-TV                                              13 S. Highway 44 Kearney NE 66848
WTXL-TV                                        1620 Commerce Blvd. Midway, FL 32343
KVII-TV                                                One Broadcast Center Amarillo TX 79101
KNOE-TV                                         1400 Oliver Rd. Monroe, LA 71211
KAUZ-TV                                             PO Box 25 Wichita Falls TX 76309
WFXL-TV                                             1211 N. Slappey Blvd. Albany GA 31707
KTUU-TV                                          701 E. Tudor Rd. #220 Anchorage AK 99503 (see ad above!)
KYMA-TV                                           1385 S. Pacific Ave. Yuma AZ 85365
WTVY-TV                                           PO Box 1089 Dothan AL 36302
WCAV-TV                                        999 2nd St. SE Charlottesville, VA 22902 (see ad above!)
KKCO-TV                                          2325 Interstate Ave. Grand Junction CO 81505
KGNS-TV                                             120 W. Delmar Blvd. Laredo TX 78045
KGWN-TV                                           2923 E. Lincolnway Cheyenne WY 82001
KSAX-TV                                             PO Box 189 Alexandria, MN 56308
WYIN-TV                                            8625 Indiana Place Merrilville IN 46410
** Spanish language station