Greetings:
The first slow week of the new year, with just ONE newly named news director and ONE new ND opening.
So our list of news director openings remains constant at 24 this week. THREE of those openings are among our FOUR paid help wanted ads.
We have TWO news managers on the move in our Names in the News segment, a look at the Boston ratings wars one year after a major affiliate swap, an item about a new book from a veteran producer and EP, and we'll tell you why it was a sad week here at the World Headquarters.
That and more as you read on.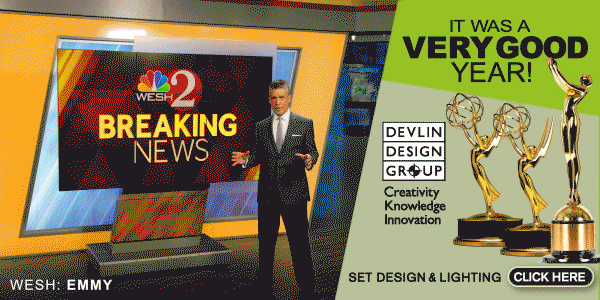 Newly Named News Directors: 
WHDN-TV, Dothan, AL…BEN STANFIELD assumes additional duties as news director for this Nexstar owned ABC affiliate. He's been anchoring there for more than three years and previously worked for another Dothan station, with a detour of a little more than a year to work as Tourism Director for the city of Enterprise. He replaces STEPHEN CREWS who left in December after more than 2 1/2 years as ND.
New News Director Openings: 
WAOW-TV, Wausau, WI…MARK DURHAM has left this Quincy owned ABC affiliate after two years as news director. He spent the three years previous as an ND in Beckley, WV. Mark's also worked in Seattle, Denver, Miami, Orlando (three stations), St. Louis, Tucson, and Chattanooga. Learn more about this opportunity by checking out the Paid Help Wanted ad below!
Paid Help Wanted Ads:

News Director, WAOW-TV, Wausau, WI:
Quincy Media's WAOW-TV in Wausau, Wisconsin is looking for an experienced newsroom manager. We need a strong leader with at least five years of experience. We need a great storyteller and someone who lives to make the team around them even stronger. You have to love news. And I mean love it. You have to be a catalyst and a leader in our digital and social efforts and set the tone every day in the newsroom.
If that's you, this could be one of the best jobs you will ever have.
You will report to the General Manager and you will have the chance to work closely with other department heads to help us reach our next level of success.
WAOW is part of Quincy Media, Inc., a family owned company. Throughout Quincy, positions are available for candidates with all levels of experience and the advancement you are seeking.
Visit www.CareersAtQuincy.com for links to all our stations and opportunities.
If you think you're qualified, want to work with a great group of people and live in one of
America's best cities, send your link, cover letter, resume and references via email to:
or via mail to:
Curtis Miles
General Manager
WAOW-TV
1908 Grand Avenue
Wausau, WI 54403
NO PHONE CALLS PLEASE
WAOW-TV9 is an Equal Opportunity Employer

News Director, WFLA-TV, Tampa, FL:
Nexstar Broadcasting, Inc. is looking for an experienced, successful News Director to lead its broadcast and digital news efforts in Tampa, FL, (DMA #11). Tampa is the home of a powerhouse, legacy NBC affiliate, WFLA-TV, a full power MyNet, WTTA-TV, and WFLA.com, one of the highest trafficked sites in Florida. WFLA's news operation produces more than 60 hours of local content each week. The emphasis on high quality, relevant local content is producing consistent ratings growth in all news areas while distinguishing WFLA as the clear-cut leader in serving our local communities. We seek the same focus and passion for locally produced content in our next News Director hire.
We seek a candidate with previous News Director experience, a minimum of 5 years of news management experience, and demonstrable evidence of success.
Are you a leader with a history of building high performance teams, energizing others to perform at their highest level and achieving outstanding ratings development? If yes, then you should email your resume and a short biography to Skip Valet, VP and General Manager, svalet@wfla.com. No telephone calls please.
Nexstar Broadcasting Group is a leading diversified media company that leverages localism to bring new services and value to consumers and advertisers through its traditional media, digital and mobile media platforms. Nexstar's current portfolio and pro forma acquisitions include 170 television stations with a footprint in 46 states while reaching 39% of all US television households and providing community portal websites in all 100 markets in the station group.
Nexstar Broadcasting is an equal opportunity employer.

News Director, KMIR/KVER, Palm Springs, CA:
If you're reading this you know what a News Director does: we want to know what you can do.
Can you lead a team, develop an innovative plan, break a few rules and lead a great television station into the future?
How would you incorporate all things digital and social into the equation every day?
How would you run a newsroom?
Lots of questions and we know there is not one right answer.
You just have to be willing to take chances, try new things, and know you'll work for a company willing to innovate. You will lead a multi-language newsroom producing newscasts in English and Spanish, working in best small market in America – Palm Springs.
Yes, it gets hot in the summer – but it's a dry heat. 🙂
As the snow continues to fall across the country, it will be 80 degrees here.
Apply with your thoughts on above to gsteinberg@entravision.com
EOE.

Executive Producer, WXIN/WTTV, Indianapolis, IN:
It's not your average executive producer job.
WXIN/WTTV, a Tribune Broadcasting station, is looking for a dynamic leader in our Indianapolis location. The ideal candidate is a strong communicator, proven newsroom leader, and can understand and incorporate brand initiatives for two distinct stations.
This is a great opportunity in a growing city, and a highly competitive news environment.
Must excel under multiple deadlines and bring bold, creative ideas for developing newscasts.
If it's you – apply by clicking here!
Other News Management Openings:
ASSISTANT NEWS DIRECTOR:
KTNV, Las Vegas, NV (relisted 1/14/18)
WAAY-TV, Huntsville, AL (relisted 1/14/18)
KWWL-TV, Waterloo, IA (relisted this week)
KVRR-TV, Fargo, ND (relisted 12/31/17)
KSBW-TV, Monterey, Salinas, Santa Cruz, CA (listed 1/14/18)
EXECUTIVE PRODUCER:
WTTG-TV, Washington, DC (listed 1/14/18)
KRIV-TV, Houston, TX (Evening EP, relisted 11/26/17)
KOMO-TV, Seattle, WA (2 openings, AM & PM, listing revised 12/16/17)
WRAL-TV, Raleigh, NC (listed 1/14/18)
WXIN/WTTV, Indianapolis, IN (listed 1/21/18, see ad above!)
KGTV, San Diego, CA (Dayside EP, relisted 12/3/17)
WPTV, West Palm Beach, FL (PM EP, listing modified 12/10/17)
WIVB-TV, Buffalo, NY (Nightside EP, relisted 12/31/17)
WJXT-TV, Jacksonville, FL (Nightside EP, relisted 1/21/18)
KMTV, Omaha, NE (AM EP, listed 1/14/18)
WTVG-TV, Toledo, OH (listed 12/23/17)
WAAY-TV, Huntsville, AL (relisted 1/14/18)
WISC-TV, Madison, WI (AM EP, relisted 1/21/18)
MANAGING EDITOR:
KDVR/KWGN-TV, Denver, CO (relisted 12/3/17)
KWCH-TV, Wichita, KS (listed 1/21/18)
Names in the News (and other items):
STEVE COLWELL joins WDTN-TV in Dayton (NBC affiliate, Nexstar owned) as Dayside Executive Producer. He's spent the last 15 years working for WPXI-TV in Pittsburgh in a variety of roles.
RHONDA KITCHENS returns to KPLC-TV, Raycom's NBC affiliate in Lake Charles, LA, as Morning Assistant News Director. She has ten years experience in the Lake Charles market and has been working most recently in Beaumont as News Content Manager/Assistant News Director at KBMT-TV.
The Boston Globe looks at the ratings situation in Boston, a little over a year after NBC pulled its affiliation from WHDH-TV and created its own station in Bean Town.
Congratulations to former producer and EP MONICA VALENTO ALLREAD on the publication of her first book, which has an unusual backstory (tease: it's co-written with a fourth grade student from Kenya). Monica worked at stations in Toledo (full disclosure: I hired her), Dayton, Cincinnati, Orlando, Birmingham, and Phoenix, before leaving TV for a position with a school district. You can learn more about the book, and buy a copy, by clicking here.
Finally, I'm sorry to report the death of one of the Associates this week. Deuce T. Cat (it stands for The, what else?) left us after 20 years. While only a handful of you ever met Deuce, more of you heard him, as, in his later years, he developed the somewhat annoying habit of vocalizing his displeasure about whatever was on his mind, often when I was on the phone. (Some asked if I was running a daycare on the side.)
We acquired him 20 years ago in Grand Rapids from a rescue. He and his brother (who we also adopted) were born under a trailer. Deuce and Reggie's lives improved greatly, and so did ours.
General Manager News and Notes:
ANDREW DESCHAPELLES is the new General Manager of Telemundo stations in Phoenix and Tucson.
And..as noted above in our 'New News Director Openings' section, KATE MORRIS has been promoted to GM at KTVB-TV in Boise.
Our Full List of Open ND Jobs:
Here's our list of open ND jobs as of Sunday, January 28, 2018:
It's unofficial, there may be others that are open, and some of these may have been filled. If you know of any in either category, please let me know: rick@rickgevers.com
Verizon Fios 1 News 800 Westchester Avenue, Rye Brook, NY 10573
WUSA-TV 4100 Wisconsin Ave NW Washington DC 20016
WUVG-TV 3350 Peachtree Road #1250, Atlanta, GA 30326 **
KOMO-TV 140 4th Ave N Seattle, WA 98109
WFLA-TV 200 S. Parker St. Tampa FL 33606 (see ad above!)
WTSP-TV 11450 Gandy Blvd, St. Petersburg, FL 33702
WOIO/WUAB-TV 1717 E. 12th Street Cleveland, OH 44114
KUVS-TV 1710 Arden Way, Sacramento CA 95815 **
WTMJ-TV 720 E Capitol Dr, Milwaukee, WI 53212
WJAX/WFOX 11700 Central Pkwy, Jacksonville, FL 32224
KOB-TV 4 Broadcast Plaza SW Albuquerque, NM 87104
WVLT-TV 6450 Papermill Drive Knoxville, TN 37919
WOWK-TV 350 Quarrier Street Charleston, WV 25301
KETV 1001 S. 10th Street Omaha, NE 68108
WPSD-TV 100 Television Lane. Paducah, KY 42003
WJHL-TV 338 E. Main Street Johnson City, TN 37601
KTVB-TV 5407 West Fairview Ave. Boise, ID, 83706
WTVM/WXTX-TV 1909 Wynnton Rd. Columbus, GA 31906
KHSL/KNVN-TV 3460 Silverbell Rd. Chico, CA 95973
WAOW-TV 1908 Grand Ave. Wausau WI 54403 (see ad above!)
KMIR-TV 72920 Parkview Dr. Palm Desert, CA 92260 (see ad above)
KECI-TV 340 W. Main St., Missoula, MT 59802
KFBB-TV P.O. Box 1139. Great Falls MT 59403
KRTV P.O. Box 2989, Great Falls, MT, 59403
**: Spanish language station