Greetings:
We have a modest amount of activity involving news director changes this week.  There are  FIVE new news directors and just  ONE new opening.  This flurry of activity means there are now just 18 stations with known ND openings.
But that's not all!
You'll get the opportunity to watch me shamelessly beg for the chance to buy Super Bowl tickets.  We have a handful of Names in the News, including a VERY close call for a veteran, well liked ND.  We also have two help wanted ads if you're looking for a new challenge, and an ad for the Devlin Design Group where you'll learn that are two people with the same name in a fairly small newsroom in a large market.
Before we get to this week's changes, let me once again pander shamelessly before you in my quest to take my wife to her first Super Bowl.  Our local team is once again headed to Miami to play the Saints.  My wife and I have plane tickets.  We have a place to stay.  We lack game tickets (an important item, to be sure.)  If you have access to two ducats at (or near) face value, please email me: rick@rickgevers.com or call: 317-769-7900. Anyone who comes through will get an automatic one year extension of their subscription to this newsletter, and I can also come up with Indy 500 tickets if someone wants to see the 2010 Greatest Spectacle in Racing.
Enough pandering…on to this week's changes and all the other news:
NEW NEWS DIRECTORS NAMED:
KTVX-TV, Salt Lake City, UT…PAT LIVINGSTON fills the vacant ND chair at this Newport TV-owned ABC affiliate.  Pat's currently the VP/News for Barrington Broadcasting, and earlier he'd been the ND for the company's WNWO-TV in Toledo.  He's also been an ND in Youngstown and Peoria.  At KTVX, Pat replaces TOM BELL who was promoted to the company's San Antonio, TX, station, WOAI-TV late last year after about a year and a half as ND there.
WPTV, West Palm Beach, FL…has reached across the Scripps family as it hires JEFF BROGAN as ND.  Jeff is currently the Assistant ND for the company's WCPO-TV in Cincinnati.  He started in Cincinnati as a producer, became Executive Producer before moving up to AND in 2008.  He's a Cincinnati native and earlier had worked at WXIX-TV there.  At WPTV, he replaces PETER ROGHAAR who left the station last fall to become ND for WTSP-TV in Tampa, FL.
KOB-TV, Albuquerque, NM…JULIE SZULCEWSKI will be the next news director for this Hubbard Broadcasting owned NBC affiliate.  Julie is currently the Managing Editor for WSOC-TV in Charlotte.   She's also worked in Orlando, Miami, St. Louis, and Ft. Myers, FL.  At KOB, she replaces JAMIE IOOS who left the station last month after about 17 months as news director.
KQDS-TV, Duluth, MN…has named JASON VINCENT news director.  He's currently the morning anchor at WDAY-TV in Fargo, ND.  Jason is a Minnesota native and worked in Mankato before moving to Duluth in 2006.  At KQDS, he replaces JULIE MORAVCHICK who left the station earlier this month after four years as ND.  She was the first ND in the station's history.
KUPB-TV, Midland-Odessa, TX…this Entravision owned Spanish language station has named JOSE ANTONIO PESQUEIRA as its next news director.  He previously worked as a sports anchor here and also worked as a reporter in Lubbock.  KUPB is a Univision affiliate.
NEW NEWS DIRECTOR OPENING:
KMTV, Omaha, NE…SCOTT PICKEN has left this CBS affiliate after just more than a year as ND for this Journal Broadcasting owned station. Scott moved to Omaha from Journal's station in Boise, one of two Boise stations where he's been an ND.  He also worked at Journal's Green Bay station, and has also worked in Honolulu, Rockford, IL, and Ft. Smith, AR.
**** ***** ****
HELP WANTED ADS:
NEWS CONTENT MANAGER, WAVE-TV, LOUISVILLE, KY
WAVE 3 TV in Louisville, Kentucky, a Raycom Media NBC affiliate, seeks an aggressive, competitive candidate to lead our news department.

The Nielsen overnights arguably make Louisville one of the country's most competitive markets.  On any night any station can win.  So we want a commanding leader to empower our staff to be their very best and never settle for less.

Candidate must be capable of cultivating talent throughout the station to contribute the most compelling content to our news product on-air, on-line and on mobile.  They must have a creative vision with proven leadership skills that will dominate local coverage, enhance our brand of Getting Results and separate our station from the pack. This includes taking ownership of breaking news, inspiring in-depth investigative reporting and showcasing the market's best meteorologists.

3-5 years News management experience preferred.

Send resume along with DVD of current newscast to:
Personnel
WAVE-TV
725 South Floyd Street
Louisville KY 40203
**** ***** ****
FACULTY OPENING, UNIVERSITY OF MISSOURI SCHOOL OF JOURNALISM
The Missouri School of Journalism seeks a journalist with extensive newsroom experience and a talent for teaching at the university level.
The ideal candidate will have at least five years of television newsroom experience. Some newsroom management experience is preferred.  Duties include a minimum of 30 hours per week in the KOMU-TV (NBC-affiliate) newsroom supervising the work of student reporters, anchors, newscast producers and videographers.  Duties also include classroom teaching and service to the journalism school and the university.
Screening of applicants will begin immediately and continue until the position is filled. Hiring is expected to be completed in the spring of 2010 with a start date as soon as possible. Applications must include an academic CV or professional resume, video of recent television stories or television newscasts produced by the candidate, the names of three references in the field of television journalism, and a cover letter explaining the candidate's interest in teaching and in students. This cover letter must also include an analysis of the television news profession's transition from solely broadcast to broadcast and digital/internet news platforms.
Applications may be sent electronically (preferred) to: hardte@missouri.edu
or by mail to:
Elizabeth Hardt
Staff Assistant to the Dean
Missouri School of Journalism
120 Neff Hall
Columbia MO 65211
If sending the application electronically, please send as a Word or PDF attachment with candidate's last name as title. Please reference position number 100005.
The University of Missouri is committed to cultural diversity and it is expected that the successful candidate will share this commitment. MU is an Equal Employment Opportunity/ADA institution and encourages applications from women and minority candidates.

**** ***** ****
OTHER NEWS MGMT. OPENINGS:
ASSISTANT NEWS DIRECTOR:
KHOU-TV, Houston, TX (listed 12/12/09)
WLWT-TV, Cincinnati, OH (relisted 1/15/09)
KOCO-TV, Oklahoma City, OK (listed 1/8/10)
EXECUTIVE NEWS PRODUCER:
News 12 The Bronx/Brooklyn, NY (listed 1/8/10)
KTVT-TV, Ft. Worth/Dallas, TX (2 jobs, Special Projects & AM EP, listing revised 1/8/10)
KING-TV, Seattle, WA (AM EP, relisted 12/18/09)
KOVR-TV, Sacramento, CA (listed 1/15/09)
KXTV,    Sacramento, CA (PM EP, listing revised this week)
KPTV, Portland, OR (two openings, one is EP/Special Proj., listing revised this week)
KTVX-TV, Salt Lake City, UT (AM EP, listed 12/26/09)
WDAF-TV, Kansas City, MO (W/E Supervising Producer, listed 1/8/10)
WPEC-TV, West Palm Beach, FL (relisted 12/12/09)
WPBF-TV, West Palm Beach, FL (Digital EP, listed 12/18/09)
KOAT-TV, Albuquerque, NM (relisted 1/15/10)
WBRZ-TV, Baton Rouge, LA (PM EP, listed 1/22/09)
WPTA/WISE, Ft. Wayne, IN (relisted 12/18/09)
MULTI MEDIA CONTENT DIRECTOR:
The Weather  Channel, Atlanta, GA (listed 12/12/09)
ASSIGNMENT MANAGER:
The Weather  Channel, Atlanta, GA (listed 12/18/09)
**** ***** ****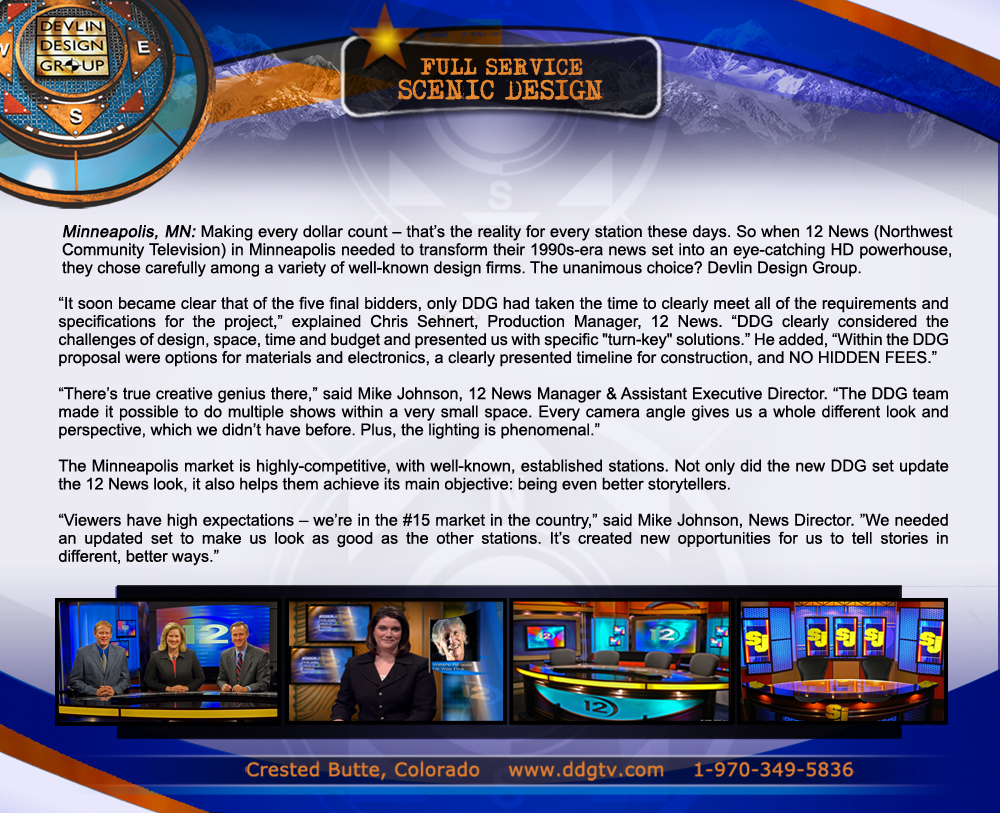 **** ***** ****
NAMES in the NEWS:
CHRIS PASSON has been named Director of Content for KPTV/KPDX in Portland, OR.  He has been the nightside EP there.  That move creats one of two EP openings for this Fox affiliate, as noted above.
JOSE SUAREZ returns to the NBC/Universal family as Director of Digital Platforms for the Telemundo Station Group.  Earlier he'd been the Director of Digital for NBC's WTVJ-TV in Miami.  Most recently he served a short stint as ND for WSFL-TV in Ft. Lauderdale.  He's also been an ND in Toledo.
Former News Director WALTER CHRISTOPHERSEN has written A Temporary European about his experience working in Europe on a newsmagazine that aired on PBS.  Earlier in his career, Walt was an ND at WNCT-TV in Greenville, NC, and later at WCMH-TV in Columbus, OH.  He's also worked for Radio Free Europe and CNN International in Atlanta.
Finally, we're pleased to report that veteran newsman PAUL STEUBER is on the mend after a very close call.  Many of you know Paul, who most recently was an ND in Wilkes-Barre Scranton, but has worked in a number of markets like Miami, Indianapolis, and Grand Rapids.  Seems Paul went in to the hospital for a routine procedure, was released, and almost bled to death at home.  His rehab's been tough but he proudly told me he went up 18 steps one foot over the other (instead of one at a time) earlier this week.  When you email him your good wishes – rpaulstu@aol.com – have him tell you the whole story.  It's a well written, entertaining (yet somewhat scary) read.
**** ***** ****
Here's a complete list of all stations that I believe have an ND opening, as of Friday, January 29, 2010.
And if you know of updates, corrections, or additions to this list, please let me know via email: rick@rickgevers.com
KNBC-TV   3000 W. Alameda Ave.            Burbank CA 91523
WGBO-TV  541 N. Fairbanks Ct., #110 Chicago IL 60611
KTVT-TV,  5233 Bridge St.                        Ft. Worth TX 76103
WXYZ-TV   20777 W. 10 Mile Road           Southfield MI 48037
KUVS-TV   1710 Arden Way                         Sacramento CA 95815 ***
WZTV-TV   631 Mainstream Drive            Nashville TN 37228
WAVE-TV 725 S. Floyd St.         Louisville KY 40203 (see ad above)
WTEN-TV   341 Northern Blvd.              Albany, NY 12204
WFTX-TV   621 SW Pine Island Rd.          Cape Coral FL 33991
KGMB-TV 1534 Kapiolani Blvd. Honolulu HI< 96814
WNWO-TV   300 S. Byrne Rd.                Toledo OH 43615
KMTV, 10714 Mockingbird Dr. Omaha NE 68127
WHAM-TV   4225 W. Henrietta               Rochester NY 14623
WJHL-TV 338 E. Main St. Johnson City TN 37601
WFFF-TV   298 Mountain View Dr.           Colchester VT 05446
WMGT-TV   PO Box 4328                     Macon GA 31208
KMIR-TV   72920 Parkview Drive            Palm Desert, CA 92260
KGNS-TV   120 W. Delmar Blvd.             Laredo TX 78045
*** (Spanish language)