Thursday, January 14, 2010 UPDATE:

Congratulations to SEVEN television stations (six commercial, and one PBS) who were awarded Alfred I. duPont Awards today by Columbia University.  That's the largest number of local stations to win in more than 20 years.
Here's the news release with all the winners, both local and network.
By the way, it's been a pretty busy week on the news director movement front.  We'll have lots of news in our next newsletter.
**** ***** ****
Greetings:
There's  ONE new ND to share with you this week, and  ONE new opening.  That new ND is moving up to replace her boss, who's moving up the corporate ladder.
And two other ND jobs have been filled but we won't have the names for you until next week.
With those changes, my total of open ND jobs now stands at 24.
Also this week, two new ads for management jobs…one in New York City and one in the Midwest.  Be sure to check those out, as well as other new news management openings in our listing of Open Management jobs.
We have a few items in Names in the News, including a new job for a four-time ND.  And we've sad news of the deaths of four TV news veterans over the past few weeks.
That's all below, after this week's changes:
NEW NEWS DIRECTOR NAMED:
WTOC-TV, Savannah, GA…JAN SMITH has been promoted to ND for this Raycom-owned CBS affiliate.  She's been the Assistant ND at WTOC, and earlier was an ND in Bangor, ME.  She spent much of the earlier part of her career on-air, in both Bangor and El Paso, TX.  Jan replaces LARRY SILBERMANN who will now devote his full attention to his role as Regional News Director for Raycom.  He's been doing that in addition to being ND at WTOC.  Larry's been ND here for seven years, and has also worked in Syracuse, Cincinnati, Louisville, and Portland.  Congrats to both Jan and Larry.
Also, I'm told the KSEE-TV (Fresno) and WWAY-TV (Wilmington, NC) openings have been filled and I've removed them from the list of opening at the bottom of this list.  We should have the names next week.
NEW NEWS DIRECTOR OPENING:
KQDS-TV, Duluth, MN…JULIE MORAVCHICK, the only ND this Red River Broadcasting-owned FOX affiliate has ever had, has left the station.  Julie has been the ND since the station began doing news in 2006.  She was also the assignment editor and did some reporting.  She's also worked at another Duluth station as well as in Minneapolis-St. Paul.
**** ***** ****
HELP WANTED ADS:

Executive Producer, News 12 The Bronx/Brooklyn, NY
News 12 The Bronx/Brooklyn is seeking the right person to supervise newsgathering in concert with Managing Editor, including overseeing editorial content, and managing story assignments for newscasts and provide guidance and help coordinate all phases of production/programming, including graphic elements, and technical elements in coordination with operations staff.
Will provide coaching, training, and performance reviews for staff as well as coordinate scheduling of staff.  Will supervise hiring of newsroom personnel as required and manage costs within budget.  Responsible to monitor the product across all platforms to ensure quality control and maximize added value on the web, infobar, and added content channel.  Will assist in developing special programming, including elections and town meetings, the coordination of network coverage of news stories and specialized programming.
Responsible to develop and implement news coverage and format changes that reflect the News 12 brand and specialized segments and franchise pieces that can be sponsored.  Will coordinate computer usage for staff and work with IS to troubleshoot issues that arise and work on special projects and perform other duties as assigned.
The ideal candidate needs a minimum of five years in journalism, including 3 in television news producing, or equivalent. Must also have experience in managing teams. Must have excellent communication, management and leadership skills with good news judgment and teaching ability. Must have the ability to produce news programming with excellent verbal skills, including writing and editing. Competency in technical side of television production as well as thorough knowledge of journalism and television news is required. Bachelor's degree is preferred.
To submit resume, please click here.  Cablevision is an equal opportunity employer and drug-free workplace.
**** ***** ****

Weekend Supervising Producer, WDAF-TV, Kansas City, MO
WDAF-TV is seeking a weekend supervising producer to produce 10:00 p.m. newscasts on Saturday and Sunday nights.  Weekday duties include assisting in the producing of evening newscasts, producing 30-minute specials, assisting the sports department in planning and execution of sports coverage and fill-in producing as needed.
This position requires strong producing skills, excellent news judgment, the ability to supervise others and the ability to lead a talented, highly motivated weekend team.
The successful candidate will have previous television producing experience and a college degree in journalism or a related field.  Management experience is a plus but not a requirement.
Excellent phone, p.c. and communication skills are required.  The position will also necessitate working in a stressful, deadline oriented environment in which multiple, split second decisions critical to the success of the operation may be required.
This is not an entry level position.  Candidates lacking previous television newsroom experience will not be considered.  Successful candidates must be organized, detail oriented, deadline driven, capable of working well with others and capable of supervising others well.
Apply with a resume and DVD of a recent newscast you've produced to:
Bryan McGruder
V.P., News
WDAF-TV
3030 Summit
Kansas City, MO  64108
No phone calls please.
**** ***** ****
OTHER NEWS MGMT. OPENINGS:
ASSISTANT NEWS DIRECTOR:
KHOU-TV, Houston, TX (listed 12/12/09)
WLWT-TV, Cincinnati, OH (listed 11/14/09)
KOCO-TV, Oklahoma City, OK (new listing this week)
EXECUTIVE NEWS PRODUCER:
News 12 The Bronx/Brooklyn, NY (new opening this week, see ad above)
KTVU-TV, Oakland/San Francisco, CA (Dayside EP, listed 12/4/09)
KTVT-TV, Ft. Worth/Dallas, TX (2 jobs, Special Projects & AM EP, listing revised this week)
KING-TV, Seattle, WA (AM EP, relisted 12/18/09)
WXYZ-TV, Detroit, MI (listed 9/4/09)
WOFL-TV, Orlando, FL (listed 8/28/09)
KXTV,    Sacramento, CA (AM EP, relisted 9/25/09)
KTVX-TV, Salt Lake City, UT (AM EP, listed 12/26/09)
WDAF-TV, Kansas City, MO (W/E Supervising Producer, new listing, see ad above)
KMBC-TV, Kansas City, MO (AM EP, listed 8/28/09)
WPEC-TV, West Palm Beach, FL (relisted 12/12/09)
WPBF-TV, West Palm Beach, FL (Digital EP, listed 12/18/09)
WZZM-TV, Grand Rapids, MI (listed 8/7/09)
KOAT-TV, Albuquerque, NM (listed 10/2/09)
WFTX-TV, Ft. Myers, FL listed 8/28/09)
WLTX-TV, Columbia, SC (relisted 9/18/09)
WPTA/WISE, Ft. Wayne, IN (relisted 12/18/09)
DIRECTOR OF CONTENT:
KPTV/KPDX-TV, Portland, OR (listed 11/21/09)
MULTI MEDIA CONTENT DIRECTOR:
The Weather  Channel, Atlanta, GA (listed 12/12/09)
ASSIGNMENT MANAGER:
The Weather  Channel, Atlanta, GA (listed 12/18/09)
**** ***** ****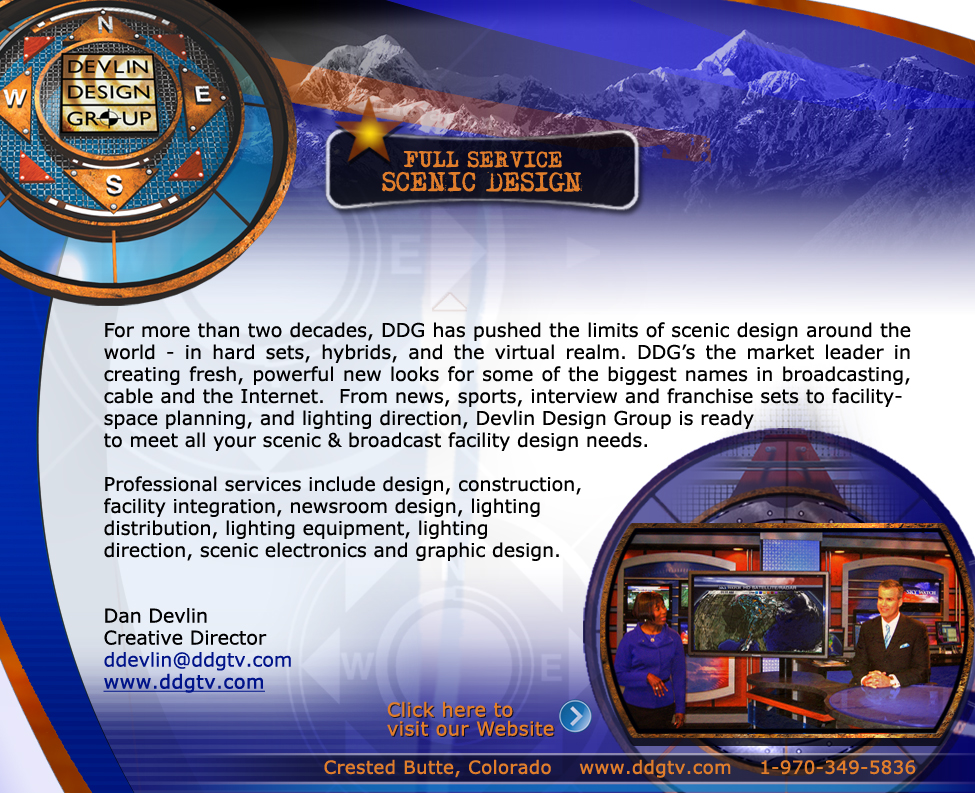 **** ***** ****
OBITUARIES:
Four veteran newsmen died in the last few weeks.
RON FORSELL, an early News Director for Seattle's KIRO-TV, died Christmas Eve at the age of 81.  This obituary says at one point in his career he was promoted from News Director to Sports Director.  (I suspect much of my readership might quarrel with that!)  Ron left KIRO-TV in 1976 for a long career in non-TV jobs.  Of note:  Ron is survived by his wife of 59 years.
REX STANLEY,  the first photojournalist for KENS-TV in San Antonio, died December 29 at the age of 84 after a long battle with leukemia.  He was the first photojournalist hired by the station and worked there until 1987.  More details of his life in this article. Also of note:  Rex is survived by his wife of 62 years.
PHIL MUSICK, a one-time Managing Editor at KDKA-TV in Pittsburgh, died this week of congestive heart failure at the age of 71.  You may better remember him as a sports columnist in the early days of USA Today. More in this story from The Pittsburgh Post-Gazette.
Finally, a memorial service will be held next Monday (January 11) for longtime Kansas City (KCTV, formerly KCMO-TV) anchor WENDALL ANSCHUTZ, who died yesterday (Thursday, January 7) at the age of 71.  He'd been battling throat cancer.  Anschutz worked for 35 years at the station.  Learn more in this report from the Kansas City Star.
**** ***** ****
NAMES IN THE NEWS:
Former ND DAN DENNISON has been named Constituent Outreach and Parternship Coordinator for (get your spell checker ready) the Papahanaumokuakea Marine National Monument in Hawaii.  Dan's a 37 year veteran of the TV biz, with ND gigs at two stations in Honolulu, San Luis Obispo, CA, and Colorado Springs.  He also worked as a reporter for two Denver TV stations.  If you want to ask  him how Papahanaumokuakea fits on a business card (or congratulate him on his new job) his email address is: dan.dennison@noaa.gov
If you know DEREK SCHNELL of Oklahoma City's KOCO-TV, you might want to buy him an alarm clock.  That's because he's been promoted to Morning EP for this Hearst-owned ABC affiliate.  He's been the 10:00 producer there, so now he'll be getting up around the time he used to go to bed!  Congratulations to Derek.
**** ***** ****
Here's a complete list of all stations that I believe have an ND opening, as of Friday, January 8, 2010.
And if you know of updates, corrections, or additions to this list, please let me know via email: rick@rickgevers.com
KNBC-TV   3000 W. Alameda Ave.            Burbank CA 91523
NewsChannel 8  1100 Wilson Blvd.          Arlington VA 22209
WXYZ-TV   20777 W. 10 Mile Road           Southfield MI 48037
KUVS-TV   1710 Arden Way                         Sacramento CA 95815 ***
WZTV-TV   631 Mainstream Drive            Nashville TN 37228
KCTV,     4500 Shawnee Mission Parkway,   Fairway, KS 66205
KTVX-TV   2175 W. 1700 South              Salt Lake City UT 84104
WPTV,     1100 Banyan Blvd.,              W. Palm Beach, FL 33401
KOB-TV    4 Broadcast Plaza SW            Albuquerque NM 87104
WTEN-TV   341 Northern Blvd.              Albany, NY 12204
WFTX-TV   621 SW Pine Island Rd.          Cape Coral FL 33991
WNWO-TV   300 S. Byrne Rd.                Toledo OH 43615
KHQ-TV    1201 W. Sprague Ave.            Spokane, WA 99201
WHAM-TV   4225 W. Henrietta               Rochester NY 14623
WFFF-TV   298 Mountain View Dr.           Colchester VT 05446
KRNV-TV   1790 Vassar St.                 Reno NV 89502
WPBN/WTOM-TV 8518 M 72 West               Traverse City MI 49684
KHBS/KHOG-TV 2809 Ajax Avenue, # 200      Rogers AR 72758
WMGT-TV   PO Box 4328                     Macon GA 31208
KQDS-TV, 2001 London Rd. Duluth MN 55812
KMIR-TV   72920 Parkview Drive            Palm Desert, CA 92260
WVVA-TV   Rte. 460 Bypass                 Bluefield WV 24701
KIDK-TV   1255 E.17th St.                 Idaho Falls, ID 83404
KGNS-TV   120 W. Delmar Blvd.             Laredo TX 78045
*** (Spanish language)