Greetings:
For the second consecutive week, there are NO new news director openings. And TWO stations filled vacancies, so our list of open ND jobs drops to 21.
We have lots of other items for you, including THREE paid help wanted ads, an ad for a well-regarded training programs for news directors and those who aspire to be NDs.
In Names in the News:
Former ND JILL GEISLER offers ten tips for news managers as we head into a new year and a new president. We have a story that looks at the history of the now shuttered Northwest Cable News. Also, new responsibilities for a former ND turned CNN executive, and a handful of news managers on the move.
And we have THREE obituaries, including one for a longtime Hawaii news manager who also worked for two mainland stations as news director.
All that…and more…as you read on.

"Kneeland will exceed your expectations. Guaranteed."
Applications are due this week – Friday, January 13
Applications are due this Friday for The Kneeland Project's next session, which will be held March 1-3, 2017 in Austin, Texas.
Thanks to Kneeland's generous funders, this opportunity is nearly free for 18 selected participants.The Kneeland Project pays for all tuition costs as well as hotel and several meals.
In a recent survey of Kneeland Fellows, 100% reported they still regularly use lessons learned at Kneeland, believe that time spent at Kneeland improved their career and said they have recommended Kneeland to a friend or colleague.
You'll join this session's faculty and 17 other outstanding journalists to explore the exciting challenges that face our industry, and you'll leave the program with a solid plan to guide your leadership decisions starting day one. This isn't theoretical information that you will put on a shelf and neglect. Every participant will walk away with concrete action items to implement immediately that will make a difference in their newsroom…and their life.
It's an intensive program unlike any other. It's practical. It's highly interactive. It produces long-lasting results. Journalists return to their stations refreshed and ready to tackle the sometimes overwhelming challenges newsrooms now face.
Click here for more information and to apply. www.kneelandproject.org
New News Director Openings:
For the second consecutive week, I'm not aware of any new openings. If you know something I don't (likely true on MANY levels!) please let me know: rick@rickgevers.com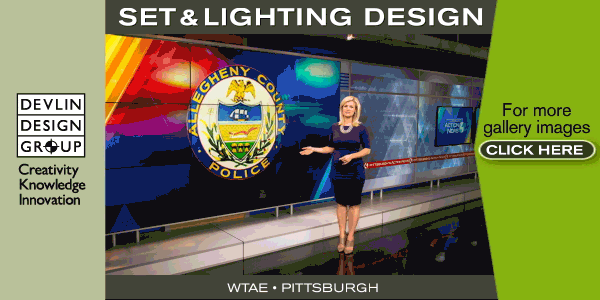 Newly Named News Directors:
WRGB-TV, Albany/Schenectady, NY…CHRIS GEGG begins tomorrow (Monday, January 9) as the new news director for this Sinclair Broadcasting owned CBS affiliate. Chris spent the last four years as news director for Hearst's WISN-TV in Milwaukee. He's also been an ND in Madison, WI, and has worked in Detroit, Nashville, Tampa, Toledo and Midland, TX. At WRGB, Chris replaces STEVE RICHARDS who left the station at the end of November after two years as ND.
WBTW-TV, Myrtle Beach/Florence, SC…ERIC WALTERS, a 20 year veteran of this Media General (for now) owned CBS affiliate, has been promoted to news director. He's been the Assistant News Director for the last three years. JO BROWN will become the new Assistant ND. She's been working on the station's digital team. Here's the news release. All of these moves were necessitated by the departure of ND DANA RITTER who left the station to become Washington Bureau Chief for Christian Broadcasting Network.
Paid Help Wanted Ads: 

Evening Executive Producer, WFMY-TV Greensboro, NC:
Are you all about social and new media? Do you like change? And does "risk" mean "potential"in your vocabulary? Be part of a news team that's changing, growing and serving our community in the process. WFMY News 2, the TEGNA-owned CBS affiliate in Greensboro, NC is experiencing an exciting time in its newsroom and has an opening for a dynamic, creative Evening Executive Producer.
The Evening Executive Producer is a strong leader with major, breaking news experience, strong editorial judgment, newscast producing expertise and fully understands the needs of our audience across all our platforms. This position requires solid decision making skills, the ability to work well in a dynamic newsroom environment, social media experience and leadership in the digital content areas and skilled at infusing the mission of "2 Wants to Know" into all newscasts.
As the third largest metropolitan in North Carolina, Greensboro made it on US News' top 100
Best Cities to Live list. Big enough to have everything you need at your fingertips but small
enough to have a home town feel, Greensboro has it all! Nicknamed the "Gate City",
Greensboro is a quick drive to and from major cities in North Carolina. Whether you want to
relax at home, experience the mountains in the fall or beaches in the summer, centrally located Greensboro is the place to call home!
If you are looking for a fast-paced atmosphere to thrive and develop – WFMY News 2 and
Greensboro is the place to be!
Please apply here!


Executive Producer, WCBD-TV, Charleston, SC:
WCBD-TV, the NBC affiliate in beautiful Charleston, SC, is seeking a dynamic Executive Producer with a proven record of success in a multi-platform environment. We are looking for a leader for our rapidly growing morning newscast, "News 2 Today", with the ability to showcase breaking news and weather on a daily basis. The successful candidate will be an outstanding writer, editor, and creative force with a clear vision for growing our audience across all platforms, a critical thinker with excellent news judgment and communication skills, a problem solver who thrives in often stressful situations, and a superstar producer who can step onto the front lines when needed.
Minimum Education:
Bachelor's Level Degree
Communications, Journalism, or related field
Minimum Experience:
2 yrs. of experience.
Minimum of 3 years producing newscasts in a large or medium market; prior management experience preferred; extensive knowledge of news production on all platforms (broadcast, mobile, web, and social media).
If you're ready to join the News 2 management team, send your resume, cover letter with news philosophy, and link to a recent newscast to WCBD-TV, 210 W. Coleman Blvd., Mt. Pleasant, SC 29464.
All candidates must apply online at www.mediageneral.com.
No phone calls, please.
Equal Opportunity Employer/Minorities/Females/Disabled/Veterans. Pre-employment drug screen and background check required. Valid driver's license required.
Assistant News Director, KTUU-TV, Anchorage, AK: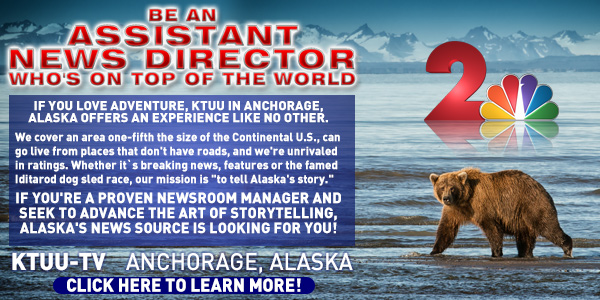 Other News Management Openings:
ASSISTANT NEWS DIRECTOR:
WMAQ-TV, Chicago, IL (relisted this week)
KXAS-TV, Ft. Worth/Dallas, TX (relisted 12/4/16)
WXYZ-TV, Detroit, MI (listed 12/4/16)
WTAE-TV, Pittsburgh, PA (relisted 12/24/16)
WJXT-TV, Jacksonville, FL (relisted 12/24/16)
KEZI-TV, Eugene, OR (relisted 12/24/16)
KTUU-TV, Anchorage, AL (listed 12/18/16, see display ad above!)
KTXS-TV, Abilene, TX (relisted this week)
EXECUTIVE PRODUCER:
WFAA-TV, Dallas, TX (AM EP, listed 12/24/16)
WGCL-TV, Atlanta, GA (AM EP, listing revised this week)
WOIO/WUAB-TV, Cleveland, OH (relisted 11/20/16)
KMOV-TV, St. Louis, MO (relisted 12/24/16)
KPTV, Portland, OR (relisted 11/20/16)
WRTV, Indianapolis, IN (Dayside EP, new listing this week)
WBNS-TV, Columbus, OH (two openings, relisted 11/20/16)
KCTV, Kansas City, MO (PM EP, relisted 11/27/16)
KSHB-TV, Kansas City, MO (PM EP, listing revised this week)
WPTV, West Palm Beach, FL (2 openings, EP & Spec. Projects, relisted 12/4/16)
KLAS-TV, Las Vegas, NV (AM EP, relisted this week)
WFMY-TV, Greensboro, NC (PM EP, new listing this week, see ad above!)
WJAX/WFOX-TV, Jacksonville, FL (PM EP, listed 12/11/16)
KOAT-TV, Albuquerque, NM (PM EP, relisted 11/13/16)
WREG-TV, Memphis, TN (relisted 11/20/16)
WFTX-TV, Ft. Myers, FL (AM EP, relisted 12/18/16)
WOI-TV, Des Moines, IA (relisted 12/24/16)
WCBD-TV, Charleston, SC (new listing this week, see ad above!)
WCTI-TV, New Bern, NC (relisted 11/27/16)
WTXL-TV, Tallahassee, FL (relisted 11/27/16)
Obituaries:
WALLY ZIMMERMAN, a longtime news director who spent most of his career in Hawaii, died this week at the age of 73 at his home in Nashville. KHON-TV in Honolulu, one of two stations where Wally worked, aired this tribute in which you'll learn about his famous college roommate and the big-name actress he once dated. He also was a news director in Detroit and Green Bay and spent the last few years working in public relations.
MARY THERESE VANN, sister of long-time broadcaster LES VANN, died suddenly on NewYear's Eve at the age of 55. Les and his family spent the holidays with M.T., as she was known, and he tells me her passing came as quite a shock. More in this obituary. Les is a longtime news director and general manager who's currently the GM at WFTX-TV in Ft. Myers. Your kind note of sympathy would reach him at: lesvanntv@gmail.com
BUDDY BOSTICK, who launched TV stations in Bryan and Waco, TX, died this week at the age of 98. He flew planes until he was 90! You'll learn more about an interesting life in this obituary.
Names in the News:
Tegna's Northwest Cable News signed off Friday night after 21 years. The history of the 24 hour cable network…and the factors that lead to its demise are covered in this story.
RAMON ESCOBAR has increased his duties at CNN, as he has been named VP of Diversity and Inclusion at CNN Worldwide.
JILL GEISLER offers ten tips for newsroom managers as we head into a new year in this story from the Columbia Journalism Review.
Atlanta's WGCL-TV (CBS/Meredith) has named ELISE DURHAM as its EP of Special Projects.
Two new EPs at WAAY-TV in Huntsville, AL. MACKENZI (cq) HICKS joins this ABC affiliate from WGCL-TV in Atlanta, where she's been a producer. And HEATHER MATHIS has been promoted to EP. She's been a meteorologist for the station and will continue to do on-air weather.
General Manager News and Notes:
After almost 33 years at WDAF-TV in Kansas City in a variety of roles, CHERYL McDONALD announced her retirement this week. She's been the GM since 2002 and will leave no later than June…or earlier when her successor is named. Cheryl is married to former WDAF News Director MIKE McDONALD who retired when she was promoted to GM.
CATHY GUNTHER has been promoted to GM for Cox's KOKI-TV in Tulsa. She's been the general sales manager for this FOX affiliate.
MARK BUNTING is leaving Media General's (soon to be Nexstar's) WKRG-TV in Mobile to become GM for Raycom owned NBC affiliate WSFA-TV in Montgomery. He and his wife have family there. Mark's been the GM for five years and has worked at the station for ten.
Our Full List of Open ND Jobs:
Here is my list of stations with open ND jobs, as of Sunday, January 8, 2017:
If you know of any additions/deletions/updates, please email me at: rick@rickgevers.com
KTVT-TV 5233 Bridge Street, Fort Worth TX 76103
WUSA-TV 4100 Wisconsin Ave NW Washington DC 20016
KOIN-TV 222 SW Columbia St. Portland OR 97201
WPBF-TV 3970 Rca Blvd #7007, Palm Beach Gardens, FL 33410
WIVB-TV, 2077 Elmwood Ave. Buffalo, NY 14207
WOWK-TV 555 5th Ave, Huntington, WV 25701
WAND-TV 904 South Side Drive Decatur, IL 62521
WCBD-TV 210 W Coleman Blvd, Mt Pleasant, SC 29464
WCAX-TV PO Box 4508. Burlington VT 05406
WCTI-TV 225 Glenburnie Drive New Bern, NC 28560
WNCT-TV 3221 Evans St, Greenville, NC 27834
KYTX-TV 2211 ESE Loop 323. Tyler, TX 75701
KDLT-TV 3600 South Westport Avenue Sioux Falls SD 57106
KADN/KLAF-TV 1500 Eraste Landry Rd Lafayette, LA 70506
KVII-TV 1 Broadcast Center, Amarillo, TX 79101
WTVA-TV PO Box 320 Tupelo MS 38802
KX Network 1811 N 15th Street Bismarck, ND 58501
KBJR-TV 246 South Lake Ave. Duluth MN 55802
KARD/KTVE-TV 200 Pavilion Road W. Monroe, LA 71292
WTOK-TV 815 23rd Ave. Meridian, Ms. 39301
KMVT-TV 1100 Blue Lakes Blvd. N Twin Falls, ID 83301