Friday, July 30, 2010 UPDATE:
Due to travel (and an obscenely slow internet connection at the Manchester Grand Hyatt in San Diego!) this week's report will be delayed slightly.  I hope to have it posted by Sunday evening, if not before.
**** ***** ****
Greetings:
We have a busy week, even though there are only a handful of ND moves to report to you.   There are  TWO new ND openings, while a veteran newsman (a news director in two top 25 markets) is the only new ND this week, as he takes a job in Montana.
We now have  30 stations on our list of open ND jobs.
We also have a flurry of paid ads this week for a wide variety of management positions.        Two of those ads are from the same Milwaukee station, and they're worth reading because they are….shall we say…a little more fun than most.  We also have ads for new morning EP opportunities in San Diego and Las Vegas, a rare ad for a newscast producer, and a repeat of an ad for an EP opening in Orlando.
Sadly, an assignment editor at KSHB-TV in Kansas City was murdered in his home earlier this week.  We have links to stories on that tragedy, as well as details on the death of the father of a Wisconsin ND who's also been a news director in California and Hawaii.
Finally, there are a number of management moves in Names in the News.
All this…and much more…after this week's changes.
NEW NEWS DIRECTOR OPENINGS:
WDBD-TV, Jackson, MS…MIKE INGALLS, the only ND this FOX affiliate has ever had, is leaving the station to pursue other opportunities.  Mike joined the station in 2008, prior to its 2009 launch of news.  Mike's previously worked in New Orleans, Orlando, and in Augusta and Albany, GA.  WDBD is owned by Jackson Broadcasting.
KTKA-TV, Topeka, KS…DENISE ECK is leaving her ND job here to become the Assistant ND for WCPO-TV in Cincinnati.  Denise has been the ND here since December 2008, when she was promoted from Executive Producer.  Denise started in our business as a reporter, and worked in Columbia and Joplin, MO, Wichita, and Roanoke before moving into management at KTKA.  KTKA is an ABC affiliate owned by Free State Communications.
NEW NEWS DIRECTORS NAMED:
KECI/KTVM/KCFW, Missoula, MT…veteran ND GAVIN MALISKA will be the next ND for these three Montana NBC affiliate.  Gavin's been an ND in Orlando and Indianapolis, and worked in Detroit and Chicago in newsroom management positions.  He began his career in print.  He'll be based in Missoula, and replaces JIM HARMON who is retiring next month after 30 years with these stations, now owned by Bonten Media.
**** ***** ****
HELP WANTED ADS:

Morning Executive Producer, KSWB-TV, San Diego, CA:
Manages staff to produce morning newscast. Oversees production of other news programming as assigned. Helps implement strategies developed by the news director to improve product and ratings. Has responsibility for decision making on coverage, content and implementation of show direction, graphics and efficient working of program.  Leads daily meetings where story and coverage ideas are discussed and assigned.  Focuses staff on direction and content of stories or live segments in newscast.  Works with reporters to determine direction of story and expectations.  Works closely with assignment desk on coverage, story selection, live coverage, assignment of reporters and crews.  Works with producers on rundowns, story selection, formats, graphics, content and pace and flow of newscast. Keeps producers informed of development/changes throughout the morning.  Edits rundowns, scripts and packages.  Troubleshoots and solves problems.  Does whatever is needed to make morning newscasts work.  Assists news director in staffing issues related to morning newscasts.  Assists news director in critiquing broadcasts.  May fill in as line producer.  May produce broadcasts.  Contributes ideas and oversees development of news series and sweeps stories.  Represents and enforces station policy in resolution of situations that may arise within the morning newscasts.  Other duties as assigned.
College degree in related field preferred.  Creative ability.  Technical insight of broadcast news producing, editing, graphics, on-air performance.    Prefer familiarity with ENG/SNG operations.  Must demonstrate excellent leadership and motivational skills.  Must be well organized and an effective communicator, both oral and written.  Must be able to manage a large staff under extreme pressure in a fast-paced environment.  Must be able to direct the efforts of on-air reporters and anchors.  Must be able to operate as a team member as well as a team leader. Must be able to take suggestions, participate in decision-making, and be flexible in recognizing various points of view.  Must be willing to participate in projects sponsored by the station to enhance its image or help the community.  Must be capable of interacting productively with other employees of the station.
To apply, click here or go to the jobs site at Fox5SanDiego.com
**** ***** ****
News Content Manager, WITI-TV, Milwaukee, WI
OK, it's not the grooviest title, but these days, being a manager in a newsroom is about more than producing or reporting or television!  It IS all of those things, of course, but it's also about the importance of compelling local stories, and figuring out the best way to get them done throughout the day and night. It's about working in a multi-media world with on-air, mobile, online and whatever comes next. It's about being a leader, inspiring people to do their best every single day – and holding people accountable when they don't meet expectations. It's about LOVING the news business!
We've got a longtime manager leaving and while he's literally irreplaceable, this is a rare opportunity for someone to come in with fresh ideas, insights and skill sets. We're not giving this position a specific title until we find the right person, when we will know what the title should be. You must have at least 6 years of news management experience and you must get excited about producing, about reporting, about storytelling, about creating compelling content across multiple platforms. Excellent communication and great time management skills, a strong can-do attitude with a commitment to teamwork are all vital for success in this role. And don't forget the obligatory assisting the VP/News with budgets, hiring, reviews, etc. etc. etc. The hours are long, the work challenging, but that's why we got into this biz to begin with, right? So in essence, we're looking for a long-term player committed to the growth, care and feeding of Fox 6 News.
If you're interested, send us your thoughts and philosophy on what makes a great newsroom even better. No phone calls, please – you'll hear from us if we like what we see.
Lots of ways to apply:
Email to witihr@fox6now.com, fax to 414-354-7491, or mail your resume to:
Human Resources
WITI-TV
9001 N. Green Bay Road
Milwaukee, WI 53209
**** ***** ****

Morning Executive Producer, WITI-TV, Milwaukee, WI
You're a visionary leader with experience in television production?  That's great.  We need that.  Here's the thing though:  pretty much everyone applying for this position has got that. So what else do you have?  We're looking to do something special with the morning television we put on for 5 ½ hours every weekday.  We already have four and a half hours of news up and running and we're looking to you lead that PLUS help shape our soon-to-debut one-hour show.  Its live morning programming that will combine hot topics, on-location live shots, great guests and more, and we are looking for YOU to oversee all of the morning content.
So bring it…bring your ideas, your vision, and yes, your production experience, visionary leadership, blah blah blah.  We'll provide the tools you need to succeed, including the technical and marketing support, as well as a damn good team of people to lead.  If this sounds like an opportunity you want to explore, let us know ASAP.  But no phone calls, please.
REQUIREMENTS: 6+ years of Newscast Producing , 3+ years of managing experience, a college degree and a killer margarita recipe.
Lots of ways to apply:
Email to witihr@fox6now.com, fax to 414-354-7491, or mail your resume to:
Human Resources
WITI-TV
9001 N. Green Bay Road
Milwaukee, WI 53209
**** ***** ****

Morning Executive Producer, KVVU-TV, Las Vegas, NV:
FOX5 Las Vegas is looking for an Executive Producer for the wildly popular and zany FOX5 Morning News.  This is a four hour daily morning news program with two anchor teams and two full time reporters.  In this position, you will manage and schedule a staff of Producers, Associate Producers, Talent Bookers, Reporters, Photographers and Editors.
Candidates must have at least two years of full time line producing experience in a commercial television news operation.  You will be expected to line produce on a fill-in basis during vacations and other situations as needed. Previous management experience is a plus. Experience with the IGNITE automation system will also move you up on the list of candidates.
If you have a proven track record and want to run the most fun and exciting morning show in Las Vegas, email your resume to:
Adam P. Bradshaw, News Director at:  abradshaw@fox5vegas.com
No phone calls please.  Applicants who are considered for the position will be asked to fill out an online application and are subject to a full background check.  KVVU Broadcasting is a subsidiary of the Meredith Corporation and is an Equal Opportunity Employer.
**** ***** ****

Morning Newscast Producer, KJRH-TV, Tulsa, OK
We are looking for a dynamic and talented Producer for our morning show.  The ideal candidate will be motivated, adaptable to change, creative with excellent writing skills and editorial judgment. 2 years experience producing a live newscast.
Position available immediately by applying online to www.scripps.com, broadcast division requisition #2008.
KJRH 2News Works For You is located in Tulsa, Oklahoma and is An Equal Employment Opportunity Employer.
**** ***** ****

Executive Producer, WKMG-TV, Orlando, FL
Post-Newsweek-owned WKMG-TV in Orlando is searching for its next dynamic manager.  We need an aggressive Executive Producer to lead our morning team to victory on television, online and on social networking outlets.
RESPONSIBILITIES:
• Develop, implement and execute strategy for morning news.
• Oversee execution and overall presentation of morning newscasts.
• Work closely with producers, reporters, photographers, editors, anchors and assignment desk to gather and present the news.
• Maintain editorial direction set by the news director.
• Maintain high quality and standards of WKMG and Post-Newsweek stations.
• Ability to work flexible hours.
• Reports to news director.
QUALIFICATIONS REQUIRED:
• Minimum of five years producing experience in medium or large television market.
• Prior television news management experience preferred.
• College degree preferred.
• Must demonstrate ability to manage people and resources.
TO APPLY, PLEASE SEND RESUME TO:
Steve Hyvonen
News Director
WKMG–TV
4466 N. John Young Parkway
Orlando, FL 32804
or via email to: shyvonen@wkmg.com
(No phone calls please.)
Note: All of the essential functions of this position are not necessarily described in this posting.
Any offer of employment is conditional on successful completion of pre-employment physical exam, including drug screen , background checks, required reference checks and educational degree verification.
We are an equal opportunity employer and will consider all qualified candidates regardless of race, color, religion, national origin, gender, age, marital status, disability, matriculation or political affiliation.
**** ***** ****
OTHER NEWS MGM'T. OPENINGS:
ASSISTANT NEWS DIRECTOR:
WEWS-TV, Cleveland, OH (listed 7/16/10)
WKMG-TV, Orlando, FL (listed 7/16/10 see ad above!)
KDKA-TV, Pittsburgh, PA (listed 6/26/10)
WCNC-TV, Charlotte, NC (listed 6/20/10)
WPTV, W. Palm Beach, FL (listed 5/31/10)
WHAS-TV, Louisville, KY (relisted 6/26/10)
WDSU-TV, New Orleans, LA (7/2/10)
WSYR-TV, Syracuse, NY (listed 6/20/10)
WAOW-TV, Wausau, WI (listed 7/9/10)
KECI/KCFW/KTVM, Missoula, MT (listed 5/31/10)
EXECUTIVE NEWS PRODUCER:
KYW-TV, Philadelphia, PA (listed 6/4/10)
KTVU-TV, Oakland/San Francisco, CA (AM EP, listed 7/16/10)
KTVT-TV, Ft. Worth/Dallas, TX (Special Projects EP, relisted 7/16/10)
WISH-TV, Indianapolis, IN (listed 7/9/10)
WTHR-TV, Indianapolis, IN (listed 7/16/10)
KSWB-TV, San Diego, CA (Morning EP, new listing this week, see ad above!)
KSTU-TV, Salt Lake City, UT (Morning EP, listed 5/31/10)
WITI-TV, Milwaukee, WI (Morning EP, new listing this week, see ad above!)
WTMJ-TV, Milwaukee, WI (AM EP, relisted this week)
WSPA-TV, Spartanburg, SC (relisted 7/2/10)
KVVU-TV, Las Vegas, NV (Morning EP, new listing this week, see ad above!)
WTLV/WJXX, Jacksonville, FL (PM EP, listing revised this week)
KOLD-TV, Tucson, AZ (AM EP, listed 6/20/10)
WHAM-TV, Rochester, NY (listed 7/9/10)
KSLA-TV, Shreveport, LA (Morning EP, listed 6/13/10)
WLNS-TV, Lansing, MI (relisted 7/2/10)
NEWS CONTENT MANAGER:
WITI-TV, Milwaukee, WI (new listing this week, see ad above!)
**** ***** ****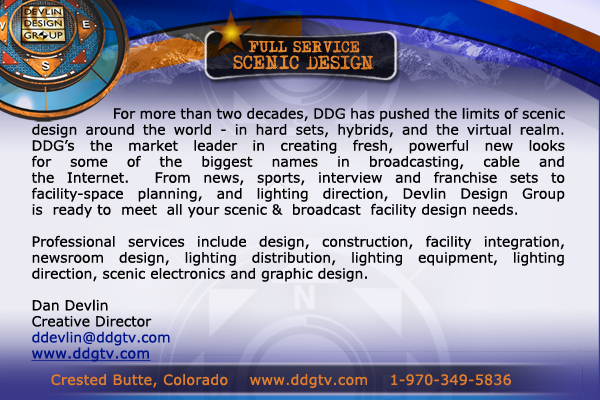 **** ***** ****
OBITUARIES:
NICK DUTCHER, who worked on the Assignment Desk at Kansas City's KSHB-TV, was found murdered in his home earlier this week.  Dutcher was 30 and had worked at the station for more than a year.  His colleagues remember a man who loved life and his music.
And our sympathy to WITI-TV (Milwaukee) ND JIM LEMON, who lost his father last week.  GERALD LEMON was 72 and died of an apparent heart attack while fighting two different forms of cancer.  He was a longtime employee of Southern Pacific, and loved technology and golf.   Jim's also been an ND in Sacramento and Honolulu.  Your kind note would reach him at: Jim.Lemon@fox6now.com
**** ***** ****
NAMES IN THE NEWS:
MARK HATFIELD, the GM and ND for Eugene, OR's, KEZI-TV, will oversee news and programming for all three Chambers Communications stations in Oregon.  The reorganization caused the elimination of the GM position for KDRV-TV in Medford, costing longtime employee RENARD MAIRUI his job.  Renard was the station's first ND, has worked at the station for 25 years, and has been GM since 1997.  Details in this story from the Mail-Tribune.
We're a little tardy in reporting that ROBBY MESSER has joined KOB-TV in Albuquerque as Morning EP.  We told you a few weeks ago that he'd left his job as ND at KIVI-TV in Boise after 16 months as ND there.  Robby has also worked in Green Bay, WI.
SUNNY HAMPTON POWELL has been promoted to Assistant ND for WZTV, the Sinclair-owned FOX affiliate in Nashville.  She's been the Acting ND and EP there since 2009.  She's also worked in Chicago, San Francisco, Memphis, Palm Desert, CA, and Columbia, MO.
PAIGE HEYWARD is moving up by moving down…down being south, in this case.  She's been named EP for Scripps' KJRH-TV in Tulsa.  Paige has been the Senior Producer at another Scripps station, KSHB-TV in Kansas City.  She's also worked in Topeka.
**** ***** ****
Here's our list of the stations currently looking for an ND, as of Friday, July 23, 2010.
If you know of any changes, additions, corrections, or deletions, please let me know via email:  rick@rickgevers.com
KVEA-TV, 3000 W. Alameda Ave.             Los Angeles, CA 91523 ***
KNBC-TV 3000 W. Alameda Ave              Los Angeles, CA 91523
KIAH-TV, 7700 Westpark Dr.                     Houston, TX 77063
KCPQ-TV    1813 Westlake Ave.  N.          Seattle, WA 98109
WBNS-TV 770 Twin Rivers Dr.                 Columbus OH 43215
WXMI-TV 3117 Plaza Dr. NE                    Grand Rapids MI 49525
WFMY-TV 1615 Phillips Avenue                Greensboro NC 27405
WJAR-TV 23 Kenney Dr.                            Cranston, RI 02920
WTEN-TV   341 Northern Blvd.                   Albany, NY 12204
KMSB-TV 1855 N. 6th Ave.                         Tuscon, AZ 85705
WNWO-TV   300 S. Byrne Rd.                    Toledo OH 43615
WGME-TV 81 Northport Drive                   Portland, ME 04103
KCRG-TV 501 2nd Ave. NE                        Cedar Rapids IA 52401
KGAN-TV 600 Old Marion Rd NE           Cedar Rapids IA 52402
WDBD-TV, One Great Place              Jackson TN 39209
WJHL-TV 338 E. Main St.                           Johnson City TN 37601
WCBD-TV 210 W. Coleman Blvd.            Mt. Pleasant SC 29464
KIVI-TV 1866 E. Chisolm Dr.                     Boise ID 83687
KTRV-TV 1 Sixth St. N.                               Boise ID 83687
KSFY-TV 300 N. Dakota Ave. #100        Sioux Falls SD 57104
KVLY-TV 1350 21st Ave South                  Fargo, ND 58107
WGXA-TV 599 Martin Luther King        Macon GA 31201
WMGT-TV   PO Box 4328                            Macon GA 31208
WRBL-TV 1350 13th Ave.                           Columbus GA 31901
KTKA-TV, 2121 SW Chelsea Dr.       Topeka KS 66614
KTVL-TV 1440 Rossanley Dr.                   Medford OR 97501
KFBB-TV 3012 Highwoods Blvd.               Great Falls MT 59403
KLDO-TV 226 Bob Bullock Loop                Laredo, TX 78040
KGNS-TV   120 W. Delmar Blvd.                Laredo TX 78045
KIEM-TV 5650 S. Broadway                       Eureka CA 95501

*** (Spanish language)