Greetings:
We are uncharacteristically early this week, in part because of the Brickyard 400 race here in Indianapolis, and in part to let YOU know about a chance to win $1,000 and a free trip to the RTDNA convention…but the deadline for this contest entry is midnight tonight!  Look below for the ad.
Just ONE newly named news director in our report this week, while, to the best of my knowledge, there are NO new news director openings.
There are 26 stations in our full list of open ND jobs.
THREE of those stations are advertising for their next ND. Check those ads out below, along with ads for a variety of other news management openings.
Want to win $1,000 and a free trip to the RTDNA conference in Anaheim later this year? Check out our ad below for an awards contest for personal finance reporting. But enter quickly…the deadline is midnight tonight, Eastern time.
Further in our report, there's an obituary for a former Atlanta news director.
In Names in the News, a new president for a new national news network, KTVU-TV in Oakland reportedly dismisses three producers after it broadcast fake names of the Asiana Airlines pilots, and a Virginia news director gets a memorable send-off.
All that following this week's changes: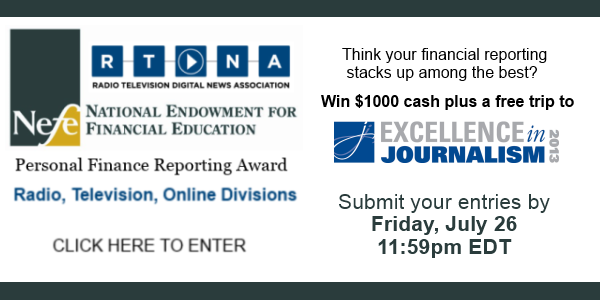 New News Director Opening:
WXMI-TV, Grand Rapids, MI…while this is not a new opening, I did want to point out that the station is advertising the opportunity. Check out their ad below.
Newly Named News Director:
WWBT-TV, Richmond, VA…this one wasn't open long. Just one business day after announcing NANCY KENT-SMITH's promotion to Regional News Director for station owner Raycom, this NBC affiliate promoted FRANK JONES to be her replacement. He's been the Assistant ND here since 2004. He first joined the station in 1992 as a producer and was later named Executive Producer. He also worked as a reporter and anchor in the Tri-Cities market in Tennessee.
Paid Help Wanted Ads:

News Director, WXMI-TV, Grand Rapids, MI:
FOX 17, WXMI a Tribune television station in the 39th market in beautiful West Michigan, is seeking a News Director to lead our news staff.
This aggressive visionary will set the tone and objective of our news coverage on all platforms including online, mobile and social media, and will lead our team in execution of superior breaking news and weather coverage daily. The ideal candidate will work in collaboration with Creative Services, Engineering, Production and Sales.
Requirements include a degree in journalism, mass communications, or equivalent, and previous upper-level news management experience, preferably News Director, Assistant News Director or Executive Producer.
Grand Rapids is less than an hour from Lake Michigan, close to popular ski resorts, and was voted by Forbes magazine as the best place to raise a family and one of the happiest places to work!
Apply on-line at www.tribune.com
EOE

Executive Producer, WRAL-TV, Raleigh, NC:
Would you like to be a leader in a news operation with a commitment to excellence and the resources you need to succeed?
WRAL, the dominant television station in the Raleigh-Durham-Fayetteville market, is seeking a strong Executive Producer to oversee the presentation and look of WRAL newscasts. We're looking for a leader who will coach the producing staff, write and approve scripts, review topical and image promotion, enhance weather and sports coverage and contribute to special coverage and sweeps planning. This person will work closely with our graphics and promotion teams as well as the news management team.
We are looking for a person with outstanding communication skills, superb news judgment who excels at breaking news and has an eye for details. If you have a vision for graphics and a passion for memorable, creative and topnotch newscasts, this is the job for you.
WRAL is locally owned by Capitol Broadcasting Company, a community-oriented company that offers some of the best benefits in the business.
Requirements include five years of experience in producing newscasts, two years of news management experience, a four-year college degree and a pre-employment drug screening.
All candidates must apply online at www.cbc-raleigh.com
EOE, M/F. All Capitol Broadcasting Company properties are tobacco free.
Capitol Broadcasting Company participates in E-Verify.
It is the policy of the company to be fair and impartial in all relations with employees and applicants for employment. No person will be discriminated against in employment because of race, color, religion, age, sex, military status, national origin, physical/mental disability, or any other characteristic protected by applicable federal or state law.
News Director, KMID-TV, Midland, TX:
KMID-TV in Midland, TX is looking for a energetic and motivated News Director who will lead the station to the next level. The newsroom is on the verge of some large improvements and changes and needs someone who can help it through that process and beyond.
The right leader will be able to make decisions regarding hiring, evaluation, and promotion of employees, plan and manage staffing, training, and performance evaluations for the news staff, critique newscasts on a daily basis to improve coverage, mentor reporters, work well with other department heads to reach long-term goals and assume other duties as assigned.
You must have at least a bachelor's degree in Broadcast Journalism or a related field or an equivalent combination of education and work related experience, as well as a minimum five years' experience in news programming production and have at least two years' experience in a leadership role.
This position offers the opportunity to mold a new news effort in an expanding and dynamic market in West Texas. With a thriving economy, a booming population, and a growing thirst for local news, weather, and sports — this is a great time to get into a great market.
Send your material via email to: lherbster@kmid.tv
or via mail to:
KMID-TV
Attn: Larry Herbster
3200 LaForce Blvd
Midland TX 79711

News Director, WUTR?WFXV/WPNY-TV, Utica, NY:
WUTR, WPNY and WFXV in Utica, NY seeks a News Director/Anchor who is aggressive, forward thinking and a creative journalist. We produce news product on three different channels and have the market's only high definition news operation.
The successful candidate must have an understanding of what "local" news is and how to engage our viewers with relevant content. He/she will anchor, producer, hire, mentor and lead a team of skilled professionals. Solid news judgment, great communication skills and exceptional storytelling techniques are a must. 5-10 years of experience as a primary news anchor preferred. Knowledge of eMedia, social media and mobile website journalism is required.
Please send a web link, resume, cover letter and news philosophy to: smerren@wutr.tv
or via mail to:
Stephen Merren
Vice President and General Manager
WUTR/WFXV/WPNY
5956 Smith Hill Road
Utica NY 13502

Assistant News Director, KOAT-TV, Albuquerque, NM:
KOAT, Hearst Television's ABC affiliate in Albuquerque, New Mexico is looking for an Assistant News Director to lead its #1 newsroom.
It's a great opportunity for you to be responsible for overseeing day-to-day operations of editorial content. You must have aggressive breaking news skills, a positive attitude and a pro-active approach to problem solving.
You will be a mentor to the newsroom staff responsible for improving writing and performance issues. Other duties include recruitment, hiring, training, working with the digital team and overseeing special projects.
You will have resources including a helicopter, two satellite trucks and three ENG trucks. KOAT is a Hearst station so there are opportunities for growth in the company.
And earlier this year, USA Today called Albuquerque one of the West's most unique cities, a relaxed but interesting town that deserves a lot more attention.
Successful applicant must have at least five years' experience in TV news with some management experience.
Send resume and link to newscast to News Director Sue Stephens at sstephens@hearst.com
KOAT-TV, a division of Hearst Television, Inc., is an Equal Opportunity Employer.

Morning Executive Producer, KOAT-TV, Albuquerque, NM:
KOAT-TV in Albuquerque, New Mexico, is looking for an executive producer for the morning newscast.
This is an excellent opportunity for a strong producer to get your management stripes. You'll be in charge of a #1 morning newscast with an established anchor team.
You will have resources including a helicopter, two satellite trucks and three ENG trucks. KOAT is a Hearst station so there are opportunities for growth in the company.
And earlier this year, USA Today called Albuquerque one of the West's most unique cities, a relaxed but interesting town that deserves a lot more attention.
You can e-mail your resume and a link to your work to: Sue Stephens, News Director, KOAT-TV at sstephens@hearst.com
You can also send a resume and a non-returnable newscast air-check DVD, along with a cover letter stating where you found out about this job to:
Sue Stephens
News Director
KOAT-TV
3801 Carlisle Blvd NE
Albuquerque NM 87107
KOAT-TV, a division of Hearst Television, Inc., is an Equal Opportunity Employer.

Assistant News Director, WKBN-TV, Youngstown, OH:
WKBN-TV, the CBS affiliated LIN Television Station is looking for an experienced Asst. News Director to skillfully manage our news efforts in this strong CBS/ FOX Duopoly with a SSA for the ABC affiliate in Youngstown, Ohio.
The right person to lead our award winning news organization will have an accomplished record of achievement including previous News management experience. You must be able to think strategically and manage content across a duopoly and SSA stations as well as websites and mobile platforms.
This unique opportunity will IMMEDIATELY entail interim News Director Responsibilities, leading a news operation that is enjoying ratings growth and positive momentum.
This is a great opportunity for the right person; if that's you, then send a cover letter describing your news philosophy and vision. Also include a resume, DVD or online link and references via email to:
Dave Coy, President/General Manager at: dcoy@wkbn.com
Or via mail to:
Debbie Deemer/HR
WKBN-TV
3930 Sunset Blvd.
Youngstown OH 44512
No phone calls please.
Other News Management Openings:
ASSISTANT NEWS DIRECTOR:
KRIV-TV, Houston, TX (listed 6/30/13)
KOAT-TV, Albuquerque, NM (listed 7/20/13, see ad above!)
KMTV, Omaha, NE (listed 6/16/13)
WBND/WCWW-TV, South Bend, IN (relisted 7/5/13)
WBTW-TV, Florence/Myrtle Beach, SC (listed 6/16/13)
WKBN-TV, Youngstown, OH (listed 7/20/13, see ad above!)
EXECUTIVE NEWS PRODUCER:
News 12 New Jersey, Edison, NY (Morning EP, listed 7/5/13)
KRON-TV, San Francisco, CA (relisted 6/30/13)
The Weather Channel, Atlanta, GA (Morning EP, relisted 6/2/13)
WSB-TV, Atlanta, GA (Senior EP, listed 7/5/13)
KRIV-TV, Houston, TX (AM & PM openings, listed 6/30/13)
KCPQ-TV, Seattle, WA (relisted 7/20/13)
WFTS-TV, Tampa, FL (Dayside EP, relisted 7/20/13)
KOVR-TV, Sacramento, CA (listed 6/7/13)
WRAL-TV, Raleigh, NC (new listing this week, see ad above!)
WBAL-TV, Baltimore, MD (Nightside EP, listed 7/13/13)
KUSI-TV, San Diego, CA (relisted 6/23/13)
WDJT-TV, Milwaukee, WI (AM EP, listed 7/5/13)
KOAT-TV, Albuquerque, NM (AM EP, relisted 7/20/13)
WHBQ-TV, Memphis, TN (relisted 6/7/13)
WINK-TV, Ft. Myers, FL (PM EP, relisted 6/16/13)
WCSH-TV, Portland, ME (Dayside EP, listed 6/30/13)
MANAGING EDITOR:
KTVU-TV, Oakland/San Francisco, CA (new listing this week)
Obituary:
RAY MOORE, a former ND and anchor for WSB-TV in Atlanta, died Tuesday, just one month before his 91st birthday. He died at a local hospice from swelling in the brain caused from a fall at home. He worked for WSB two different times, as well as WSB radio and for WAGA-TV in Atlanta. WSB remembered him in this story.
Situations Wanted:
We offer a free situations wanted ad to news managers who are out of work and looking for a new opportunity. If you'd like to state your case to a well targeted audience, email me an item (max. 150 words). You may include a link to a website, an email address, and a photo. You must include your name. I'll run it for one week. I don't represent or endorse those listed, but merely trying to help.
Names in the News…and other stuff:
Veteran ABC News executive KATE O'BRIAN will be the first President of the new Al Jazeera America news network, set to debut on August 20th. Her appointment was one of several announced this week, and you may know some of the other names: former CBS executive MARCY McGINNIS, one time CNN producer DAVID DOSS, and former Miami News Director (and current CNN producer SHANNON HIGH-BASSALIK). Read more about their new jobs…and this new network…by clicking here.
The San Francisco Chronicle reports that KTVU-TV in Oakland/San Francisco has fired three veteran producers. That comes after the station's investigation into its recent broadcast of four fake names as the pilots of the Asiana Airlines flight that crashed earlier this month.
JEFF MULLIGAN, Assistant ND at KFVS-TV in Cape Girardeau, MO, moves to Indianapolis to be the next Assistant ND for WISH-TV.  He's a former EP for WDAF-TV in Kansas City.
We told you a few weeks ago that BILL FOY was stepping down as ND of WSET-TV in Lynchburg/Roanoke, VA, to take a public relations position at Virginia Tech. His last day was this week, and his staff conspired to make it memorable. Click here to see what they did.
GM Note:
After 21 years at the station, and 6 1/2 as General Manager, WAYNE SIMONS announced his retirement from WINK-TV (Ft. Myers, FL) on Wednesday. His last day is today (Friday, July 26th). In a note to the staff, Wayne said he is "looking forward to riding my motorcycle, sleeping in late and just plain having fun." He spent 20 years working for Landmark Communications, first overseeing radio stations in Norfolk, and later as General Manager for KLAS-TV in Las Vegas.
Finally, in our mention last week about PAUL DAVIS, we told you he was the second person to be named Illinoisan of the Year by that state's Broadcasters Association. He's actually the second person to be honored TWICE.
Our Full List of ND Openings:
Here is my list of stations with open ND jobs, as of Saturday, July 20, 2013.
If you know of any additions/deletions/updates, please email me at: rick@rickgevers.com
KWHY-TV 1201 West 5th St., # T-900 Los Angeles CA 90017 *
KMSP/WFTC 11358 Viking Drive Eden Prairie, MN 55344
KTXL-TV 4655 Fruitridge Rd. Sacramento CA 95820
XETV 8253 Ronson Rd. San Diego CA 92111
KCTV 4500 Shawnee Mission Pkwy. Fairway, KS 66205
WXMI-TV 3117 Plaza Dr. NE Grand Rapids MI 49525 (see ad above!)
WHP-TV 3300 North 6th Street Harrisburg PA 17110
KOB-TV 4 Broadcast Plaza SW Albuquerque NM 87104
WLNE-TV 10 Orms St. Providence RI 02904
WRIC-TV 301 Arboretum Place Richmond VA 23236
KTUL-TV 3200 S. 29th West Ave. Tulsa OK 74107
KSNW-TV 833 N. Main Wichita, KS 67203
WEYI-TV 2225 W. Willard Road Clio MI 48420
WSET-TV 2320 Langhorne Rd. Lynchburg VA 24501
KGUN-TV 7280 E. Rosewood St. Tucson, AZ 85710
WIS-TV 1111 Bull St. Columbia SC 29211
WFFF/WVNY-TV 298 Mountain View Dr. Colchester VT 05446
KYTX-TV 2211 ESE Loop 323 Tyler TX 75701
KRCG-TV Highway 54 North Holts Summit MO 65043
KMID-TV 3200 LaForce Blvd. Midland TX 79711 (see ad above!)
WTWO-TV PO Box 9268 Terre Haute IN 47808
WVVA-TV 3052 Big Laurel Highway Bluefield, WV 24701
WUTR/WFXV/WPNY 5956 Smith Hill Rd. Utica NY 13502 (see ad above!)
WLIO-TV 1424 Rice Ave. Lima OH 45805
KVEO-TV 394 N. Expressway Brownsville TX 78521
* Spanish language station