Monday, July 7, 2014 UPDATE:
There's a new news director in the number five market today.
MIKE GARBER has been named VP and News Director for KTVT/KTXA-TV, the CBS owned duopoly in Dallas.
For the past two years, Mike's been the ND at Scripps' WPTV in West Palm Beach. He served as four years as ND for the Gannett duopoly in Jacksonville (WLTV/WJXX) and more than five years as ND of Gannett's WLTX-TV in Columbia, SC. He's also worked as an Assistant ND in Tucson, and as a sports producer in San Francisco and for two stations in Tampa.
At KTVT, he replaces ADRIENNE ROARK who left last month to become General Manager for KOIN-TV in Portland, OR.
More on this story and all the week's news in our full newsletter later this week.
regards,
Rick Gevers
**** ***** ****
Greetings:
Just ONE new news director in this report from a holiday shortened week, although that new ND is in the number three market. And for the second consecutive week, I'm not aware of any new openings.
That change lowers our listing of open ND positions to 25.
We have THREE new help wanted ads in a wide variety of market sizes. And we're featuring ads for the Kneeland Project and for a finance reporting award that will pay the winner $1,000.
Names in the News features a lot of news managers taking new jobs, and a veteran ND turned General Manager lands a new GM job.
Details on all that…and more…below.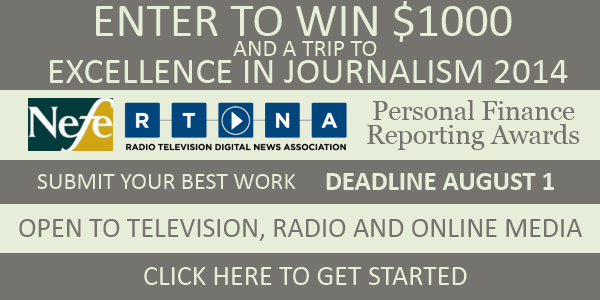 New News Director Openings:
None, that I know of. Do you know of any? Then shoot me an email! rick@rickgevers.com

Newly Named News Directors:
WGN-TV, Chicago, IL…JENNIFER LYONS has been promoted to ND for this Tribune owned station. She's worked there for 21 years, most recently as Assistant ND since 2008. This story on the station's website details her lengthy career at the station. Jennifer has also worked in Des Moines and Davenport, IA. She replaces GREG CAPUTO who retired last Friday after more than eleven years as ND here.
An update on a story from last week. We told you that NORA BALDNER had left her job as ND for KHQA-TV in Quincy. We've since learned she'll be an assistant professor of communication at Quincy University.
Paid Help Wanted Ads:

Morning Executive Producer, WTNH-TV, Hartford/New Haven, CT:
WTNH — the ABC affiliate in the Hartford/New Haven, CT market — has an immediate opening for a morning show Executive Producer.
So what are we looking for?
A real morning show specialist and leader. Someone who can guide the coverage on their shift. Make the important calls as to crews, resources and what gets on the air.
An innovator. We need someone has great ideas and who'll adopt the mantra that today's shows are going to be different than any shows we've aired before.
A motivator. Can you get the people working with you excited about today's challenge?
A Watchdog for the Brand. We're the Voice of the People. That means our stories have to have some viewer benefit and they have to be told through the eyes and voices of real people. We also say "We've Got Your Back" a lot: we want to do stories that stand up for the regular guy, ask tough questions and hold people accountable.
Why New Haven? This is a fantastic part of the country, miles from the Long Island Sound and located in easy driving/train riding distance from New York, Boston, Cape Cod, Philadelphia and the JerseyShore.
WTNH has a large newsroom with three satellite newsrooms, multiple sat trucks, live vans and TVUs. Do you want to work for a newsroom that is growing?
Apply at wthh.com
Equal Opportunity Employer Minorities/Women/Protected Veterans/Disabled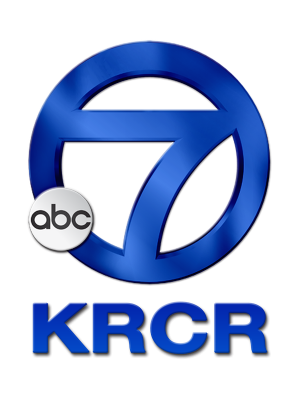 Assistant News Director, KRCR-TV, Redding, CA:
KRCR/KCVU is looking for an Assistant News Director to help manage a dynamic newsroom filled with young journalists eager to be the best they can be.
This is a fantastic opportunity to earn those management stripes.
You will work closely with the News Director in running all aspects of the KRCR news department as well as any new start-up operations.
Duties include supervising all reporters, producers, anchors and photographers as well as overseeing the news production department. You will be instrumental in building and executing a successful strategic plan across our broadcast, web, social media and mobile platforms.
The right person will be an energetic leader with good motivational skills who wants to teach visual storytelling and solid journalism techniques to people who are often just getting their start in the business. Good organizational and computer skills are also a must.
We are a fun group of people who work hard and play hard in gorgeous Northern California. We are surrounded by mountains, lakes, rivers and streams and just a couple of hours away from the beach. It's a great job in a dreamy place to live.
Four years of producing or assignment desk experience is preferred along with a college degree.
Send resume to: Jennifer Scarborough, News Director: jscarborough@krcrtv.com
or via mail to:
Jennifer Scarborough
News Director
KRCR
755 Auditorium Drive
Redding CA 96001
KRCR-TV is an Equal Opportunity Employer.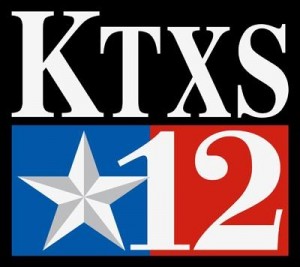 Executive Producer, KTXS-TV, Abilene, TX:
EXECUTIVE PRODUCER/ FILL-IN PRODUCER needed for award-winning ABC affiliate in Abilene, Texas. This position is responsible for training and overseeing our AM, 5p, 6p, 10p, and weekend newscasts.
We are looking for someone who ensures our goals of "getting the facts right, and alerting to weather danger". The right candidate will have strong news judgment, and solid fact checking abilities. Other duties include: rundown supervision, ensuring clear and compelling writing that matches video, and also working with producing staff to develop custom graphics.
This position will assist the Assignment Editor, Internet Content Director, and News Director. This position will also be involved with special projects including elections, ratings periods, and major breaking stories. Creativity is a must, we are looking for an EP to help differentiate our newscasts. This is primarily a dayside Monday- Friday position, however, schedule changes will occur based on training needs. This position will fill-in as producer as needed.
If you are interested in getting into management, this is a great opportunity. At least three years of producing experience required. Send resume and link to News Director Jason Goodwin via email: jgoodwin@ktxs.com or resume and tape via mail to:
Executive Producer Opening
KTXS-TV
Attn: Jason Goodwin
News Director
4420 N. Clack
Abilene TX 79601

The Kneeland Project Accepting Applications Now
Take a few minutes during your holiday weekend and apply today!
You have only a few days left to apply for The Kneeland Project's next session, which will be held September 24-27 in Austin, Texas.
Thanks to Kneeland's generous funders, this opportunity is nearly free for 18 selected participants. The Kneeland Project pays for all tuition costs as well as hotel and several meals.
In a recent survey of Kneeland Fellows, 100% reported they still regularly use lessons learned at Kneeland, believe that time spent at Kneeland improved their career, and said they have recommended Kneeland to a friend or colleague.
You'll join this session's faculty – Joan Barrett, Kevin Benz, Paul Dughi, Jerry Gumbert and Bill Seitzler – to explore the exciting challenges that face our industry, and you'll leave the program with a solid plan to guide your leadership decisions starting the day you return to your newsroom. This isn't theoretical information that you will put on a shelf and neglect. Every participant will walk away with concrete action items to implement immediately that will make a difference in their station…and their life.
It's an intensive program unlike any other. It's practical. It's highly interactive. It produces long-lasting results. Journalists return to their stations refreshed and ready to tackle the sometimes overwhelming challenges newsrooms now face.
Click here for more information and to apply. Remember – apply before Friday, July 11th.  Only 18 news directors will be selected for this program.
Apply now!
Other News Management Openings:
ASSISTANT NEWS DIRECTOR:
WLS-TV, Chicago, IL (listed 5/24/14)
KPHO-TV, Phoenix, AZ (relisted 6/15/14)
KVVU-TV, Las Vegas, NV (relisted 6/15/14)
WHEC-TV, Rochester, NY (relisted 6/15/14)
KRCR/KCVU-TV, Redding, CA: (new listing this week, see ad above!)
WCJB-TV, Gainesville, FL (listed 5/2/11)
EXECUTIVE NEWS PRODUCER:
WFLD-TV, Chicago, IL (AM EP, listed 5/30/14)
WLS-TV, Chicago, IL (relisted 5/24/14)
KTVU-TV, San Francisco/Oakland, CA (Digital EP, listed 6/22/14)
KPHO-TV, Phoenix, AZ (AM EP, relisted 6/15/14)
KING-TV, Seattle, WA (AM EP, listed 6/22/14)
WTNH-TV, Hartford/New Haven, CT (AM EP, new listing this week, see ad above!)
KSHB-TV, Kansas City, MO (relisted 6/15/14)
WDAF-TV, Kansas City, MO (PM EP, listed 6/22/14)
WGHP-TV, Greensboro/High Point, NC (Dayside EP, listed 6/22/14)
WTEV/WAWS, Jacksonville, FL (AM EP, listed 5/11/14)
WJAR-TV, Providence, RI (relisted 6/15/14)
WDTN-TV, Dayton, OH (Nightside EP, listed 5/24/14)
WHAM-TV, Rochester, NY (listed 5/30/14)
WISC-TV, Madison, WI (listed 5/30/14)
WSJV-TV, South Bend/Elkhart, IN (AM EP, listing modified 4/25/14)
KOAA-TV, Colorado Springs, CO (AM EP, relisted 6/22/14)
WCIV-TV, Charleston, SC (relisted 5/24/14)
KTVA-TV, Anchorage, AK (listed 5/2/14)
KTTC-TV, Rochester, MN (relisted 5/30/14)
KTXS-TV, Abilene, TX (new listing this week, see ad above!)
ASSIGNMENT MANAGER:
WSPA-TV, Spartanburg, SC (relisted 5/18/14)
KMTV, Omaha, NE (listed 6/15/14)
MANAGING EDITOR:
WBNS-TV, Columbus, OH (Digital ME, relisted 5/18/14)
WCPO-TV, Cincinnati, OH (relisted 6/7/14)
DIRECTOR OF NEWS TECHNOLOGY:
WSB-TV, Atlanta, GA (listed 5/24/14)
NEWS OPERATIONS MANAGER:
WAVE-TV, Louisville, KY (listed 5/18/14)
Situations Wanted:
We offer a free situations wanted ad to news managers who are looking for a new opportunity. If you'd like to state your case to a well targeted audience, email me an item (max. 150 words). You may include a link to a website, an email address, and a photo. You must include your name. I'll run it for one week. I don't represent or endorse those listed, but merely trying to help.
Names in the News…and other things:
KMOV-TV in St. Louis has a new Assistant News Director. AMANDA PURDUM joins the newly-acquired-by-Meredith CBS affiliate from Magid, where she'd worked as a consultant for eight years. She spent nine years before that at WHOI-TV in Peoria in a variety of roles, including as News Director, Assistant ND, EP, Special Projects Producer, and producer.
SARAH ZAK stays within Scripps as she moves to Assistant ND at the company's WCPO-TV in Cincinnati. Sarah had been the morning EP for sister Scripps station WFTS-TV in Tampa.
One time Cincinnati News Director MATT MILLER moves north to become Senior Executive Producer for WBNS-TV in Columbus. During his career Matt's worked at all four Cincinnati stations, including ND at WXIX-TV, was the startup ND for a Myrtle Beach station, and worked as an anchor/reporter in Macon, GA.
GRETCHEN HJELMSTAD has been promoted to Assistant ND at KVLY/KXJB-TV in Fargo. She's been the EP there, and has worked at the stations for about 5 years.
NOELLE KACHINSKY has been named Assistant News Director for WGXA-TV in Macon, GA. She's previously worked in the Tri-Cities market in Tennessee and Virginia, as well as Spartanburg, SC, Asheville, NC, and for two stations in Green Bay.
Congratulations to our friends at Devlin Design Group, who've scored another big award. This time it's the PromaxBDA Gold Award for Scenic Design for its work on a new set for KSAZ-TV in Phoenix. Learn more in this release.
General Manager Notes:
Former ND MIKE SECHRIST (Fresno, Hartford/New Haven, Pittsburgh, Miami and Dallas) has been named General Manager of WOWK-TV in Huntington/Charleston, WV. Mike has been a GM or interim GM in a number of markets and was active early in new media projects. His full bio is here.
AMY COLLINS has been promoted to GM for WSTM-TV in Syracuse. She's been the Sales Manager for that Sinclair owned station.
Our Full List of ND Openings:
If you know of any additions/deletions/updates, please email me at: rick@rickgevers.com
Here is my list of stations with open ND jobs, as of Sunday, July 6, 2014.
KWHY-TV 1201 West 5th St., # T-900 Los Angeles CA 90017 *
KTVT-TV 5233 Bridge St. Ft. Worth TX 76103
New England Cable News, 160 Wells Avenue Newton, MA 02459
WBZ-TV 1170 Soldiers Field Rd. Boston MA 02134
WFDC-TV 101 Constitution Ave. NW Washington DC 20001 *
KPRC-TV 8181 SW Freeway Houston TX 77074
KIRO-TV 2807 Third Ave. Seattle WA 98121
KCEC-TV 777 Grant St. #110 Denver CO 80203 *
WEWS-TV 3001 Euclid Ave. Cleveland OH 44115
KMAX-TV 2713 Kovr Drive Sacramento CA 95605
KOIN-TV 222 SW Columbia St. Portland OR 97201
WCNC-TV 1001 Wood Ridge Center Dr. Charlotte NC 28217
WHP-TV 3300 North 6th Street Harrisburg PA 17110
WTLV/WJXX-TV, 1070 E. Adams St. Jacksonville, FL 32202
WSET-TV 2320 Langhorne Rd. Lynchburg VA 24501
WFRV-TV 1181 E. Mason St. Green Bay WI 54301
WOI-TV 3903 Westown Parkway West Des Moines IA 50266
KVEO-TV 394 N. Expressway Brownsville TX 78521
WCBD-TV 210 W. Coleman Blvd. Charleston SC 29464
KVRR-TV 4015 9th Ave S Fargo ND 58103
WAKA-TV 3251 Harrison Road Montgomery AL 36109
KLFY-TV 1808 Eraste Landry Rd. Lafayette LA 70506
KPVI-TV 902 E Sherman Pocatello ID 83201 (see ad above!)
KLDO/KXOF-TV 226 Bob Bullock Loop Laredo TX 78040
WBUP/WBKP-TV 1705 Ash Street Ishpeming MI 49849