Greetings:
For a holiday-shortened week, there's a fair amount of ND changes to report to you.  We have  THREE new openings, and just  ONE new ND in today's report.
That brings our always unofficial list of open ND jobs to  30. (Please note we've deleted the open ND listing for KPTM-TV in Omaha, in light of that station's decision to turn its news production over to INN in Davenport, IA).
One of the stations with an opening is re-running its paid ad for that position, and we have some new management openings, too.
We have additional information on a memorial service for a former Florida, Ohio, and Indiana ND, whose passing we reported last week, as well as an obituary for a longtime Massachusetts ND.  We'll tell you about a veteran news manager who's survived an earthquake during back surgery this week, and a new Assistant ND in Georgia.
That's all below, right after this week's changes:
NEW NEWS DIRECTOR OPENINGS:
KVLY-TV, Fargo, ND…JEREMIAH MOERKE is stepping aside as ND for this Hoak Media owned NBC affiliate, but will stay at the station in an yet-to-be-determined role.  He's been ND here since 2007, when he was promoted from Executive Producer.
KTVL-TV, Medford, OR…MANNY SANTIS has taken a job running the Nightside Assignment Desk for WUSA-TV in Washington, DC.  He's been the ND for this Freedom Communications owned CBS affiliate since 2008.
KFBB-TV, Great Falls, MT…CHRIS GROGAN is leaving this ABC affiliate to become ND for KJCT-TV in Grand Junction, CO. More on that below.  Chris was ND here for two years.  The station is owned by Max Media of Montana.
NEW NEWS DIRECTORS:
KJCT-TV, Grand Junction, CO…late this afternoon CHRIS GROGAN was named ND for this News Press and Gazette owned ABC affiliate.  We told you above that he's currently the ND at KFBB-TV in Great Falls, MT.  It's a return to Grand Junction for Chris, who worked as an anchor/reporter at another station.  He's also worked in Springfield, MO, and for News 12 Connecticut.  He replaces KARLA STOTTS who left the station after the May book to pursue other opportunities.  Karla was ND here for more than three years.
**** ***** ****
HELP WANTED AD:

NEWS DIRECTOR, WGME-TV, PORTLAND, ME
WGME-TV, the highly rated CBS affiliate in Portland, Maine is seeking an experienced, hands-on, News Director with strong leadership skills and an aggressive style.
The News Director is responsible for managing WGME's news operations, setting budgets, establishing goals and directing the staff for a news operation producing 41.5 hours of local news weekly. This individual will work closely with local and corporate management to establish news content, philosophy and direction.
The News Director will review daily newscasts to ensure quality control, brand compliance, and subsequently provide feedback to all news staff.   The News Director is responsible for recruiting, hiring and negotiating contracts for news personnel, as well as, initiating and managing content delivery on multiple platforms including web and mobile.  This individual will also collaborate with other managers to develop marketing plans, establish and reach ratings goals.
Qualifications:
• A Journalism degree and a minimum of five years in news management preferred.
• Strong fiscal experience with operational and capital expenditures is required.
• Demonstrated success in building a winning news organization.
• Must have a working knowledge of journalistic ethics, libel, and privacy law as well as experience working in a union environment is strongly preferred
Applicants must apply online to be considered. You can apply at www.wgme.com or www.sbgi.net. No phone calls or emails please. If you don't have access to an on-line computer, please try your local public or school library or your nearest unemployment office.
Sinclair Broadcast Group, Inc. is proud to be an Equal Opportunity Employer and Drug Free Workplace!
**** ***** ****
OTHER NEWS MGMT. OPENINGS:
ASSISTANT NEWS DIRECTOR:
KDKA-TV, Pittsburgh, PA (listed 6/26/10)
WCPO-TV, Cincinnati, OH (listed 6/13/10)
WCNC-TV, Charlotte, NC (listed 6/20/10)
WPTV, W. Palm Beach, FL (listed 5/31/10)
WHAS-TV, Louisville, KY (relisted 6/26/10)
WDSU-TV, New Orleans, LA (7/2/10)
WSYR-TV, Syracuse, NY (listed 6/20/10)
WAOW-TV, Wausau, WI (new listing this week)
KECI/KCFW/KTVM, Missoula, MT (listed 5/31/10)
EXECUTIVE NEWS PRODUCER:
KYW-TV, Philadelphia, PA (listed 6/4/10)
The Weather Channel, Atlanta, GA (listed 4/9/10)
KCBS/KCAL, Los Angeles, CA (PM EP, relisted 5/14/10)
KTVT-TV, Ft. Worth/Dallas, TX (Special Projects EP, listing revised 4/18/10)
WISH-TV, Indianapolis, IN (new listing this week)
KSTU-TV, Salt Lake City, UT (Morning EP, listed 5/31/10)
WTMJ-TV, Milwaukee, WI (AM EP, listed 4/23/10)
WSPA-TV, Spartanburg, SC (relisted 7/2/10)
WOAI-TV, San Antonio, TX (relisted 5/7/10)
KOB-TV, Albuquerque, NM (AM EP, listed 3/27/10)
WTLV/WJXX, Jacksonville, FL (listed 5/21/10)
KJRH-TV, Tulsa, OK (listed 5/31/10)
KOLD-TV, Tucson, AZ (AM EP, listed 6/20/10)
WHAM-TV, Rochester, NY (new listing this week)
KSLA-TV, Shreveport, LA (Morning EP, listed 6/13/10)
WLNS-TV, Lansing, MI (relisted 7/2/10)
MANAGING EDITOR:
KCBS/KCAL, Los Angeles, CA (PM EP, relisted 5/14/10)
NEWS OPERATION MANAGER:
KCBS/KCAL, Los Angeles, CA (relisted 5/14/10)
**** ***** ****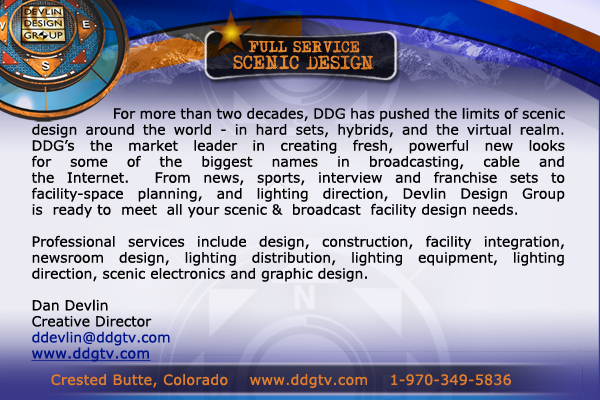 **** ***** ****
NAMES IN THE NEWS:
Old friend MIKE STUTZ is back home after earthshaking back surgery this week.  Mike tells me there was a 5.4 earthquake in San Diego (where the surgery was performed) DURING THE PROCEDURE which shook the operating room but did not affect him.  Mike's currently the Director of News for News Press and Gazette Broadcasting.  He's a former ND in San Diego and Jacksonville, FL, and also worked in St. Louis and Milwaukee.  Cheer him up with a funny email to:  mike.stutz@npgco.com
Congratulations to JENNIFER ATCHISON DALE who's now the Assistant ND for WTVM/WXTX in Columbus, GA.  The move (from her previous job as EP for WMBF-TV in Myrtle Beach, SC) allows her to live closer to her home near Montgomery, AL, and also allows her to stay within Raycom.  Jennifer began her career in Dothan, AL, and has also worked in Mobile, AL.
A memorial service for BILL CRAFTON will be held this Sunday (July 18th) in Carmel, IN (a suburb of Indianapolis).  We told you last week that Bill had died after a long battle with pulmonary fibrosis.  He was 67.  Many of you commented on his well-written blog about that battle.  During his career, he was an ND in Cincinnati, W. Palm Beach, and South Bend, IN.  He started on-air, and once co-anchored with JANE PAULEY in Indianapolis.  Friends will gather at 4:00 on Sunday, July 18th, at the Woodland Springs Club House, 3535 E. 116th St., in Carmel, IN, with a light dinner following.
Funeral services were held last Wednesday (July 7, 2010) for longtime Springfield, MA, News Director KEITH SILVER who died July 2nd at the age of 80.  Keith spent 31 years at WWLP-TV in Springfield, retiring as the station's ND in 1995.  His former station reported on Keith and the services here.
**** **** ****
Here's our list of all the stations currently looking for an ND, as of Friday, July 9, 2010.
If you know of any changes, additions, corrections, or deletions, please let me know via email:  rick@rickgevers.com
KVEA-TV, 3000 W. Alameda Ave.             Los Angeles, CA 91523 ***
KNBC-TV 3000 W. Alameda Ave          Los Angeles, CA 91523
KIAH-TV, 7700 Westpark Dr.                     Houston, TX 77063
KCPQ-TV    1813 Westlake Ave.  N.          Seattle, WA 98109
WZTV-TV   631 Mainstream Drive             Nashville TN 37228
WBNS-TV 770 Twin Rivers Dr.                 Columbus OH 43215
WXMI-TV 3117 Plaza Dr. NE                    Grand Rapids MI 49525
WFMY-TV 1615 Phillips Avenue                Greensboro NC 27405
WTEN-TV   341 Northern Blvd.                   Albany, NY 12204
KMSB-TV 1855 N. 6th Ave.                         Tuscon, AZ 85705
WNWO-TV   300 S. Byrne Rd.                    Toledo OH 43615
WGME-TV 81 Northport Drive        Portland, ME 04103 (see ad above)
KCRG-TV 501 2nd Ave. NE                       Cedar Rapids IA 52401
KGAN-TV 600 Old Marion Rd NE          Cedar Rapids IA 52402
WJHL-TV 338 E. Main St.                           Johnson City TN 37601
WCBD-TV 210 W. Coleman Blvd.           Mt. Pleasant SC 29464
WCTV 1800 Halstead Blvd.                        Tallahassee FL 32309
KIVI-TV 1866 E. Chisolm Dr.                     Boise ID 83687
KTRV-TV 1 Sixth St. N.                               Boise ID 83687
KSFY-TV 300 N. Dakota Ave. #100        Sioux Falls SD 57104
KVLY-TV 1350 21st Ave South            Fargo, ND 58107
WGXA-TV 599 Martin Luther King        Macon GA 31201
WMGT-TV   PO Box 4328                            Macon GA 31208
WRBL-TV 1350 13th Ave.                           Columbus GA 31901
KTVL-TV 1440 Rossanley Dr.             Medford OR 97501
KECI/KTVM/KCFW 340 W. Main St.     Missoula MT 59802
KFBB-TV 3012 Highwoods Blvd.        Great Falls MT 59403
KLDO-TV 226 Bob Bullock Loop                Laredo, TX 78040
KGNS-TV   120 W. Delmar Blvd.                Laredo TX 78045
KIEM-TV 5650 S. Broadway                       Eureka CA 95501

*** (Spanish language)