Thursday, June 9, 2011 UPDATE: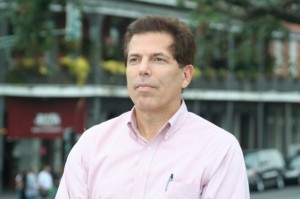 Allen Levy
1951-2011
I'm sorry to report that longtime television newsman ALLEN LEVY died today.
Allen had a long career in our business, and had been working most recently as a producer for CBS Newspath. He was on assignment covering the Arizona wildfires, but did not appear for a live shot this morning for The Early Show. His body was found in his hotel room. A preliminary autopsy report indicates he died of a massive heart attack.
Allen was graduated from the University of Miami and later worked for two stations there, and, according to a memo sent to CBS staffers, also worked for stations in Hartford, Denver, Dallas, Minneapolis and Medford, OR, where he was the ND for KTVL-TV. His Linkedin page has more.
Allen was 59. He would have turned 60 in August.
I'll include details of funeral arrangements, memorial funds, etc., in tomorrow's newsletter if I know them by press time. If not, I'll add them to this website when they are available.
**** ***** ****
Thursday, June 9, 2011 UPDATE:
A veteran large market ND heads back to a newsroom in a move announced today.
ED KOSOWSKI has been named VP/News and Digital Content for KDVR/KWGN-TV in Denver, the Fox/CW duopoly there.  He's been at CNBC in a variety of management roles since 2005.  He previously had been ND for WHDH-TV in Boston and KGO-TV in San Francisco.  Ed's also worked in Washington, Miami, and Chicago.
In Denver, he replaces CAROLYN KANE who left the duopoly in April after two years as ND.
More on this move, and all the week's changes, in the next edition of our full newsletter.
Monday, June 6, 2011 UPDATE:
There are two large market ND changes to tell you about.
KINGSLEY SMITH has been named ND for Fox's KTTV-KCOP-TV in Los Angeles. He's currently the ND for another FOX o-and-o, WTXF-TV in Philadelphia, where he's been since June, 2008.
He'd earlier been ND for (what was then) yet another FOX o-and-o, KTVI-TV in St. Louis for about 18 months, and spent much of his career at Fox's KDFW-TV in Dallas, where he began as a producer and eventually became Assistant ND.   He's also worked in Norfolk and Tyler, TX.
In Los Angeles, he replaces JOSE RIOS who was promoted within Fox to be the company's VP of Digital News Applications earlier this year. He'd been ND there for 19 years.
Meanwhile, ROD GRAMER has been named VP/GM of BAY NEWS 9, the 24 hour cable news operation serving the Tampa area.  Rod is leaving KGW-TV in Portland, where he's been ND since 1998.  He spent ten years before that as ND for the company's KTVB-TV in Boise, ID and earlier worked for the Idaho Statesman newspaper.
At Bay News 9, he replaces TERRY DOLAN who left earlier this year.
More on these moves and all the week's changes in our full newsletter later this week.
**** ***** ****
Greetings:
The rating book has ended and the ND changes have started.  We have FOUR new NDs to share with you and FOUR new ND openings.
That brings our list of open ND jobs to 33.
We're have paid ads for two of those listed ND jobs…a new one for an ND/anchor at a startup in New York state, and a repeat of last week's ad for an Ohio ND job.  We also have a new blind box ad for an ND job in a top 75 market.  There's also an ad for a management spot at the Weather Channel, and our first-ever help wanted ad for a full-time helicopter pilot.  (YOU may not be a helicopter pilot…but you might know one who is, and might be looking for a good job.  Make a friend and pass 'em the information in the ad below.)
There's just one Name in the News, and just one addition to our list of Other News Management Openings.
New News Director Openings:
KWWL-TV, Waterloo, IA…NATE LEDING is leaving at the end of the month.  He was promoted to the ND job just over two years ago.  He had been the EP for this Quincy Newspaper owned NBC affiliate.  Nate's a former ND in Alexandria, MN, and has worked in Minneapolis, Phoenix, Columbia, SC, and for ESPN and Conus Communications.
KBAK/KBFX-TV, Bakersfield, CA…DOUG BARDEN is leaving this Fisher Broadcasting owned CBS/FOX duopoly to become ND at KSBY-TV in San Luis Obispo, CA (more on that below).  Doug's been ND here for about 2 1/2 years.
WAOW-TV, Wausau, WI…this Quincy Newspaper owned ABC affiliate is looking for an ND.  KATHY REYNOLDS has been overseeing the newsroom as Assistant News Director, but she's headed to WEYI-TV in Flint, MI, as ND (more on that below).
KVEO-TV, Brownsville, TX…congratulations to JON McCALL who is retiring (again, he tells me!) after about nine months as ND here. He plans to stay in the area. Jon's a former ND in Decatur, IL, Bangor, ME, and Harrisburg, PA. KVEO is an NBC affiliate and is owned by Communications Corporation of America.
Newly Named News Directors:
WJRT-TV, Flint, MI…JAYNE HODAK has been promoted to News Director for this SJL Broadcasting owned ABC affiliate.  She has been the Assistant ND here, and replaces longtime WJRT ND JIM BLEICHER. Bleicher left the station in late March, shortly after SJL took over ownership of the station from ABC, from whom SJL had bought the station in 1995.  Jayne's a former EP in Raleigh, and has also worked in Lansing and Detroit, where her father JERRY HODAK spent many years as the chief meteorologist for WXYZ-TV.
WEYI-TV, Flint, MI…as noted above, KATHY REYNOLDS has been named ND for this Barrington Broadcasting owned NBC affiliate.  Kathy has been running the newsroom at WAOW-TV in Wausaw, WI, most recently.  Earlier she was an investigative reporter and Special Projects Manager for WGGB-TV in Springfield, MA.  She's also worked in Grand Rapids, MI, Burlington, Fargo, and Elmira, NY.  She replaces JEFF REINARZ who continues as Media Operations Manager here, overseeing promotion and operations.  He's been doing double duty as ND since January, 2009.
KSBY-TV, San Luis Obispo, CA…in another move mentioned above, DOUG BARDEN has been named ND here.  Doug's been the ND for KBAK/KBFX-TV in Bakersfield, CA, for more than two years.  He's also been an ND in Cheyenne, WY, and an assistant ND in Salt Lake City and also worked in Reno.  At KSBY, he replaces DAVE SCHERMER who served almost five years as ND for this Cordillera Broadcasting owned NBC affiliate before announcing his departure in April.
KFBB-TV, Great Falls, MT…DAN CLOUSE will be the next ND (and 5:00 & 6:00 anchor) for this Max Media owned ABC affiliate.  Dan's a former ND in Butte, MT, and has also worked in Lufkin, TX, Omaha, and La Crosse, WI.  For the last four years, he's been working as a broadcasting instructor at Western Illinois University in Macomb, IL.  He replaces CHRIS GROGAN, who left the station in July, 2010, to become an ND In Grand Junction, CO.
**** ***** ****
Help Wanted Ads:

News Director/Anchor, WUTR/WPNY/WFXV-TV, Utica, NY:
WUTR, WPNY and WFXV in Utica, NY seeks a News Director who is aggressive, forward thinking and a creative journalist.  We are adding local news on our ABC and FOX channels in September.
This is an exciting opportunity to build a news organization from the ground up. The successful candidate will anchor, producer, hire, mentor and lead a team of skilled professionals.  Solid news judgment, great communication skills and knowledge of relevant local news content are a must.  This position will also include anchoring two newscasts a night.  5-10 years experience as a primary news anchor preferred.  Knowledge of eMedia, social media and mobile website journalism required.
Please send a DVD or web link, resume, cover letter and news philosophy to:
Stephen P. Merren
Vice President & General Manager
Nexstar Broadcasting Group
5956 Smith Hill Road
Utica, NY 13503
e-mail: smerren@nexstar.tv
**** ***** ****
Blind Box News Director Ad, Top 75 Market:
We're looking for a dynamic person to lead our News Department. The successful candidate will have the ability to motivate and guide our staff while teaching and mentoring. Prior News Director experience is necessary. What is also necessary is the ability to grow and develop a top quality news product. You must be competitive and have an innate understanding and ability to produce compelling, topical, interesting, informative newscasts. Developing a successful working relationship with the other station Department Heads will also be vital.
This is a great opportunity for the right person. If that's you then send out a cover letter today describing your news philosophy/vision and tell us how and why you'd be a great News Director. Also include a resume, references and recent newscast on DVD or provide a Web link:
Blind Box Ad 6/3
c/o Rick Gevers & Associates
PO Box 577
Zionsville IN 46077
If you're sending a link to a recent newscast, you can apply via email to: NDad6/3@rickgevers.com
We'll fill this position as soon as we find the right person!  We are an Equal Opportunity Employer.  Women and minorities are encouraged to apply. Closing date June 20, 2011 or until the position is filled.
**** ***** ****

Director of Cross Platform Production, The Weather Channel:
The Director of Cross Platform Production is responsible for managing a team of producers to ensure timely and accurate delivery of video forecasts and stories across all The Weather Channel platforms and outside partners. This manager will oversee daily editorial process and will monitor and react appropriately to the video numbers supplied by Omniture to work quickly to optimize video consumption. This person will work closely with all producers/product managers across all platforms of TWC to ensure each gets the needed content and will advocate placement of video across platforms, on new technology, and in any form that best showcases our content to consumers.
Specific Responsibilities:
· Develop strategies to grow video consumption on all platforms as well as cross platform promotion.
· Perform competitive and marketplace analyses to assess trends and develop innovative and dynamic strategies surrounding video content and usage.
· Work effectively with cross-functional team (meteorologists, producers, designers, developers & product managers) to effectively deliver consistently excellent, compelling content in its most effective form to the particular platform.
· Produce multimedia content (video, audio, maps, data presentation) that aligns with programming initiatives.
· Maintain knowledge of all technologies and platforms that will put our video in the hands of viewers and users.
Required experience:
· 5 years management experience in television or web.
· Experience in television and web producing preferred.
· Must know how to write, produce, and edit for TV and interactive platforms.
· Thrives in a multi-team, multi-in-house customer environment.
Apply to:
Jennifer Rigby
Multi-Media Content Director
The Weather Channel
300 Interstate North Parkway
Atlanta, GA 30339
or via email to: jrigby@weather.com
**** ***** ****

Helicopter Pilot, KWTV, Oklahoma City, OK:
KWTV, the CBS affiliate in Oklahoma City, is in need of an experienced helicopter pilot. We own and operate a Bell 407, fully HD, state-of-the art helicopter.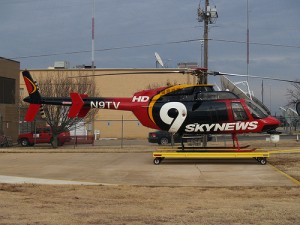 We would like to find someone with experience flying for TV stations. This is a full-time position. We will gladly pay for additional training needed to fly a Bell 407.
KWTV is owned by Griffin Communications, a family owned media company based right here in OKC. If you aren't familiar with OKC, it is a progressive city in the middle of a 30 year development strategy. We have one of the best cost of living rates in the country. And we have the NBA's Thunder.
You can apply directly to News Director Todd Spessard: todd.spessard@news9.net.
Also, if you know of pilots who may have lost flight time due to budget cuts, consolidation, etc., please forward this information to them.
**** ***** ****

News Director, WTOL-TV, Toledo, OH:
WTOL-TV, Toledo's News Leader, seeks an experienced News Director with a track record of effective team building, aggressive news coverage including demonstrable skills online and strong leadership skills.
Applicants should be prepared to discuss mobile strategies and the effective use of social media in the contemporary broadcast environment. The successful candidate will have examples of creative approaches to executing an established news brand and experience managing financial, technical and people resources. The successful candidate will be called upon to provide strategic direction for daily news coverage as well as working closely with the General Manager on long range planning, special news coverage and station projects.
The News Director leads the station's Content Department—the largest single department in the station– and is expected to work closely with other Department Heads. Candidates should have at least two years previous News Director experience and at five years previous experience in newsroom leadership roles.
WTOL is part of Raycom Media and is a CBS Television affiliate. Send resume and a letter of introduction to Steven Ackermann, Raycom Media Regional News Director via email to SAckermann@Raycommedia.com
No phone calls. EOE.
**** ***** ****
Other News Management Openings:
Assistant News Director:
WFLD-TV, Chicago, IL (listed 4/22/11)
KHOU-TV, Houston, TX (listed 4/15/11)
KSDK-TV, St. Louis, MO (relisted 5/8/11)
WTHR-TV, Indianapolis, IN (listed 5/1/11)
WRTV, Indianapolis, IN (listed 4/22/11)
WVIT-TV, Hartford/New Haven, CT (relisted 4/15/11)
WISN-TV, Milwaukee, WI (relisted 4/15/11)
KXAN-TV, Austin, TX (listed 5/8/11)
WAVE-TV, Louisville, KY (listed 5/27/11)
KVOA-TV, Tucson, AZ (listed 3/31/11)
Executive News Producer:
The Weather Channel, Atlanta, GA (Weekend EP, listed 5/13/11)
KPHO-TV, Phoenix, AZ (relisted 3/31/11)
KTVK-TV, Phoenix, AZ (AM EP, listed 5/8/11)
Northwest Cable News, Seattle, WA (AM & PM EP, listing revised 5/27/11)
KXTV, Sacramento, CA (relisted this week)
WTAE-TV, Pittsburgh, PA (Dayside EP, listed 3/25/11)
WRAL-TV, Raleigh, NC (listed 4/9/11)
WXIN-TV, Indianapolis, IN  (relisted 4/15/11)
WVIT-TV, Hartford/New Haven, CT (relisted 4/15/11)
WCPO-TV, Cincinnati, OH (2 openings, AM & afternoon, listing revised 4/15/11)
WTMJ-TV, Milwaukee, WI (Special Projects EP, relisted 4/15/11)
WXII-TV, Winston-Salem, NC (AM EP, relisted 4/15/11)
KVOA-TV, Tucson, AZ (AM EP, listed 3/31/11)
WNWO-TV, Toledo, OH (AM EP, new listing this week)
KRXI-TV, Reno, NV (PM EP, listed 5/20/11)
Special Projects Producer:
WTSP-TV, Tampa/St. Petersburg, FL (listed 5/20/11)
WSVN-TV, Miami, FL (relisted 4/15/11)
Managing Editor:
WFTS-TV, Tampa, FL (listed 4/15/11)
**** ***** ****
Name in the News:
PATRICK O'CONNOR joins WBRC-TV in Birmingham as EP for the early evening and late newscasts.  Patrick currently works at Bay News 9 as EP and Managing Editor of the weekend news.  He's also worked in Pittsburgh, New Orleans, Providence, and Little Rock.
**** ***** ****
The Full List:
To the best of my knowledge, here is the list of stations with open news director jobs, as of Friday, June 3, 2011.
If you know of any additions/deletions/changes/updates, please email me at: rick@rickgevers.com
KMEX-TV 5999 Center Dr.                                  Los Angeles CA 90045  **
KTTV/KCOP-TV 1999 S. Bundy Dr.                Los Angeles CA 90025
KARE-TV 8811 Olson Memorial Hwy.          Minneapolis MN 55427
KDVR/KWGN-TV 100 Speer Blvd.                 Denver CO 80203
KOIN-TV   222 SW Columbia St.                      Portland OR 97201
WTNH/WCTX-TV 8 Elm St.                              New Haven CT 06510
WAVY-TV 300 Wavy St.                                     Portsmouth VA 23705
WPMI-TV 661 Azalea Road                              Mobile AL 36609
KMSB-TV     1855 N. 6th Ave.                             Tucson AZ 85705
WTOL-TV 730 N. Summit St.                          Toledo OH 43604
WMTW-TV 99 Danville Corner Road           Portland ME 04210
WSYR-TV 5904 Bridge St.                               Syracuse NY 13057
WIS-TV 1111 Bull St.                                          Columbia SC 29201
KWWL-TV 500 East Fourth St.                   Waterloo IA 50703
KVEO-TV 394 N. Expressway                      Brownsville TX 78521
WJCL/WTGS-TV 10001 Abercorn St.           Savannah GA 31406
KVAL-TV   4575 Blanton Road                          Eugene OR 97405
KBAK/KBFX 1901 Westwind Dr.                 Bakersfield CA 93301
WREX-TV 10322 W. Auburn Rd.                     Rockford IL 61105
WAOW-TV 1908 Grand Ave.                         Wausau WI 54403
WSAW-TV 1114 Grand Ave.                               Wausau WI 54403
KTKA-TV   2121 SW Chelsea Dr.                       Topeka KS 66614
WFXL-TV 1211 N. Slappey Blvd.                       Albany GA 31707
WOAY-TV Rte. 16 South                                     Oak Hill WV 25901
KIMT-TV 112 N. Pennsylvania Ave.                 Mason City IA 50401
WJHG-TV 8195 Front Beach Rd.                      Panama City Beach FL 32407
WCJB-TV 6220 NW 43rd St.                              Gainesville FL 32653
KSWT-TV 1301 Third Ave.                                  Yuma AZ 85364
KYMA-TV 1385 S. Pacific Ave.                          Yuma AZ 85365
WUTR/WPNY/WFXV-TV 5956 Smith Hill Rd.  Utica NY 13502
WLUC-TV 177 US Highway 41 East                Negaunee MI 49866
KGNS-TV   120 W. Delmar Blvd.                       Laredo TX 78045
KSAN/KLST-TV 2800 Armstrong                     San Angelo TX 76903
** Spanish language station