Greetings:
We have a flurry of new NDs to share with you this week. FOUR newly named NDs with just ONE new opening bring our count of open ND jobs to 21. However, as more than one of you have suggested to be in the past few days, that count could increase now that the rating period is over.
We have a new ad for a Morning EP opening in sunny Florida, as well as ads for a Managing Editor in Sacramento, a producer opportunity in a top ten market, and a small market ND job.
If your (and your station) are interested in an international partnership, we had an ad for such an opportunity.
We have an obituary for the father of a long-time ND turned GM, two former NDs takes new jobs, and baby news for an Indiana news director.
All that, and more, after this week's changes.
New News Director Opening:
WEYI-TV, Flint MI…KATHY REYNOLDS is leaving this Barrington (for now) station to become ND for WGME-TV in Portland, ME. More on that below.
Newly Named News Directors:
WZTV, Nashville, TN…BRYAN McGRUDER has been named ND for this Sinclair owned FOX affiliate. Bryan most recently spent ten years as the ND for WDAF-TV, the FOX affiliate in Kansas City. He's also been an ND in Memphis and Savannah, GA, and worked as a reporter and/or anchor in Huntsville, Jackson, MS, and Meridian, MS. He replaces ROBERTA PETTERSON who left the station in January after 2+ years as ND. She's now an EP at WSMV-TV in Nashville.
WDTN-TV, Dayton, OH…DENISE ECK moves up I-75 to become ND for this LIN Media owned NBC affiliate. She's been the Assistant ND for WCPO-TV in Cincinnati for the past 2+ years. Before that, she was an ND in Topeka but began her career as a reporter and anchor in Roanoke, Wichita, Joplin, and Columbia, MO. At WDTN, she replaces STEVE DIORIO who left the station in December, shortly after the arrival of a new GM. Steve was ND there for five years.
WGME-TV, Portland, ME…KATHY REYNOLDS is headed east to become ND for this Sinclair owned CBS affiliate. We told you above that she was leaving her job as ND for WEYI-TV in Flint. She also had corporate oversight for sister-Barrington station WNWO-TV in Toledo. Kathy's worked in Wausaw, WI, and as a reporter in Springfield, MA, Grand Rapids, MI, Burlington, Fargo, and Elmira, NY. She replaces MIMI STRAWN who left in January after two years as ND.
WREX-TV, Rockford, IL…JOSH MORGAN gets his first ND job as he's moving to this Quincy owned NBC affiliate. He's been an EP for WPSD-TV in Paducah, KY, and earlier worked as a producer in Green Bay, WI. He replaces MIKE COSTELLO who left the station a few months ago to take a job out of television. He was ND there for less than a year.
Help Wanted Ads:

Morning Executive Producer, WTEV/WAWS-TV, Jacksonville, FL:
COX Media Group's FOX 30 WAWS-TV, CBS47 WTEV-TV and MY Network stations are looking for a creative and dynamic morning show leader. We need someone who is all about the product and production of the morning news time period on all platforms. The morning E.P. must be a hands-on leader who manages high story count, flow and execution of the four-and-a-half hour newscast on two stations. The morning E.P. works with our morning meteorology team to make sure we own the weather story every day.
The successful candidate will be able to lead and motivate young journalists. We need someone who lives for breaking news, knows how to capture emotion and who can produce newscasts that drive ratings. You must have flexibility to work nights, weekends and changing schedules.
By the way, you get to do this while working at a CBS/FOX/My Network triopoly and while living in a sunny beach climate.
If you are ready for the challenge, send resume and link to: mmccormick@actionnewsjax.com
or via mail to:
Mike McCormick
News Director
11700 Central Parkway
Unit #2
Jacksonville, FL 32224
We are an equal opportunity employer.

News Director, WVVA-TV, Bluefield, WV:
We're looking for a dynamic newsroom leader to take our award winning team to the next level.
WVVA TV, in beautiful Bluefield, WV, a dominant NBC affiliate is searching for a News Director to help guide our news department to new heights of journalistic and ratings success. This is an exciting opportunity to lead a great team.
The successful candidate will be responsible for establishing and maintaining market leading standards for newsroom operations and content. Other duties include hiring, coaching, supervising and evaluating news personnel, as well as preparation and administration of newsroom budgets and capital requests. The News Director is expected to work closely with other department managers to achieve the company's overall performance goals.
A minimum of 8 years television news management experience and a college degree in broadcast journalism preferred. Candidate must be able to demonstrate strong working knowledge of community issues, as well as sound journalistic principles. Must have the ability to make fast, accurate journalistic and logistical judgments. Excellent communication skills are required.
If you have a passion for excellence, and a burning desire to lead the number one television news team in the Bluefield/Beckley WV market we want to hear from you.
WVVA offers a competitive salary, traditional benefits package, plus health club membership.
WVVA Television, Inc. is an equal opportunity employer.
Please send your resume and cover letter to:
or mail to:
News Director Opening
3052 Big Laurel Highway
Bluefield WV 24701
Interviewing will begin immediately.

Newscast Producer, WSB-TV, Atlanta, GA:
WSB TV is looking for an experienced newscast producer/writer. WSB producers create and execute newscasts based on research information and goals. They collaborate with reporters on best video and stories of the day. Newscasts will have a high story count, with local significant stories that reach every key county in our viewing area.
A Minimum of four years line producing in medium to large markets is required.
Please send resume and link to a newscast to: suzanne.nadell@wsbtv.com
or mail resume and DVD to:
Suzanne Nadell
Executive Producer
WSB TV Channel 2
1601 West Peachtree St.
Atlanta GA 30309

Managing Editor, KCRA-TV, Sacramento, CA:
KCRA 3 TV has an immediate opening for a dynamic Managing Editor to lead one of the top newsrooms in this country.
"Where the News Comes First" is not only our brand – it's our deep commitment to journalistic excellence. As the consistently #1 ratings leader in our market, we set the bar high for excellent storytelling, aggressive investigative reporting and outstanding breaking news coverage.
Our Managing Editor is a key newsroom leader who oversees and drives our daily newsgathering, coverage and content.
Our ideal candidate:
Knows how to coach a team of seasoned reporters on strong multi -platform storytelling
Leads editorial meetings that produce fresh enterprising stories
Skillfully executes a take-no-prisoners approach to breaking news coverage
Works collaboratively with our excellent news management team
Oversees the assignment desk in both day-to-day coverage and long range planning
We are looking for a news manager with at least five years of management experience. He/she must possess superior news judgment and a very strong competitive drive to win. It is essential that our Manager Editor has exceptional people skills, and a passion to coach, mentor and inspire.
It's a tall order! But the rewards are many. Hearst Television is an outstanding company and at KCRA, you'll be working at a station located in a great place to live in Northern California.
Interested candidates should send their resumes and cover letters to :
Lori Waldon, KCRA 3 News Director: lwaldon@hearst.com
Or via mail to:
Lori Waldon
News Director
KCRA 3 News
3 Television Circle
Sacramento, CA 95814
Absolutely no phone calls!
Other News Management Openings:
ASSISTANT NEWS DIRECTOR:
WISH-TV, Indianapolis, IN (listed 1/12/13)
WRTV, Indianapolis, IN (listed 2/15/13)
KVUE-TV, Austin, TX (relisted 2/2/13)
WNCT-TV, Greenville/New Bern, NC (relisted 2/2/13)
EXECUTIVE NEWS PRODUCER:
KNBC-TV, Los Angeles, CA (PM EP, relisted 2/23/13)
KRON-TV, San Francisco, CA (listed 12/22/12)
KDFW-TV, Dallas, TX (Morning EP, relisted 2/2/13)
KING-TV, Seattle, WA (Two openings, AM & PM/EP, listing updated 2/2/13)
KXNV-TV, Phoenix, AZ (Special Projects EP, relisted 2/15/13)
WFTS-TV, Tampa, FL (Dayside EP, listed 12/30/12)
KOIN-TV, Portland, OR (listed 1/19/13)
WRAL-TV, Raleigh, NC (AM EP, relisted 1/12/13)
WXIN-TV, Indianapolis, IN (PM EP, listed 1/19/13)
KUSI-TV, San Diego, CA (relisted 2/2/13)
WBRC-TV, Birmingham, AL (PM EP, listed 1/6/13)
WVEC-TV, Norfolk, VA (listed 2/15/13)
WFMY-TV, Greensboro, NC (listed 2/2/13)
WTEV/WAWS-TV, Jacksonville, FL (AM EP, new listing this week, see ad above!)
WTLV/WJXX-TV, Jacksonville, FL (PM EP, listing revised 2/2/13)
KFSN-TV, Fresno, CA (AM EP, listed 2/15/13)
WINK-TV, Ft. Myers, FL (PM EP, relisted 2/2/13)
KHQ-TV, Spokane, WA (listed 1/19/13)
WIS-TV, Columbia, SC (AM EP, listed 2/2/13)
WCYB-TV, Bristol, TN (relisted 2/2/13)
KOLO-TV, Reno, NV (Morning EP, relisted 2/15/13)
MANAGING EDITOR:
KNBC-TV, Los Angeles, CA (relisted 2/23/13)
KCRA-TV, Sacramento, CA (relisted 2/23/13, see ad above!)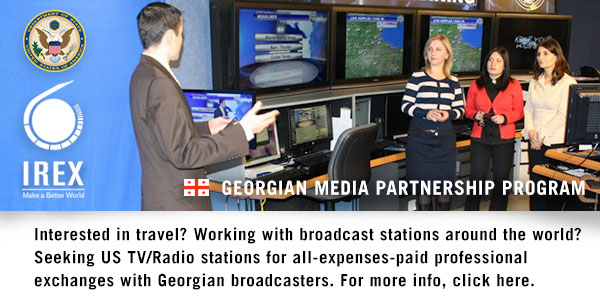 Obituary:
Our sympathy to old friend TIM LARSON on the loss of his father, DON LARSON, who died last week after a battle with cancer. Mr. Larson is also survived by his wife of 61 years, JACQUELINE, and Tim's sister, MARCIA. More on his life here.
Tim is currently GM for KRDO-TV in Colorado Springs. He's also been a GM in Idaho Falls, and an ND in St. Louis, Indianapolis, Cincinnati, and Buffalo, and has worked in Detroit and Birmingham. Your note of sympathy will find Tim at: timothy.larson@krdo.com
Situations Wanted:
We offer a free situations wanted ad to news managers who are out of work and looking for a new opportunity. If you'd like to state your case to a well targeted audience, email me an item (max. 150 words). You may include a link to a website, an email address, and a photo. You must include your name. I'll run it for one week. I don't represent or endorse those listed, but merely trying to help.
Names in the News:
Former WGCL-TV (Atlanta) News Director ERIC LUDGOOD joins WAGA-TV in Atlanta as Assistant ND.
MARK RIGSBY is the new EP for WJTV in Jackson, MS. He most recently was the ND for WVVA-TV in Bluefield, WV.
Congratulations to WXIN-TV News Director LEE ROSENTHAL and his wife JOANNA on the birth of their first child, SHEA CHARLOTTE ROSENTHAL who was born February 21st. Shea weighed just under six pounds and measured 19.4 inches long. Lee tells me that Shea and her mom (a former TV reporter) are doing well. You can congratulate the tired papa via email: lmrosenthal@fox59.com
Our Full List of ND Openings:
Here is my list of stations with open ND jobs, as of Saturday, March 2, 2013.
If you know of any additions/deletions/updates, please email me at: rick@rickgevers.com
WPIX-TV 220 E. 42nd Street New York NY 10017
KWHY-TV 1201 West 5th St., # T-900 Los Angeles CA 90017 *
KTVU-TV 2 Jack London Square Oakland CA 94607
WGCL-TV 425 14th St. NW Atlanta GA 30318
KRIV-TV 4261 Southwest Freeway Houston TX 77027
KOVR-TV 2713 Kovr Drive Sacramento CA 95605
WTHR-TV 1000 N. Meridian St. Indianapolis IN 46204
KTVX-TV 2175 W. 1700 South Salt Lake City UT 84104
KSNV-TV 1500 Foremaster Lane Las Vegas NV 89101
KFOR-TV/KAUT-TV 444 E. Britton Rd. Oklahoma City OK 73114
WPTY/WLMT 2701 Union Ave. Ext. Memphis TN 38112
KSNW-TV 833 N. Main Wichita, KS 67203
KWCH-TV 2815 East 37th Street North Wichita KS 67209
WEYI-TV 2225 W. Willard Road Clio MI 48420
KRDO-TV 399 S. 8th St. Colorado Springs CO 80905
KINT-TV 5426 North Mesa El Paso TX 79912 *
KEYT-TV 730 Miramonte Dr. Santa Barbara CA 93109
KRIS/KZTV 301 Artesian St. Corpus Christi, TX 78401
WTVA-TV PO Box 350 Tupelo MS 38802
WVVA-TV 3052 Big Laurel Highway Bluefield, WV 24701 (see ad above)
WBBJ-TV 346 Muse St. Jackson TN 38301
* Spanish language station