Greetings:
Just ONE new ND opening in this week's report, and to the best of my knowledge, there are NO newly named NDs. (If you know otherwise, please email me!)
That brings out count of open ND positions to 31.
But read on…we have lots of other news for you, including a paid help wanted ad for that one new opening. We've also freshened our list of Other News Management Openings.
And we have lots of news in our Names in the News column, including new responsibilities for three longtime news directors.
All that and more after this week's changes:
New News Director Openings:
WTAJ-TV, Altoona, PA…after three years as ND for this Nexstar owned CBS affiliate, DAVID KAPLAR is returning to where his career began. He's joining WEWS-TV in Cleveland as Assistant news director. Dave interned at WEWS, worked there, and later became an ND in Portland, ME. He also worked in Denver, Dallas, and Boston.
Newly Named News Directors:
None that I know of. If you know something, please email me!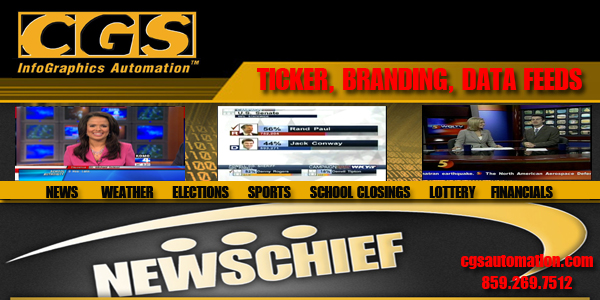 Help Wanted Ad:

News Director, WTAJ-TV, Altoona, PA:
WTAJ Your News Leader, a Nexstar Broadcasting station, is seeking an experienced television News Director to keep us winning and growing. Candidate must have sound news judgment, strong leadership, and exemplary people skills. This aggressive station wants a leader with the ability to motivate the team and have an unwavering commitment to community, and vision. The ideal candidate is able to identify, develop, motivate and inspire staff and must have a passion for being the leader in developing and executing content for on-air, online and other digital platforms.
The position requires a minimum of 3 years of news management experience and a deep understanding of news in the digital world.
Send cover letter, resume and list of references to apply@wtajtv.com or:
WTAJ-TV
c/o VP/GM
5000 6th Avenue
Altoona PA 16602
WTAJ-TV is an equal opportunity employer.

**** ***** ****
Other News Management Openings:
ASSISTANT NEWS DIRECTOR:
KRIV-TV, Houston, TX (listed 2/10/12)
WITI-TV, Milwaukee, WI (listed 2/17/12)
WMC-TV, Memphis, TN (relisted 3/3/12)
WREG-TV, Memphis, TN (relisted 2/10/12)
KARK-TV, Little Rock, AR (new listing this week)
WDTN-TV, Dayton, OH (listed 1/27/12)
KTIV-TV, Sioux City, IA (listed 2/10/12)
EXECUTIVE NEWS PRODUCER:
KDFW-TV, Dallas, TX (Morning EP, listed 1/20/12)
KTVT-TV, Dallas/Ft. Worth. TX (dayside EP, listed 2/10/12)
The Weather Channel, Atlanta, GA (relisted 12/16/11)
KPRC-TV, Houston, TX (listing revised 1/20/12)
WTSP-TV, Tampa, FL (AM EP, new listing this week)
WTAE-TV, Pittsburgh, PA (Dayside EP, relisted 2/10/12)
WCNC-TV, Charlotte, NC (new listing this week)
WTHR-TV, Indianapolis, IN (Dayside EP, listed 1/27/12)
WLWT-TV, Cincinnati, OH (AM EP, new listing this week)
WPTV, West Palm Beach, FL (PM EP, listing modified 3/17/12)
WPMT-TV, Harrisburg, PA (AM EP, relisted 2/17/12)
WHBQ-TV, Memphis, TN (relisted 12/31/11)
WJXT-TV, Jacksonville, FL (PM EP, listed revised 3/10/12)
WINK-TV, Fort Myers, FL (Dayside EP, relisted 3/10/12)
WHIO-TV, Dayton, OH (listed 1/27/12)
KMTV, Omaha, NE (listed 2/10/12)
WCYB-TV, Bristol, TN (listed 2/17/12)
KHBS/KHOG-TV, Ft. Smith, AR (Digital Media Mgr., listed 2/17/12)
WLNS-TV, Lansing, MI (relisted this week)
MANAGING EDITOR:
KXTV, Sacramento, CA (relisted this week)
**** ***** *****
Names in the News:
KERWIN SPEIGHT moves to WRAL-TV in Raleigh as an executive producer. For the last two years, Kerwin has been an EP for WTAE-TV in Pittsburgh. He's also worked for WBAL-TV in Baltimore (twice), KCRA-TV in Sacramento, and KHOU-TV in Houston. He's a graduate of American University.
WSMV-TV in Nashville also has a new executive producer. JASON GIL BEAR joins that Meredith-owned NBC affiliate from KRQE-TV in Albuquerque, NM, where he's been the morning EP. He's also been a producer at associate producer for KRQE-TV.
JASON GOODWIN is the new Assistant News Director for KTXS/KTAB-TV in Abilene, TX. He most recently was an EP for KOKI-TV in Tulsa, has worked as a senior producer for WPIX-TV in New York, and also worked in Tampa and Oklahoma City. Warning: blatant self-promotion ahead: KTXS ND GEORGE LEVESQUE tells me Jason learned about the job from an ad in this newsletter.
PRINCELL HAIR has been promoted to Senior Vice President of News and Talent for the NBC Sports Group. Princell, a former ND in Baltimore, Chicago, and Los Angeles, has been the Senior VP for News Operations for the Comcast Sports Group. He also served as Senior VO for CNN Worldwide, GM of CNN, VP/News for the CBS o-and-o, and worked in Orlando, Miami, and Detroit.
One time ND STEVE WASSERMAN is one of three Scripps GMs to take on additional responsibilities as a divisional general manager. Steve will continue as GM for WPTV in West Palm Beach, but will also provide guidance to three other Scripps' general managers. ED FERNANDEZ, GM at WXYZ-TV in Detroit and SAM ROSSENWASSER, from WEWS-TV in Cleveland were also promoted. Steve is a former ND for WCBS-TV in New York, WPLG-TV in Miami, and WJXT-TV in Jacksonville, FL, and has been a GM in Detroit, Houston, and Jacksonville.
Longtime Green Bay News Director LEE HITTER has joined the Wiscsonin Evangeglical Lutheran Synod in Milwaukee as Director of Communication Services. Lee spent more than 29 years at WFRV-TV in Green Bay, 17 years as ND there. He left the station last year, shortly after Nexstar bought that CBS affiliate. Lee began his career as a reporter and photographer.
**** ***** ****
Our Full List of News Director Openings:
Here is my list of stations with open ND jobs, as of Saturday, March 24, 2012.
If you know of any additions/deletions/updates, please email me at: rick@rickgevers.com
KNBC-TV        3000 W. Alameda Ave. Burbank CA 91523
KXTV               400 Broadway Sacramento CA 95818
XETV               8253 Ronson Rd. San Diego CA 92111
WPTV            1100 Banyan Blvd. W. Palm Beach FL 33401
KSNV-TV       1500 Foremaster Lane Las Vegas NV 89101
WBRE-TV      62 S. Franklin Wilkes-Barre, PA 18701
KFSN-TV       1777 G Street Fresno CA 93706
WBIR-TV    1513 Hutchison AVe. Knoxville TN 37917
WTVQ-TV   6940 Man O'War Blvd. Lexington KY 40509
KSNW-TV      833 N. Main Wichita, KS 67203
KITV                801 South King St. Honolulu HI 96813
KMTV             10714 Mockingbird Dr. Omaha NE 68127
WACH-TV     1400 Pickens St. Columbia SC 29201
KGAN-TV    600-2 Old Marion Rd NE Cedar Rapids IA 52402
KWQC-TV     805 Brady Street Davenport, IA 52803
WTAJ-TV  5000 Sixth Ave. Altoona PA 16602
WBTW-TV    3420 N. TV Road Florence, SC 29501
KHGI-TV      13 S. Highway 44 Kearney NE 66848
WTXL-TV     1620 Commerce Blvd. Midway, FL 32343
KVII-TV        One Broadcast Center Amarillo TX 79101
KNOE-TV     1400 Oliver Rd. Monroe, LA 71211
KTUU-TV     701 E. Tudor Rd. #220 Anchorage AK 99503
KXII-TV    4201 Texoma Parkway Sherman TX 75090
KTAB/KRBC-TV, 4510 S. 14th St. Abiliene, TX
WTVY-TV    PO Box 1089 Dothan AL 36302
WCAV-TV    999 2nd St. SE Charlottesville VA 22902
KKCO-TV     2325 Interstate Ave. Grand Junction CO 81505
KGNS-TV     120 W. Delmar Blvd. Laredo TX 78045
KGWN-TV    2923 E. Lincolnway Cheyenne WY 82001
KSAX-TV      PO Box 189 Alexandria MN 56308
WYIN-TV     8625 Indiana Place Merrilville IN 46410
** Spanish language station