March 10, 2010 UPDATE:
We have news of ND changes in two large markets, and funeral/memorial information for JIM TELLUS in this update.
Two CBS owned stations have new news directors today.
ADRIENNE ROARK, who's been ND for WFOR/WFBS-TV in Miami since June, 2007, has been named ND for another CBS o-and-o, KTVT/KTXA in Ft. Worth/Dallas, TX.  She replaces SCOTT DIENER who was promoted earlier this year to be the news director for KCBS-TV in Los Angeles.  Adrienne has also worked in Orlando, Cleveland, and Columbus.
CESAR ALDAMA will replace Adrienne as ND at WFOR.  He's currently the Assistant ND for CBS's KYW/WPSG-TV in Philadelphia, a job he's held since 2003.  It's a return to WFOR and Miami for Cesar, who was the Managing Editor for WFOR before moving to Philadelphia.  Earlier in his career, Cesar worked for WSVN-TV in Miami as a video editor, photographer,and assignment editor.  He's also worked in Baltimore and Orlando.
Congratulations to both Adrienne and Cesar on their promotions.
**** ***** ****
Visitation for WTHR-TV (Indianapolis) General Manager JIM TELLUS will be held Friday, March 12, from 3:00-9:00 at Our Lady of Mount Carmel Catholic Church in the Indianapolis suburb of Carmel.  A vigil service will be held at 7:30 on Friday, with a funeral mass held Saturday at 11:00 AM.
Jim's family suggests donations to the American Heart Association and the American Diabetes Association.
March 9, 2010 UPDATE:
Jim Tellus
1962-2010
I'm very sorry to report the death of WTHR-TV (Indianapolis) General Manager JIM TELLUS, who died this morning of an apparent heart attack.  Jim was in Columbus, OH, for a board meeting of WTHR's owners, the Dispatch Broadcast Group.  Jim failed to appear for today's meeting and was found in his hotel room.  This tribute is posted on the station's website.
Jim was 47.  He is survived by his wife, Kathy, and four children.
Many of you know Jim as a longtime news director.  In fact, he first joined WTHR as ND in December, 2006.  He was promoted to VP/GM in January, 2008, and named President and GM in January, 2009.  He came to Indianapolis from Seattle, where he spent more than five years as ND for KOMO-TV.  Jim also served as a news director for WVEC-TV in Norfolk, VA, and at KSNW-TV in Wichita, KS.
For those of you who did not know him, he was one of the truly great guys in our business:  warm, caring, with a terrific sense of humor.  Please join me in extending your best wishes to his family, friends, and the staff of WTHR.
Please see above for details on services.
**** ***** ****
March 7, 2010 UPDATE:
More than ten days after this death, an obituary for WPLG-TV Executive Producer CHRIS GILKS ran in today's Miami Herald. Chris died February 24 at the age of 42, more than five months after a liver transplant.  The article contains information about a Celebration of Life service and where friends can send contributions.
**** ***** ****
Greetings:
We have just  ONE new ND to tell you about and  ONE new opening in this week's newsletter.
That leaves our count of open ND positions at  18.
But do read on….there's news of one station closing its news department, a handful of new news management openings, and we welcome Beat the Traffic as a new advertiser.  We also have news of three news managers on the move, including two who are moving up within the same company.
All that, and more, after this week's changes:
NEW NEWS DIRECTOR OPENINGS:
KTVE/KARD, Monroe, LA…MELISSA KLINZING has left this Mission Broadcasting owned NBC/Fox duopoly after just ten months as news director.  She's a former ND in Philadelphia, Tampa, Denver, and Oklahoma City.  She's also worked in Cleveland and Norfolk.  Her replacement will be the ninth news director in less than nine years here.
NEW NEWS DIRECTORS NAMED:
KGWN-TV, Cheyenne, WY…MACRADEE AEGERTER is now the news director for this SagamoreHill Broadcasting owned CBS affiliate.  Macradee tells me she's a native of Laramie, WY, and was graduated from the University of Wyoming in 2006.  She started at KGWN as a sports reporter, and spent three years as sports director before becoming ND.  Her predecessor, TREGG WHITE, has been promoted to Station Manager for the company's Northern Colorado property.  (Updated 3/9/10).
Also, KOHD-TV in Bend, OR, is dropping traditional local newscasts in place of news and weather updates both on-air and online during the day.  The station will air a ten minute newscast at 11:00 PM.
**** ***** ****
HELP WANTED AD:
Manager of Content Presentation, WCMH-TV, Columbus, OH
NBC 4 (WCMH-TV) is an NBC affiliate of the Media General Inc. and market leader with breaking news, Storm Team 4, and news on the Web at www.nbc4i.com is looking for a Manager of Content Presentation to join the Content team.
The person filling this position will be responsible to assure a high level of quality and consistency in all finished digital journalism content presented across the WCMH Broadcast Distribution platforms.  Emphasis will be placed on maintaining a high level of quality in the use of graphics, video and sound as well as the overall energy and flow of the various programs.  Additionally, the Manager of Content Presentation will coach Anchors and Reporters to assure a consistent high level of performance and engagement.
Ideal candidate will have a College Degree in Journalism, Communication or any other related field. 3-5 producing live newscasts for broadcast.  Additional experience in other areas of a local television news operation would be helpful.
Qualified applicants may either apply online at: www.mediageneral.com, or send their resume and cover letter to:
WCMH-TV
Attn: Human Resources
3165 Olentangy River Road
Columbus, Ohio 43202
or via email to: wcmhhr@wcmh.com 
Background check and drug screen required. EOE M/F/V/D
**** ***** ****
OTHER NEWS MGMT. OPENINGS:
ASSISTANT NEWS DIRECTOR:
KSHB-TV, Kansas City, MO (listed 2/26/09)
WLWT-TV, Cincinnati, OH (relisted 1/15/09)
KTVX-TV, Salt Lake City, UT (listed 2/12/10)
WAPT-TV, Jackson, MS (new listing this week)
EXECUTIVE NEWS PRODUCER:
News 12 The Bronx/Brooklyn, NY (listed 1/8/10)
KTVT-TV, Ft. Worth/Dallas, TX (2 jobs, Special Projects & AM EP, listing revised 1/8/10)
KXTV,    Sacramento, CA (PM EP, listing revised 1/29/10)
KPTV, Portland, OR (two openings, one is EP/Special Proj., listing revised 1/29/10)
KTVX-TV, Salt Lake City, UT (AM EP, listed 12/26/09)
KSHB-TV, Kansas City, MO (listed 2/26/10)
WOAI-TV, San Antonio, TX (listed 2/5/10)
WPEC-TV, West Palm Beach, FL (relisted 12/12/09)
KOAT-TV, Albuquerque, NM (relisted 1/15/10)
WGHP-TV, Greensboro/High Point, NC (PM EP, listed 2/19/10)
WVLT-TV, Knoxville, TN (new listing this week)
WBRZ-TV, Baton Rouge, LA (PM EP, listed 1/22/09)
WCTI-TV, New Bern, NC (new listing this week)
MANAGER OF CONTENT PRESENTATION:
WCMH-TV, Columbus, OH (new listing this week, see ad above)
MULTI MEDIA CONTENT DIRECTOR:
The Weather  Channel, Atlanta, GA (listed 12/12/09)
ASSIGNMENT MANAGER:
The Weather  Channel, Atlanta, GA (listed 12/18/09)
**** ***** ****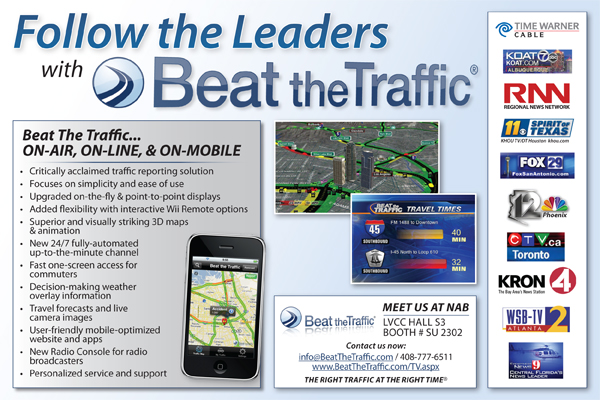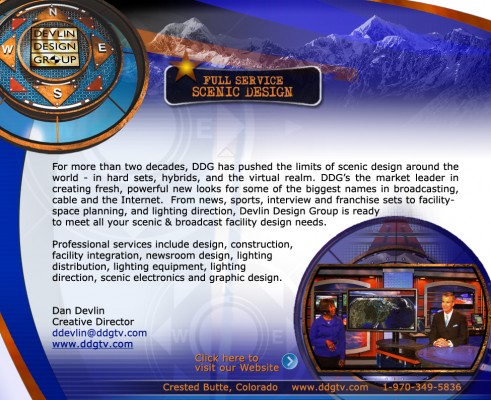 **** ***** ****
NAMES IN THE NEWS:
BRIAN GREGORY has been named Dayside EP for KOVR-TV in Sacramento.  He's been the Assistant ND/EP for WVLT-TV in Knoxville since 2003, and previously worked for WJET-TV in Erie, PA, where he began his career as a part-time photographer and producer.  He later followed ND STEVE CRABTREE to Knoxville where Steve is ND at WVLT.
JIM JAKOBS has been named Assistant News Director for Hearst's KOCO-TV in Oklahoma City.  He'll be familiar with the employee manual there, since he has worked for Hearst's KCRA-TV in Sacramento since 2007, where he's the Managing Editor/Assignment Manager.  He earlier had worked at KOVR-TV in Sacramento.
In another within-Hearst move, DOUG PERRY heads south to become Digital Executive Producer for the company's WPBF-TV in West Palm Beach, FL.  He's currently the Digital Executive Producer for WMUR-TV in Manchester, NH, and earlier worked for another Hearst station, WPTZ in Plattsburgh, NY.
**** ***** ****
Here's a complete list of all stations that I believe have an ND opening, as of Friday, March 5, 2010.
And if you know of updates, corrections, or additions to this list, please let me know via email: rick@rickgevers.com
KVEA-TV, 3000 W. Alameda Ave.             Los Angeles, CA 91523 ***
WGBO-TV  541 N. Fairbanks Ct., #110     Chicago IL 60611  ****
KTVT-TV,  5233 Bridge St.                            Ft. Worth TX 76103
WXYZ-TV   20777 W. 10 Mile Road           Southfield MI 48037
KUVS-TV   1710 Arden Way                         Sacramento CA 95815 ***
WTIC-TV, 285 Broad St.                               Hartford, CT 06115
WZTV-TV   631 Mainstream Drive             Nashville TN 37228
WXIX-TV 635 W. Seventh St.                      Cincinnati OH 45203
WAVE-TV  725 S. Floyd St.                           Louisville KY 40203
KMPH-TV 5111 E. McKinley Ave.               Fresno CA 93727
WTEN-TV   341 Northern Blvd.                   Albany, NY 12204
KGMB-TV 420 Waiakamilo Rd. # 205     Honolulu HI 96817
WNWO-TV   300 S. Byrne Rd.                    Toledo OH 43615
WJHL-TV 338 E. Main St.                           Johnson City TN 37601
WFFF-TV   298 Mountain View Dr.         Colchester VT 05446
WMGT-TV   PO Box 4328                            Macon GA 31208
KTVE/KARD-TV 200 Pavilion Rd.   West Monroe LA 71292
KGNS-TV   120 W. Delmar Blvd.                Laredo TX 78045
*** (Spanish language)