May 18, 2010 UPDATE:
A surprise development today from the #2 market, where KNBC-TV's VP/Content, STEVE LANGE, is leaving the station less than four months after he arrived at that NBC o-and-o.
Lange is returning to his independent production company, Steve Lange Productions.  He's a former ND for WBBM-TV in Chicago, was the Executive Editor at WCBS-TV in New York, and also worked as an EP for the newsmagazine program Extra.
We'll have more on this and all this week's changes in our next edition later this week.
**** ***** ****
Greetings:
We bring you news of another ND headed to a GM's job, always nice to see in my opinion.
That promotion created one of the  THREE new ND openings (one in a top 15 market) we have in this week's edition, while  ONE previously open ND position was filled.  That brings our list of openings to  21.
We're re-running an ad for a news director's job in sunny Florida, and we've updated the status of some major market management searches.  Otherwise, a fairly slow week, with no Names in the News.  Send your items to me at: rick@rickgevers.com
Here's this week's changes:
NEW NEWS DIRECTORS OPENINGS:
KCPQ-TV, Seattle, WA…STEVE KRAYCIK has resigned after four years as ND for this Tribune-owned FOX affiliate.  His resignation came after a controversy over how the station handled a story involving the Seattle police department.  Steve had been the ND there since June, 2006, and previously had served as ND for Tribune's Fox affiliate in Sacramento, KTXL-TV.
WBNS-TV, Columbus, OH…we were first to tell you earlier this week that JOHN CARDENAS is being promoted to GM of sister-Dispatch Broadcasting owned WTHR-TV, the NBC affiliate in Indianapolis.  John's been the ND for WBNS (a CBS affiliate) for eleven years, previously was an ND in Phoenix, and has also worked in San Diego, Norfolk, and Portland, OR.  At WTHR, he replaces another former ND, JIM TELLUS, who died last March after a massive heart attack.
WGXA-TV, Macon, GA…is advertising for a new news director.  My records show ALEXIA RIDLEY had been the ND there for the past five years.  WGXA-TV is a FOX affiliate, and is owned by Frontier Broadcast Holdings LLC.  Her now deleted profile on the station's website says she worked her way up from master control to production to news, where she worked as an editor, reporter, and anchor.
NEW NEWS DIRECTOR NAMED:
KTVE/KARD-TV, Monroe, LA…BONNIE VAN is the new ND for the Nexstar-owned NBC/FOX duopoly.  She's a former anchor for KNOE-TV in Monroe and KATC-TV in Lafayette, LA.  She replaces MELISSA KLINZING who left the station in April after ten months as ND.  Bonnie is the ninth ND in nine years here.
**** ***** ****
HELP WANTED AD:

NEWS DIRECTOR, WWSB-TV, Sarasota, FL:
ABC 7 WWSB-TV Sarasota, FL is searching for an experienced and motivated News Director to lead our news department in service to the residents of Florida's Suncoast.
The ideal candidate will be able to clearly communicate and execute a news brand plan that emphasizes the importance of journalism, quality content, and compelling storytelling with high production values.  Must possess knowledge of news technical operations and have a vision for the digital future.  A leader with strong coaching and staff development skills, candidates should have the ability to implement systems and maintain a positive newsroom culture where employees are encouraged to excel.
Broadcast Journalism degree and at least 5 years of a proven track record in television news management experience required.  The position reports to the Vice President and General Manager.
E-mail resume, cover letter and salary requirement to jwhitson@wwsb.tv or send them to:
Jeff Whitson
WWSB-TV
1477 10th Street
Sarasota FL 34236
Include a link to video examples of your work, or include a DVD.
ABC 7 is an equal opportunity employer.
**** ***** ****
OTHER NEWS MGMT. OPENINGS:
ASSISTANT NEWS DIRECTOR:
KOMO-TV, Seattle, WA (listed 4/30/10)
WLWT-TV, Cincinnati, OH (relisted 3/12/10)
WHAS-TV, Louisville, KY (listed 3/27/10)
WDSU-TV, New Orelans, LA (listed 4/23/10)
EXECUTIVE NEWS PRODUCER:
The Weather Channel, Atlanta, GA (listed 4/9/10)
News 12 New Jersey (AM EP, listed 3/12/10)
KCBS/KCAL, Los Angeles, CA (PM EP, relisted this week)
KTVT-TV, Ft. Worth/Dallas, TX (Special Projects EP, listing revised 4/18/10)
KXTV,    Sacramento, CA (PM EP, relisted 5/7/10)
KPTV, Portland, OR (two openings, one is EP/Special Proj., listing revised 1/29/10)
WTMJ-TV, Milwaukee, WI (AM EP, listed 4/23/10)
WSPA-TV, Spartanburg, SC (listed 3/27/10)
WOAI-TV, San Antonio, TX (relisted 5/7/10)
KOB-TV, Albuquerque, NM (AM EP, listed 3/27/10)
WVLT-TV, Knoxville, TN (listed 3/5/10)
KGBT-TV, Harlingen, TX (listed 3/19/10)
WSAV-TV, Savannah, GA (listed 4/30/10)
WCTI-TV, New Bern, NC (listed 3/5/10)
WBTW-TV, Myrtle Beach, SC (listed 4/2/10)
WLNS-TV, Lansing, MI (listed 4/23/10)
MANAGING EDITOR:
KCBS/KCAL, Los Angeles, CA (PM EP, relisted this week)
MANAGER OF CONTENT PRESENTATION:
WCMH-TV, Columbus, OH (listed 3/05/10)
NEWS OPERATION MANAGER:
KCBS/KCAL, Los Angeles, CA (relisted this week)
**** ***** ****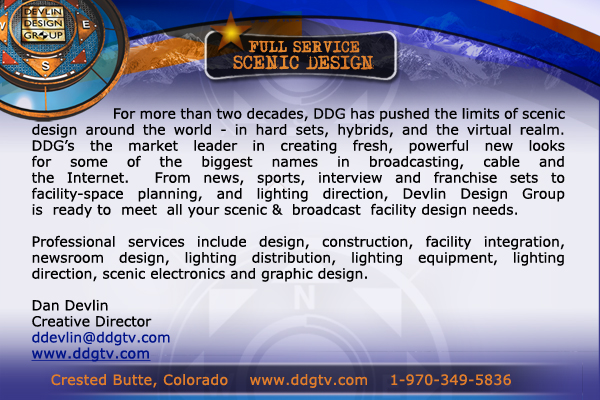 **** ***** ****
Here's our list of all the stations currently looking for an ND, as of Friday, May 14, 2010.
If you know of any changes, additions, corrections, or deletions, please let me know via email:  rick@rickgevers.com
News 12 Bronx/Brooklyn 930 Soundview Ave. Bronx NY 10473
KVEA-TV, 3000 W. Alameda Ave.             Los Angeles, CA 91523 ***
New England Cable News 160 Wells Ave. Newton MA 02459
KIAH-TV, 7700 Westpark Dr.                     Houston, TX 77063
WXYZ-TV   20777 W. 10 Mile Road           Southfield MI 48037
WWSB-TV, 1477 10th St.,                           Sarasota, FL 34236 (see ad above!)
KCPQ-TV,    1813 Westlake Ave.  N.        Seattle, WA 98109
KUVS-TV   1710 Arden Way                         Sacramento CA 95815 ***
KDKA-TV,  One Gateway Center,               Pittsburgh, PA 15222
WZTV-TV   631 Mainstream Drive             Nashville TN 37228
WBNS-TV, 770 Twin Rivers Dr.            Columbus OH 43215
WAVY-TV, 300 Wavy St.                              Portsmouth VA 23705
WFMY-TV 1615 Phillips Avenue                Greensboro NC 27405
WTEN-TV   341 Northern Blvd.                   Albany, NY 12204
WNWO-TV   300 S. Byrne Rd.                    Toledo OH 43615
WJHL-TV 338 E. Main St.                           Johnson City TN 37601
WGXA-TV, 599 Martin Luther King        Macon GA 31201
WMGT-TV   PO Box 4328                            Macon GA 31208
KJCT-TV 8 Foresight Dr.                             Grand Junction, CO 81505
KLDO-TV 226 Bob Bullock Loop                Laredo, TX 78040
KGNS-TV   120 W. Delmar Blvd.                Laredo TX 78045
*** (Spanish language)