Friday, November 30, 2012 UPDATE:
A huge shock today from Kansas City, where moments ago BRIAN BRACCO was named VP/General Manager of KSHB-TV, the Scripps owned NBC affiliate there. Many of you know Brian, who's been with Hearst Broadcasting for more than 25 years, 12 of those as VP/News, based in Kansas City. He previously had been ND for the company's KMBC-TV, the ABC affiliate there. Brian's also been an ND in Columbus, OH, and Birmingham, and worked in Wichita.
Brian is one of the nicest people in the industry, in my opinon. He'll start at KSHB on Monday. Brian told me he's excited about the challenge, the chance to stay in Kansas City, and the ability to dramatically reduce his travel schedule.
More details on this in our full newsletter which will be completed either late tonight or sometime tomorrow.
**** ***** ****
Greetings:
I hope you and your family had a nice Thanksgiving.
There are TWO new ND openings and ONE newly named ND in this week's report. We told you about two of those changes…both big surprises…earlier this week.
Those changes bring our list of open ND positions to 25.
As we told you, THREE of those jobs are in Indianapolis. I have not yet been able to confirm a rumor that the three GMs were going to host a joint interview (think speed dating).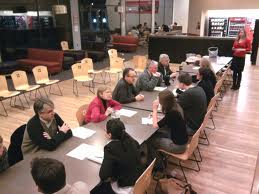 More seriously, we have a new ad for a faculty position at the University of Missouri which will involve a lot of time spent at the University's KOMU-TV. We have an obituary for the well-known host of a syndicated food segment, and news of a former ND landing a new job and a new GM for a CBS owned station (though NOT the CBS affiliate) in Atlanta.
All that follows this week's changes:
New News Director Openings:
WTHR-TV, Indianapolis, IN…KEITH CONNORS will leave this Dispatch owned NBC affiliate by the end of the year. Keith tells me he's decided to leave for both professional and family reasons. He's been the news director there for two years, and has previously been an ND in Houston, Charlotte, Norfolk, and Rochester, NY. He's also worked in Nashville and Toledo, where he worked for me at WTOL-TV.
WVII/WFXV-TV,Bangor, ME…News Director and anchor CINDY MICHAELS announced her resignation from this Rockfleet Broadcasting owned duopoly on the air earlier this week. Her co-anchor also resigned. It's a strange story that's gotten a lot of national attention. This article from the Bangor Daily News will fill you in.
Newly Named News Director:
KXNV-TV, Phoenix, AZ…PAT COSTELLO will begin as ND here in early January. Pat's currently the station manager for KING-TV in Seattle, a job he's held since 2007. He spent seven years before that as the ND for that Belo-owned NBC affiliate. Pat's also been an ND in Chicago and Salt Lake City, and has worked in Baltimore, Indianapolis, and Columbia, MO. He began his career at as photographer. He replaces JOE HENGEMUEHLER who resigned earlier this summer after six years as ND and ten at the station, which is an ABC affiliate owned by Scripps.
Help Wanted Ad:

Faculty Position, University of Missouri/KOMU-TV, Columbia, MO:
The Missouri School of Journalism seeks a journalist with extensive newsroom experience and a talent for teaching at the university level. The ideal candidate will have at least five years of television newsroom experience; some newsroom management experience preferred. This faculty member will manage KOMU.com and keep the station and the students updated on new opportunities in interactive news presentation. The job description includes a minimum of 30 hours per week at KOMU-TV (NBC-affiliate) and supervising the work of student reporters, anchors, newscast producers and videographers. The job description also includes classroom teaching and service to the Journalism School and the University.
Required qualifications: Experience as a journalist in a professional television newsroom, a bachelor's or master's degree from an accredited college of university, at least five years experience in journalism and significant work in the specialized field of news interactivity.
Screening of applicants will begin immediately and continue until the position is filled. Hiring is expected to be completed in the spring of 2013, with an immediate start date. Please click here to access the online application system. Applications must include an academic CV or professional resume, links to video of recent television work produced by the candidate, including online, multimedia work, references in the field and a cover letter that must also include an analysis of the television news profession's transition from solely broadcast to broadcast and digital/internet news platforms.
The University of Missouri is committed to cultural diversity and it is expected that successful candidate will share this commitment. MU is an Equal Employment Opportunity/ADA institution and encourages applications from women and minority candidates.
Other News Management Openings:
ASSISTANT NEWS DIRECTOR:
KING-TV, Seattle, WA (relisted 10/28/12)
WFTS-TV, Tampa, FL (listed 9/22/12)
KUSI-TV, San Diego, CA (listed 9/14/12)
KVUE-TV, Austin, TX (relisted 11/17/12)
WCTI-TV, Greenville/New Bern, NC (relisted 9/14/12)
WNCT-TV, Greenville/New Bern, NC (listed 11/17/12)
KEZI-TV, Eugene, OR (listed 9/22/12)
EXECUTIVE NEWS PRODUCER:
The Weather Channel, Atlanta, GA (listed 9/22/12)
KTTV/KCOP-TV, Los Angeles, CA (PM EP, relisted this week)
KDFW-TV, Dallas, TX (Morning EP, relisted 9/14/12)
KTVT-TV, Dallas, TX (EP of Special Projects/Investigations, relisted this week)
KHOU-TV, Houston, TX (Nightside EP, listing modified 11/3/12)
KIRO-TV, Seattle, WA (new listing this week)
WTVT-TV, Tampa, FL (AM EP, listed 10/5/12)
WKMG-TV, Orlando, FL (AM EP, listing modified 11/10/12)
KATU-TV, Portland, OR (Senior EP, listed 10/5/12)
KPTV/KPDX-TV, Portland, OR (Nightside EP, relisted 9/30/12)
WRAL-TV, Raleigh, NC (AM EP, relisted 11/17/12)
WMAR-TV, Baltimore, MD (AM EP, listed 9/22/12)
KUSI-TV, San Diego, CA (relisted 9/14/12)
WXMI-TV, Grand Rapids, MI (TV Content Mgr., listed 10/19/12)
KWTV, Oklahoma City, OK (PM EP, listed 9/30/12)
WAVY-TV, Norfolk, VA (listing modified 11/17/12)
WJXT-TV, Jacksonville, FL (Evening EP, relisted 11/17/12)
WTLV/WJXX-TV, Jacksonville, FL (2 openings, listed 11/3/12)
WINK-TV, Ft. Myers, FL (PM EP, listing revised 9/14/12)
WHEC-TV, Rochester, NY (listed 9/1/12)
WCYB-TV, Bristol, TN (relisted this week)
KOLO-TV, Reno, NV (Morning EP, relisted 10/19/12)
KIFI/KIDK-TV, Idaho Falls, ID (listed 11/17/12)
MANAGING EDITOR:
KNBC-TV, Los Angeles, CA (listed 9/14/12)
KCRA-TV, Sacramento, CA (relisted 10/28/12)
Obituary:
ART GINSBURG died this week. You, and millions of your viewers, knew him as Mr. Food. His syndicated segments on fast and easy cooking aired on dozens of stations all over the country, in markets small and large. Art began doing segments on WRGB-TV in Schenectady, NY in the mid-70's. Mr. Food segments were eventually seen in 80% of the markets around the country. In my dealings with him, he was always friendly and warm, much like his on camera persona. (He even once used a recipe I sent him that I'd gotten from my Mom.)
Situations Wanted:
No takers this week on our free Situations Wanted listings. If you'd like to state your case to a well targeted audience, email me an item (max. 100 words). You may include a link to a website, an email address, and a photo. You must include your name. I'll run it for one week. I don't represent or endorse those listed, but merely trying to help.
Names in the News:
There are two new news managers at WPLG-TV in Miami, one a veteran news director.  PEGGY PHILLIP has joined this Post-Newsweek/ABC affiliate as EP of the weekday morning news. It's a return to Miami for Peggy, who earlier in her career worked at WSVN-TV there. She most recently was ND for KSHB-TV in Kansas City, has been an ND in Baltimore, Syracuse, Memphis, and Tulsa, and has also worked in Chicago, Reno and Boston. Also, STEPHANIE GASTON moves across town to become EP of the weekend morning newscasts at WPLG. She's been the Senior Producer of the morning newscasts at WSVN-TV.
JACK WALSH has been named General Manager of CBS owned WUPA-TV in Atlanta. It's the CW affiliate in the market. He's been the Sales Manager for WGCL-TV, the Meredith owned CBS affiliate there.
Congratulations to Missourinet News Director and (two-time) past RTDNA chair BOB PRIDDY and his wife NANCY who celebrated their 45th wedding anniversary this week.
Our Full List of ND Openings:
Here is my list of stations with open ND jobs, as of Friday, November 23, 2012.
If you know of any additions/deletions/updates, please email me at: rick@rickgevers.com
WPIX-TV 220 E. 42nd Street New York NY 10017
WTXF-TV 330 Market St. Philadelphia PA 19106
KTVK-TV 5555 N. 7th Avenue Phoenix AX 85013
WKYC-TV 1333 Lakeside Ave. Cleveland OH 44114
WPXI-TV 4145 Evergreen Road Pittsburgh PA 15214
WISH-TV 1950 N. Meridian St. Indianapolis IN 46202
WRTV 1330 N. Meridian St. Indianapolis IN 46202
WTHR-TV 1000 N. Meridian St. Indianapolis IN 46204
KSHB-TV 4720 Oak Street Kansas City MO 64112
WDAF-TV 3030 Summit St. Kansas City MO 64108
KSNV-TV 1500 Foremaster Lane Las Vegas NV 89101
WVEC-TV 613 Woodis Ave. Norfolk, VA 23510
WPTY/WLMT 2701 Union Ave. Ext. Memphis TN 38112
KTHV-TV 720 Izard St. Little Rock 72201
KOTV 302 S. Frankfort St. Tulsa OK 74120
KSNW-TV 833 N. Main Wichita, KS 67203
WCSH-TV One Congress Square Portland ME 04101
WMTV 615 Forward Dr. Madison WI 53711
KHGI-TV 13 S. Highway 44 Kearney NE 66848
KBOI-TV 140 N. 16th St. Boise ID 83702
KION/KCOY 1550 Moffett St. Salinas CA 93905
WVII-TV 371 Target Industrial Circle Bangor ME 04401
WVNS-TV 141 Old Cline Rd. Ghent WV 25843
KSWT-TV 1301 Third Ave Yuma AZ 85364
KFBB-TV P.O. Box 1139 Great Falls, MT 59403