Greetings:
Our list of open news director positions continues to drop, as it reaches 23 this week.
That's due to TWO new news directors being named this week.
But the search continues for a number of jobs….we have TWO new paid ads for news director openings in relatively large markets, and two repeat ads for opportunities in smaller markets. And we have TWO new ads for EPs from a station in sunny Florida.
Names in the News features a variety of items, including an opportunity for you (yes, you!) to give back a bit to our industry, and it won't take to much of your time. We also have one of our free Situations Wanted postings and an obituary for a long-ago Atlanta General Manager.
Read on, and don't forget to vote this week!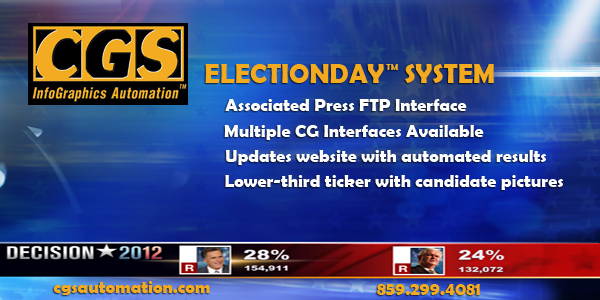 New News Director Openings:
There are no NEW ND openings this week, but I do want to call your attention to new ads for previously announced openings in Phoenix and Kansas City. Those ads are below.
Newly Named News Directors:
KOB-TV, Albuquerque, NM…JOHN MASONreturns as News Director for this Hubbard owned NBC affiliate. He was an anchor and Managing Editor here from 1997 to 2004. John's currently the Managing Editor for Hubbard's KSTP-TV in Minneapolis and has worked in Chicago and Omaha. At KOB, he will be the seventh ND in ten years.  LAURIE PASSMAN, the current ND, is returning to Phoenix to be the Assistant ND for KTVK-TV. She was the Assistant ND and Morning EP at KTVK before taking the KOB job 18 months ago.
WPRI-TV, Providence, RI…KAREN REZENDES has been promoted to ND for this LIN Media owned CBS affiliate. Karen's been the Assistant ND and Manager of Special Projects for the past few years. She's spent most of her career at WPRI, beginning as a producer and assignment editor. Karen spent four years as a producer for WTKR-TV in Norfolk before returning to WPRI in 1996. She's replacing JOE ABOUZEID who is being promoted to GM of sister station WDTN-TV in Dayton. He was ND here for seven years.
Help Wanted Ads:

News Director, KNXV-TV, Phoenix, AZ:
KNXV-TV, the ABC affiliate in Phoenix, is seeking a dynamic and competitive leader to serve as news director.
The successful candidate will have five years experience in a medium to large market as a News Director with a proven track record of increased ratings and three-screen strategies. If you love breaking news, game-changing investigations and winning big everyday – this position is for you.
We are part of the cutting-edge Scripps organization and always looking for bold, innovative ideas to better serve our community.
To help lead us, apply for this position by clicking here

VP News & Interactive Content, WDAF-TV, Kansas City, MO:
WDAF TV FOX 4 is looking for an experienced management professional to lead our seasoned News Department. If you are a mature, collaborative and thoughtful news expert looking to work at one of the strongest FOX stations in the country, in one of the most affordable and vibrant cities in the Midwest, this may be the job for you.
Qualified candidates will have extensive management and motivational abilities. Integrity, good judgment and people skills are a must. This person must be a superb motivator and communicator in addition to being a creative news strategist.
Essential duties include: newsroom leadership, talent recruitment and retention, budget administration, personnel development, ratings strategy, develop-ment of social media/web and mobile platforms and local programs. The VP of news will oversee and critique daily news product and talent performance. This position is also responsible for setting and maintaining professional guidelines and standards of the news team. Superior understanding of libel laws and professional journalist's rights and responsibilities required. Ability to interact appropriately with the public in person and through correspondence regarding news matters is required.
Candidates must have a minimum of 5 years of news management experience. Excellent communication skills and strong time management skills. A commitment to community involvement, teamwork and an open honest management style is essential for success in this role.
If you meet the above requirements, please send a resume to
Kim Stripling
Administrative Assistant
WDAF-TV
3030 Summit
Kansas City MO 64108
or via email to kim.stripling@wdaftv4.com
No Phone Calls. EOE M/F/D/V
AM Executive Producer, WTLV/WJXX-TV, Jacksonville, FL:
First Coast News, (WTLV/WJXX), the Gannett owned NBC/ABC duopoly in Jacksonville, Florida, has an immediate opening for an AM Executive Producer. This position will oversee the multi-platform content delivery newscasts, executing growth opportunities, and managing the staff. This position will be minimally supervised because the individual must be an independent-thinker, who has priority say in coverage direction and can generate and execute ideas. The incumbent must be able to communicate fluently in English in order to effectively communicate with staff and others. The candidate must have at least five (5) years professional broadcasting experience as a producer, management experience helpful; Bachelor's degree in journalism or communications or related field, will need excellent computer skills and proficient in ENPS.
The candidate must have excellent problem solving and time management skills, news content gathering and organizational skills; good editorial judgment, knowledge of journalistic ethics and libel laws. Attention to detail, time limed processes and an accountability mindset are critical. Must be able to collect and analyze information, schedule staff, deliver performance reviews, create and develop training guides and approved planning guides. Communication skills in order to take a lead role in editorial meetings, meet with staff and others involved in the production of news. Must be able to post content and video online, must be able to work effectively under pressure & meet deadlines. Must have experience with creative social media execution on digital and on air platforms. Must be able to plan big events and breaking news with clear social media goals in mind.
Please send your resume and cover letter to klwilliams@firstcoastnews.com or via mail to:
Kathy Williams
News Director
First Coast News
1070 East Adams Street
Jacksonville FL 32202
Nightside Executive Producer, WTLV/WJXX-TV, Jacksonville, FL:
First Coast News is seeking a visionary news leader who understands rich, unique, local news content on multiple platforms, embraces social media and can lead for the future in an experienced newsroom. The successful candidate "gets" the First For You brand and will share in moving it forward to the next level of community service and success. Must have experience with creative social media execution on digital and on air platforms. Must be able to plan big events and breaking news with clear social media goals in mind.
Requirements:
The successful candidate must have at least 5 years mid to major market producing experience, be an expert at helping drive great content in newscasts and on digital properties around the clock, including but not limited to:
Breaking news coverage, newscast production/review, anchor and report guidance/script review, and photojournalist evaluation.
Must be a team player dedicated to continuous improvement, staff engagement and driven to perform at a superior level.
Excellent news judgment, writing, newscast production and organizational skills required.
Video editing a plus.
Please send your resume and cover letter to klwilliams@firstcoastnews.com or via mail to:
Kathy Williams
News Director
First Coast News
1070 East Adams Street
Jacksonville FL 32202

Corporate News Director, Cowles California Media Company, Monterey/Salinas, CA:
The opportunity is great… the job is tough. This is a truly unique position overseeing news operations in multiple markets and languages. The job is based in the Monterey/Salinas, CA market, but will also oversee the Santa Barbara, CA market. We have six TV stations on California's beautiful Central Coast, including CBS, FOX, and TELEMUNDO, plus a dozen different website, mobile, and tablet products.
You will be our company's Chief Journalist. You will be the designer and keeper of the Brand. You will be the one setting the tone and implementing the strategy. This is not a sit-at-your-desk-and-tell-people-what-to-do corporate consulting job. It's a roll-up-your-sleeves-jump-in-and-get-it-done-whatever-it-takes job. You will be the day-to-day News Director and make editorial, production, and resource decisions daily while driving the long-term plan.
You'll need to own Breaking News, Investigative Reporting, and Original Reporting. You'll need to embrace and manage technology, digital platforms, and social media. And you'll need to maximize your resources to produce great television. I'm looking for the next generation of News Director to evolve our next generation newsrooms. Our last Corporate News Director also managed the Promotions Department, too so if you can do that as well, great.
If this sounds like you, reach out immediately by email to pauldughi@kionrightnow.com. Send me your resume, your website, your Facebook and Twitter name, and tell me why you fit this description. We're hiring now.

News Director, KBOI-TV, Boise, ID:
KBOI-TV, the CBS affiliate in Boise, Idaho seeks a newsroom leader to serve as News Director. The ideal candidate is a strong motivator, communicates well, and also has a record of achieving results.
Duties include; developing and implementing daily and long-term news coverage strategies and standards; hiring and training news staff; supervising special event coverage and production of special projects; supervising implementation of new technology; executing social media strategies.
The News Director works closely with station management and the production and promotions departments to develop a shared vision for KBOI News. Knowledge of television production technology, and legal and ethical issues related to journalism is essential.
To apply, click here:
Fisher Communications is an Equal Opportunity Employer
Other News Management Openings:
ASSISTANT NEWS DIRECTOR:
KING-TV, Seattle, WA (relisted 10/28/12)
WFTS-TV, Tampa, FL (listed 9/22/12)
KUSI-TV, San Diego, CA (listed 9/14/12)
KVUE-TV, Austin, TX (listed 9/1/12)
WLNE-TV, Providence, RI (listed 9/14/12)
WCTI-TV, Greenville/New Bern, NC (relisted 9/14/12)
KEZI-TV, Eugene, OR (listed 9/22/12)
EXECUTIVE NEWS PRODUCER:
The Weather Channel, Atlanta, GA (listed 9/22/12)
KTTV/KCOP-TV, Los Angeles, CA (PM EP, listed 9/14/12)
KDFW-TV, Dallas, TX (Morning EP, relisted 9/14/12)
KTVT-TV, Dallas, TX (EP of Special Projects/Investigations, listed 9/14/12)
KHOU-TV, Houston, TX (Nightside EP, listing modified this week)
WTVT-TV, Tampa, FL (AM EP, listed 10/5/12)
WKMG-TV, Orlando, FL (relisted 9/1/12)
KATU-TV, Portland, OR (Senior EP, listed 10/5/12)
KPTV/KPDX-TV, Portland, OR (Nightside EP, relisted 9/30/12)
WRAL-TV, Raleigh, NC (AM EP, listed 9/1/12)
WMAR-TV, Baltimore, MD (AM EP, listed 9/22/12)
KUSI-TV, San Diego, CA (relisted 9/14/12)
WXMI-TV, Grand Rapids, MI (TV Content Mgr., listed 10/19/12)
KWTV, Oklahoma City, OK (PM EP, listed 9/30/12)
WAVY-TV, Norfolk, VA (AM & PM EPs, relisted 10/19/12)
WJXT-TV, Jacksonville, FL (Evening EP, relisted 9/9/12)
WTLV/WJXX-TV, Jacksonville, FL (2 openings, new listings this week, see ads above)
WINK-TV, Ft. Myers, FL (PM EP, listing revised 9/14/12)
WHEC-TV, Rochester, NY (listed 9/1/12)
WCYB-TV, Bristol, TN (relisted 9/14/12)
KOLO-TV, Reno, NV (Morning EP, relisted 10/19/12)
MANAGING EDITOR:
KNBC-TV, Los Angeles, CA (listed 9/14/12)
KTVT-TV, Dallas, TX (listed 9/14/12)
KCRA-TV, Sacramento, CA (relisted 10/28/12)
Situations Wanted:
Our Situations Wanted listings are free. If you'd like to state your case to a well targeted audience, email me an item (max. 100 words). You may include a link to a website, an email address, and a photo. You must include your name. I'll run it for one week. I don't represent or endorse those listed, but merely trying to help.
This week, meet MATT STEVENS:
I have 30 years experience as a TV news reporter/anchor/manager, I'm looking for one place to land for at least the next decade either as a reporter or manager. Ads for reporters almost always seek an "outstanding storyteller." Some would say I've been among the best for many years. Ads for news directors always speak of outstanding leadership and the ability to teach and mentor. I don't think you could find anyone better. I have outstanding news judgment and the ability to solve problems that arise both inside and outside a newsroom on a daily basis.
I have many excellent references that may be obtained upon request. Thanks for your consideration.
Matt Stevens newsmatt57@yahoo.com
Obituary:
PAUL RAYMON, a longtime general manager for WAGA-TV in Atlanta, died October 26th. He was 85 and died after a short illness.
Names in the News:
The normal stable Kansas City market has an unusual number of top management openings after this week's announcement that BOBBY TOTSCH is out as GM of KCTV. That means two stations (KSHB-TV and KCTV) are without GMs, and two stations, WDAF-TV and KSHB-TV, are without news directors. (WDAF is advertising above for a new VP/News.)
TIM WILLIAMS has joined CBS o-and-o KDKA-TV in Pittsburgh as the Digital Content Manager. He most recently was the Nightside EP for KPTV in Portland, OR. It's a return to CBS for Tim, who spent 2+ years as a Senior Producer for KCBS/KCAL-TV in Los Angeles. He's also worked in San Diego and Spokane.
MERV BLOCK has written a new book, WEIGHING ANCHORS. He examines today's network anchors, their scripts and their journalism. You can learn more about the book and how you can buy one by clicking here.
I'm happy to report that DON BRADLEY's quadruple bypass surgery went well and he's recovering in a Texas hospital. We told you last week that Don, a longtime ND in Ft. Wayne who's worked in a few other markets, was headed under the knife. A get-well wish would find Don at: connieburi@aol.com
Finally, here's an opportunity to give back to our industry. The Broadcast Education Association needs a few professionals (either current or retired) to judge entries in the Student News Feature category. Judging will be in December and January. If you're interested, send an email to Sara McGee of Loyola University-Maryland: Scmagee@loyola.edu
Our Full List of News Director Openings:
Here is my list of stations with open ND jobs, as of Saturday, November 3, 2012.
If you know of any additions/deletions/updates, please email me at: rick@rickgevers.com
WPIX-TV 220 E. 42nd Street New York NY 10017
WTXF-TV 330 Market St. Philadelphia PA 19106
KNXV-TV 515 N. 44th St. Phoenix AZ 85008 (see ad above!)
KTVK-TV 5555 N. 7th Avenue Phoenix AX 85013
WWSB-TV 1477 10th St. Sarasota, FL 34236
WKYC-TV 1333 Lakeside Ave. Cleveland OH 44114
WPXI-TV 4145 Evergreen Road Pittsburgh PA 15214
WISH-TV 1950 N. Meridian St. Indianapolis IN 46202
KSHB-TV 4720 Oak Street Kansas City MO 64112
WDAF-TV 3030 Summit St. Kansas City MO 64108 (see ad above!)
KSNV-TV 1500 Foremaster Lane Las Vegas NV 89101
WVEC-TV 613 Woodis Ave. Norfolk, VA 23510
KTHV-TV 720 Izard St. Little Rock 72201
KOTV 302 S. Frankfort St. Tulsa OK 74120
KSNW-TV 833 N. Main Wichita, KS 67203
KOLR/KOZL 2650 E. Division Springfield MO 65803
WMTV 615 Forward Dr. Madison WI 53711
KHGI-TV 13 S. Highway 44 Kearney NE 66848
KBOI-TV 140 N. 16th St. Boise ID 83702 (see ad above!)
KION/KCOY 1550 Moffett St. Salinas CA 93905 (see ad above!)
WVNS-TV 141 Old Cline Rd. Ghent WV 25843
KSWT-TV 1301 Third Ave Yuma AZ 85364
KFBB-TV P.O. Box 1139 Great Falls, MT 59403