RON PETROVICH, nephew of JON PETROVICH, remembers his uncle, who died February 10th at the age of 63: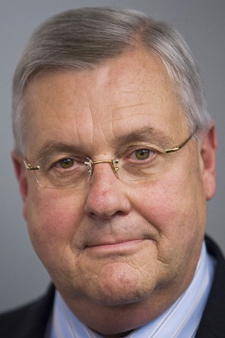 Jon Petrovich
1947-2011
My uncle taught me not to bury the lead so, with a heavy heart here goes.
Jon Petrovich passed away in New York City, on February 10 after fighting a courageous battle against cancer and diabetes. This is news to a lot of friends and colleagues because he was very private about his illness.
Coming from humble beginnings in Gary, Indiana, he graduated from Indiana University and The University of Alabama with a masters. He became Head of US Operations for the Associated Press, oversaw International Networks for Sony Television, and was a Knight Fellow Professor at Northwestern University. The highlight of his career was his tenure at CNN, where he spent 15 years developing CNN Interactive, CNN International, The Airport Network, NewsSource, and Headline News. He was also president of Turner Broadcasting System in Latin America.
I am lucky to have had someone like Jon in my life. He was my uncle, but also was a dear friend, mentor, and big brother.  We became close after hearing his poignant words, "Don't go into TV!" I was lost in college, having too much fun achieving D's in business classes.  While he was a news director at WBAL in Baltimore, I asked if I could spend a week seeing what TV is all about. He graciously invited me but sent me on the worst stories, most of them in a prison with a reporter, Rob Roblin. We played basketball, lifted weights, and ate with the prisoners. Our best moment was spending time in the cell with our favorite, cross-dressing inmate, Rosie. I was hooked.  My uncle wanted me to hate it, but I knew this could be fun.
The next summer, I successfully interned at the station until the last week when I crashed the live truck on a dinner run. When I called the assignment desk to tell them I decapitated the golden rods, they laughed so hard they did not call my uncle for an hour. My uncle offered to resign that next morning. The only thing he said to me, Do you still want to work in TV? I said yes, because I can't drive a truck and I suck at accounting. From that point forward it was all support; the same kind of tutelage he offered to countless others who needed a hand.
At RTNDA events he invited me to tag along and meet big shots like CNN's Tom Johnson and Jack Womack. My stomach would hurt for days from laughing so hard watching Womack and friend Fred Burrows from CNN do imitations of my uncle.
One of my uncle's passions was food and great restaurants. He and his/our great friend Jon "Rocky" Gluck knew, or at least tried to find  every great restaurant in every city throughout the world.  One time when my uncle was in Tokyo, he asked "Rocky" where he could find great Greek Food.  Of course "Rocky" directed him to the best restaurant.
The biggest love of my uncle's life was his family. He and Karen, his high school sweetheart, were always touring from New York to California looking for interesting places, and maybe spots to retire. He adored his kids Kristin and Jonathan, and was the proudest grandfather, always telling stories about Gracie's recitals and Trey's athletic ability. He was always there for them and all of us for the ups and downs in life.  Unfortunately, he didn't have much time with his newborn grandson, Van, who was born in January.
He once told me, if I die tomorrow, I'm OK with that, I've been blessed, I've seen the world and have a great family. He left us much too early and will be missed by many, but we take comfort knowing that he did a lot of living in his 64 years.
Editor's Note:  If you like to send Ron a note, his email is: rpetro3231@yahoo.com