Wednesday, September 21, 2011 UPDATE:
There's a news director change at a CBS o-and-o in Miami to report to you.
CESAR ALDAMA, who's been the ND at WFOR-TV in Miami since March, 2010, is leaving to become Director of News for Comcast Sports Net-Mid Atlantic, based in Bethesda, MD.
Cesar had three tours of duty in Miami, one at WSVN-TV where he worked as an editor, photographer, and assignment manager, and an earlier stint as Managing Editor for WFOR. He's also worked in Baltimore and Orlando.
We'll have more on this story…and all the week's changes, in our regular weekly report later this week.
**** ***** ****
Greetings:
We have ONE new ND to report this week (though he's a three-time news director) and ONE new open ND position, created by the departure of a longtime news director in this week's report.  Combined with one position we're removing from our open list of jobs, that brings our count of open ND jobs to 26.
We have help wanted ads for ONE of those openings, along with a help wanted ad for an EP position in Portland, OR.  And we have displays ads this week for one new sponsor, Weather Metrics, as well as some of our regular sponsors, DEVLIN DESIGN GROUP, CHYRON, and BEAT THE TRAFFIC.  All four will have a presence at RTDNA and I hope you'll check out their offerings.
We have a few new News Management Openings this week, and a wide variety of items in Names in the News, including a new GM job for a former New York State ND, a new job for a two-time Minneapolis ND, and the loss of a full-time job for a veteran Utah newsman.
All that, and more, after this week's changes.
New News Director Opening:
KHGI-TV, Kearney, NE…longtime ND MARK BAUMERT is taking a job with Energy Pioneer Solutions in Hastings.  He's been ND for this Pappas-owned ABC affiliate since 1996 and has worked for the station for 23 years, including a stint on the assignment desk.  Mark's wife is a teacher and has been commuting for five years and this move will eliminate that.  Mark's a Nebraska native.
Newly Named News Director:
KWWL-TV, Waterloo, IA…veteran newsman DAN SCHILLINGER has been named ND for this Quincy Newspapers owned NBC affiliate.  Dan's currently the News Operations Manager for WJBF-TV in Augusta, GA, where he's worked in a variety of roles since 2007.  He'd earlier spent five years as the ND for KCEN-TV in Waco, TX, and was the ND and anchor for KEVN-TV in Rapid City, SD.  At KWWL, he replaces NATE LEDING who left the station in June after two years as ND.
Also, please note that we've removed KMSB-TV in Tucson, AZ, from the list of stations looking for a new news director.  That Belo-owned Fox affiliate is no longer searching for an ND and may have postponed plans for a morning newscast.  BOB RICHARDSON continues to oversee the newsroom with the title of Managing Editor.
**** ***** ****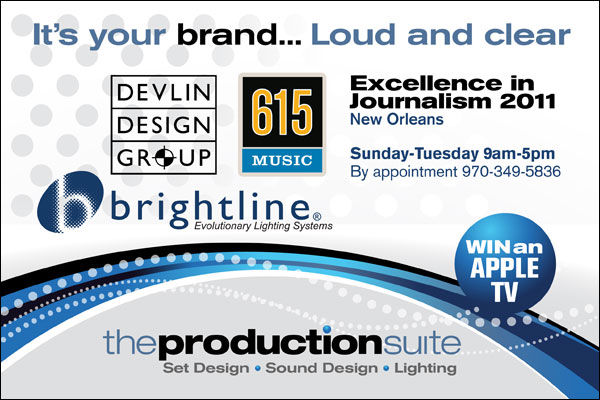 **** ***** ****
Help Wanted Ads:

News Director, WNEP-TV, Moosic, PA
One of the nation's dominant news stations is looking for a new leader.
WNEP-TV Scranton/Wilkes-Barre, Pennsylvania is searching for its next News Director.  The right candidate will eat, breathe, live and love news – in all forms.  This team produces 53 1/2 hours of HD news each week on WNEP & WNEP2, along with 1.3 million page views per week on wnep.com.  Joined by a staff of 60+, two news bureaus, four ENG and two SNG trucks, the right candidate will continue to grow ratings on one of the nation's top rated ABC affiliates, while building the future of Newswatch16 on all platforms.
Nestled at the base of the Pocono Mountains between Scranton and Wilkes-Barre, WNEP is owned by Local TV LLC.  Its signal covers 17 counties in Northeastern Pennsylvania.
If you would like to lead one of the strongest news teams in the nation, send your resume and cover letter via email to:
or via mail to:
Chuck Morgan
WNEP-TV
16 Montage Mountain Road
Moosic, Pa 18507
EOE
**** ***** ****

Executive Producer, KPTV, Portland, OR:
FOX 12 in Portland, Oregon is looking for a highly motivated leader to oversee its morning show. The successful candidate for the Executive Producer position will be a hands on news manager, with a solid producing background, a passion for breaking news, attention to details and strong communication skills.
Job Responsibilities:
· Directs editorial content for assigned newscasts
· Ensures the writing style and presentation of content meets station standards
· Executes research and ratings strategies for assigned newscast
· Handles some scheduling, timesheets and performance reviews
Job Requirements:
· Degree in Communications, Journalisim or related field
· 5 years newscast producing experience preferred
· Ability to conceptualize and execute strong visual newscast elements
· Strong writing and writing coaching skills required
· Strong news judgment and an expert understanding of libel and fairness issues
· Must be able to motivate and lead both new and veteran employees
Please send cover letter and resume to:
Corey Hanson
Executive News Director
FOX 12
14975 NW Greenbrier Parkway
Beaverton, OR 97006
Or via email to corey.hanson@kptv.com
**** ***** ****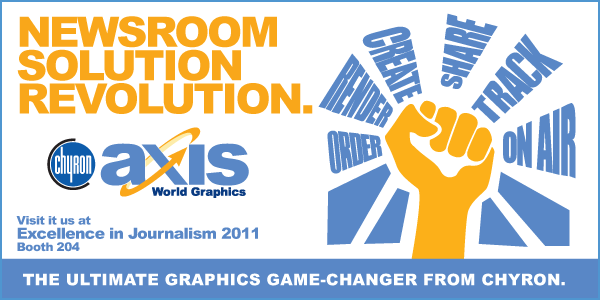 **** ***** ****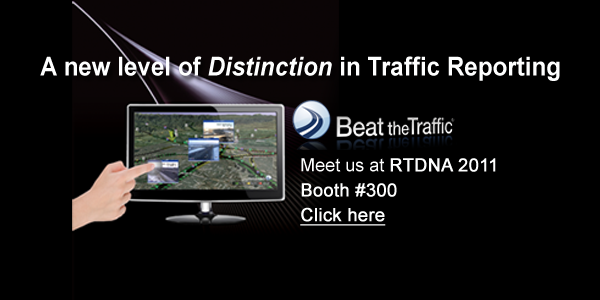 **** ***** ****
Other News Management Openings:
Assistant News Director:
WFLD-TV, Chicago, IL (relisted 9/10/11)
KSDK-TV, St. Louis, MO (relisted this week)
WRTV, Indianapolis, IN (relisted 9/3/11)
WPMT-TV, Harrisburg, PA (listed 7/29/11)
WREG-TV, Memphis, TN (relisted 9/10/10)
WMTW-TV, Portland, ME (relisted 9/10/10)
KTVM-TV, Bozeman, MT (new listing this week)
Executive News Producer:
KTVK-TV, Phoenix, AZ (AM EP, relisted 8/5/11)
KCNC-TV, Denver, CO (AM EP, listed 8/26/11)
KTVI/KPLR-TV, St. Louis, MO (listed 9/10/11)
KPTV, Portland, OR (AM EP, listed 9/10/1, see ad above!)
KOIN-TV, Portland, OR (new listing this week)
WTAE-TV, Pittsburgh, PA (Dayside EP, relisted 8/26/11)
WRAL-TV, Raleigh, NC (relisted 8/26/11)
WVIT-TV, Hartford/New Haven, CT (relisted 8/5/11)
WCPO-TV, Cincinnati, OH (PM EP, listing revised 8/12/11)
WHBQ-TV, Memphis, TN (listed 7/1/11)
WLUK-TV, Green Bay, WI (PM EP, listed 8/12/11)
WLNS-TV, Lansing, MI (listed 8/19/11)
**** ***** ****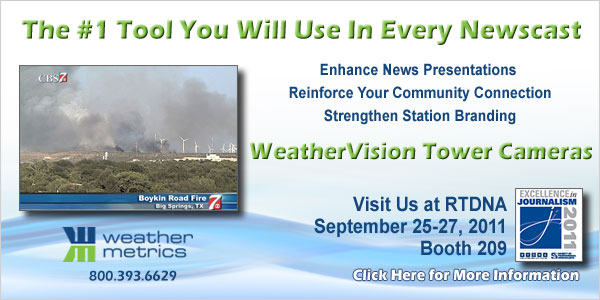 **** ***** ****
Names in the News:
Former ND VIC VETTERS has been named GM for Media General's WJAR-TV in Providence, RI.  He's worked at WKTV in Utica, NY, for more than 17 years, including four years as ND.  He most recently has been GM for WKTV and also oversaw two other stations.  Vic's also worked in Syracuse and Wilkes-Barre, PA.  He also has a law degree!
Longtime Salt Lake City newsman CON PSARRAS, who's been a news manager for three SLC stations, has left KSL-TV, at least on a full-time basis.  He'll now work as an independent contractor for the station, working on special projects and an occasional editorial.  He's been VP of Special Projects and Editorials since January, but the station has decided to discontinue regular on-air editorials and thus eliminated Con's position.
Univision has promoted three members of its news team.  LOURDES TORRES has been appointed director of special projects for Univision News;  JAIRO MARIN will be EP of the newsmagazine Aquí y Ahora (Here and Now); and MARIA MARTINEZ-HENAO has been promoted to managing editor of network news. More in this story from TVNewsCheck.com.
Old friend SCOTT LIBIN is now a full-time employee of Internet Broadcasting.  We told you a few issues ago that Scott was working there as a consultant and project manager.  He's now been named Vice President of Content Solutions for IB, which allows Scott and his wife MICHELLE to stay in the Twin Cities, where her family lives.  Most of you know that Scott's been an ND at both KSTP-TV and WCCO-TV in Minneapolis, as well as WGHP-TV in Greensboro/High Point, NC, and spent seven years in two different stints at Poynter.
Finally, if you're headed to RTDNA in New Orleans (and I hope you are), the Missouri Mafia will hold a gathering (open to all, by the way) hosted by the Devlin Design Group and held in Dan's suite at the Sheraton.  The get-together will be Monday evening from 6:00-7:30.  You can stop by Dan's booth (#400) on the exhibit floor to get the suite number, and we'll try in post it here once it is assigned!
**** ***** ****
Obituary:
A former New York State newsman committed suicide last week, shortly
after being arrested
on federal child pornography charges.  
ROBERT JASON FAIN
, who went by the name
ROB JASON
, had been an ND at
WWTI-TV
 in Watertown, NY, and earlier served as an anchor for
WWNY-TV
 in Watertown.  He was 51.
**** ***** ****
The Full List:
To the best of my knowledge, here is the list of stations with open news director jobs, as of Saturday, September 17, 2011.
If you know of any additions/deletions/changes/updates, please email me at: rick@rickgevers.com
NY 1 News 75 Ninth Ave.                                   New York NY 10011
KDFW-TV 400 N. Griffin St.                            Dallas TX 75202
New England Cable News 160 Wells Ave.    Newton MA 02459
KXLN-TV 9440 Kirby Dr.                                  Houston TX 77054
KGW-TV 1501 SW Jefferson St.                       Portland OR 97201
WNEP-TV 16 Montage Mountain Rd.   Moosic PA 18507  (see ad above!)
WROC-TV 201 Humboldt St.                           Rochester NY 14610
WSYR-TV 5904 Bridge St.                                 Syracuse NY 13057
WICS/WICD-TV 2680 E. Cook St.                  Springfield IL 62703
KOAA-TV 530 Communications Cir.            Colorado Springs CO 80905
KHGI-TV 13 S. Highway 44                       Kearney NE 66848
WGGB-TV 1300 Liberty St.                                Springfield MA 01104
KLEW-TV 2626 17th St.                                     Lewiston ID 83501
KVII-TV One Broadcast Center                       Amarillo TX 79101
KMIR-TV 72920 Parkview Dr.                         Palm Desert CA 92260
WFXL-TV 1211 N. Slappey Blvd.                       Albany GA 31707
KTUU-TV 701 E. Tudor Rd. #220                   Anchorage AK 99503
WCJB-TV 6220 NW 43rd St.                             Gainesville FL 32653
KSWT-TV 1301 Third Ave.                                  Yuma AZ 85364
KULR-TV 2045 Overland Ave.                          Billings MT 59102
WHSV-TV 50 N. Main St.                                 Harrisonburg VA 22802
WLUC-TV 177 US Highway 41 East                Negaunee MI 49866
KGNS-TV   120 W. Delmar Blvd.                       Laredo TX 78045
KREX-TV 345 Hillcrest Manor                         Grand Junction CO 81502
KSAN/KLST-TV 2800 Armstrong                     San Angelo TX 76903
KGWN-TV 2923 E. Lincolnway                         Cheyenne WY 82001