Greetings:
We have lots to share with you  in this pre-RTDNA convention edition, including TWO new ND openings and TWO newly named news directors.  That brings our always unofficial count of open news director jobs across the country to 27.  That full list, as always, is at the very bottom of this newsletter.
Allow me to remind you that we rely heavily on tips from our readers.  If you know of a news director's job that's been filled, or one that is newly opened, please me know via email at: rick@rickgevers.com
Also in this week's report, a new ad for an EP position at The Weather Channel, an ad for an open ND job as a strong Pennsylvania station, and ads from several corporate sponsors who will be exhibiting in New Orleans.
And we have important stuff, like some social events at next week's RTDNA convention that are open to all.
In Names in the News, two new news managers in top 30 markets, and our always popular list of Other News Management jobs.
All that, and more, after this week's changes.
New News Director Openings:
WFOR-TV, Miami, FL…we told you earlier this week in an emailed UPDATE that CESAR ALDAMA is leaving this CBS o-and-o.  He's been named Director of News for Comcast Sports Net-Mid Atlantic, based in Bethesda, MD, and serving the Washington, DC area.  Cesar's been ND at WFOR since March, 2010.  It's his third stint at the station, where he worked earlier as an editor and photographer, and later as Managing Editor.  He also worked for CBS's KYW-TV in Philadelphia as Assistant News Director, and worked in Baltimore and Orlando.
WTAP-TV, Parkersburg, WV…BRUCE LAYMAN has left this Gray Television owned NBC affiliate.  He'd been the ND here since January, 2002, and had earlier been a news director for WPGA-TV in Macon, Ga, and WFXL-TV in Albany, GA.  Bruce also worked as an executive producer in Knoxville and Johnson City, TN.  He began his career on-air, working in Roanoke as a reporter and Johnson City as a morning anchor, doing news, sports and weather.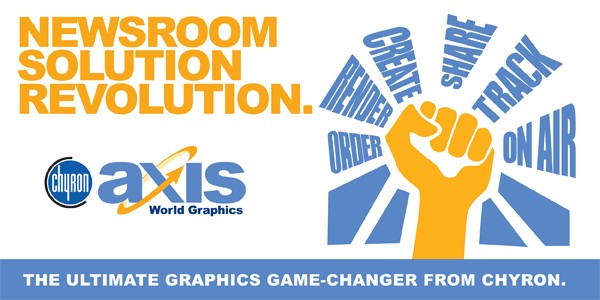 Newly Named News Directors:
WDTV, Bridgeport, WV…congratulations to NATE SMAIL who's been promoted to news director here.  Nate has been the Assistant ND for this Withers Broadcasting owned CBS affiliate.  He'll continue to anchor the 5:00 and 6:00 newscasts.  Nate first joined the station in 2006 as a reporter and has worked his way up.  He replaces JOE BROCATO, who remains at the station as Sports Director.  Joe was named ND in July. replacing SCOTT SNIDER who took an ND job in Oak Hill, WV, after seven years as ND.
KSAN/KLST-TV, San Angelo, TX…DAVID WAGNER returns to this CBS/NBC duopoly.  He's been out of the business for a few years but had earlier anchored here.  He replaces KATHY MUNOZ who left the station in March. I believe that Nexstar owns KLST and operates KSAN, which is owned by Mission Broadcasting.
**** ***** ****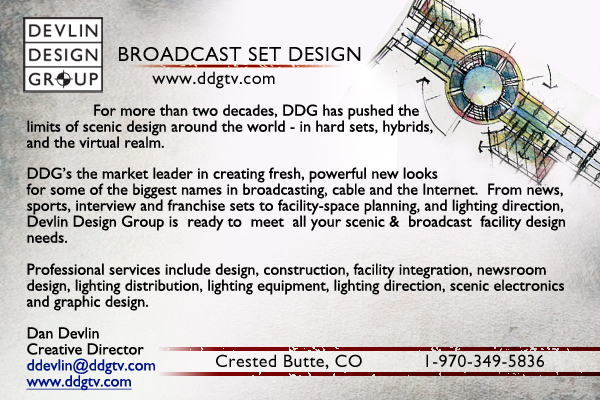 **** ***** ****
Help Wanted Ads:

Executive Producer, The Weather Channel, Atlanta, GA:
The Weather Channel is looking for a seasoned manager who will join the leadership team to help drive the live programming and editorial needs of The Weather Channel.  The Executive Producer will oversee the daily editorial process, work closely with producers and other managers across all platforms, pushing our unique content on-air and online.  This is a terrific opportunity to join an exciting work environment and help drive TWC into the future.
OVERALL RESPONSIBILITIES:
Responsible for all aspects of live programming.
SPECIFIC RESPONSIBILITIES:
Determine daily editorial content, overall production elements, graphic support and contributions from bureaus and affiliate partners.
Supervise, coordinate, schedule, teach, guide, coach and work hand in hand with individual show producers.
Script approval on studio copy, pre-produced packages and series and live content from field reporters and meteorologists.
Producing in a control room, including multiple live shots from various locations.
Consult with Meteorologists during daily briefings.
QUALIFICATIONS:
KNOWLEDGE:
10-15 years experience in live television news production
Bachelor's degree in communications, or related subject preferred.
Control room experience producing live news programs that contain live remote elements.
Must be able to work in a team environment with minimum supervision.
Advanced knowledge of computer newsroom systems
SKILLS REQUIRED:
Must be a leader
Excellent writing skills.
Organizational skills
Management skills
Strict attention to detail
Creativity
Ability to work within deadlines and within a team environment.
Must be able to  clearly communicate with live crews in the field, providing clear directions and scripting information as well as studio talent and the broadcast operations crews
Work well with others especially under stressful situations.
To apply, go to The Weather Channel Career Center by clicking here.
**** ***** ****

News Director, WNEP-TV, Moosic, PA
One of the nation's dominant news stations is looking for a new leader.
WNEP-TV Scranton/Wilkes-Barre, Pennsylvania is searching for its next News Director.  The right candidate will eat, breathe, live and love news – in all forms.  This team produces 53 1/2 hours of HD news each week on WNEP & WNEP2, along with 1.3 million page views per week on wnep.com.  Joined by a staff of 60+, two news bureaus, four ENG and two SNG trucks, the right candidate will continue to grow ratings on one of the nation's top rated ABC affiliates, while building the future of Newswatch16 on all platforms.
Nestled at the base of the Pocono Mountains between Scranton and Wilkes-Barre, WNEP is owned by Local TV LLC.  Its signal covers 17 counties in Northeastern Pennsylvania.
If you would like to lead one of the strongest news teams in the nation, send your resume and cover letter via email to:
or via mail to:
Chuck Morgan
WNEP-TV
16 Montage Mountain Road
Moosic, Pa 18507
EOE
**** ***** ****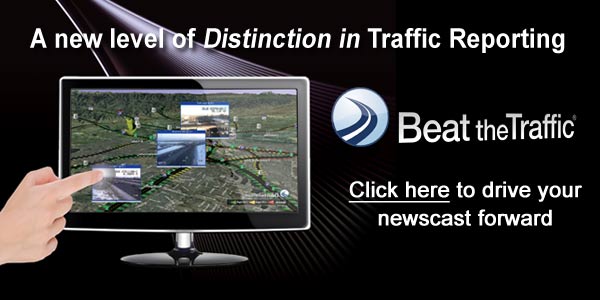 **** ***** ****
RTDNA Social Events:
If you're attending this year's convention, there are a few social gatherings that all are welcome to attend.  I plan to be at both and look forward to seeing many of your there.
The 9th Annual News Managers gathering, organized by New Orleans' own BETSY MUELLER, will take place in the lobby bar at the Sheraton Hotel.  Stop by anytime after 9:30 on Monday evening for a chance to relax and catch up with your friends and colleagues.
And the Missouri Mafia will gather Monday evening from 6:00-7:30 in the Sheraton Hotel suite (#4829) of DAN DEVLIN of the Devlin Design Group.  You can stop by Dan's booth (#400) on the exhibit floor to confirm that number…things do change!  You don't have to be a Missouri alum or student to stop by:  all are welcome.
By the way, four firms who help support this newsletter are all exhibiting at the Excellence in Journalism conference.  Please stop by their booths, thanks them for supporting our efforts, and learn more about their products and services.  As we mentioned, Devlin Design Group is in booth #400, Chyron will be in booth #204, Beat the Traffic in booth #300, and our newest supporter, Weather Metrics, is in booth #209.
**** ***** ****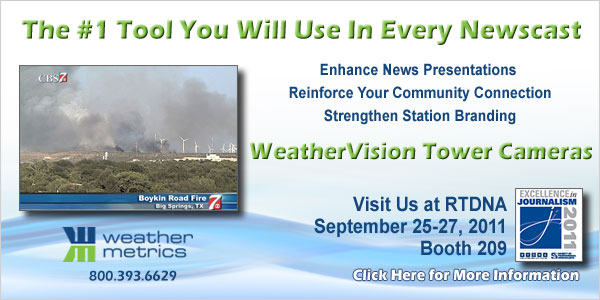 **** ***** ****
Other News Management Openings:
Assistant News Director:
WFLD-TV, Chicago, IL (relisted 9/10/11)
KSDK-TV, St. Louis, MO (relisted 9/17/11)
WRTV, Indianapolis, IN (relisted 9/3/11)
WPMT-TV, Harrisburg, PA (listed 7/29/11)
WREG-TV, Memphis, TN (relisted 9/10/10)
WMTW-TV, Portland, ME (relisted 9/10/10)
KTVM-TV, Bozeman, MT (listed 9/17/11)
Executive News Producer:
The Weather Channel, Atlanta, GA (new listing this week, see ad above!)
KTVK-TV, Phoenix, AZ (AM EP, relisted 8/5/11)
KCNC-TV, Denver, CO (AM EP, listed 8/26/11)
KTVI/KPLR-TV, St. Louis, MO (listed 9/10/11)
KPTV, Portland, OR (AM EP, listed 9/10/11)
KOIN-TV, Portland, OR (listed 9/17/11)
WTAE-TV, Pittsburgh, PA (Dayside EP, relisted 8/26/11)
WRAL-TV, Raleigh, NC (relisted 8/26/11)
WVIT-TV, Hartford/New Haven, CT (relisted 8/5/11)
WCPO-TV, Cincinnati, OH (PM EP, listing revised 8/12/11)
WHBQ-TV, Memphis, TN (relisted this week)
WLUK-TV, Green Bay, WI (PM EP, listed 8/12/11)
WLNS-TV, Lansing, MI (listed 8/19/11)
**** ***** ****
Names in the News:
DAVID WEISBLATT stays in Florida but takes a new job as Morning EP for WTSP-TV in Tampa.  He won't have far to move…he's been working as the Senior Producer for WWSB-TV in Sarasota, where he's worked for six years.  David earlier worked as a researcher for CNN.
JEFF ROSETTI has joined WTHR-TV in Indianapolis as its Assistant News Director.  Jeff most recently was a Senior Producer for CNN's Reliable Sources.  He's also been an EP in Washington, DC, and Raleigh, and a producer in Raleigh and Jacksonville, FL.
**** ***** ****
The Full List:
To the best of my knowledge, here is the list of stations with open news director jobs, as of Friday, September 23, 2011.
If you know of any additions/deletions/changes/updates, please email me at: rick@rickgevers.com
NY 1 News 75 Ninth Ave.                                   New York NY 10011
KDFW-TV 400 N. Griffin St.                            Dallas TX 75202
New England Cable News 160 Wells Ave.    Newton MA 02459
KXLN-TV 9440 Kirby Dr.                                  Houston TX 77054 **
WFOR/WFBS-TV 8900 NW 18th Terr.      Miami FL 33172
KGW-TV 1501 SW Jefferson St.                       Portland OR 97201
WNEP-TV 16 Montage Mountain Rd.         Moosic PA 18507  (see ad above!)
WROC-TV 201 Humboldt St.                           Rochester NY 14610
WSYR-TV 5904 Bridge St.                                 Syracuse NY 13057
WICS/WICD-TV 2680 E. Cook St.                  Springfield IL 62703
KOAA-TV 530 Communications Cir.            Colorado Springs CO 80905
KHGI-TV 13 S. Highway 44                             Kearney NE 66848
WGGB-TV 1300 Liberty St.                                Springfield MA 01104
KLEW-TV 2626 17th St.                                     Lewiston ID 83501
KVII-TV One Broadcast Center                       Amarillo TX 79101
KMIR-TV 72920 Parkview Dr.                         Palm Desert CA 92260
WFXL-TV 1211 N. Slappey Blvd.                       Albany GA 31707
KTUU-TV 701 E. Tudor Rd. #220                   Anchorage AK 99503
WCJB-TV 6220 NW 43rd St.                             Gainesville FL 32653
KSWT-TV 1301 Third Ave.                                  Yuma AZ 85364
KULR-TV 2045 Overland Ave.                          Billings MT 59102
WHSV-TV 50 N. Main St.                                 Harrisonburg VA 22802
WLUC-TV 177 US Highway 41 East                Negaunee MI 49866
KGNS-TV   120 W. Delmar Blvd.                       Laredo TX 78045
KREX-TV 345 Hillcrest Manor                         Grand Junction CO 81502
WTAP-TV One TV Plaza                                Parkersburg WV 26101
KGWN-TV 2923 E. Lincolnway                         Cheyenne WY 82001
** Spanish language station