Greetings:
THREE new openings, including one created by a health-caused retirement of a 30 year news director, lead this week's report. And we have THREE new news directors to share, leaving our count of open ND jobs at 27.
We have a paid ad for ONE of those newly open ND jobs, along with SIX ads for management positions in a wide variety of markets.
And we welcome a new advertiser, NowMachine, which promises to help you with breaking news coverage by automatically monitoring social media and police scanners alerting you to breaking news–before it's even been reported. Check out their ad below.
We have THREE obituaries, including one of a longtime Magid employee who veteran NDs might remember.
And in Names in the News, a veteran New York newsman is back in a newsroom, several news managers on the move, the retirement of a VP/Television for a large group, and several GM moves within Tribune.
All that, and more, as you read on.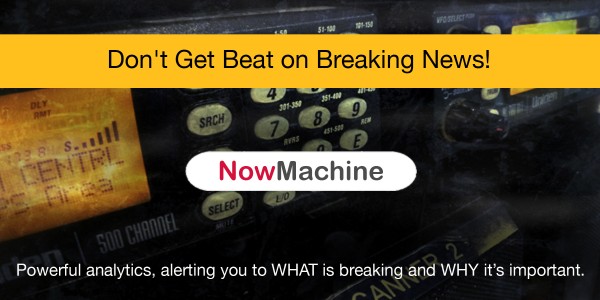 New News Director Openings:
WXYZ-TV, Detroit, MI…another week, another Detroit news director vacancy. We told you Tuesday that TIM DYE is leaving this Scripps' owned ABC affiliate after 3+ years as ND to return to Grand Rapids and a PR job there. Tim spent 12 years as ND for WXMI-TV (FOX) in Grand Rapids before taking the WXYZ job, but his family stayed behind and he's been commuting. He's also worked for WOOD-TV in Grand Rapids (twice, one when I hired him when I was the ND there), and in Saginaw. He's joining TruscottRossman, a strategic communications firm as VP. Here's the firm's news release on his hire. Learn more about this opening in the paid ad below.
KSAT-TV, San Antonio, TX…I'm sorry to report that longtime ND JIM BOYLE has retired for health reasons and is currently recovering from surgery. Jim spent almost 30 years as ND for this Post-Newsweek owned ABC affiliate, a remarkable tenure for this size market. Here's part of a statement the station sent me after I asked:
We ask for thoughts and prayers for Jim and his family and we appreciate your respect of our privacy as we all deal with Jim's recovery. There will be no further comment at this time as we at KSAT12 are focused on helping Jim get well, while we continue serving the community that Jim so loves.
Earlier in his career he worked in Baltimore and San Diego.
KGAN/KFXA-TV, Cedar Rapids, IA…ROD JACKSON has left this Sinclair owned duopoly after 14 months as ND. He first joined KGAN as Managing Editor in 2011, spent five months as interim ND before being promoted in July, 2012. Rod spent 13 years as a producer for ABC's NewsOne in Los Angeles. He's also worked in Salt Lake City, Las Vegas, and Billings, MT. His replacement will be the fifth ND in just over seven years.
Newly Named News Directors:
KSNW-TV, Wichita, KS…DENISE KILLIAN has been named ND for this LIN Media NBC affiliate. She's the Interim ND for KDAF-TV, the CW affiliate in her hometown of Dallas, where she's worked for the last year and a half. Denise was ND for KWQC-TV in the Quad Cities, worked in Dallas earlier in her career, and has also worked in Nashville (twice), Corpus Christi, and Temple, TX. She replaces JASON KRAVARIK who left the station in January, 2012 (that is NOT a typo). (The station did change owners from New Vision to LIN Media during that time.)
WTOV-TV, Steubenville, OH…DAN SLOAN, who's been sports director of this NBC affiliate for 23 years, has been promoted to News Director. He replaces MIKE BOTHWELL who was promoted earlier this month to be the Assistant News Director of sister-Sinclair station WHP-TV in Harrisburg, PA. (Sinclair bought this station from Cox earlier this year.)
WBKB-TV, Alpena, MI…VALENA JONES has been promoted to News Director here.
Paid Help Wanted Ads: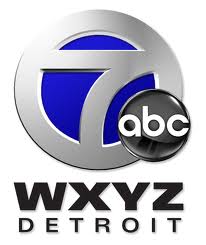 News Director, WXYZ-TV, Detroit, MI:
The E.W. Scripps owned ABC affiliate in Detroit, seeks an aggressive, enthusiastic, motivated & dedicated News Director for one of the best positions in the country.
A truly challenging role, the right person will be responsible for developing and implementing measurable strategies for audience growth while effectively managing news content delivered on multiple platforms in one of the Top 5 News cities in America.
The successful candidate will possess 10 + years' experience in newsroom management.
Medium to large market experience strongly preferred. Must have proven and effective leadership skills; fosters open dialogue, empowers others, addresses conflict quickly and directly. Strong organizational and communication skills (verbal and written) required.
Qualified applicants can apply online at www.scripps.com/careers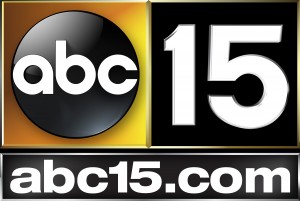 Executive Producer, KNXV-TV, Phoenix, AZ:
Are you highly skilled at showcasing great content? Are you an expert in aggressively covering breaking news while leading a dynamic team of producers, writers, reporters and anchors?
ABC15 in Phoenix, Arizona is looking for a proven leader to join our team as Dayside Executive Producer. Our next EP must believe in quality journalism and have an unyielding will to win the story.
As the Executive Producer, you will help manage content and showcasing across multiple platforms. We're looking for someone with a keen understanding and appreciation for well-crafted, visual story telling. If you are passionately curious and want to supervise a great team in one of the most livable cites in Amerca we want to hear from you.
To apply for this position, please visit us at http://scripps.com/careers/jobsearch.html and search for requisition #6785.
KNXV ABC 15 IS AN EQUAL OPPORTUNITY EMPLOYER.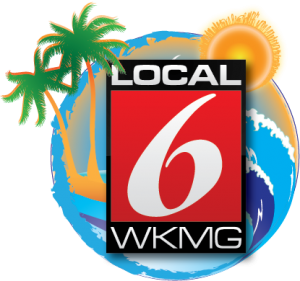 Assignment Editor, WKMG-TV, Orlando, FL:
Are you currently an Assignment Editor and want to advance your career? How about a Producer, Reporter or Photographer looking to try something different? Leave the snow, ice and slush coverage behind and come work in one of the craziest news markets in the country!
WKMG Local 6 in Orlando is looking for its next great leader on the Assignment Desk.
This market requires an Assignment Editor with strong breaking news skills, the ability to dig and uncover big stories, and most importantly the desire to grow your career at a legacy Post Newsweek station. Digital newsgathering knowledge and social media expertise a must!
If you're interested in running the Assignment Desk in a top 20 market, send your resume to Managing Editor Raquel Giorgio at: rgiorgio@wkmg.com.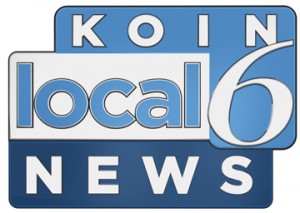 Assistant News Director, KOIN-TV, Portland, OR:
KOIN Local 6 News in Portland, Oregon, is seeking a Newsroom Leader who will hold the position as Assistant News Director. The ideal candidate will partner with the News Director by being an advisor, and execute daily a winning culture that thrives on sustaining daily coverage and enterprising stories.
The duties will include overseeing daily operations by working with and through the KOIN 6 Newsroom staff to ensure the execution of content on all media platforms. Must possess strong news judgment, unwavering focus on brand, and the ability to work and make decisions under deadline pressure. We are looking for someone who is hands-on, and excels at strategic, operational, and tactical leadership while being a motivational force for the KOIN News Team. Knowledge of digital media and implementation of social media strategies should be demonstrated in current position. News management experience is preferred.
If you are interested in joining KOIN's team please email your cover letter and resume to koinhr@koin.com or mail your cover letter and resume to:
KOIN Local 6
Assistant News Director Search
Attn: HR Director
222 SW Columbia St.
Portland, Oregon 97201
No Phone Calls Please
A background check is required
Lin Media/KOIN TV is an Equal Opportunity Employer
When applying for this position please mention how you were referred.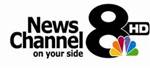 Assistant News Director, WFLA-TV, Tampa, FL:
WFLA-TV, the NBC affiliate in Tampa, FL, is seeking an Assistant News Director to manage day-to-day news coverage. We want someone who places a high value on original reporting and investigative journalism. We want someone who knows how to motivate. We want someone who pays attention to detail and is willing to hold our journalists to high standards.
The Assistant News Director must possess high ethical standards and strong news judgment. This is not a job for someone reluctant to be in charge.,
Please complete the online application at by clicking here and upload your resume and cover letter.
Tech Skills: ENPS, Vertigo, Grass Valley/Edius editing.
Job Skills: This position requires someone with superior news judgment, strong organizational skills, and the ability to effectively supervise staff on a daily basis, with the end-product being content that clearly and effectively illustrates and "lives" our brand.
Minimum Education: Bachelor's Level Degree – Journalism Preferred
Minimum Experience: This person must be an experienced news manager of at least 8 years. The superior candidate will have news director experience, possibly in a smaller market than Tampa. If not, this candidate will have had at least Executive Producer or Assistant News Director experience in another market.
How To Apply: Background check and drug screen required.
Qualified applicants can apply online at www.mediageneral.com or send their resume to:
WFLA
Attn: Human Resources
200 S. Parker Street
Tampa FL 33606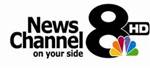 Morning Executive Producer, WFLA-TV, Tampa, FL:
WFLA-TV, the NBC affiliate in Tampa, is seeking an experienced Executive Producer for its morning newscast. The Executive Producer is responsible for managing the content and presentation of the morning newscast and Today Show news cut-ins.
Requirements: Must have a strong journalistic sense, knowledge of what makes news and what interests people. Must have the ability to meet deadlines and work with a wide range of personalities. Must be a strong communicator.
Please complete the online application by clicking here and upload your resume and cover letter.
Tech Skills: Microsoft Office including Outlook, Word, Excel and Powerpoint
Job Skills: Executive Producers are not only responsible for the overall "look" of newscasts assigned to them, they are responsible for evaluating each individual item in all newscasts, including story selection, story content, and story presentation.
Minimum Education: Bachelor's Level Degree – Journalism preferred.
Minimum Experience: 5 years of experience required. EP's should have 3 to 5 years of news department management experience, preferably as a producer, or as an EP in a smaller television market.
How To Apply: Background check and drug screen required.
Qualified applicants can apply online at www.mediageneral.com or send their resume to
WFLA
Attn: Human Resources
200 S. Parker Street
Tampa, FL 33606
Assistant News Director, WIVB-TV, Buffalo, NY:
Lin Media's WIVB/WNLO-TV in Buffalo, is looking for Assistant News Director, who will partner with the News Director to lead one of the strongest groups of journalists in the business. The News 4 Team knows the importance of investigative and enterprise journalism and understands bringing value to the viewer.
The Assistant News Director will manage all the day to day operations of the newsroom. The role includes explaining and sustaining the News Director's vision, as well as maintaining a strong positive newsroom culture. Additionally, this individual will oversee the training of both producers and reporters, helping to create a system of critiques and feedback.
Qualified candidates will have exceptional writing skills, great visual skills along with extensive knowledge of digital content. A producing/reporting background as well as the desire to make each newscast powerful and unique is essential to success in this position.
WIVB/WNLO is a LIN Media station. We are an Equal Employment Opportunity employer, and offer competitive salaries and wages, and a standard benefit package that includes a 401K plan and medical and dental plans.
Please e-mail your resume to news@WIVB.com
Other News Management Openings:
ASSISTANT NEWS DIRECTOR:
WFLA-TV, Tampa, FL (listed 9/21/13, see ad above!)
KOIN-TV, Portland, OR (new listing this week, see ad above!)
WBNS-TV, Columbus, OH (listed 8/16/13)
WCPO-TV, Cincinnati, OH (listed 9/1/13)
WPBF-TV, W. Palm Beach, FL (listed 8/2/13)
WBMA-TV, Birmingham, AL (listed 9/1/13)
WIVB-TV, Buffalo, NY (listed 9/21/13, see ad above!)
WDTN-TV, Dayton, OH (listed 9/6/13)
KMTV, Omaha, NE (relisted 9/1/13)
KFVS-TV, Cape Girardeau, MO (listed 8/11/13)
WBTW-TV, Myrtle Beach, SC (News Content Mgr., revised 8/11/13)
WFXG-TV, Augusta, GA (listed 9/1/13)
EXECUTIVE NEWS PRODUCER:
KCBS-TV, Los Angeles, CA (EP of Sports, listed 8/11/13)
KRON-TV, San Francisco, CA (2 openings, AM & Dayside, listing revised 9/1/13)
KTVU-TV, Oakland/San Francisco, CA (Special Projects EP, listed 8/11/13)
KRIV-TV, Houston, TX (AM & PM openings, relisted 9/1/13)
KNXV-TV, Phoenix, AZ (new listing this week, see ad above!)
KCPQ-TV, Seattle, WA (relisted this week)
WFLA-TV, Tampa. FL (listed 9/21/13, see ad above!)
WFTV, Orlando, FL (AM EP, listed 8/2/13)
KUSI-TV, San Diego, CA (relisted 9/1/13)
KSHB-TV, Kansas City, MO (listed 8/11/13)
WDJT-TV, Milwaukee, WI (PM EP, listed modified 9/21/13)
WAVE-TV, Louisville, KY (PM EP, listed 9/1/13)
WLNE-TV, Providence, RI (listed 8//16/13)
KCRG-TV, Cedar Rapids, IA (listed 9/1/13)
NEWS OPERATION MANAGER:
KCBS-TV, Los Angeles, CA (listed 8/11/13)
MANAGING EDITOR:
WCPO-TV, Cincinnati, OH (listed 9/1/13)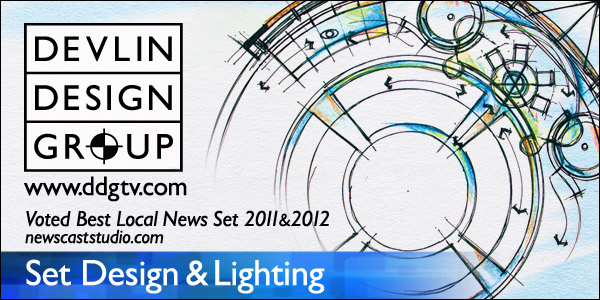 Obituaries:
LINDA MOATS, who worked in the Talent Placement Department at the Frank N. Magid Associates consulting firm for more than 20 years, died last Sunday (9/22/13) after a brief illness. She was 66, and is survived by her husband of 45 years and two children. Linda retired from Magid ten years ago. BARB FRYE, Magid's longtime VP of Talent Recruitment, tells me Linda was always a pro with clients, talent, and co-workers. You can read more on Linda by clicking here. A note of condolence can be sent to her husband Chuck via email: fulltimers01@aol.com
LEE THORNTON, the first African American woman to be assigned to a network (CBS) White House beat, died September 25th at the age of 71 of pancreatic cancer. She also worked at CNN, anchored the weekend morning edition of All Things Considered, and taught journalism at the University of Maryland. She also served as interim dean for the College of Journalism at Maryland, which reports on her passing and career in this article.
RICK DAWSON, who was once the ND for WFYI-TV, the PBS station in Indianapolis, died Monday at the age of 51. He was a longtime reporter and anchor for WISH-TV, the CBS station in Indianapolis, and also worked in Ft. Wayne. He's survived by his wife, SHANNON, a former producer for WISH-TV, and three children.
Situations Wanted:
We offer a free situations wanted ad to news managers who are out of work and looking for a new opportunity. If you'd like to state your case to a well targeted audience, email me an item (max. 150 words). You may include a link to a website, an email address, and a photo. You must include your name. I'll run it for one week. I don't represent or endorse those listed, but merely trying to help.
Names in the News…and other stuff:
JOE COSCIA, who's worked in several New York newsrooms, is joining another one. He's been hired at WPIX-TV as EP for Election coverage. Joe's been a news director in Pittsburgh, West Palm Beach, Albany, NY, and Providence, and also worked for ABC News. For the past five years he's worked on a number of syndication projects, including ProPixTV and TestDriveNow.
WPIX has also hired ZEV SHALEV as EP of its morning news. He's been working at the Fuse Network.
RICHARD WASHINGTON III moves just a few miles north to become the new Nightside EP for WBAL-TV, the Hearst owned NBC station in Baltimore. He had been the 5:00 producer for Fox's WTTG-TV in Washington, and has worked in Atlanta, Charlotte, and Richmond.
DOUG DeYOUNG, who spent ten years as the ND for WPBN/WTOM-TV in Traverse City before leaving in 2009 to work for the Traverse City Chamber of Commerce, has a new job. He's now Public Affairs Area Manager for Consumers Energy. During his TV days, he also worked in Grand Rapids (where we worked together) and in Lansing.
Oops. Last week I told you ALEXIS MARSHALL was leaving WIVB-TV in Buffalo (that was right) to go to Tampa as EP for WFLA-TV in Tampa (that wasn't so right). Alexis is actually going to Scripps' WFTS-TV in Tampa. Apologies.
GM NOTES:
SCOTT BLUMENTHAL is retiring as Executive VP/Television for LIN Media. He's been with the company for more than 30 years, starting as a sales manager in Indianapolis. (We worked together briefly when he was the GM for WOOD-TV in Grand Rapids, MI.) More in this press release from the company.
He'll be replaced by JAY HOWELL, who's been VP/Regional Television for LIN, and a former GM of the company's Providence stations. Jay's also been a GM in Abilene, TX. Many of you may know his father, JOHN HOWELL, a longtime Pittsburgh GM who had been an ND in several markets including Detroit and Buffalo.
Tribune Broadcasting has promoted ROGER BARE to be GM of the company's Dallas station, KDAF-TV. He'll continue as GM of Tribune's KIAH-TV in Houston. (I see many trips on Southwest Airlines in his future.) At KDAF, he replaces longtime broadcaster JOE YOUNG who is retiring. Joe's been GM here since 1995 and previously was a GM for WXIN-TV in Indianapolis.
Tribune also promoted STEVE FARBER to Senior VP/Operations. He's been the acting GM for WGN-TV for the past year.
Our Full List of ND Openings:
Here is my list of stations with open ND jobs, as of Saturday, September 28,, 2013.
If you know of any additions/deletions/updates, please email me at: rick@rickgevers.com
KWHY-TV 1201 West 5th St., # T-900 Los Angeles CA 90017 *
WJBK-TV 16550 W. 9 Mile Road Southfield MI 48075
WXYZ-TV 20777 W. 10 Mile Road Southfield MI 48037 (see ad above!)
KPHO-TV 4016 N. Black Canyon Hwy. Phoenix AZ 85017
KDEN-TV 2851 S. Parker Rd. #1130 Denver CO 80014
KCTV 4500 Shawnee Mission Pkwy. Fairway, KS 66205
KSAT-TV 1408 N. Saint Mary's San Antonio TX 78215
KVDA-TV 6234 San Pedro San Antonio TX 78216 *
WHP-TV 3300 North 6th Street Harrisburg PA 17110
WHAS-TV 520 W. Chestnut St. Louisville KY 40203
WEYI-TV 2225 W. Willard Road Clio MI 48420
WSET-TV 2320 Langhorne Rd. Lynchburg VA 24501
WHEC-TV 191 East Ave. Rochester NY 14604
WROC-TV 201 Humboldt Street Rochester NY 14610
WAAY-TV 1000 Monte Sano Boulevard Huntsville AL 35801
KBTX-TV 141 E. 29th Street Bryan TX 77802
KOAA-TV 530 Communications Circle Colorado Springs CO 80905
KGAN/KFXA 600-2 Old Marion Rd NE Cedar Rapids IA 52402
WTXL-TV 1620 Commerce Blvd Midway FL 32343
KYTX-TV 2211 ESE Loop 323 Tyler TX 75701
WEEK/WHOI-TV 2907 Springfield Rd. Peoria IL 61611
KMID-TV 3200 LaForce Blvd. Midland TX 79711
WTWO-TV PO Box 9268 Terre Haute IN 47808
WUTR/WFXV/WPNY 5956 Smith Hill Rd. Utica NY 13502
WETM-TV 101 E. Water St. Elmira NY 14901
WLIO-TV 1424 Rice Ave. Lima OH 45805
KVEO-TV 394 N. Expressway Brownsville TX 78521
* Spanish language station