Thursday, February 15th, 2018 UPDATE:
I'm sorry to report the passing of a well respected, long-time small market news director who also had very large market experience.
KENNY BOLES passed away last night. While he was battling pancreatic cancer, he apparently died of cardiac arrest. He was just 64 years old.
He'd spent the last 21+ years as ND of KLTV/KTRE-TV, Raycom Media owned stations serving Lufkin and Tyler, TX. Kenny grew up nearby: his first job at age 17 was as a studio cameraman at KTRE.
He went on to work in Houston and Dallas, for two stations in Chicago, as a producer for ABC News based in Chicago, and in management positions in Orlando and Los Angeles.
Kenny wrote a much more detailed accounting of his career when he was inducted into the NATAS Silver Circle in 2016. You can read that here.  (Link fixed 10:50 PM 2/15/18)
And his wife CYNTHIA, who worked in TV for many years before moving to public relations, wrote this very moving tribute to him on her Facebook page.
A funeral service will be held this Saturday at 4:00 at the First Christian Church, 4202 S. Broadway in Tyler, TX 75701.
Our sympathy to his family, friends, and co-workers.
regards,
gevers
**** ***** ****
Tuesday, February 13th, 2018 UPDATE:
A new news director announced within the hour in the 12th market.
BILL DALLMAN moves north to become the next ND for Sinclair's KOMO-TV in Seattle. That's the ABC affiliate there.
This memo to the staff from KOMO General Manager JANENE DRAFS has more.
Bill most recently was the VP/News for KCBS/KCAL-TV, the CBS owned duopoly in Los Angeles. He was the first news director for Fox Sports 1, and also started the news department for KDVR-TV in Denver when it was owned by Fox.
In between those two assignments, Bill spent seven years as the VP/News for Fox's KMSP-TV in Minneapolis. His first news director job was in Grand Rapids at WZZM-TV. He's also worked in Sacramento and for another Minneapolis station.
At KOMO, he's replacing the retiring PAT COSTELLO who's been the ND there for just over three years.
More in our full report later this weekend.
regards,
gevers
**** ***** ****
Greetings:
Another busy week for news directors and news managers on the move, with ONE newly named news director, and FOUR new ND openings. ONE of those openings involves a news director who spent more than three decades at her station.
Our list of stations with news director openings jumps to 28.
We have ONE paid help wanted ad for an EP job at a Denver duopoly.
In Names in the News, a network news president will be honored by RTDNF, the Washington Post examines one group owner which has asked its news directors to contribute to the company's PAC, and a look at companies which are challenging Nielsens dominance of the ratings industry.
We have TWO obituaries of long-ago news directors, one of whom used to be a network correspondent.
And we have news about THREE general managers on the move, another current GM gets a promotion (but he'll keep his current job) and a former newswoman turned general manager is profiled.
That…and more…in this week's edition.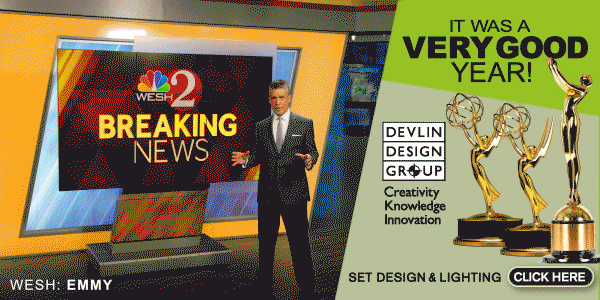 Newly Named News Director: 
WTVM-TV, Columbus, GA…MARK ROSEN returns to Georgia as the next news director for this Raycom Media owned station. Here's the memo from GM HOLLY STEUART (a former ND herself) to the staff. Mark's spent the last two years as ND for WFFF/WVNY-TV in Burlington, VT. A George native, Mark was an ND in Augusta, GA before moving to Vermont. At WTVM, Mark replaces SHAWN REYNOLDS who moved to Atlanta as an EP for WGCL-TV.
New News Director Openings: 
KARE-TV, Minneapolis, MN…we told you in a weekend UPDATE that JANE HELMKE is leaving this Tegna owned NBC affiliate after 35 years, the last 6 1/2 as news director. Her partner, TERESA, is batting cancer and Jane wants to spend time with her. Here's the memo to the staff from GM JOHN REMES. That note includes a note from Jane, and I've also included a post from her Facebook page.
KVVU-TV, Las Vegas, NV…also in that weekend UPDATE was a report that CRISTI JESSEE has left this Meredith owned FOX affiliate after slightly more than two years as news director. The Las Vegas Review-Journal reported on possible reasons behind her departure…that's in the second item in this column. Cristi's also been a news director in Bakersfield and Alexandria, MN.
WFFF/WVNY-TV, Burlington, VT…we told you above that MARK ROSEN is leaving this Nexstar owned operation to return to his native Georgia as ND for WTVM-TV in Columbus.
KCAU-TV, Sioux City, IA…JIM PARKER has left this Nexstar owned ABC affiliate after about 18 months as news director. His departure comes a few days after he was charged with public intoxication. Jim told me he had been drinking despite doctor's orders not to while he recovered from kidney surgery. He's a former ND in Cedar Rapids, Rockford, IL, and Binghamton, NY, and has worked in San Francisco, Philadelphia, Washington, DC, Portland, OR, and Toledo where I hired him for his first TV job.
Paid Help Wanted Ad:

Executive Producer, KDVR/KWGN-TV, Denver, CO:
Are you a show doctor who oversees a newscast filled with urgent, impactful news?
Do you LOVE to win the day, every day, on all platforms?
Are you looking for an opportunity to take your creativity to the next level in a city as exciting and beautiful as Denver, Colorado?
KDVR/KWGN, the Fox and CW affiliate in Denver, Colorado, is looking for a creative and aggressive Executive Content Producer to lead us on the evening shift — delivering news on multiple platforms including our evening newscasts.
The Executive Producer must be a proven newsroom leader who embodies an audience-first approach to delivering news. This individual will excel under tight deadlines and bring bold, creative ideas to our newsroom.
We have a talented team of storytellers in this newsroom, plenty of resources, and most people will tell you — it's a pretty great place to work.
Plus, you get to live in Denver – with the Rockies in your backyard. Spend your off-time skiing, snowboarding, backpacking, hiking, eating at top-notch restaurants, and enjoying life in a vibrant, and growing downtown!
Five years of producing experience, and 2+ years of management experience required.
Apply by clicking here:
Other News Management Openings:
ASSISTANT NEWS DIRECTOR:
KTNV, Las Vegas, NV (relisted 1/14/18)
WAAY-TV, Huntsville, AL (relisted 1/14/18)
KWWL-TV, Waterloo, IA (relisted 1/28/18)
KVRR-TV, Fargo, ND (relisted 12/31/17)
KSBW-TV, Monterey, Salinas, Santa Cruz, CA (listed 1/14/18)
EXECUTIVE PRODUCER:
WTTG-TV, Washington, DC (listed 1/14/18)
KRIV-TV, Houston, TX (Evening EP, relisted 2/4/18)
KOMO-TV, Seattle, WA (2 openings, AM & PM, listing revised 12/16/17)
KDVR/KWGN-TV, Denver, CO (listed 2/4/18, see ad above!)
WXIN/WTTV, Indianapolis, IN (listed 1/21/18)
WJXT-TV, Jacksonville, FL (Nightside EP, relisted 1/21/18)
KMTV, Omaha, NE (AM EP, listed 1/14/18)
WTVG-TV, Toledo, OH (listed 12/23/17)
WAAY-TV, Huntsville, AL (relisted 1/14/18)
WISC-TV, Madison, WI (AM EP, relisted 1/21/18)
MANAGING EDITOR:
KWCH-TV, Wichita, KS (listed 1/21/18)
Obituaries:
RON BECKER, whose career spanned network correspondent, local news director/anchor and general manager, died January 28 at the age of 78. He had battled pancreatic cancer for several years. Ron was an NBC correspondent, a news director/anchor in Atlanta among other markets, and a GM in Wilmington NC. He left TV in 2001 to become the managing partner of an oil and gas drilling consultant. Much more details about him in this obituary.
VINCENT CLEPHAS died January 26th. He was 82. In the late 60s-early 70s, he was the news director for WMAL-TV (now WJLA-TV) in Washington. He'd also worked in Louisville and Roanoke. He later went into politics and government service, where he had a remarkable career about which you can learn more by clicking here.
Names in the News (and other items):
SALLY DURWALD has been promoted to EP at WIVB-TV in Buffalo. A Buffalo native, she's worked there about a year and spent 17 years at WGRZ-TV there.
CBS News President DAVID RHODES will receive the RTDNF First Amendment Service Award at a dinner next month in Washington.
The Washington Post looks at Sinclair's request to its news directors that they contribute to the company's political action committee.
Arkansas Business has a good look at how Little Rock stations are using new ratings services that are giving Nielsen a run for its money. And the story has the latest Little Rock numbers.
General Manager News and Notes:
Some General Manager changes:
Station veteran TERI MONAHAN has been promoted to General Manager for WMDT-TV in Salisbury, MD. She's worked at this Marquee Broadcasting owned ABC affiliate since 1988.
SCOTT THOMAS has left Raycom's KFVS-TV in Cape Girardeau, MO. He was GM there for about 18 months.
JEFF FISHER has parted ways with Bayou City Broadcasting's WEVV-TV in Evansville after three years as GM.
TIM INGRAM, general manager of Raycom Media's WVUE-TV in New Orleans, has been promoted to Regional Group Vice President for the company. He'll remain GM of WVUE. This news release explains his new responsibilities and details which stations he will oversee. Tim's also been a general manager for Raycom stations in Jonesboro, AR, and Cape Girardeau, MO.
The Indianapolis Business Journal profiles LANA DURBAN-SCOTT who's recently joined Scripps' WRTV in Indianapolis as general manager. She's only the second female GM in Indianapolis, and the first in 17 years. (Since you were going to ask: LINDA GRAY at WXIN-TV.)  Many of you know Lana, who spent more than 10 years as one of Scripps' directors of news strategies.
Our Full List of Open ND Jobs:
Here's our list of open ND jobs as of Sunday, February 11, 2018:
It's unofficial, there may be others that are open, and some of these may have been filled. If you know of any in either category, please let me know: rick@rickgevers.com
Verizon Fios 1 News 800 Westchester Avenue, Rye Brook, NY 10573
WUSA-TV 4100 Wisconsin Ave NW Washington DC 20016
WUVG-TV 3350 Peachtree Road #1250, Atlanta, GA 30326 **
KOMO-TV 140 4th Ave N Seattle, WA 98109
WFLA-TV 200 S. Parker St. Tampa FL 33606
WTSP-TV 11450 Gandy Blvd, St. Petersburg, FL 33702
KARE-TV 8811 Olson Memorial Hwy, Golden Valley, MN 55427
WOIO/WUAB-TV 1717 E. 12th Street Cleveland, OH 44114
KUVS-TV 1710 Arden Way, Sacramento CA 95815 **
WTMJ-TV 720 E Capitol Dr, Milwaukee, WI 53212
KVVU-TV 25 TV 5 Dr, Henderson, NV 89014
WJAX/WFOX 11700 Central Pkwy, Jacksonville, FL 32224
KOB-TV 4 Broadcast Plaza SW Albuquerque, NM 87104
WFTX-TV 621 S.W. Pine Island Rd. Cape Coral, FL 33991
WVLT-TV 6450 Papermill Drive Knoxville, TN 37919
KETV 1001 S. 10th Street Omaha, NE 68108
WPSD-TV 100 Television Lane. Paducah, KY 42003
WFFF/WVNY-TV 298 Mountain View Dr. Colchester, VT 05446
WJHL-TV 338 E. Main Street Johnson City, TN 37601
KIVI-TV 1866 E. Chisholm Dr. Nampa, ID 83687
KTVB-TV 5407 West Fairview Ave. Boise, ID, 83706
KHSL/KNVN-TV 3460 Silverbell Rd. Chico, CA 95973
WAOW-TV 1908 Grand Ave. Wausau WI 54403
KMIR-TV 72920 Parkview Dr. Palm Desert, CA 92260
KCAU-TV 5993 Gordon Drive Sioux City, IA 51106
KECI-TV 340 W. Main St., Missoula, MT 59802
KFBB-TV P.O. Box 1139. Great Falls MT 59403
KRTV P.O. Box 2989, Great Falls, MT, 59403
**: Spanish language station