Greetings:
Sad news tonight from Albuquerque, where KRQE-TV is mourning the loss of its helicopter pilot, BOB MARTIN, who died yesterday when the station's chopper went down.
Here's the link to the station's coverage of the crash.
UPDATE 9/18/18:  The station aired this tribute to Martin.
Our sympathy to the staff of KRQE and to the family and friends of pilot Martin.
**** ***** ****
On to our normal business…
TWO newly named news directors this week…and just ONE new opening. That leaves our list of open ND jobs at 26.
ONE of those open jobs is featured among our TWO Paid Help Wanted Ads. And the other ad is for a recruiting position at CNN, which, I'm guessing, will appeal to a lot of you.
TWO top 25 market stations have filled open management jobs: we'll tell you who filled those below.
We tell you about the good news for a Los Angeles Assistant ND who's moving to a GM job at a market six NBC o-and-o. And there are a few other GM moves, as well.
And we have TWO obituaries, including one for a five-time news director.
All that and more below!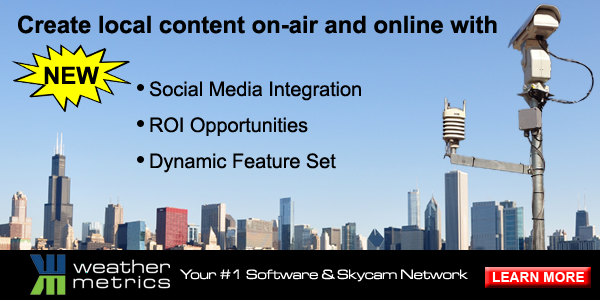 New News Director Openings: 
KWCH-TV, Wichita, KS…BRIAN GREGORY heads west to be reunited with GM JOAN BARRETT at Tribune's KDVR/KWGN-TV in Denver. He was ND here for 4+ years.  More on his move below.

Newly Named News Directors: 
WNEU-TV, Boston, MA…DAMARIS BONILLA moves within Telemundo to become ND for its Boston station. She has been the Assistant ND for WWSI-TV in Philadelphia. Damaris will be replaced as Philly's Assistant ND by ANA HERNÁNDEZ RAMOS.
KDVR/KWGN-TV, Denver, CO…you learned from our mid-week update that BRIAN GREGORY will be the next ND for this Tribune owned FOX/CW duopoly. The move reunites him with GM JOAN BARRETT: they worked together in Wichita at KWCH-TV. Here's the memo Brian sent his staff at KWCH, and here's the press release from KDVR. He's also worked in Sacramento, Knoxville, and Erie, PA, where he began as a part-time photographer. Brian replaces HOLLY GAUNTT who crossed the street (literally in this case: the stations are across from each other on Speer Blvd.) earlier this summer.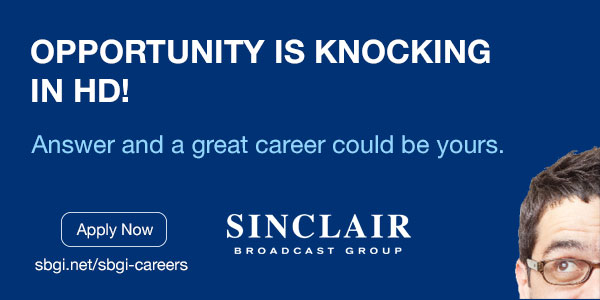 Paid Help Wanted Ads:

Director, Talent Recruitment & Development, CNN, New York, NY:
CNN is looking for a Director, Talent Recruitment & Development to work with the VP, Talent Recruitment & Development to plan, lead, and execute the talent acquisition strategy for CNN Worldwide. The emphasis is "off-air" talent which includes producers (EPs, Sr. Producers, show producers, field producers, AP's, PA's, booking producers), writers and digital journalists at all levels.
Responsibilities:
Coordinate with Executive Producers, CNN's Senior Leadership and HR to assess current and future talent needs, then develop a network and pipeline of talented individuals.
Assess, guide, coach and develop talented producers to optimize growth potential, internal
opportunities, and succession planning efforts.
Develop editorial talent pipelines with a key focus on diversity and inclusion.
Scout, evaluate and recruit talented producers through partnership with industry organizations, on-going event attendance, marketplace development and networking, and all other available sources.
Design, coordinate and facilitate producer and digital workshops and work on other special projects as assigned.
Requirements:
– 7-10+ years of newsroom experience preferably as a producer or booker
– Clear passion for news and all that CNN represents
– Ability to evaluate and coach editorial talent at all levels
– Commitment to diversity and inclusion
– Knowledge and understanding of industry organizations and the scope of differing roles across local market and network levels
– Proven negotiator with the ability to understand the importance of a good match
between candidate and role
– Commitment to professionalism, confidentiality and good judgement
Click here to apply.

News Director, KWWL-TV, Waterloo, IA:
KWWL, Quincy Media's successful NBC affiliate in Waterloo, Iowa, is seeking a veteran, dynamic leader for its news operation.
KWWL serves Iowa's second largest DMA. We need someone who can train, coach and inspire our journalists to create and deliver great stories in a multi-platform environment. Our next news director must know the importance of delivering on the brand promise and forging a strong connection with our viewers and users to grow ratings.
Responsibilities:
* Foster a performance culture with an emphasis on winning, excellence and innovation.
* Communicate the vision and strategy to newsroom and provide the daily direction on major stories, weather events and breaking news.
* Ensure ethical, balanced presentation through compliance with Quincy Media policy, FCC policy, federal and state laws, industry standards and our brand promise.
* Strong recruiter and team builder
* Prepare and execute annual newsroom financial plan.
Qualifications:
* Broad understanding of newsroom operations and equipment.
* Advanced oral and written communication skills.
* Proven leadership which empowers others. Ability to resolve conflict quickly and directly.
* 3-5 years' experience in newsroom management.
* Strategic thinking – can identify market opportunities and capitalize on them.
* Demonstrated team builder
KWWL is proud to be a Quincy Media station. Learn why our family owned broadcast group has a reputation as one of the best companies to work for in our industry by visiting: www.careersatquincy.com.
Send your resume via email to: jmckernan@kwwl.com
Jim McKernan
Vice President & General Manager
KWWL Television, Inc.
511 East Fifth Street
Waterloo, IA 50703
KWWL Television, Inc. is an Equal Opportunity Employer
Other News Management Openings:
ASSISTANT NEWS DIRECTOR:
KNBC-TV, Los Angeles, CA (new listing this week)
WTNH-TV, New Haven, CT (listed 9/3/17)
WRGB-TV, Albany/Schenectady, NY (listed 9/10/17)
WICS-TV, Springfield, IL (relisted 8/6/17)
KPLC-TV, Lake Charles, LA (relisted 7/23/17)
EXECUTIVE PRODUCER:
KRIV-TV, Houston, TX (EP opening, listing modified 9/10/17)
WGCL-TV, Atlanta, GA (AM & PM EPs, listed 8/6/17)
WXYZ-TV, Detroit, MI (AM & Senior EPs, listed 9/10/17
WTVD-TV, Raleigh/Durham, NC: (Raleigh newsroom mgr., listed 7/23/17)
WMAR-TV, Baltimore, MD (relisted 8/13/17)
WTVF-TV, Nashville, TN (listed 8/13/17)
WBNS-TV, Columbus, OH (AM & PM jobs, listing revised 8/6/17)
WPTV, West Palm Beach, FL (listing modified 8/20/17)
WIVB-TV, Buffalo, NY (relisted 8/13/17)
WDTN-TV, Dayton, OH (relisted 9/3/17)
KWCH-TV, Wichita, KS (AM EP, relisted this week)
WSLS-TV, Roanoke, VA (relisted 8/13/17)
WISC-TV, Madison, WI (AM EP, listed 8/20/17)
WBRZ-TV, Baton Rouge, LA (relisted 9/10/17)
KTTC-TV, Rochester, MN (listed 7/23/17)
Obituary:
I'm sorry to report that KEVIN KELLY died last Tuesday, after a year long fight with cancer. Arrangements are detailed in this post from Kevin's Facebook page by one of his three sons, Brendan. Kevin's last job in TV was as Managing Editor for WGHP-TV in High Point, NC. He was an ND in Raleigh, NC (two stations), Portland, ME, Greenville, SC, and Dayton. Kevin began his career with Armed Forces Radio & TV in South Korea, worked for newspapers, then radio, and TV as an anchor/reporter in Springfield, MA. He also worked in Charleston, SC.
UPDATED: Here's an updated obituary.
Long-ago KENS-TV (San Antonio, TX) General Manager WAYNE KEARL died September 6th, less than two months short of his 99th birthday. Details about his life and career in this obituary.
Names in the News (and other items):
KGO-TV (ABC's o-and-o in San Francisco) promoted MARTIN ORTIZ to morning and midday executive producer. He's produced the late news there for the last two years, and has produced other newscasts there before. He also was a producer at KFSN-TV in Fresno when KGO ND TRACEY WATKOWSKI was the ND there.
JUSTIN BURTON joins KOIN-TV in Portland, OR, as its Assistant ND. He's currently the Assistant ND for KERO-TV in Bakersfield. Before that, Justin worked on the assignment desk at KTLA-TV in Los Angeles and at KGW-TV in Portland where he worked with KOIN news director RICH KURZ.
General Manager News & Notes:
Longtime readers know we delight in reporting news directors moving to GM jobs. Imagine how pleased we are to report that an assistant news director is making the move in a top ten market! Congratulations to STACY OWEN who's been named GM for NBC's KNTV/KSTS-TV in San Francisco. She's currently the AND for KNBC-TV in Los Angeles but knows the Bay Area well, having spent 14 years at KRON-TV, three as ND there. She's also been an ND in Cincinnati and Sacramento and has worked in San Luis Obispo and Yuma. More here.
AUDRA SWAIN returns to Baltimore as GM for CBS's WJZ-TV. She's currently GM for Sinclair's KSNV-TV in Las Vegas, but earlier in her career was Sales Manager for another Baltimore station. More from the Baltimore Sun.
BILL POPLIN has been named GM for WPGX-TV, the Raycom owned station in Panama City, FL.
Our Full List of Open ND Jobs:
Here's our list of open ND jobs as of Sunday, September 17, 2017:
It's unofficial, there may be others that are open, and some of these may have been filled. If you know of any in either category, please let me know: rick@rickgevers.com
WNJU-TV 2200 Fletcher Ave, Fort Lee, NJ 07024 **
News 12 Bronx/Brooklyn 1 Media Crossways, Woodbury, NY 11791
Verizon Fios 1 News 800 Westchester Avenue Rye Brook, NY 10573
KYW-TV 1555 Hamilton Street Philadelphia, PA 19130
KUVN-TV 2323 Bryan St Ste 1900. Dallas TX 75201 **
WUSA-TV 4100 Wisconsin Ave NW Washington DC 20016
WUVG-TV 3350 Peachtree Road #1250, Atlanta, GA 30326 **
WCCO-TV 90 S 11th St., Minneapolis, MN 55403
KTXL-TV 4655 Fruitridge Road. Sacramento, CA 95820
KUVS-TV 1710 Arden Way Sacramento CA 95815 **
WZZM-TV 645 Three Mile Grand Rapids, MI 49544
KWCH-TV 2815 E. 37th Street North, Wichita, KS 67219
KOAA-TV 2200 7th Ave. Pueblo, CO 81003
KWWL-TV 500 East Fourth St. Waterloo, IA 50703 (see ad above!)
WJTV 1820 Tv Rd, Jackson, MS 39204
WNDU-TV 54516 IN-933, South Bend, IN 46637
WHBF-TV 231 18th Street Rock Island, IL 61201
WFXG-TV P.O. Box 204540 Augusta, GA 30917
KLFY-TV 1808 Eraste Landry Rd, Lafayette, LA 70506
WSAW-TV, 1114 Grand Ave, Wausau, WI 54403
KNOE-TV 1400 Oliver Rd, Monroe, LA 71201
WIFR-TV 2523 N Meridian Rd, Rockford, IL 61101
KMID-TV 1550 West I-20 Odessa, TX 79763
WCJB-TV 6220 NW 43rd St, Gainesville, FL 32653
KTMF-TV 2200 Stephens Avenue, Missoula, MT 59801
KRTV P.O. Box 2989, Great Falls, Montana, 59403
**: Spanish language station