Greetings:
And my holiday gift to you is…this newsletter, delivered a day early.
You weren't seriously expecting anything else, were you?
For a short week leading into a holiday, seems like we have a lot to tell you.
For instance, there are THREE new news director openings. TWO stations hired new news directors.
Our list of open ND jobs moves slightly higher, to 24.
ONE of those open ND jobs is among our FIVE paid help wanted ads.
Speaking of FIVE, there are that many items in our General Manager news section.
And in Names in the News, we'll tell you about a former Phoenix news director who's taking a new job in the public sector. You'll also learn about a chief meteorologist becoming the Assistant ND for his station, while a former New York ND has a new role at ESPN.
The best wishes for the holidays to you and your family.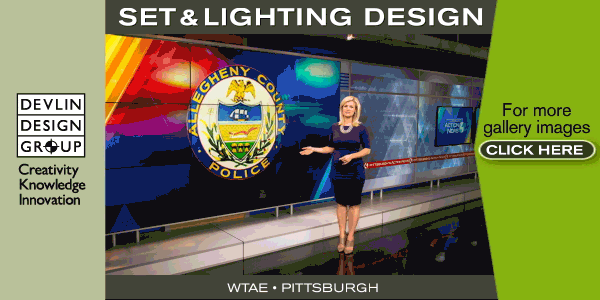 New News Director Openings:
WPBF-TV, West Palm Beach, FL…PAIGE HARRISON is transferring within Hearst to become ND for WCVB-TV in Boston. She's been ND here for four years. More on her move below.
WCAX-TV, Burlington, VT…after seven years as ND, ANSON TEBBETTS is returning to state government as Secretary of the Agency of Agriculture for the state of Vermont. He'd been the Deputy Secretary of Agriculture from 2007-2009 before returning to WCAX where he'd worked as a reporter for 13 years. The station aired this tribute. WCAX is a CBS affiliate and has been family owned since signing on in 1954.
KDLT-TV, Sioux Falls, SD…PAUL HEINERT is leaving this Red River Broadcast owned NBC affiliate to take a job with Sanford Health in Sioux Falls. He's been the ND here for seven years and has worked at the station for 13 years. He began as a weekend anchor, also worked in sports, and has anchored the 5:00 news in addition to his ND job.
Newly Named News Directors:
WCVB-TV, Boston, MA…you know from our report on Monday that PAIGE HARRISON has been named ND for this Hearst owned ABC affiliate. Here's the story from the station's website. She's no stranger to Hearst, having spent the last four years as ND for its ABC affiliate in West Palm Beach, WPBF-TV. She's been with the company for almost 14 years, and previously has worked at Hearst stations in Orlando, Pittsburgh, and Oklahoma City. Paige replaces ANDREW VREES who's been promoted to a VP/News role.
WKRG-TV, Mobile, AL…CHRIS BEST has been named news director for this Media General soon to be owned by Nexstar CBS affiliate. Here's the note from GM MARK BUNTING. He's been the Assistant ND at WMC-TV in Memphis for the last 2+ years. Chris has worked in senior management roles in a number of newsrooms, as you'll learn via his Linkedin page. At WKRG, he replaces MIKE RAUSCH who left in October after seven years to become ND for KRDO-TV in Colorado Springs, CO.
Paid Help Wanted Ads: 

Morning Executive Producer, WFAA-TV, Dallas, TX:
We are seeking an Executive Producer who will take the editorial lead each day and develop multi-platform content that succeeds on air and on digital. This individual will manage, coach, and motivate a team of producers, writers, reporters, anchors, and photojournalists who are among the best in the business. The Executive Producer is responsible for the overall content of assigned newscasts, manages all aspects of breaking news, social engagement, and ensures the product stays on brand. Effective communication and decision making under daily deadline pressure are a must. The Executive Producer must have strong ethics, a solid producing background, a desire and ability to win the day, and be an exceptional troubleshooter. This individual must be able to generate unique content, and develop and produce specials as required. The EP will also work closely with other news managers and the News Director to implement winning strategies for each newscast.
We are seeking a candidate with the following:
Bachelor's degree in journalism or related field.
Must have five or more years producing experience in a major television market.
Must be able to effectively manage people & act decisively under pressure.
Must know news and what is important to the community.
Must have social media knowledge and a digital footprint.
Must have technical expertise to booth live newscasts and troubleshoot problems
Must perform administrative duties including scheduling, performance reviews, training of new staff, and provide critical feedback as needed.
To learn more about this job and apply, please click here.
An Equal Opportunity Employer.

Senior Media Consultant, SmithGeiger:
Help shape the future of media as part of the industry's most innovative market research and consulting firm.
SmithGeiger LLC is looking for a Senior Strategist with total command of the latest digital engagement and monetization techniques, and recent experience with modern media and station operations. You must have extreme creativity, interests in all platforms, exceptional communication and writing skills, relentless client customization abilities, a commitment to excellence, and be a true team player.
You will work face-to-face with the Who's Who of Tech, Social Media, Mobile, Internet, OTT, Studio, Program Syndication, Cable and Broadcast companies, and provide state of the art research and on-going strategic counsel that produce successful results. CEO Dave Smith calls this the true "Golden Age of Media."
Be part of the team innovating in these unprecedented times.
Email resume and any relevant links to: jobs@smithgeiger.com
Job Type: Full Time
Travel: Yes
Experience: 5-20 years
Education: College/Experience
Salary: Competitive, depending on experience

News Director, WOWK-TV, Charleston/Huntington, WV:
Position Summary:
The News Director leads and supervises all aspects of news, including broadcast and digital, weather and sports programming.
Essential Duties & Responsibilities:
* Manages all aspects of the News Department (other than Production.)
* Plans and manages staffing, training, and performance evaluations for the News Department.
* Makes decisions regarding hiring, evaluation, promotion and termination of employees.
* Develops news coverage strategy for the station and its website.
* Critiques newscasts on a daily basis to correct errors, improve coverage and provide mentoring feedback to news staff.
* Assigns projects to staff and verifies that deadlines are being met.
* Ensures achievement of viewer rating goals.
* Determines programming and evaluation of equipment needs to produce quality programming.
* Responds to coverage questions.
* Works with other senior station leaders to establish and reach station goals.
* Performs other duties as assigned.
You must apply online to be considered for this position. Please click here to access all career opportunities for WOWK-TV and Nexstar Broadcasting Group, Inc.
WOWK-TV is an equal opportunity employer.

Morning Executive Producer, WFTX-TV, Ft. Myers, FL:
Fox4, WFTX – TV, a Scripps-owned station serving the Ft Myers market (DMA #61), aka "PARADISE", has an exciting opportunity for a MORNING EXECUTIVE PRODUCER who is a proven leader with excellent news judgment, strong writing skills and a passion for being first with breaking news and the creativity to produce content that's essential for the morning audience across all platforms. You must be a good communicator with strong people skills. Fluency in social media is a must.
Our resources include the market's only virtual set and breaking news tracker vehicle. In addition, the power of Scripps' national network of local news operations and digital businesses provides a reach and an opportunity no other company can match.
Scripps leaders are trained and developed to lead for the present, and groomed for future opportunities in the company.
Candidates must have a four year college degree in journalism, communication or a related field and 3-5 years of experience; OR any equivalent combination of experience and training that provides the required knowledge, skills and abilities. The following characteristics and skills are a must:
Knowledge and demonstration of editorial judgment, journalistic ethics and libel laws
Ability to create tactics and strategies to increase demo performance in key target areas for multiple platforms
Have working knowledge of federal, state and local laws impacting operations
The SWFL lifestyle needs no embellishment. You'll enjoy some of the world's finest weather (average of 75 degrees), beaches, water sports, golf, restaurants and entertainment.
To apply, please visit here:
Assistant News Director, KTUU-TV, Anchorage, AK: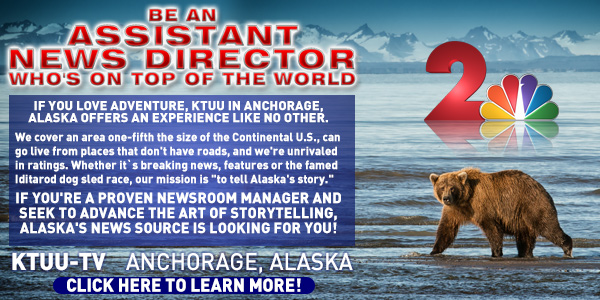 Other News Management Openings:
ASSISTANT NEWS DIRECTOR:
WMAQ-TV, Chicago, IL (listed 10/30/16)
KXAS-TV, Ft. Worth/Dallas, TX (relisted 12/4/16)
WXYZ-TV, Detroit, MI (listed 12/4/16)
KNXV-TV, Phoenix, AZ (relisted 12/4/16)
WTAE-TV, Pittsburgh, PA (relisted this week)
WJXT-TV, Jacksonville, FL (relisted this week)
KEZI-TV, Eugene, OR (relisted this week)
KTUU-TV, Anchorage, AL (listed 12/18,16, see display ad above!)
KTXS-TV, Abilene, TX (relisted 10/30/16)
EXECUTIVE PRODUCER:
WFAA-TV, Dallas, TX (AM EP, new listing this week, see ad above!)
KGO-TV, San Francisco, CA (listed 11/20/16)
WGCL-TV, Atlanta, GA (Spec. Projects Sr. EP, relisted 11/16/16)
KRIV-TV, Houston, TX (Senior EP, relisted 11/6/16)
WEWS-TV, Cleveland, OH (Dayside EP, relisted 12/4/16)
WOIO/WUAB-TV, Cleveland, OH (relisted 11/20/16)
KMOV-TV, St. Louis, MO (relisted this week)
KPTV, Portland, OR (relisted 11/20/16)
WXIN-TV, Indianapolis, IN (two openings, listed 10/23/16)
WBNS-TV, Columbus, OH (two openings, relisted 11/20/16)
KCTV, Kansas City, MO (PM EP, relisted 11/27/16)
KSHB-TV, Kansas City, MO (listing revised this week, two openings, AM & PM)
WPTV, West Palm Beach, FL (2 openings, EP & Spec. Projects, relisted 12/4/16)
KLAS-TV, Las Vegas, NV (AM EP, relisted 10/30/16)
WJAX/WFOX-TV, Jacksonville, FL (PM EP, listed 12/11/16)
KOAT-TV, Albuquerque, NM (PM EP, relisted 11/13/16)
WREG-TV, Memphis, TN (relisted 11/20/16)
WFTX-TV, Ft. Myers, FL (AM EP, relisted 12/18/16, see ad above!)
WOI-TV, Des Moines, IA (relisted this week)
WAAY-TV, Huntsville, AL (PM EP, relisted 10/30/16)
WCTI-TV, New Bern, NC (relisted 11/27/16)
WTXL-TV, Tallahassee, FL (relisted 11/27/16)
Names in the News:
Veteran news director MARK CASEY has a new job in the public sector. He's been named Director of Public Information for the Maricopa (AZ) County Sheriff's office. That's the Phoenix area. Mark will work for a new sheriff, PAUL PENZONE, who soundly defeated longtime and controversial sheriff JOE ARPAIO in the November election. Mark had been ND and Station Manager for KPNX-TV in Phoenix before leaving earlier this year.
At WSYR-TV in Syracuse, Chief Meteorologist DAVE LONGLEY has been named Assistant News Director for this Nexstar owned ABC affiliate. He announced the move on air. He's done weather there for 25 years. But Dave's been battling multiple sclerosis for more than ten years. Learn more about his battle in this story.
One time New York City (Telemundo) News Director HUGO BALTA has a new job at ESPN. He's been named Senior Director of Hispanic Initiatives for ESPN Deportes. Hugo's a past Managing Editor at WCBS-TV and a former President of NAHJ. More in this article from Media Moves.
General Manager News:
There are a number of General Manager and other management moves this week:
At KPNX-TV in Phoenix, DEAN DITMER has been named GM for this Tegna owned NBC affiliate. He replaces JOHN MISNER, who's run KPNX for 14 years. John's taken a new job (actually a dual appointment) at Arizona State University as you'll learn here.
At WBIR-TV in Knoxville, another Tegna owned NBC affiliate, DAVID HUNT has been chosen to replace JEFF LEE, who is retiring, as GM.
In Baton Rouge, ERIC THOMAS will oversee the Nexstar operations there. He'll be replaced in Lubbock by CINDY GILSTRAP.
KTVI-TV in St. Louis has promoted KURT KRUEGER to Station Manager. A longtime employee, he's been the director of sales.
Finally, JIM McKERNAN has new responsibilities at Quincy Media. He'll oversee the company's TV and Radio operations in Quincy and will continue in his role as GM of KWWL-TV in Waterloo, IA. And JOHN HUFF has been promoted to Station Manager at KWWL.
Our Full List of Open ND Jobs:
Here is my list of stations with open ND jobs, as of Saturday, December 24, 2016:
If you know of any additions/deletions/updates, please email me at: rick@rickgevers.com
KTVT-TV 5233 Bridge Street, Fort Worth TX 76103
WUSA-TV 4100 Wisconsin Ave NW Washington DC 20016
KOIN-TV 222 SW Columbia St. Portland OR 97201
WPBF-TV 3970 Rca Blvd #7007, Palm Beach Gardens, FL 33410
WIVB-TV, 2077 Elmwood Ave. Buffalo, NY 14207
WRGB-TV 1400 Balltown Road. Schenectady, NY 12309
WOWK-TV 555 5th Ave, Huntington, WV 25701 (see ad above!)
WAND-TV 904 South Side Drive Decatur, IL 62521
WCBD-TV 210 W Coleman Blvd, Mt Pleasant, SC 29464
WAPT-TV 7616 Channel 16 Way, Jackson, MS 39209
WCAX-TV PO Box 4508. Burlington VT 05406
WCTI-TV  225 Glenburnie Drive New Bern, NC 28560
WNCT-TV 3221 Evans St, Greenville, NC 27834
WBTW-TV 101 McDonald Court Myrtle Beach SC 29588
KYTX-TV 2211 ESE Loop 323. Tyler, TX 75701
KDLT-TV 3600 South Westport Avenue Sioux Falls SD 57106
KADN/KLAF-TV 1500 Eraste Landry Rd Lafayette, LA 70506
KVII-TV 1 Broadcast Center, Amarillo, TX 79101
WTVA-TV PO Box 320 Tupelo MS 38802
KX Network 1811 N 15th Street Bismarck, ND 58501
KBJR-TV 246 South Lake Ave. Duluth MN 55802
KARD/KTVE-TV 200 Pavilion Road W. Monroe, LA 71292
WTOK-TV 815 23rd Ave. Meridian, Ms. 39301
KMVT-TV 1100 Blue Lakes Blvd. N Twin Falls, ID 83301